Fifth crown for Johnston in SA Excel titles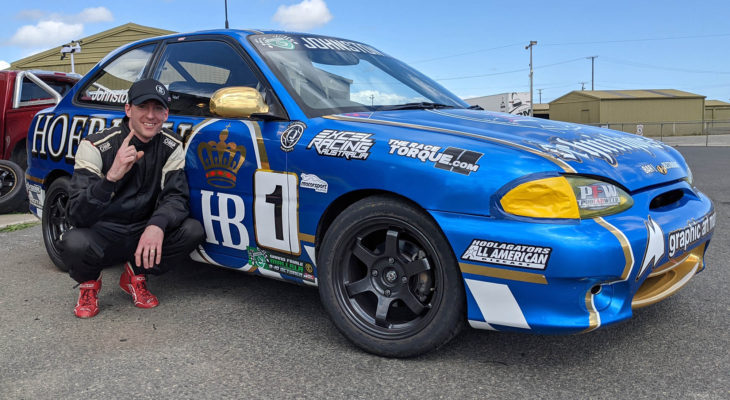 ASHER JOHNSTON and the Hofbrau Original Racing Team, supported by The Race Torque, has prevailed to claim a record fifth South Australian State Championship crown at the weekend.
Johnston claimed 2021 SA Circuit Excel title at Mallala Motorsport Park, completing a three-peat of titles in 2019, 20 and 21 while adding to existing crowns won in 2014 and 2016.
The most competitive season of South Australian Excel racing on record threw plenty of challenges at the team, however consistency across all four rounds and raw car speed when needed saw Johnston accumulate enough points to provisionally claim the title on the Saturday of the final round.
He then finished the year on a high at Mallala, winning the 10-lap finale' at Mallala after a thrilling race-long battle with teenager, Jayden Wanzek.
Johnston's season included pole position in three of the four rounds, plus 10 race wins from the 18 races contested.
A dominant round win at The Bend Motorsport Park's second round was key to establishing a championship lead he would never lose.
He also dominated the non-championship Ryan Pannowitch Memorial Trophy event held in August this year.
The remarkable fifth series crown for the team comes in the first year of a new partnership with Empire Liquor, distributors of Hofbrau beverages.
Johnston said it ranks as one of the more satisfying, given the challenging conditions, tough competition and uncertainties in the calendar thanks to the Covid-19 pandemic.
"It's satisfying to claim the title after what has been a pretty challenging year," Johnston said.
"We haven't had the rub of the green in a lot of areas outside of our control, but we've always pushed through and made sure that for every setback there has been a strong response the next race or the next round.
"Everyone is getting closer and the South Aussie field is becoming more and more competitive, so this has been hard work and a great fight the whole way through.
"We're very fortunate enough to be able to go racing when so many others haven't been able to do so this year, so we're definitely going to celebrate this one."
The team is supported by a group of longstanding backers that were this year joined by Empire Liquor, via their Hofbrau brand.
"To win the title in our first year with Hofbrau on the side of the car, and for Frank and our long-term supporters at Schnithouse, is particularly excellent.
"We have loved the new blue, white and gold livery this year and we've been blown away by the feedback from having Hofbrau on board so it's great to deliver them a championship in their first year.
"Lots of effort has been put into the program from great people like Chris, who works tirelessly on the car, and Simon for all his efforts.
"Dave at Excel Racing Australia has been a big support as always and the crew at Hoolagators and Graphic Art Mart's support are really appreciated.
"It's a big thanks to everyone who has supported the team this year and the friends, family and supporters who have come along for the ride."
Johnston will now turn his attention to the annual Circuit SA Excel enduro at The Bend Motorsport Park, where he will team up with Shaun Pannowitch in the Complete Windows & Doors PRT entry for the pair of one-hour races.
Hofbrau Original Racing Team thanks all of their supporters for their efforts across the 2021 season, including: Empire Liquor, Schnithouse Hilton, Check it out Graphics, Graphic Art Mart, Excel Racing Australia, The Race Torque, Carma Race Coaching, Alltrends Auto Group, Hoolagators All American diecast, S&J Automotive and Q Motorsport imports.