Prime-time Bathurst finish assured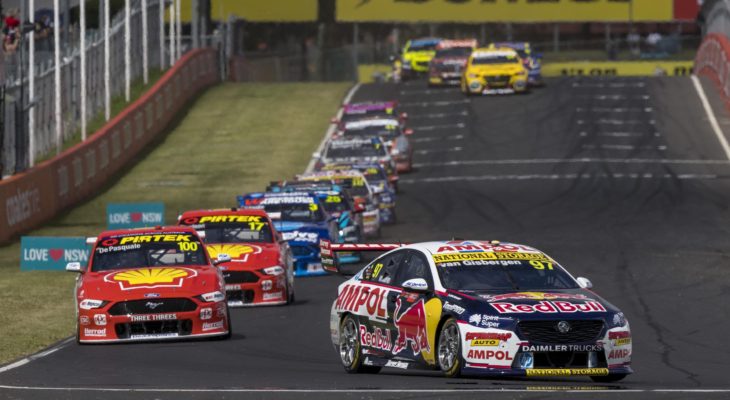 THE 2021 REPCO Bathurst 1000 will push deep into the prime-time TV ratings period following confirmation that the race will commence at 12:15pm AEDT on Sunday, December 5.
It's the latest start in the Great Race history and the first time the race will have begun in the afternoon.
It will make for a massive Sunday of live sport on the Seven Network and Fox Sports with the race due to lead in directly to the opening match of the Big Bash League to be held that evening.
The blockbuster clash between the Sydney 6ers and Melbourne Stars at the Sydney Cricket Ground is scheduled for a 7:15pm first delivery, which should allow for the Great Race to be comfortably concluded well before the first ball is bowled.
It also assures the pair of broadcasters, conveniently who both also have the rights to the Cricket, will enjoy a massive lead-in to the opening game of the T20 tournament – with the chances of record ratings for Bathurst very much assured.
The last time the Bathurst 1000 ran as late as it likely will this year – the red-flag delayed 2014 epic – more than 1.5 million people watched the podium celebrations in the capital cities; a record only eclipsed once in TRT's more than 14 years of Bathurst TV ratings data.
The Bathurst 1000 has only run longer than 7 hours on 10 occasions since it moved to a 1000km event in 1973, the most recent being the rain-affected 2017 race won by David Reynolds and Luke Youlden.
With the December 5 date the latest ever for the race, sunset is not due in Bathurst until 8:00pm that evening, giving plenty of time to get the race in even if conditions deteriorate.
Meanwhile, Saturday's Top-10 shootout will commence at 5:05pm.
Action commences at Mount Panorama on Tuesday, November 30 with a bumper nine support categories on track throughout the week.
Full broadcast details will be confirmed in due course, with the results published in TRT's TV guide segment available via the main menu.