RAW SOUND: Bathurst 12hr Winning Ferrari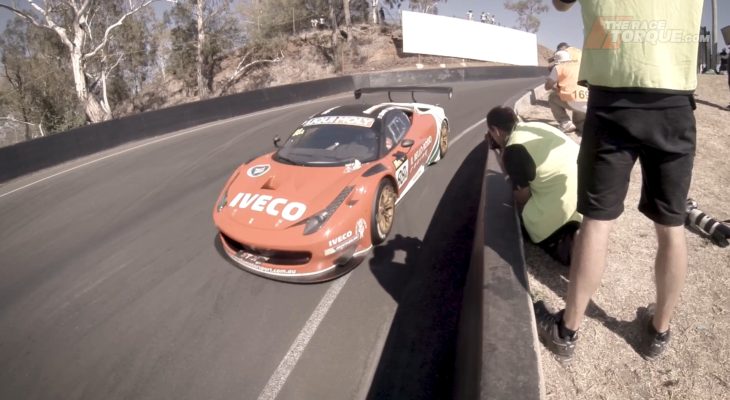 CRANK. IT. UP!
Here at The Race Torque we have previously recounted a personal tale of the 2014 Bathurst 12 Hour, a race which was claimed by the Maranello Motorsport equipe with drivers Mika Salo, Craig Lowndes, John Bowe and Peter Edwards.
You can read all about it right here.
However, we have also uncovered a dusty old hard drive from the period, featuring hours of previously unseen footage captured at the meet.
You see, in a rarity for big-time events, media were given the freedom to capture both video and photos around Mount Panorama – typically TV rights strictly forbid this, with exceptions made for teams filming within their respective garages, and alike.
And what a treat that has now given us!
Obviously, the Ferrari 458 Italia GT3 4.5L V8 at 9,000rpm is pure music, but you can't discount the roar from the Mercedes-Benz SLS AMG, with its 6.2L V8 thumping to a very different tune.
Clearly, we love these cars and this event – which GT3 car do you love the sound of?
Hit us up on the socials @theracetorque – there are plenty to choose from – including the best from Bentley, Audi, Aston Martin, McLaren, Porsche, Nissan, Lamborghini, BMW, Honda and more.
It might even be the classic Camaro iteration that we still see here locally in Australia…
If you're a Bathurst 12 Hour fan, you need to grab yourself a copy of Bathurst: Going Global – 10 Years of Australia's International Enduro 2011-2020, which covers the epic 2014 race.
And just for you, it is currently 25% off at the V8 Sleuth Bookshop – the perfect Christmas present!
---
Want more?
If you're a fan of race cars making big noises, and let's face it, you are – here are some more classic examples we have covered right here on The Race Torque.
Recently, we were at The Bend Motorsport Park for The Bend Classic, where we captured 5min 30sec of pure old school F1 sound. And it was epic.
Along similar lines, there is the brilliant tale of the F1 Car in a Kitchen.
There's the above feature we created on the former Al Under Jr Indycar race winner that now calls Australia home.
More homegrown V8 sounds can be found in our story from the time we put a Supercar on the Calder Park Thunderdome, with two clips featuring raw audio, as Rick Kelly set the fastest ever laps in a Nissan Altima.
Why not check out "Feet Dance", onboard with Cameron Mason and his awesome TCM Mustang?
There's more TCM goodness with Bob Middleton tearing up The Bend in his Camaro, while his laps in his NASCAR are worth a gander.
Finally, who doesn't love a ridiculous hillclimb car in Europe?
Hit us up on the socials @theracetorque with your favourite clips!