DORIC POWER RANKINGS: Sydney, Just Add Water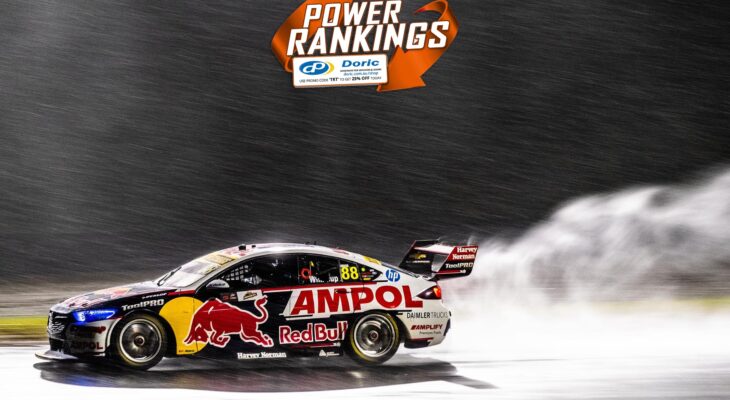 JUST when everyone had began to seriously question whether two events at Sydney Motorsport Park in a row was a good idea, let alone four of them, along came Race 25 of the Supercars Championship and an instant HOT into the next chapter of the TRT Power Rankings powered by Doric.
Races 23 and 24 had promised much but delivered little in the way of rankings excellence, but the week two finale' more than made up for that.
At the other end of the spectrum, the headlining NOT candidates were entered into the log well before a racing car turned a wheel, while the simple act of a white Ford Falcon Wagon made the WHAT section as easy as anything to complete.
Back with it's usual mix of Serious and Silly, Racy and Ridiculous and other examples of alliteration, it's the TRT Power Rankings. Read onward, stay for the meme, and offer your (polite, please) feedback via our socials.
---

---
HOT
1. Rain (and Race 25 as a result)
SYDNEY, being the big tease of a place that it is, had tempted us with the thought of precipitation all weekend but aside from some wet qualifying sessions (who cares) had steadfastly and resolutely refused to provide the wet weather racing we were craving.
But then, like the mothership from Independence day, the massive black blob came slowly over the Blue Mountains and commenced its raid on Sydney's west.
The outcome was utter, pure, almost shockingly beautiful madness. Some of the moments in Race 25 will be replayed for many years to come and though we're yet to see all the photographic handywork from that Sunday night in Sydney, we suspect the imagery from it will be as well.
It was completely, totally insane and if that's not a reason to put it on top of the Rankings, then nothing ever will be again.
---
2. SVG
JUST when you think old mate has gone to the highest possible level of Mark Skaife Operations, he opens another door and finds a new one. He smoked everyone in race one to win a 50-minute race by 17 seconds, grabbed pole in the rain for Race 25 and extended his lead in the championship to more than 400 points by finishing second in Race 24.
Sure, his off in Race 25 at "Warp Factor Five", according to Garth Tander, was a blot in the copybook but by then the point had well and truly been made. Will win the championship in two weeks time, then he and his lanky mate will head to the big hill short-priced favourites to go back to back there, as well.
---
3. Anton de Pasquale
IT'S easy to believe that in twenty years, should Anton de Pasquale have retired a multiple Supercars Champion and legend of the sport, this Sydney swing will be looked back on as the sequence of events where it all just came together.
As he was a week ago, Anton was sublime last weekend – his one-lap pace was phenomenal, he was huge in the rain and the way he controlled Race 24, despite SVG having supposedly faster tyres at the end, was masterful stuff.
And even when the chips are down he excelled: 26th to 11th (12th once a 5s penalty was added) was superb damage limitation following the gearbox issues. He's going to win more races this year, and you suspect many, many more in his career to come.
---
4. The Biff! SVG versus Davison.
ANY time there's an on-track incident significant enough to get two drivers having a crack at each other afterwards is a moment worth savouring, so Saturday night's SVG-versus-Will Davo rumble was excellent.
Will fired up post-race, SVG responded by saying 'we'll have the good DJR up front tomorrow' in the press conference and it was just all very testy.
Hate is good. There needs to be more and when Will Davison, who is genuinely one of the nicest blokes you will ever meet, is angry you know it's serious. Gooooood.
---
5. Tim Slade (and an epic move)
SLADE DAWG, Blanchard Racing, Cooldrive and anyone else involved, this has us applauding you again.
Back to back rankings appearances for the BRT squad who continue to do incredible things.
But in particular, Tim Slade gets a massive nod for what we think is one of the best Supercar moves of the last few years as he decided to make it three-wide in a battle with the Wills, Davison and Brown. This is a little single-car team that last week couldn't change four tyres on the car because they didn't have the people.. yet in the string of eight days, Slade has gone 10th, 5th, 9th, 7th, 12th and 5th again.
He's 34 points out of the Top-10 and all of a sudden the endless replays of that Bathurst shunt in February feel like an eternity ago. Incredible.
---
6. Will Brown
THERE'S probably not much we need to add here, really, given everything said, written and discussed online about Will in the last week. He is an excitement machine at the moment with the raw pace and guile to match it. Pole was great. His charge through the field in Race 25 even better but perhaps best of all?
That'd be the way he copped the utter devastation of having another almost-certain podium stolen from him on Saturday night. He copped it, moved on and let his driving do the talking on Sunday to well and truly make up for it.
---
7. Jamie Whincup
JAMIE remains comfortably second in the championship and comfortably remains one of the top three or four guys in the championship too – and there are not many drivers you've been able to say about that in their final full-time seasons.
Whincup is most certainly not going quietly into the night of his driving career – he remains the incredible contender that he has always been and, just quietly, took a swathe of points out of his team mate on Sunday night, too.
Winning title number eight seems unrealistic… but what if he manages to trim SVG's lead to under 300 points heading to Bathurst?
The lesson here is, never rule out 'ol Seven time.
---
8. Chaz Mostert
STORMED (we intend that pun) from last to third in 25 laps (of which many were under Safety Car) on Sunday night, which makes you wonder how far in front he would have been had he not been sent to the back of the grid for the technical infringement after doing such a good job in qualifying.
WAU have been patchy since racing returned, but Chaz continues to show his class by fighting his way to the front where and when the conditions allow, as all truly great drivers tend to do.
---
9. Supports
WE SAID a lot about the supports last week and we stand by them again.
We love Formula Ford here at TRT and it was superb having them back on the national stage. Please sir, can we have more?
And the Production Cars were fantastic! Helped by the weather (without the rain, Soole's BMW M4 would have driven off into the distance) the battle between the all-wheel-drive cars and the big V8's was superb, clean, entertaining and generally very good indeed.
Also, where can we subscribe to #DrivetoP25?
---
10. TV Highlights
JUST our weekly addition on the broadcast quality hype train.
BONUS HOT: Time Certainty was never an issue after all
WE were the first to flinch when we heard Crompo mention the most hated of Supercars phrases, 'Time Certain', in Race 25, but it turns out we needn't have worried.
TRT has learned that Supercars had allowed a comfortable 65 minutes in their schedule for the Sunday night race – which is obviously much more than the 50 minutes (give or take one or two) the dry races had lasted.
Then, when the long Safety Car slowed proceedings, another 10 minutes was added to the program mid-race for a total of 75 minutes.
So, Supercars did everything they could to get the race in and, had it not been red flagged due to the rain, the race would have gone its full distance even with the two lengthy Safety Car interruptions.
---
---
WHAT?
Park and View
The Park View initiative is fantastic – fans get to watch the action from some great vantage points all from the comfort of their own cars.
Some cars are more comfortable than others, and some vantage points are clearly better than others.
Take for instance this mighty BA Falcon Wagon, with its ongoing saga of attempting to navigate the high terrain of Sydney Motorsport Park's 4WD training course.
Pure comedic gold.
If you are a fan of this, you will probably appreciate the Facebook page AU Falcons doing incredible things, also, the Meme section, below.
---
3.4 Million Punters Pumped for Bathurst
This was VERY unexpected, but full props to Kendall for showing her love for the Mountain. How could you not love the Mountain, after all?
---
James Courtney Spinning on the Out Lap Saturday
The lack of any online video evidence of this moment is almost not-worthy… but it happened. We saw it. You don't spin on the out lap and not make the rankings. Not on our watch.
---
Production Touring Car Qualifying Wad Up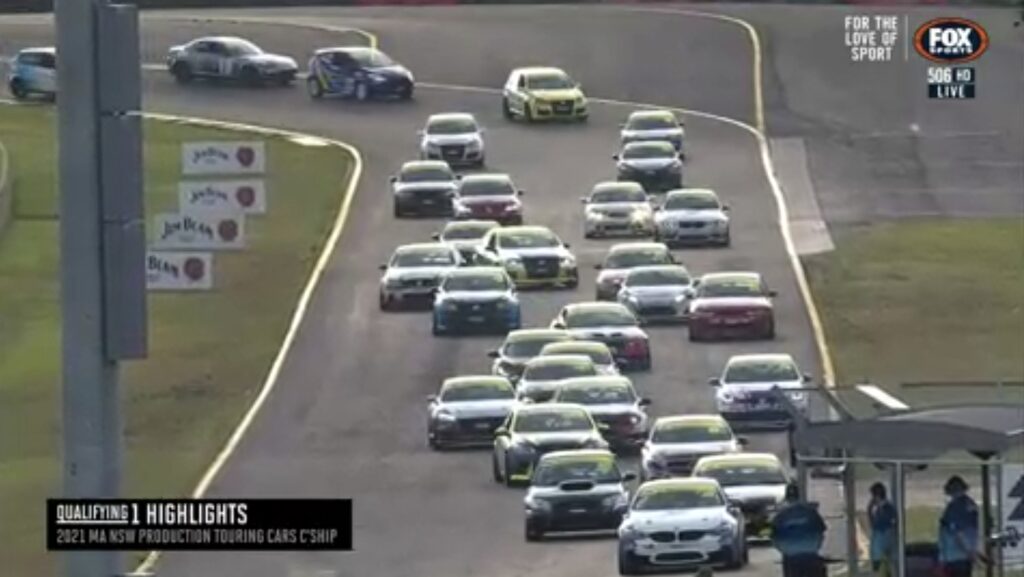 ---
A Major and Serious Security Threat
---
WHY?
---
---
NOT
A warning: This gets as serious as the Rankings has ever been to this point. We want to be clear, while team TRT is definitely on the 'get jabbed' bandwagon, we're not opposed to people having free choice of what to do with their bodies – that's not why the following issue tops the list. It's here because of the impact on the sport, the image it projects on the individual and everyone else around it. That's what the rankings have always been about, so don't '@' us about it. – The Editor.
1. The obvious issue.
IS David Reynolds' vaccination exemption drama the biggest Supercars story of the year? Of the last few years?
The full ramifications of his decision to front in Sydney unvaccinated are yet to be made clear – but it's a huge story and it's not been a good look for the sport or for David himself.
The TRT team debate pretty hard what goes into the NOT section, which is designed to be an honest, open and reasonable way to highlight areas that need improvement from any given Supercars weekend.
But this was a lock the moment the story about an 'invalid medical exemption' broke early last week.
If an individual wants to avoid getting the jab, fine. But the moment it effects the sport more broadly it becomes a serious issue.
The Australian Technical Advisory Group on Immunisation (ATAGI) have set out the guidelines for receiving a medical exemption from the various COVID-19 vaccines, the reasons are few, and processes vary from state to state.
For more on the topic, you can read this article.
Whatever the mechanisms, Reynolds' was okayed to enter New South Wales and race at the first Sydney Motorsport Park event, before NSW Health investigated the circumstances of Reynolds' exemption which, as we now know, turned out to not meet their criteria.
Either way, in what has now become a well-told story, the NSW Government's findings ensured he was quickly stood down from the team and the sport until such time as he complied with the guidelines in place.
Now, perhaps Reynolds thought his exemption was valid. Perhaps he felt like he was in the clear and perhaps he acted honestly without any provocation.
We won't know that side of the story if and when he decides to talk about it and put his views out there.
However, that Reynolds chose to receive his first vaccine early in the week, in a fairly rapid about-face, was somewhat telling.
The outcomes of all this are many and varied.
For one, Reynolds will be sitting on the sidelines for at least a quarter of the season, and what happens after then hasn't been discussed yet – not publicly, anyway.
What does Penrite, loyal supports of the Albury driver for a long time, think?
And what about Stephen Grove, who will take complete control of the team at the end of the year when Todd Kelly steps aside.
There's been a lot of silence on the matter and undoubtedly more will come from this.
The concern here is the massive black eye it's given both his own personal brand and indeed, in these times of all, the sport as a whole.
---
2. What issue?
IF David Reynolds has had a saving grace from the past week, it is that motorsport's lack of attention in the mainstream media has largely seen his saga glossed over.
If he were a footballer or a cricketer, this story would have been front and centre of attention and probed from all angles.
The specialist motorsport press, Motorsport.com, Speedcafe.com and Auto Action were all over it and provided plenty of coverage, and the Daily Telegraph's James Phelps ran with it as well.
But the ABC Grandstand Radio hosts, for example – who will be the first to tell you they're not motorsport experts – were shocked when they heard the story from TRT's Craill on Saturday; they couldn't believe that it hadn't gone much larger in the mainstream media given the stakes involved and the current Pandemic environment.
The lack of an Andrew Bolt opinion piece in the Telegraph (the world needs fewer of them), aside, it was notable how little it was mentioned over the weekend, both at the track and on the 'box, too.
After Jess Yates eloquently explained the situation on Saturday as the coverage opened, the issue was barely mentioned again and certainly there was no talk around trackside, either – aside from the usual paddock whispering that comes when one of the highest profile people in the sport is tied up in such headlines.
It felt like the elephant in the room that everyone knew was there, but no one was quite certain about how to discuss it.
Undoubtedly, there are clearly legitimate reasons behind what we can only assume is a decision from the top to park the Reynolds issue in the background at this point.
However, It would be our opinion – and we totally understand it if yours differs – that tackling it head on and having a 'grown up discussion' about how one of the biggest and most promotable names in the sport was MIA would have been more effective. Especially given the chaos that the Pandemic has deposited on our industry.
We can't help but feel that – without necessarily needing to focus on this exact example – the whole thing has been something of a lost opportunity for the sport.
After all, the chance to raise awareness of the need to get the jab among the fanbase, so everyone can go back to doing the things they love quicker (in this case filling the grass banks and campgrounds at Bathurst this December) is only going to benefit the industry overall.
---
3. Rescinded SVG Penalty, Got a New Penalty
THIS was a big call by race control to reverse the Shane penalty based on telemetry evidence gained from Anton's car following the restart.
Of course, Triple Eight went and undid all that hard work (and what must have felt like a massive win) by kicking an own goal at the top and copping a drive-through anyway.
It was all just a bundle of confusion wrapped in a bow of regulations that was all just a bit messy.
---
4. Erebus: It's the Pits
THAT'S TWO weeks in a row now.
Not much more needs to be said, really.
---
5. Prime Time Red Flag
LETS be clear, we're not dissing the actual decision or the mecahnisms in place that ultimately saw the race called.
The standing water was clearly a massive issue and also some of us had to get up for work in the morning, anyway.
But it was just so frustrating that Supercars' first attempt ever at a Sunday night race was denied the thrilling finish it unquestionably deserved.
Ending under red flag was such an anti-climax for a race that had full-blown Sting-spec climax written all over it.
Frustrating.
---
6. Boost Bender
FAR from ideal to shunt at any time.
Even less ideal to do it when both cars are sponsored by the same company.
Worse timing to do it when the boss of said company is at the track, watching on.
---
7. Qualifying Shambles
WHILE it is always a low-percentage play by going off sequence in qualifying (for this reason), ultimately the rules state that cars not on a flying lap in qualifying must get out of the way for cars that are on a flying lap in qualifying.
Which is how we ended up with this 'whooojesuschristhatsbig' moment in qualifying that resulted in a three-placed grid penalty for Tommy Randle, and a three-minute underwear change for young Kurt Kostecki.
---
8. Anton's Qualifying Blues
SO if you're 23rd and you pop a transaxle on the way to the grid you're going to be disappointed but the chances of you winning were pretty small – so ultimately it doesn't change your world that much.
Imagine if you're in a DJR Mustang and you are by far and away the fastest thing in Sydney all weekend.
Massive blow for Anton on Saturday and while it's not a lock that he would have been on pole, there was a much better than average chance that car 11 would have been on top come the end of the knockout sessions.
A rare mechanical issue for DJR and Transaxle supplier Xtrac.
---
9. Chaz Mostert Qualifying DNQ
THERE'S quite a bit to unpick when it comes to the very strange scenario that saw Chaz Mostert DQ'd from qualifying for Race 25.
Obviously, anything that causes you to lose 25 grid positions is going to make the NOT end of the rankings, but to save us the trouble, here's what the Motorsport Australia stewards wrote of this interesting tale.
Following a post-session Hearing into a charge against WAU Racing Pty Ltd that Car 25, Chas Mostert, was in breach
of Rule C2.1.1 (A Car must comply with the Design, relevant VSD, ESD, and the Rules) because the width of the front
guards was found by Supercars Technical at post-session scrutineering not to comply with the VSD* for a Holden
Commodore VB. The Stewards summonsed the Competitor to a Hearing and heard from the Competitor, its Driver
and the HOM**. The Competitor gave evidence (confirmed by the Driver and on-board vision) that the Car hit the kerb
at Turn 10 and this caused the damage to the Car and resulted in the non-compliance. The HOM replied that if the
damage was caused by hitting the kerb, then the setup for the Car was a contributing factor.
The Stewards decided that they were not satisfied that the striking of the kerb (if it did create the damage) amounts to
exceptional circumstances that would exculpate the breach nor amount to a mitigating factor justifying some other
penalty other than the imposition of the usual penalty, namely Disqualification for a technical breach (which is also the
Recommended Minimum Penalty).
* Vehicle Specification Document
** Head of Motorsport, in this case, Supercars' Adrian Burgess.
---
10. The Mixed Grill of Nots
YOU KNOW when you go to the pub, don't quite feel like a Parmy but otherwise can't work out what you want to eat?
Here's a mix and match of other NOT suggestions that we couldn't find room for, or weren't quite signficant enough to earn their own spot on the table.
Jamie's Tyre blues in Race 24 – far from ideal, but as he said, he stayed off that kerb in Race 25..
Bryce's Race 3 Jumped Start – I mean, taking the piss that hard is going to get you sin-binned. Truthfully, we loved it. It was brilliant, but anything drive-through worthy these days is automatically NOT.
Waters' Qualy 2 Red Flag.
Team 18's ongoing power steer issues – a shame for what was otherwise a promising weekend, especially for Scott Pye.
Fabian Coulthard, who is having a shocker and is now last of all the 24 regular drivers. Brutal.
---
---
TWEET
Race Control Bingo
---
Bathurst Bingo
---
Editors Note; For reasons we will keep private for now, though we can say it's entirely Tony Schibeci's fault, Media Centre bingo has been banned from Supercars events. Especially Bathurst. And Darwin.
Wild
---
Not
---
Whose Side Are You On?
---
Triplets

---
Doric Guy in the Wild
---
MEME