POWER RANKINGS: The Great Race Edition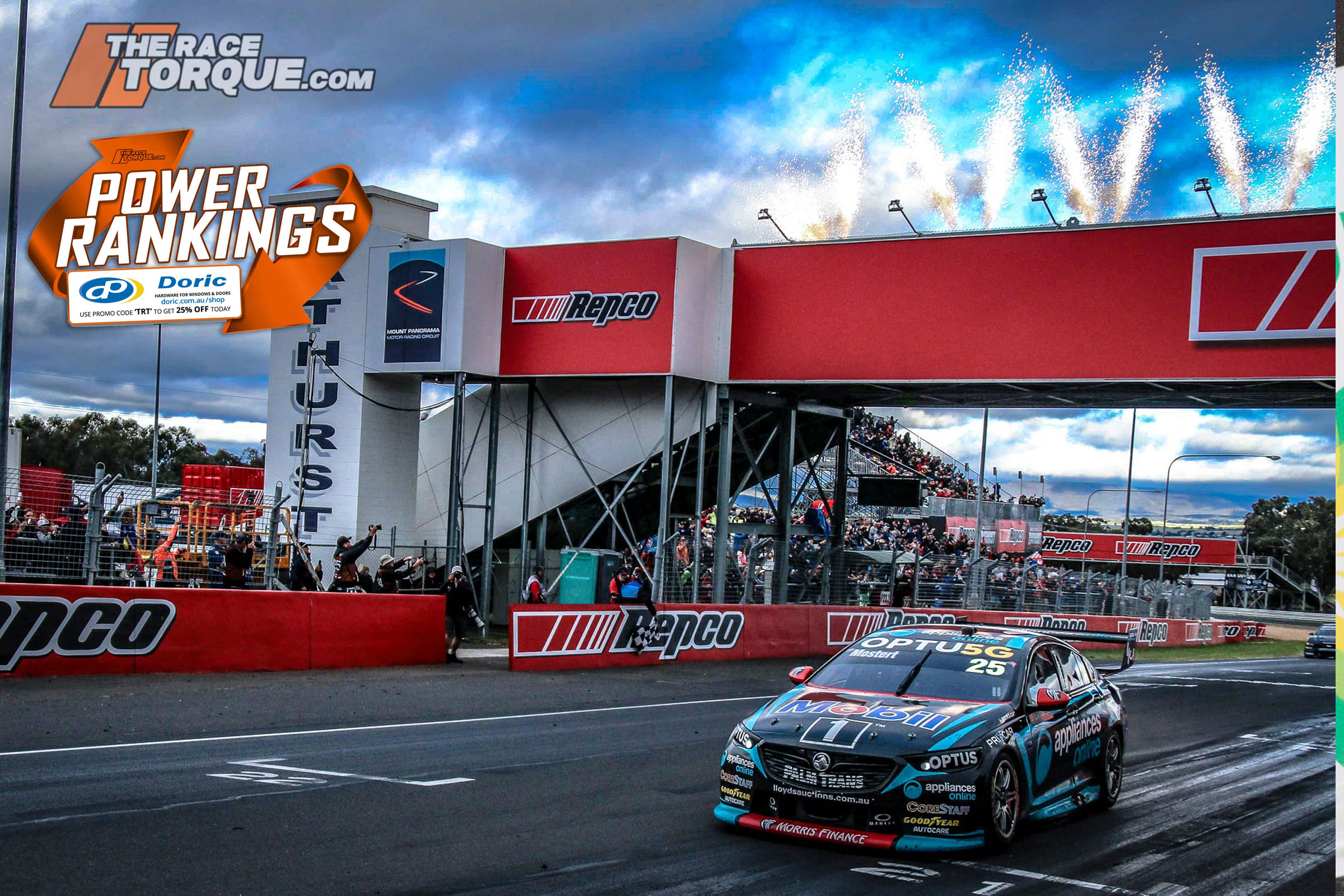 THERE'S NO need for a long-winded explanation about what this is all about. By know you should know the drill.
The Great Race is filled with stories of the good, the bad and the insane and 2021 was no different.
Our 176 days in Bathurst last week (it felt like more, to be honest) was one hell of a rollercoaster and we've tried to document the best bits here.
So jump aboard, strap in and dive headfirst with us into our biggest column of the year.
It's the Doric TRT Power Rankings from the Repco Bathurst 1000.

---
Don't forget to support those who support us – Doric has a massive range of window and door hardware products online, get your order in for your Christmas DIY project now, and save big time with thanks to the above promo code!
---
HOT
WALKINSHAW ANDRETTI UNITED
UNSTOPPABLE. This was the best performance from the artists formerly known as the Holden Racing team since they last won the race a decade ago. They had the fastest car across almost every session with the #25, while car #2 was the perfect rear gunner – not with outright winning pace but with enough to be top five.
Nailed every element of the weekend, from producing a fast qualifying car, to adapting quickly to the race as it changed and curve balls like a puncture were thrown at them. Outstanding from go to whoa with a win and a fifth for the second car – Well done Luffy and Fullwood – and as dominant as any team has been in the last decade of ultra-close Bathurst 1000 results.
With Nick Percat joining next year, could this team be on the way to joining DJR and T8 as Supercars powerhouses once again? We'll see..
---
2. LEE HOLDSWORTH
WHAT a great story. Holdsworth's stints in the early running were as outstanding as any co-drivers in recent memory. Sure he's only a year or two removed from being a full-timer, but you've still got to do the job and boy, did he do that – clearly the best co-driver of the 25 in the race.
After 470 races and only 3 career wins you could argue that Lee's career was solid but unspectacular to this point – But now he's a Bathurst champion and in an elite group of only 63 other drivers – and all of a sudden he's among the very best of the sport. Sunday's drive proved that it was deservedly so and that drivers should grab every opportunity they can and make the most of it.
---
3. ECHIDNA
IN THE annals of Bathurst history there has been some crazy stuff occur, but a Safety Car for an echidna crossing the track is right up there for strangeness. Ironically, it was the Safety Car that the race needed – totally energising the entire process and setting up the remarkable bout of racing that occurred on the subsequent restart and the next few laps.
We're thrilled to report that the little guy – or girl – worked his or her way out of the Cutting and out into safety to have a good, long think about things. But what a moment, that totally grabbed social media along the way.
---

4. THE BATHURST FESTIVAL
WHAT can you say about this place? Whether it's a near-total lockout in Covid times or a nearly-there event as we come out the other side, like last weekend, this is an utterly special, ridiculous, engaging, remarkable and brilliant place.
Put on a great show – both the circuit itself and the entire city, which remains so welcoming and friendly to racing fans from around Australia – throughout the unprecedented six days of action. The best race track in the country in one of the best cities to visit. Go there.
There must also be attention paid to Supercars, ARG, the Bathurst Regional Council and the Fox Sports and Seven Networks who all collaborated to pull off such an enormous event. It wasn't easy, and there was definitely tension throughout, but ultimately everyone pulled mostly in the same general direction for the good of the sport in difficult times.
Not saying we'd want to do it again – we don't – but it was a good thing for the moment.
---
5. EREBUS MOTORSPORT
FROM the elation of Will Brown's Friday performance in qualifying to the way they rebounded from the disappointment of their shootout DQ – and the fact they stuck their hands up and owned it – and the early mechanical dramas for the Brown/Perkins entry, this was a good story once again.
The raw speed was real and then they engineered a superb podium for Brodie Kostecki and David Russell on Sunday, capping off a truly remarkable team. It's inconceivable in our minds that the actual team owner wasn't there to see this weekend, but either way, well played Erebus.
Great stuff and it's hard to give this team anything other than an A for effort this season, when most – and we'll stick our hands up right here and admit we did too – wrote them off at the start of the year.
---
6. THE SHOOTOUT
THIS was one of the best top-10 shootouts of all time both in its ridiculous level of competition and the memorable moments that came from it. Cameron Waters' lap will remain with people who saw it live for as long as their grey matter functions.. and then there was the outstanding pole position lap from Mostert that was a McLaughlin-buster.
It remains the beat 45-minutes or so of sporting theatre of the motorsport year. Go on, argue with us. We'll wait.
---
7. TV COVERAGE
IN PARTICULAR we're going to highlight the race build-up on Sunday, but more broadly the Supercars media production was outstanding once again. From the additional talent – Rust, Stubbs etc – to the quality of the quantity it was all there. The new camera angles were as good as expected – the inside of the Chase and the inside of McPhillamy, in particular, were outstanding additions to the Bathurst lexicon.
Crompton and Larkham's pre-race preambles were superb, too, and the entire pre-race show was perfect to set the mood. Supercars Media threw the kitchen sink at the weekend production – as did Channel 7 – and the result was as good as ever.
It delivered huge ratings as well…
---
8. THE REVERAND GARRY COLEMAN
THANK YOU to Garry. If you didn't get emotional when he signed out on Sunday, you need to go and have a long hard look at yourself, in our opinion. You don't have to be religious to respect the heart and soul of the Supercars paddock, and he will be missed from our game.
---
9. JAMIE'S FAREWELL
WHEN the only person that ranks high enough to induct you into the Supercars hall of fame is the Prime-freaking-Minister, you know you must be kind of a big deal.. or at the very least have left a pretty important legacy on the sport.
Jamie Whincup's time in Supercars is far from done, but the way his full-time career was concluded was all class, both from a Triple Eight Racing team perspective and from the way the sport recognised his remarkable career. Superbly done.
---
10. OTHER HOTS
SO much to take in from this week that we've just smashed together a whole lot of HOT things that happened as Number 9.
Gen III. Awesome look, awesome sound, awesome roll-out.
Repco. Went bloody hard in their first year and you'd be hard pressed to not know they weren't the major sponsor. Huge investment, huge activations and big things to come too. Tick.
Zak Best did a very solid job as Jack Le Brocq's co-driver in the Truck Assist Tickford Mustang
Cam Waters and James Moffat finished second for Tickford in the Monster Mustang, the second year in a row for that car and Waters, plus Moff's best ever Bathurst. A very solid repeat performance that makes up for the horrors of SMSP.
Warren Luff's last 10 Bathursts: 3rd, 3rd, DNS, 3rd, DNF, 2nd, 2nd, 7th, 3rd, 5th. Outrageous.
Finally a solid 1000 for BJR – 6th for Percat and Wood and 8th for Hazelwood and Fiore. Plus their third Pit Stop Challenge win deserves a nod as well.
Friday night live is great entertainment, though we're a bit dubious about letting Greg Rust run around in a mascot outfit. There are laws against such things, but shows like this are good for showing off the character of the sport. More, please.
Chevrolet Racing is coming to Australia. It's a powerful brand with incredible IP among its many products, and is a very good decision from General Motors as they look to appease the Red side of the ledger when the Commodore finally stops racing in twelve months time. Expect to see lots of Chevy flags in 2023.
Craig Lowndes: Still got it.
Garth Tander: Still got it.
CoolDrive Racing – rarely out of the Top 10 all weekend and a convincing performance from the little team that could throughout. Rewarded with a very solid Top 10 performance. Tim Slade has been huge this year.
The volunteer officials. Need way say more?
Christopher Mies' – 72 hours in iso, no practice or qualifying and jumps into a GT World Challenge Audi at the first pit stop. His first lap is 1.2 seconds quicker than the previous best set in the race. Oh, and he was impressive in a TCR Audi, too, and that's not his regular ride. The guy is a force of nature.
John Bowe's sixth TCM title after a rollercoaster of a year: his 100th win, a cancer diagnosis, a Queen's Birthday gong, a cancer win and another crown. Remarkable.
Thomas Randle's Castrol news for 2022. Great brand for a great steerer.
Aaron Cameron's 1m59.8 lap in S5000 qualifying after the flag dropped. S5000 Qualy was one of the few highlights of the weekend for the open-wheel class – it was one of the best sessions of the entire week.
Cameron Hill claiming the Carrera Cup title.
The ABC dedicated more than six hours of coverage across Saturday and Sunday to the Bathurst event on their iconic Grandstand program, and based on the feedback they received, the listeners loved it. Time for a Supercars radio call, we think..
Supercheap Auto's '1000 Bathursts' campaign. Utterly sensational. The more brands spending money on the sport the better, and we love the cheeky nature of their marketing.
---
11. OUR OWN COVERAGE
FORGIVE US this indulgence, but we'd have to put ourselves in the 'NOT' section if we ran a Power Rankings didn't pat our own work on the back. TRT's digital media editor Mark Walker led our coverage from the Great Race (Editor Craill was away showing off in the Commentary Box and swanning about doing other things) and he absolutely smashed it: It was a record Bathurst 1000 week of traffic for TRT and saw more innovative content, if we do say so ourselves, that no one else does – either because they can't be bothered or didn't think of it.
From the daily notebooks to the track walk podcast, we've very proud of what we churned out last week and we thank everyone who offered up such positive feedback along the way.
Though it must be said, much like this column, others will probably rip it off next year.
If you're looking to nick our good ideas for 2022, here's some easy links so you can go back and check out all our build-up content, while you can still catch more on our social channels @theracetorque.
Keep scrolling for the WHAT and the NOT!
Sunday:
BATHURST 1000: Finish Gallery
BATHURST 1000: First Half Gallery
BATHURST 1000: Sunday Morning Gallery
BATHURST 1000: You have to watch these epic Bathurst TV intros
Saturday:
BATHURST 1000: Day 6 Notebook
BATHURST 1000: Saturday Photo Gallery
BATHURST 1000: Gen 3 Up Close Gallery
Friday:
BATHURST 1000: Day 5 Notebook
BATHURST 1000: Friday Photo Gallery
Thursday:
BATHURST 1000: Day 4 Notebook
BATHURST1000: Thursday Photo Gallery
Wednesday:
BATHURST 1000: Day 3 Notebook
BATHURST 1000: Wednesday Photo Gallery
BATHURST 1000: The Co-Driver Class of '21
Tuesday:
BATHURST 1000: Day 2 Notebook
BATHURST 1000: Tuesday Photo Gallery
BATHURST 1000: Trucks at the Track
Lead Up:
BATHURST 1000: Day 1 Notebook
PODCAST: Bathurst Track Walk
BATHURST 1000: First Look Track Walk Gallery
BATHURST 1000: Gurus, Hoodooes and Trivia Tidbits
Bathurst's Other Astonishing Motorsport Museum
BATHURST 1000: Be An Armchair Expert Strategist
PODCAST: The Massive Bathurst 1000 Preview
The 'Race that stops a nation' is yet to happen
---
WHAT
#88 Was pretty quick all weekend…
---
But why?
---
Just Reid Park things…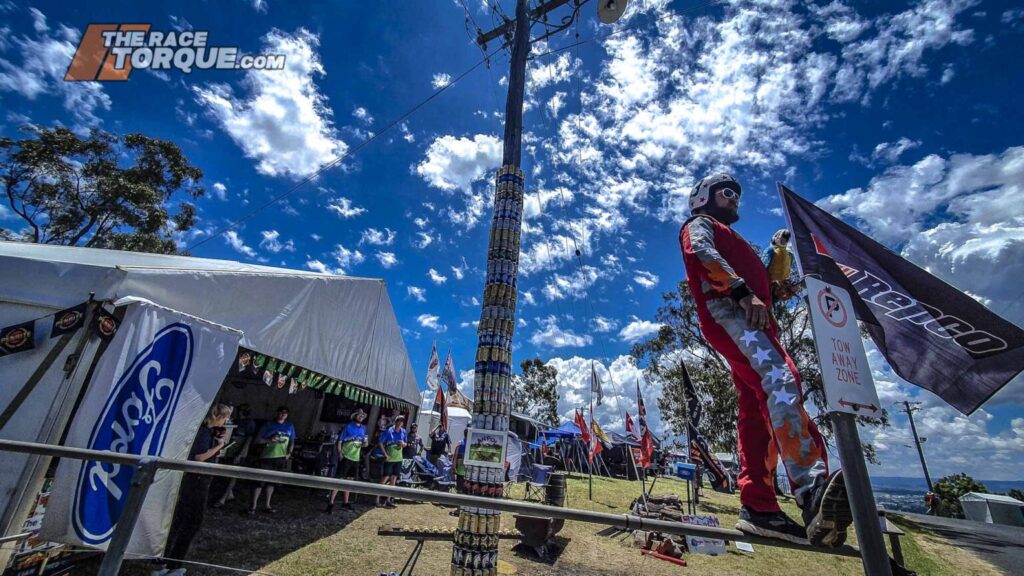 ---
NOT
DICK JOHNSON RACING
VERY AVERAGE. Never quite had the raw speed from early in the weekend and then the race went far from the intended plan for this team that on paper should have had two cars in the fight but in reality rarely featured beyond Tony D'Alberto leading early on lap one.
For starters, they weren't fast enough. #11 failed to finish, while #17 lost a huge amount of track position by double stacking twice – and that's before we mention the penalty for the unsafe release.
After about the 10th lap on Sunday this team at no point looked like they had a package good enough to win the Great Race and for this team of late, that's clearly not good enough. To add more woes, Davison's run to 10th dropped him out of the top three in the title race, too.
You can plant all the trees in the world to offset your carbon emissions, but it doesn't make a lick of difference if you're not competitive at the business end of the season and DJR were just not on the weekend. It's not a catastrophe – bad days happen, and they were still the quickest across at month in Sydney – but some introspection will be had in South East Queensland over the off season.
---
2. TEAM SYDNEY
OH DEAR. Just when things look like they're going really well for this beleaguered outfit it all turns to rubbish. Fabian Coulthard and Jonothan Webb were running inside the Top-10 in the Great Race and genuinely putting together their best performance of the year when the wheels fell off. Actually, it wasn't the wheels falling off that was the problem, it was an air jack falling out of the car that derailed – or should we say, took the air out – of their progress. And then the sister car fell on its face when the dash failed. Strange stuff happens at Bathurst, but this was about as cliché Team Sydney as a pair of Tickford Mustangs crashing into each other.
---
3. MATT STONE RACING
MSR have been all or nothing this year and Bathurst was very much the latter in a very strange, quiet and unproductive performance from the Queensland squad. Not particularly competitive on an outright pace level throughout the build-up, the team then saw both cars in the fence at various points throughout the event. Jayden Ojeda will have recurring nightmares about the top of the hill after his first two Bathurst experiences, while Kostecki's shunt at the Elbow was just disappointing and they were lucky he could extricate himself before going a lap down.
MSR have had superb moments at times this year – but this was not one of them and they should consider 13th at the end a very lucky result indeed.
---
4. FEENEY SHUNT
WHAT a shame for young Broc, who up to the point where he fenced the Supercheap Auto car had put in a genuinely competitive, strong performance throughout the race. Every time his car would tumble down the order with his co-driver behind the wheel, Feeney would haul it up the order and into the top-10.
With all the respect in the world to Ingall, it was Feeney who kept this car competitive throughout and it didn't deserve to end parked in the gravel at the top of the hill.
---
5. PYE / GOLDING
FEW things worse than exiting the Great Race on lap one. Owch.
(Narrator: It was not sent out again.)
---
6. BUREAU OF METEOROLOGY
AFTER a frankly stupidly wet week leading up to the six-day Bathurst spectacular, the BoM forecasts for race week weren't great. There were at least four thunderstorms forecast for on-track times, plus loads of rain. None of it eventuated, and instead, we had mild, and sometimes quite warm, conditions throughout the week. Zero thunderstorms occurred.
Monday, however? Rained.
---
7. SUPPORTS SHAMBLES
FOR all the goodwill in the paddock in putting together the largest ever support race program for an Australian Motorsport event, there was a lot of pretty average driving throughout the course of the Bathurst undercard.
Hard to know if it was the busy program, the fact some classes would run one day and miss another, or some that had one session per day – who knows – but the driving standards across the board were broadly pretty low rent. It's good that this was a one-off, because I don't know if the undercard could cope with another week like that.
---
8. S5000 DRIVING STANDARDS
LET'S get one thing clear, there was nothing wrong with the S5000 cars at Mount Panorama.
They looked awesome, went just fast enough and put on a great show. At least they did when the drivers weren't shunting. Some of S5000s drivers did the category a disservice at the weekend and if the big-banger open wheelers don't return to Bathurst in the future – which would be a genuine shame – the organic components behind the wheel must share a portion of the blame. Extremely disappointing for the category which deserved a better crack to prove it belongs at Bathurst.
---
9. POLITICS AND MOTORSPORT
WE GET why ScoMo and the NSW Premier of who we can not remember his name were on the big hill on Sunday, but it's just the most cringe-worthy rubbish, isn't it? There's enough politics in motorsport before we get the real politicians involved!
---
10. GEN III GEARSHIFT DEBATE
WE ARGUED about who to 'NOT' here because there were contributing factors from many parties to the unsavoury arguments that broke out following the Gen III reveal earlier in the week surrounding the thorny issue of the gearshifters.
The CEO probably didn't deal with it as well as perhaps he would have liked, so he's on the list. Roland and Rob Herrod fired up, with one on each side of the debate, which was good for quotes but only fuelled the fire. And the media representatives asking questions over and over about the same issue grew pretty cringeworthy, frankly, as others sat and watched the head honcho's at Ford and GM sit awkwardly.
Sure, it's an issue that is something that a section of the fan base cares about, and it needs to be reported. But in a way we agree with Sean Seamer in that the bigger storyline at Bathurst was about the cars themselves, GM's investment and decision to bring the Chevy Racing brand here and the Ford Australia CEO talking up their spending cash on the sport – let alone the shit hot new cars sitting in the garage.
It's also easy to agree about Dane's comments about the drivers, who never complain about a GT3 car and their paddles, or Herrod's about the show.
And it's easy to agree with the media who get plenty of clicks reporting on a story that some fans clearly want to read.
However, the bottom line in the eyes of Team TRT, at least, is this:
Supercars will not sell one less ticket, or have one less eyeball watching if they decide to go paddle shift. And if people turn off because they don't like the way a car changes gears, then it's not a massive loss to the sport anyway.
They will also not gain one eyeball or one paying customer if they keep the stick because it's just not a selling point of the sport to anything outside the hardest of hardcore viewers.
It is such a redundant debate in the grand scheme of things because all that matters is that Gen III makes for exciting racing that improves the product beyond what it is now. If it does that, no one will give a damn that the drivers play with paddles instead of a stick within the first five laps of the first race for the cars in early 2023.
Friday's gearshift debate was not a good look, and Supercars must make a call one way or the other as soon as they can to put this to bed.
End rant.
---
TWEETS
We're stealing this:
---
MEME