BATHURST 1000: The Co-Driver class of '21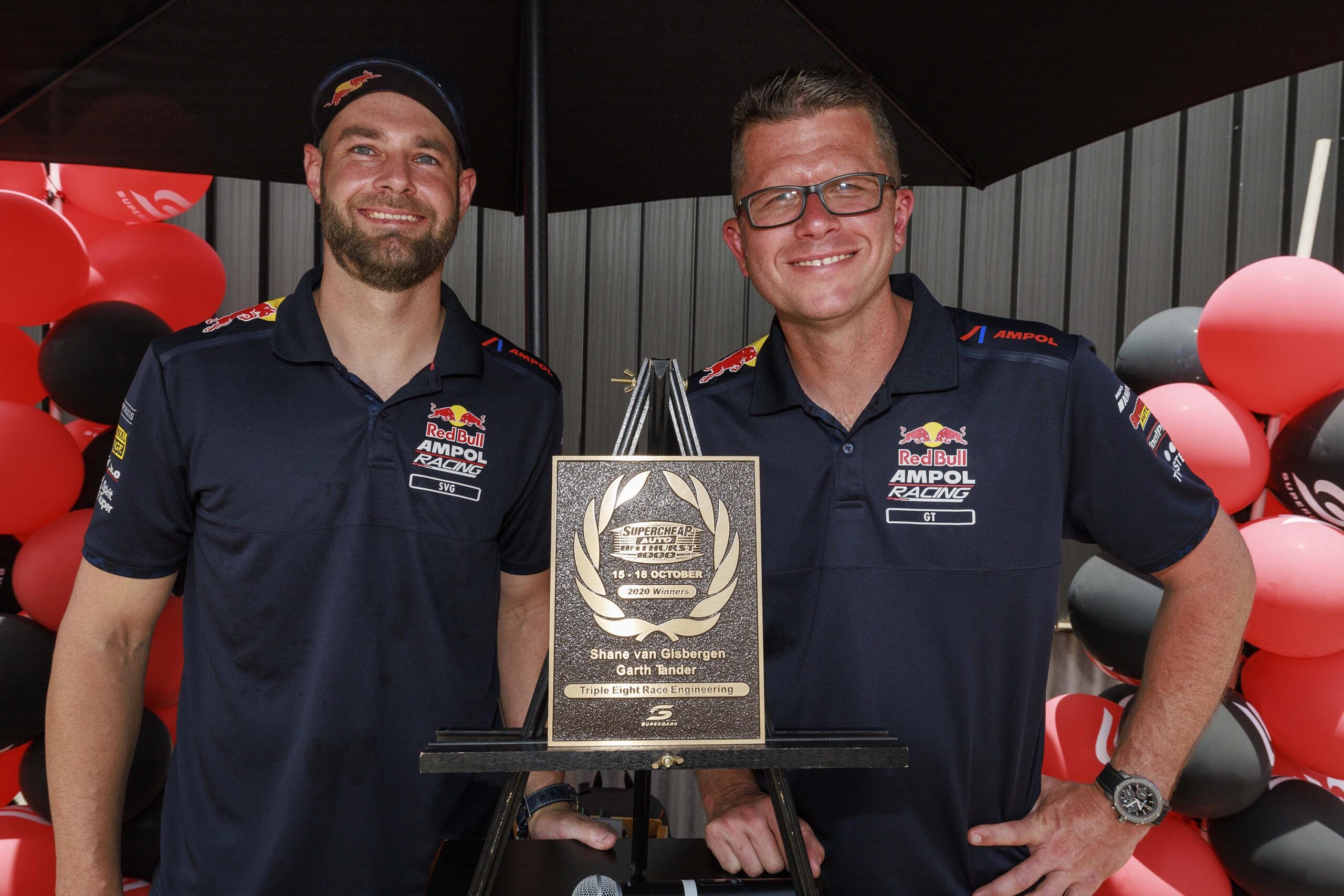 IN our annual TRT tradition, DALE RODGERS runs his ruler over the co-driving class of this year's Repco Bathurst 1000.
Bathurst. The Holy Grail of Australian Motorsport. Now for the second year in a row, the Repco Bathurst 1000 wraps up a COVID-19 affected season. Coming out of the four-weekend run at Sydney Motorsport Park, the Championship has been won by Shane Van Gisbergen. So, the 1000k classic is a straight-out race. Nothing to lose!
However, the Co-Drivers as a collective have had little seat time. The timing of the final Sydney event did give the Co-Drivers a session and a test day the following week also saw them in the cars, but for many they arrive at the Mountain somewhat underdone.
As always, their role will be crucial and only one team retains its 2020 line up. That team? The favourites – Triple 888 has Garth Tander and Craig Lowndes locked and loaded.
In our annual preview, The Race Torque looked at the form guide and reviewed the Co-Driver's impact on the team's chances. As always, we have applied a rating to each driver. Based on our now infamous (and original) Doric Power Rankings we have expanded slightly to a HOT – WARM – COOL ratings system.
So, let's take a look…….
Red Bull Holden Racing Team – Garth Tander (#888) & Craig Lowndes (#88)
The best Co-Driver combinations in the field. No argument from our end. Add to that that Red Bull Racing are the only team to have an unchanged line up! When this team came together in 2019, the 'Dream Team' label was quickly applied and with good reason. Garth Tander and Craig Lowndes are without doubt the most successful Bathurst co drivers in any team with 11 wins between them.
In 2020 the #97 Red Bull HRT Commodore of champion elect Shane Van Gisbergen and Tander scored an emphatic victory. Tander did a great job and looks ready to deliver another win at Bathurst.
In the #88 there is a lot at stake. It is Jamie Whincup's farewell race as a full-time driver and almost certainly the last time he will drive with long-time partner Craig Lowndes. Jamie binned the car last year, but this paring is more than capable of taking the win. Don't underestimate Lowndes at Bathurst.
TRT Rating:
Garth Tander HOT
Craig Lowndes HOT
Dick Johnson Racing – Tony D'Alberto (#11) & Alex Davison (#17)
This is one of the real head scratchers for the 2021 chapter of the Bathurst 1000. Anton De Pasquale took prodigious speed to SMP after the long break. Tony D'Alberto saddles up for his seventeenth Bathurst 1000 with a best result of third in 2017 with Fabian Coulthard in the DJR Team Penske Falcon. This is his sixth year with DJR who hold him in high regard. The ride with De Pasquale is possibly a higher-pressure environment than he enjoyed with Coulthard, as the #11 must be considered an equal race favourite with the #97.
Will Davison has his brother Alex back as his wingman. This one is the big change, however, as one Scott McLaughlin was slated as stepping back into his #17 DJR Mustang for a one off at The Mountain. With the pandemic putting paid to that, Alex was called in. He faces one of the toughest assignments in the field with little racing and seat time. With his brother wanting to shine as the lead DJR Ford in the points, the pressure is on here.
TRT Rating:
Tony D'Alberto WARM
Alex Davison COOL
Tickford Racing – Zak Best (#5), James Moffat (#6) & Thomas Randle (#44)
Can Tickford finally put it all together? A team that seems so capable but, on many occasions, ends up with puzzling results.
Super 2 driver Zak Best gets given a huge opportunity with Jack Le Brocq in the Truck Assist Ford. Best was chosen after former Bathurst 1000 champion Alex Prémat, who had planned to co-drive with the team this year, withdrew due to international travel challenges. As one of the rookies his job will be to keep Le Brocq on the lead lap with no doubt Jack doing most of the running.
One of The Race Torque's best Co-Driver picks in recent years, James Moffat teams up with Tickford lead driver Cam Waters.
On paper this is as good as any match up in the field. Moffat is fast and safe. He clearly has a good handle on the Tickford Mustangs and works very well with the engineering group. A big chance if it does not go 'full Tickford.'
Thomas Randle has big tickets on his shoulders. This is his fourth main game appearance this year and his performances whilst not startling have been without error. His off-track journey is well documented, and he has an abundance of talent – so much that Tickford have signed him full time in 2022 in their return to four entries. He joins James Courtney in the #44 Boost Mobile Mustang, who landed a much-needed podium at SMP2. This pair could well fly under the radar at Bathurst and pop up with a very good result at the end of the day.
Zak Best COOL
James Moffat HOT
Thomas Randle WARM
Erebus Motorsport – Jack Perkins (#9) & David Russell (#99)
In our 2020 review we rated Will Brown and Brodie Kostecki highly as the Erebus co drivers. Fast forward 12 months and the faith Barry Ryan and his Erebus crew has shown in promoting these two into the main seats has paid dividends – but it meant Ryan had to go searching for two new Co-Drivers.
In Jack Perkins he has a seasoned and safe pair of Bathurst hands. Perkins has not missed a start at Bathurst since 2006, making this his sixteenth appearance. Results however have not been great with only one podium in that time with James Courtney in 2019. But the results belittle his performances, and he is a perfect partner for Will Brown. This is a very good pairing.
In the #99 Erebus Commodore is David Russell. Like Perkins he is a 'veteran' at Bathurst with nearly all his starts being with Kelly Racing and Nissan Motorsport. Russell is somewhat of an enigma. He carries strong personal backing, competes again in Porsche Carrera Cup but has never really shone on the big stage at Bathurst scoring only two Top 10's in eleven starts. He will need to be in top form to keep the 'in form' Kostecki in the hunt.
TRT Rating:
Jack Perkins WARM
David Russell COOL
Walkinshaw Andretti United – Warren Luff (#2) & Lee Holdsworth (#25)
Warren Luff is the undisputed star Co-Driver Podium performer at Bathurst. He has an amazing six podiums from his last eight starts! Moving Luff from Chaz Mostert's #25 to Bryce Fullwood #2 is a very interesting and perhaps baffling move by WAU.
Whilst Fullwood has shown flashes of good form it was not enough to keep him in the team for 2022, so it is more than likely than Luffy may spoil his record in 2021.
Across the garage Lee Holdsworth returns to Supercars in his first co drive gig in the current era. He has been keeping match fit with a TCR program but like most has little Supercars seat time to date. Holdsworth is a very steady pair of hands. A good, fast racer but he will need to bring his 'A Game' as Mozzie has really been the best of the rest after T888 and DJR.
TRT Rating:
Warren Luff HOT
Lee Holdsworth WARM
Brad Jones Racing – David Wall (#4), Dale Wood (#8), Dean Fiore (#14) and Chris Pither (#96)
A bit of a mixed bag at BJR in 2021. Heaps of experience across all four entries but little cumulative miles. Joining Nick Percat in #8 is Dale Wood. No stranger to the Mountain having had thirteen starts prior to 2021. Also, no stranger to BJR where he drove full time in 2014 and '15. However, Wood has raced for eight different teams across the journey – with Kelly Racing in its various guises accounting for many of those. He is quick and has settled back into the Porsche ranks, but Percat needs Wood to be at his best at Bathurst.
Dean Fiore is another who has an abundance of experience with only one start less than Wood, but the West Aussie has had more recent success with Team 18 and Nissan Motorsport. He teams up with Todd Hazelwood in his last drive for BJR, so there is a lot to prove here. Fiore was almost furniture at Nissan and Kelly Racing teaming up there with Michael Caruso for five years in the Altima Supercar. He is fast and reliable. Possibly the best combo at BJR.
Kiwi Chris 'Coca Cola' Pither completes the BJR squad with Macca Jones. It is no secret that the Coke deal is linked to Pither and he has very strong ties to the distributor and company. The #96 BJR Commodore has shown a turn of speed on occasions but Jones is yet to capitalise on a result. Pither should do the job asked of him and Top 10 result would be like a win.
Finally, Porsche specialist David Wall makes a return to partner Jack Smith in the #4 Commodore. Originally Ash Walsh was entered to join BJR once again, but he had to pull the pin with the border restrictions not allowing his return to Queensland in a timely manner. Wall has stepped in and had his first taste of the BJR car at SMP in the brief Co-Driver's session. Wall's job is clear, keep the car going around and try and assist Smith to get a confidence boosting result.
TRT Rating:
Dale Wood WARM
Dean Fiore WARM
Chris Pither COOL
David Wall COOL
Team 18 – Michael Caruso (#18) & James Golding (#20)
Charlie Schewrkolt's Team 18 has put in some very good performances this year but four weeks at SMP did not see the team bag the results some may have expected. Both Winterbottom and Pye seemed to get better with each outing, but the team will be looking for a big finish to 2021.
Co-Driver wise one stays and one is new: Michael Caruso joins for his sixteenth Bathurst, but only his third Co-Driver role since leaving Kelly Racing in 2018. He will slot in well with Frosty and bring a lot of experience to this team.
James Golding moves from Frosty's car but stays in the team and joins Scott Pye in the #20 Commodore. This could well be one of the surprises of the race: Pye has a great record at Bathurst and Golding has impressed, although it is hard to believe this is his sixth Great Race start. GRM rates him highly and he is one of the better 'young' co drivers this year.
TRT Rating:
Michael Caruso WARM
James Golding WARM
Kelly Grove Racing – Matt Campbell (#7) & Luke Youlden (#26)
The Kelly Grove Team has let go both its regular Co-Drivers and opted for some fresh talent in the #7 Mustang and reunited a winning pairing in the #26 Reynolds car.
Earl Bamber had been named as Heimgartner's teammate, but like Scott McLaughlin, border restrictions saw him hand the baton to fellow Porsche driver Matt Campbell. Making his third 1000k Supercars race, he is more remembered for his stunning Bathurst 12 Hour form with two wins and a fourth in the last four events held at the Mountain. He looked instantly at home with his Co-Driver run at SMP4.
Being lured out of Supercar 'retirement' after what was a painful end at Erebus, Luke Youlden re-joins David Reynolds in the #26 Mustang GT. And of all the co-drivers, Youlden picked up a lot of seat time following the vaccination controversy surrounding Reynolds in Sydney. He performed very well and will be well prepared going to Bathurst.
The team overall must find consistent speed in the Ford Mustang's, something they have struggled with in 2021. But if it rains, the Heimgartner / Campbell combination could be a surprise contender come Sunday.
TRT Rating:
Matt Campbell WARM
Luke Youlden WARM
Team CoolDrive – Tim Blanchard (#3)
Team owner Tim Blanchard returns driving duties in the #3 Cool Drive Mustang to partner Tim Slade.
What a year this brand-new team has put together. Slade silenced all his critics at the very first round here at Bathurst, and almost grabbed a maiden outing podium before binning the beautifully prepared ex Phil Munday Tickford Mustang. His performances since have been first rate.
Blanchard has made some cameo appearances in Super 2 with Eggleston Motorsport again in 2021 finishing on the podium at Townsville. His Bathurst record is solid if unspectacular.
This team could well spring one of the big surprises at Bathurst and a Top 5 could be achievable.
TRT Rating:
Tim Blanchard WARM
Matt Stone Racing – Kurt Kostecki (#34) & Jayden Ojeda (#35)
MSR is saying goodbye to both its main drivers and has drafted two new Co-Drivers so it is going to be a weekend of learning for the small Queensland team
Kurt Kostecki joins brother Jake in the #34 and they are very equally matched. Kurt has a number of wildcard starts with WAU under his belt already this year. One thing for sure is that a Kostecki is going to be in the picture no matter what happens to this car.
Zane Goddard has been the quicker of the two main drivers and he is joined by Jayden Ojeda in the #35. Ojeda had a tough introduction to the Mountain in 2020 crashing in several on track sessions in the GRM run Commodore and his MWR Nissan in Super 2. He needs to put all that behind him and not over drive. Let Goddard do the work and maybe a result will come.
TRT Rating:
Kurt Kostecki COOL
Jayden Ojeda COOL
Team Sydney – Jono Webb (#19) & Dylan O'Keefe (#22)
This ambitious project is still chasing a reward for effort. Big change in 2021 saw Fabian Coulthard arrive but the team still struggles to put a car under him race to race that can move up the grid. Team owner Jono Webb joins Coulthard in the #19.
Webb has driven less and less in recent years but has shown his talent particularly at the curtain raiser normally held at Sandown in the Co-Driver races. Is he rusty this year and too focused on the running of the team?
In the other Team Sydney car, Dylan O'Keeffe joins for his second 1000km race. A talented young racer, he must just play his role and let the race come to him and lead driver Garry Jacobson.
A top 15 for either car, if the race is not one of attrition, would be a needed result.
TRT Rating:
Jono Webb COOL
Dylan O'Keefe COOL
Super Cheap Auto Racing – Russell Ingall (#39)
It's been a long time since we rated Russell Ingall as a Co-Driver! The Super Cheap Auto Commodore is prepared and run by Triple 888. Super Cheap clearly wanted to keep a card in the game as Repco took over 'their' sponsorship.
Broc Feeney steps up full-time next year but he has been racing very well in Super 2 and is part of the T888 family now. Paul Morris has been tutoring him well and no doubt he has also been giving advice to his old mate Ingall. It is a big call for Russell, but three 'rookie' test days (how ironic!) at QR has from all reports been successful.
It is hard to predict just where this pair will finish up. Feeney will be using this as a precursor to 2022 and Ingall, well he is perhaps enjoying the Super Cheap support and no doubt will get the race face on come Sunday.
If they don't do anything else, at the least they will be a popular team!
TRT Rating:
Russell Ingall COOL