DORIC POWER RANKINGS: The Wild West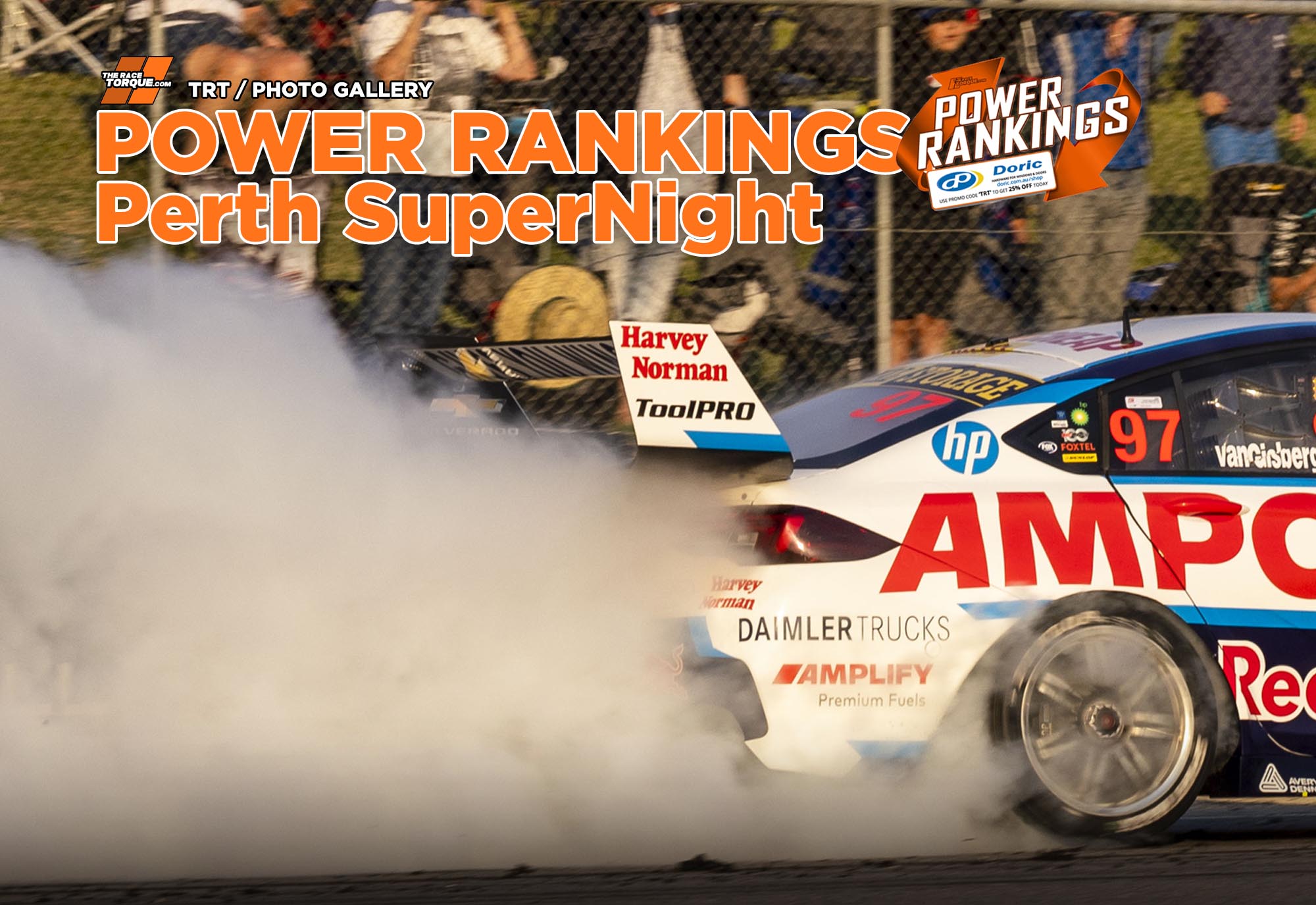 WELL, that was surely a weekend that gave us plenty to talk about, both on and off the track.
There were stories everywhere in Supercars land and lots worthy of our debrief from such an event.
As such, and with thanks to our friends at Doric Australia, welcome to the latest edition of the HOT, the NOT and the WHAT list from the Perth SuperNight.
Yep – welcome to the TRT Doric Power Rankings..
---
---
HOT
1. Shane van Gisbergen
YOU'D think someone bursting a 2,030 day losing streak would be #1 Hot, right? But how could we when this bloke is doing what he is doing at the moment?
Two more wins at the weekend make it eight for the season and what's that Skip? He's starting to get pole positions now as well? Better go and find that Nuke, Skip, because that's about all that is going to stop the rampaging Kiwi at the moment.
To make matters worse (or better, it's all about perspective, after all) his Race 3 performance made him look even more dominant. Shane was the kitten playing with the mice in that race, finally working out that it wouldn't actually take long to make a feast out of things and the rest, as they say, is another second place to Tickford.
Now 157 points in front and there's a good chance he'll be getting the Supercars trophy before the AFL and NRL ones are presented this year.
---
2. Will Davison, also: Anton De Pasquale
FINALLY some signs from DJR that they are converting their prodigious qualifying pace into genuine race-winning form. Plenty of moist eyes (#DoricGuy among them) when Will Davison finally broke through for that long-anticipated next victory, some 2,030 days after his 2016 Bathurst win with Tekno. It was an impressive drive from the Queensland-based Victorian, with flashes of aggressiveness not usually part of his driving make-up – but this is what you need in the modern Supercars era, after all. Anton continues to be probably the fastest guy over a lap and while their race stuff is yet to click, it feels like there will be a weekend where the #11 and the #17 power off merrily into the distance as a pair of Red and Yellow Shell Fords have done so many times in the past.
---
3. Lead battle race two
WHATEVER you think about the penalty that came afterwards, this scrap between the two Mustangs was absolute box-office. It was hard, it was aggressive but fair and hugely entertaining. This is Supercars, 101, and this is what Gen III needs to deliver more routinely.
---
4. Tickford Racing
WE WERE all poised to throw them down the bottom end of the tally again but credit where credit is due, this team was much, much better this weekend. Waters' crossed the line first in Race two, Courtney led much of the way to the flag at the end of Race 3 and both Tom Randle – who ultimately had a shocker – and Jake Kostecki were both speedy all weekend.
Of course, this being 2022 (where consistency is as hard to find in Supercars as it is in politicians) and Tickford being Tickford there's every chance they'll be mired down in the minors at Winton; but even though they didn't get a win, this was a much improved weekend for the boys from Melbourne.
And we've said it before and will say it again: the series needs Tickford to be good. It is better when they are competitive. More of this will be good.
---
5. Dunlop Series Race 1
There's a saying in the Media Centre along the lines of 'We can't wait for this race to go Full Super2', which basically means 'We can't wait for things to go mental, and then go beyond it even more'. Seriously, Super2 is the closest Supercars racing has ever been to full 1990s-spec BTCC racing at the moment. It's sensational, box-office stuff and you just must watch every race.
---
6. Being back in Perth
BECAUSE we're all still in the 'thank god this place ISN'T Sydney Motorsport Park', it was superb to return to the West for the first time in 2019. And boy, it was a good visit. The circuit looked a million bucks; the WA Sporting Car Club do a tremendous job there and the facility is up there as one of the best in the country in terms of amenities and viewing (even if they did put that stupid pit building in the middle).
It's got soul, Wanneroo, like all good old-school tracks and it's just a great place to watch motorsport.
The Saturday crowd was outstanding – the biggest there in years – and gave it a big event vibe. Sunday was notably smaller, but in the warm sunshine it felt more like a country race meeting than blockbuster event which was a nice contrast to Saturday.
Best of all, Wanneroo is a great race track for, you know, racing and it proved that again on the weekend. Like Symmons Plains, if they ever change or attempt to lengthen that layout, we'll be the first in to chain ourselves to the bulldozers. It doesn't need it.
---
7. Night racing
AS MAGIC as Sydney's permanent lights are, there's arguably something more dramatic about the more temporary setup in place for the Perth event. While there was more lighting than the last visit in 2019, it was still patchy in places – but that's a good thing. The cars looked faster at Wanneroo than they did in Sydney, and that's a quicker circuit. A great show.
---
8. Todd Hazelwood
LADIES and gentlemen, Todd Hazelwood is putting together a very tidy little season, thank you very much – justifying the show of faith from Matt Stone and his team to bring him back on board. Has quietly snuck up to 11th in the championship with an average finish of 11th – but is yet to finish outside the Top 20 this year. And why is that a big stat? Chaz Mostert has been 20th or worse on three occasions!
Very solid season so far – the next job will be a podium but it really does feel like it is in the offing.
---
9. Andre Heimgartner
BJR have had a 'mare this year but signing Andre Heimgartner was not part of that bad dream scenario. The young Kiwi proved his class again on the weekend and maximised his tyre selection in Race two to blaze his way into a podium finish. But it wasn't a fluke: finishes of 10th, 3rd and 9th across the three races showed real consistency, too.
Remember when BJR used to rock up at Winton and smoke everyone? Fabian did it and Slade, too.
We wouldn't be shocked if the Albury boys and their fast Kiwi pull a big result next time out.
---
10. Unsung heroes
LONG red flags mean big stress for the people who actually run the race meeting, but in this case, all delivered superbly to get things on track (literally) and ensure the place was safe to race. Supercars race ops chief Paul Martin is a multitasker, as outlined below, and to be crude about it, just 'Gets Shit Done'. But the WASCC, Motorsport Australia team and everyone involved pulled together to get the wheels turning. It deserves a shout out.
---
BONUS HOTS
Broc Feeney: Every single person in the paddock not driving a Red Bull car knows that at some point this year it's all going to click and he'll be right there with SVG. It's not if, but: when.
Jake Kostecki's Race 3 Qualifying was a very impressive performance.
Funny how quickly things change when you look at results of 4th, 11th and 6th from David Reynolds and think "meh", but in reality it was yet another strong weekend from Grove Racing who are yet to hit the consistent inconsistencies of almost everyone else this year.
The WA Historic Touring Car field is arguably the best presented in the country. Stunning cars.
The WA Army band were set up behind the control tower and rocking tunes all weekend and were bloody good. Cudos.
EXTRA HOT
I mean, of course, it's Larko:
---
WHAT
Big career move
---
A fair bit to take in there, per the Race 1 results…
---
Race Two
It was HOT, and it was also NOT – there was also a reasonable amount of WHAT in there too. So here it sits.
---
NOT
1. Walkinshaw Andretti United
Here are some numbers:
They might look random, but they are actually the finishing positions this year to date for the guy sitting fifth in the championship, Chaz Mostert.
We've talked about inconsistency, but the last time something was this unreliable it was Editor Craill's Porsche 944.
Wanneroo was miserable for WAU. Actually, it was worse – it was a dog's breakfast.
Here's our notes compiled during the weekend that are an accurate summation of things.
Chaz Out Q1 R1
Percat also out, P25, Chaz P23 Q1
Nick P21, Chaz caught out in first corner melee P22
Q2 Chaz P21, Percat P25 after contact with Fullwood
Q3 Chaz P24, Percat P25
Race 2: Chaz 12th, Nick 18th
Race 3: Chaz 19th, Nick 15th
What else can we say? How does this happen to a team so many people felt could have been a regular contender this year? This was a shocking weekend, and if Chaz does win the title this year (feels unlikely) it will only be because he pulls a string of results out of his backside so brilliant that it buries this event (and Tasmania, to be fair) deep into the ground.
As for Nick Percat, it must be tough coming into a new environment and then having to deal with this level of hit-or-miss pace that seems to be prevailing at the moment. Hard to learn the ropes in a new car and new team when said car is all over the shop.
---
2. Scott Pye/Jack Le Brocq Race Two
WHATEVER your take on the accident (was there an overlap?) this was a shocking shunt, that speaks volumes for the safety of the cars these days. Pre-Reindler shunt, this could have been a massive Mark Webber: fully flame grilled. We're actually completely on board with Scotty calling it like it was in his interview post-race – the sport needs that stuff – but ultimately avoidable crashes like one this do nothing for the sport, save for delay the program, piss people off and add a heap of expense that no one really can afford.
---
3. Mark Winterbottom Qualifying Race Two
Perhaps there is something to be said for split qualifying, but it is something that has happened time and time again at short tracks – especially Wanneroo – with slow cars getting in the way of those on a flier.
Not only did Winterbottom wobble into the path of Broc Feeney who was on a flier, but he also got in the way of SVG, who subsequently qualified in 11th for race two. Also, Frosty earned a 15sec penalty for turning Thomas Randle in the finale, capping a rotten weekend for Team 18.
---
4. Police Jam
WE'RE not talking about some kind of police band here, more the fact that it appears that WA's finest successfully created an enormous, massive traffic jam on the Saturday evening of the event.
TRT understands that at least one, but possibly more Random Breath Testing (RBT) units were positioned on either side of the only access road in and out of the venue on Saturday, meaning that when 10,000 people tried to depart all at once they were all at the mercy of WA's finest. And when we say all, we mean that because they must have been testing every single car leaving the track.
We're all about road safety, and drink-driving is the most stupid thing you could possibly do. We do not condone it.
But there's catching an unsuspecting drink driver who's had a few too many of the official Green Tin of Supercars – and then there's going overboard and inconveniencing an enormous amount of people, some of whom spent two hours in the very far-queue after a very long day at the track.
It's a shocking look and got a lot of people upset.
Unfortunately in this instance the Police were not the ones who copped (good pun) most of the hate and the heat – that went to the WA Sporting Car Club, the circuit and Supercars: who had absolutely nothing to do with the positioning of the RBT units.
The Police always play a great role in Supercars events, and we mean that – but in this instance they created an avoidable issue that left the circuit and the series looking silly. Not good.
---
5. Not knowing the Super3 testing rules
BIT of a rookie error from Anderson Motorsport here. The Super3 rules, when it ran as a separate category, did allow for testing the week of the event. However with the series sharing the grid with Dunlop Super2, the whole shooting match works under the Supercars Ops Manual – which most certainly does not. The pit lane start is neither here nor there: The $10,000 whack (on top of the cost of actually doing the test in the first place) definitely is. Always read the rule book.
As an aside, we're looking forward to the DS2/3 wing being established at MA's new Melbourne headquarters. Decent down payment was secured at the weekend, after all..
---
6. Kostecki on Kostecki Race Three
You know that song on Tik Tok / Instagram Reels that goes 'Oh No, Oh No, Oh No No No No No?' Yeah, that one. That will be used in relation to this shunt time and time again.
---
7. Thomas Randle/Lee Holdsworth Race Two
Messy.
---
8. Bryce Fullwood
WHILE Andre Heimgartner salvaged some pride for Brad Jones Racing at the weekend, Bryce Fullwood had something of a shocker.
A broken gearbox in Race 1 caused him to DNF. A flat tyre in Race 2 right at the end saw him peel off into pit lane when he should have just crossed the line to get the finish – but the result was the same; another DNF.
14th in Race 3 was a decent salvage job but man, it's been a tough few years for the likable lad from the Territory.
Still the weekend could have been worse: He could have still been at his old team..
---
9. Local supports
WHEN you're a local support category getting the chance to perform on the big stage, you need to maximise the opportunity else there's a good chance you won't get invited back. That's why it was a shame to see the first WA Historic Touring Cars race play out as it did. A few days on and we're not entirely sure of what happened, but suffice to say someone stopped on the formation lap, the start was delayed, then when it did start there was a Safety Car almost immediately and the race was classified a no-result. Shame.
---
10. Potty mouth
Don't get us wrong – we Vote 1 passion, and agro and competitors firing up, blowing up, and melting down. Howevever, some of the TRT households contain small impressionable kids, who love to repeat new words they hear. If it were an adults-only broadcast, we would be all about the quantity and quality of swears belted out in recent times, but isn't the aim the game to invite families to spend their Sunday afternoon in front of the idiot box?
(Young lad picked up some new words has he, Mark? Got some explaining to do to the missus as to how? Not convinced that the answer 'but Scotty Pye said it was OK' will fly? – Editor Craill)
---
BONUS NOTS
The last vestiges of the ridiculous Covid-19 border controls were on show before the weekend when the WA Government, in what was perhaps their final act of being their own independent nation like they have for the last two years – requiring all inbound travellers to write war+peace to fulfil their G2G pass requirements to enter the state.

And then, in a massive flex, they dropped the requirements (along with others for masks and whatnot) on the Friday..
---
TWEET
#DoricGuy Watch: Victory Lane Edition
Getting a bit out of hand when people are spotting him on planes, too..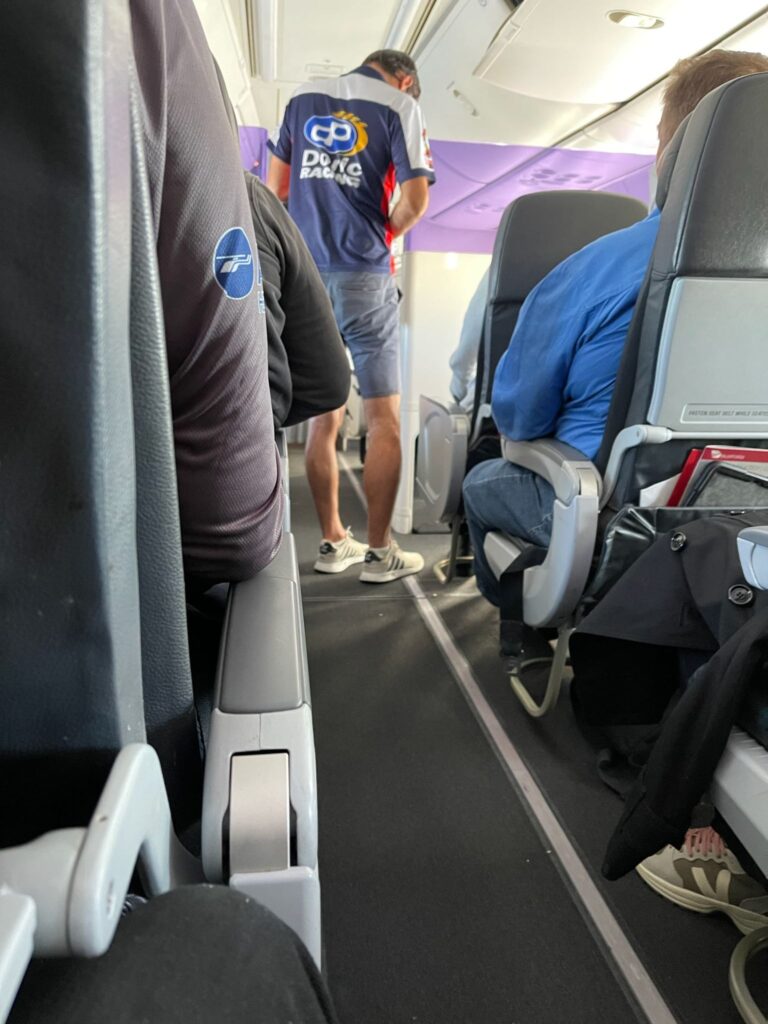 ---
Wild practice for JC
---
When the brakes are burning on the Subway car…
---
Gated
---
MEME
This is like dividing the internet by zero…
This one is also applicable to much of the Sunday coverage…
---