Rob Herrod's Amazing Ford Journey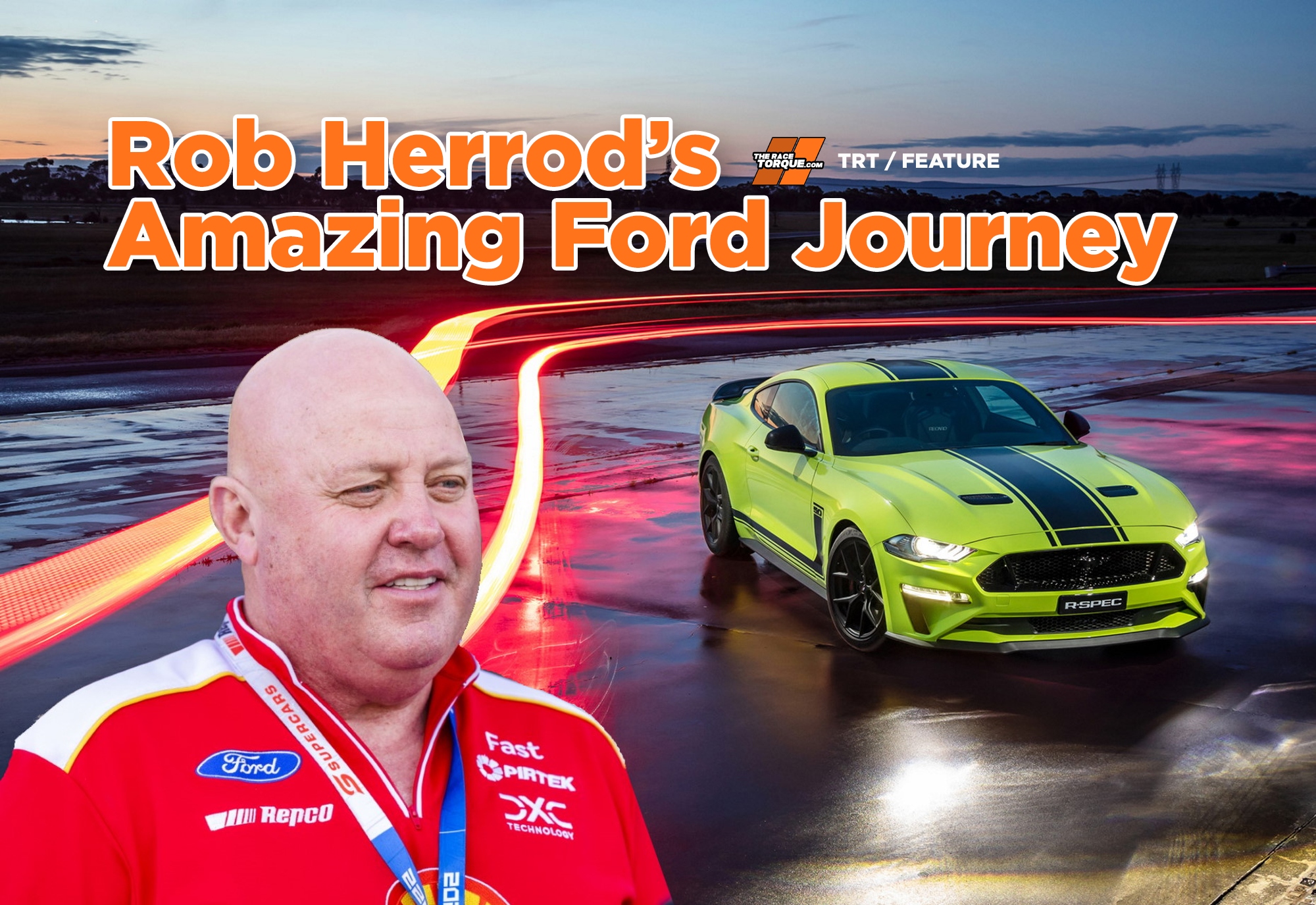 Rob Herrod's first car was a Holden.
But that was a long time ago and now with some forty-five years of blue blood running through his veins, Herrod is a Ford man. Actually, he is more than a Ford man, he is Australia's, and possibly outside of the USA, the most influential Ford player in operation.
Passionate, jovial, inquisitive, and tireless are but a few of the traits this popular figure in the Supercars paddock exudes.
He started his working life in the northern Melbourne suburb of Thomastown in the 1970s, and quickly forged a relationship with Ford in nearby Broadmeadows.
"When I was young, I needed money to buy a home and needed ways to earn it. What I used to do was buy damaged cars to repair. I found it easier to do one brand of car so I could accumulate components and parts. And that brand was Ford," Herrod recalls to The Race Torque as we sit in the DJR Transporter at a recent Supercars round.
"I would buy a brand-new body shell from Ford, buy a wreck, finish the car and found that someone would come along and want to buy it. It was that simple!" He smiled.
"I had people I had got to know at Ford. The R&D trimmer was a mate, so we would make customised trims. Along the way, I got to know Jac Nasser (Ford Australia President), and I looked after his private fleet of cars," Herrod adds.
Around 1991 Tickford Vehicle Engineering (TVE) was established as the high-performance car division of Ford in Australia. Herrod was asked to sit on the board and through this association, he met a person who, even today, he believes set him on the course that has led to so much of his success in the Ford world.
That person was Howard Marsden.
Marsden had returned to Australia to lead TVE, and assist in the development of a range of performance Falcons. As Ford came back into Touring Car racing, Marsden was seconded from Tickford to become manager of Ford Racing in 1999.
"Howard came to see me and said Ford was getting back into motorsport and said I would be the ideal person to work with," Herrod recalls.
"We started doing some project work with Howard, building some show cars and a V10 Mustang, and he actually had an office in my facility. I would travel to every V8 Supercars event with Howard to support him and our relationship grew very strong over this time.
"I believe to this day that Rob Herrod is where he is today due to Howard Marsden. He gave me the strength and the support I needed. He told me that I should brand the company as Herrod Motorsport and become synonymous with Ford Motorsport. Who was I to argue?
"We started making high-quality components, exhaust systems and the like, and I was able to tap into OEs to get things like brackets, clips, bits, and pieces that I could not access before. It is very easy to hot rod parts but not to hot rod OE. Howard opened the door to allow me to do these things and it has all led from there. I can never thank him enough."
The other piece of advice that Herrod took from Marsden was the importance of branding. By his own admission, Herrod was not a marketing practitioner, but Marsden told him to promote his brand, to focus on Herrod Motorsport and not let other brands that he may be selling or distributing overtake his own identity.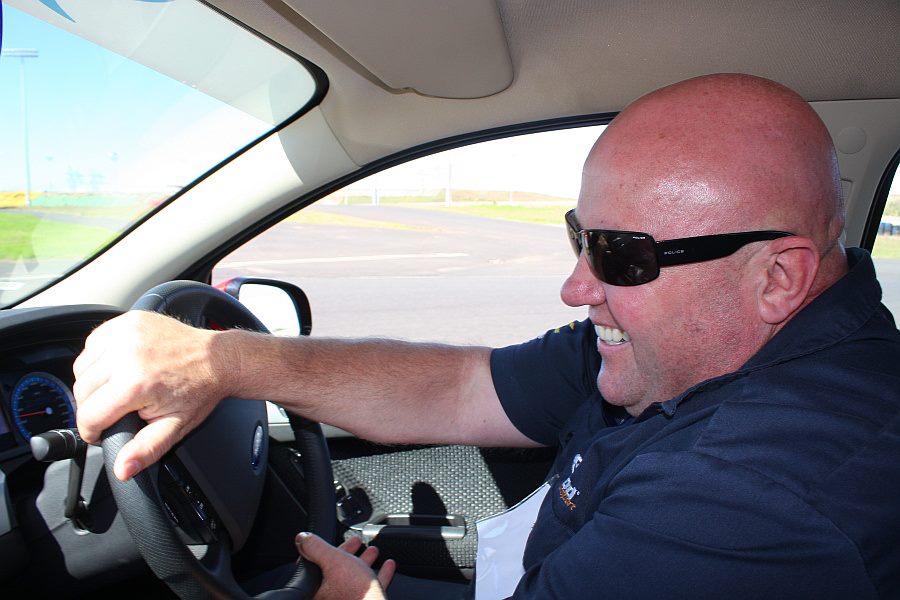 Ford ultimately lost its appetite for Supercars, but Herrod was given the contract to build the cars for the VB Challenge, an on-track entertainment feature with Ford pitted against Holden. This kept Herrod firmly entrenched in the Supercars paddock as he effectively represented the Blue Oval at every event.
But his eyes were also focused on the Ford Performance Parts business, and he explored how he could access this range for his emerging Victorian based company. There was an existing official distributor in Australia, but Herrod wanted to purchase direct and have an account based in the USA rather than rely on a local agent who invariably carried little stock.
"I used to knock on Ford Performance's door every time I went to the PRI or SEMA shows in the USA," Herrod recalls.
"I need an account, I would say. This went on for about four years, but I was consistently told that although they knew me and what Herrod Performance was doing with Ford in Australia, they just could not help."
Existing distribution channels here in Australia were being honoured and Herrod was left to keep persisting. Finally, a door opened when Rob was invited at the PRI Show to a Hot Rod Magazine BBQ. With many high-profile automotive attendees present, Herrod made sure he was near the guests with a Blue Oval on their shirts.
The talk got around to why Herrod was not selling Ford Performance Parts in Australia and Rob confessed sheepishly that he simply could not get an account. It was a jaw-dropping comment to the Ford Racing people. So back at the PRI Show the following day, Herrod, under instruction, visited the Ford booth and meetings were quickly set up with the then Ford Racing boss Jamie Allison, and a number of other heavy hitters.
"Next minute I am the Ford guy for Australia," Herrod said. "But I wanted to prove quickly to them that they had made the right choice."
Having access to the use of the Ford logo and Ford IP as part of the deal, Herrod started importing a wider range of parts and crate engines and as he says, 'bought some of the glitz of the USA shows to Australia.'
Herrod says with some pride how the strategy worked.
"They were amazed," he said. "I had sold more parts in the first six months than had been sold in a couple of years."
The next big step for Herrod Performance came with the relaunch of Mustang. Herrod was now a regular visitor to Ford in Detroit and his network in the company was growing. He pitched an idea that he could package up Ford supplied products and begin to market genuine Ford Performance upgrades to the Mustang, post dealer delivery. Not only did this get a tick, but Ford also told Herrod they would warrant it. A huge step for post-production modification.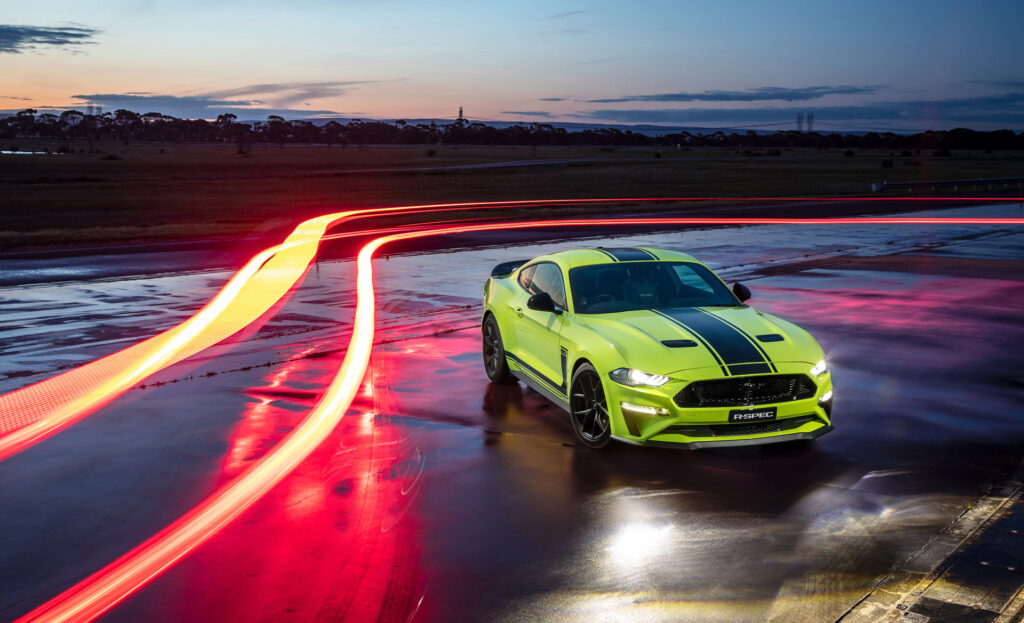 Whilst the Herrod Performance business went from strength to strength, the most significant challenge of Rob's life lay ahead in the form of the Ford Mustang R Spec. This was not a car that had some aftermarket packages – this was a full production vehicle to be sold and delivered through the Ford Dealer network.
"The biggest achievement in my life is the R Spec Mustang," Herrod says with obvious pride. "It grew out of Ford not being able to get their supercharger and exhaust system through ADR, that it came about. I had done all the testing and Stephen Kruk (Ford's GM Customer Service) gave me a project to see if we could sell cars via the Ford Dealerships."
The project's genesis dates back to around 2018, with its quick growth sparking interest from Ford Australia. Herrod Performance had gained a Second Stage Vehicle Manufacturing status allowing modifications and compliance of road going vehicles.
This meant Ford Dealers could legally send cars directly to Herrod and then have them returned to dealerships rather than conduct an after-market process. Herrod spent a considerable sum to achieve this status only to have another hurdle thrown at him.
"I had spent the money to gain compliance then couldn't do it as Ford had a regulation which states you cannot modify a vehicle before registration," Herrod recalls.
Out of that setback came the decision by Ford that it would not simply investigate modified Mustangs, but it would build a limited-edition car – the Mustang R Spec, and Herrod was the chosen partner.
"It was the greatest learning curve of my life. I thought I knew a lot of things, but until you get deeply involved with an OE Manufacturer you know nothing. I can assure you the aftermarket players have no idea how they operate," he said.
"What was really cool was that as Ford was no longer a manufacturer, and I held Second Stage Manufacturing status, so it became a collaboration between Ford and Herrod Performance," Rob recalled.
The 500 R Specs were built at Ford's Broadmeadows plant, but with a twist. With over 200 people on the project, the plant was registered to Herrod Performance. Rob found himself running the largest project his company had ever undertaken.
"The cars had to be built with a Herrod Compliance Plate and sold as a Herrod car and not a Ford car!" But there were sceptics who were waiting for the project to fail and Herrod put paid to them by delivering a stunning product, that were sold as new vehicles through the Ford Dealer network.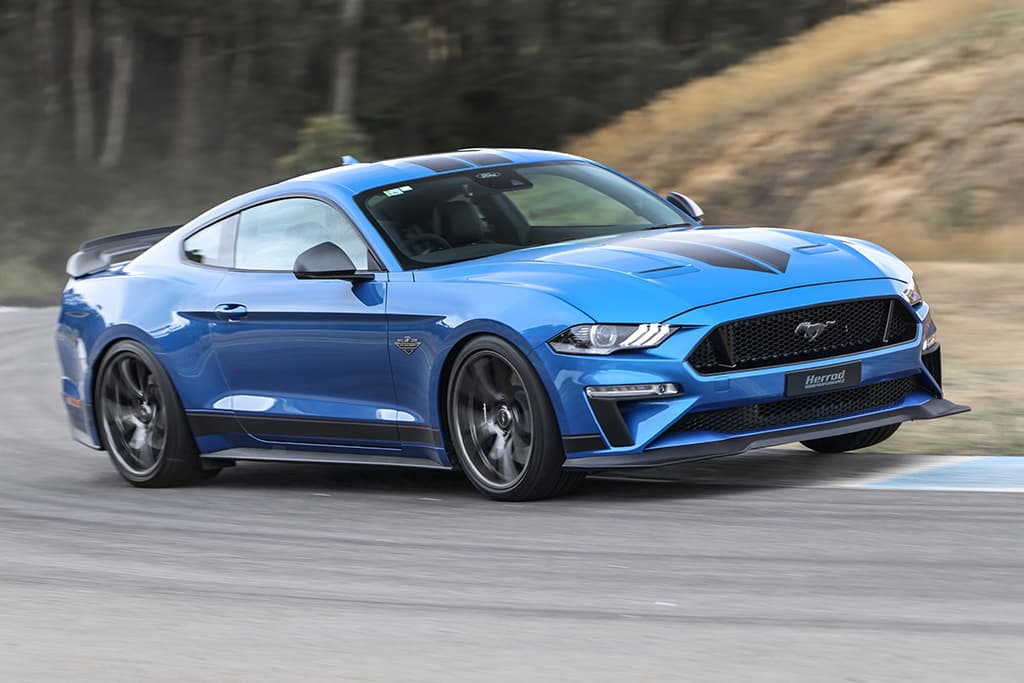 Of course, everything Herrod Performance has undertaken over many years has strong ties to motorsport and in particular Supercars. Herrod built a robust relationship many years ago with Dick Johnson, and has developed multiple DJR specials over the journey.
"While the R Spec project was going on, Dick and Ryan (Story) were at me to look at a DJR Mustang. I could not tell them about R Spec at that point but began putting pen to paper about building the best Mustang. With the limitations we had with the R Spec, my concept was to build the ultimate Mustang which would be back to a true Herrod Performance upgrade. It was a different concept to the 500 R Specs and gave me a lot of scope," Herrod explains.
"I came up with the specification and told Ryan and Dick to get it to this level it would be a $180 to $190,000 car. We sold thirty of them without even building a prototype!" he added.
As Herrod became further involved with DJR on a series of limited editions including the Scott Mclaughlin (SM17) and the 40th Anniversary DJR Mustang, he began assisting management at the race team, particularly bolstering the running of the business after the departure of Penske.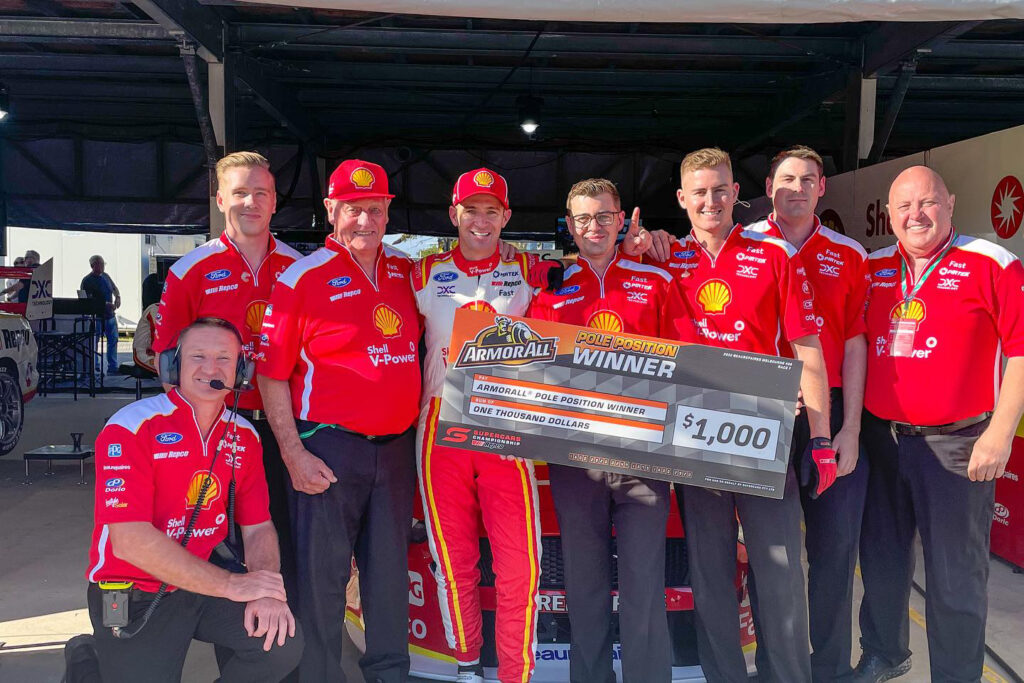 Once again, opportunities have presented themselves and in January this year, Herrod Performance took over the Gen 3 Supercars engine program for Ford. With DJR as the Ford Supercars Homologation Team, engines were historically developed by the in house Mostech Engines operation.
With Steve Amos stepping back, the Gen 3 project, which centres on the 5.4-litre Coyote engine, shifted from Mostech Race Engines to a new entity established under the Herrod Performance Engines banner. Herrod's move into this position was fully supported by Ford both here in Australia and the USA, including the blessing of Mark Rushbrook, the Global Director of the Ford Motor Company.
"We have worked on a really strong package for the Gen 3 engine," Herrod noted.
"It's a great package, which will be based on a cheaper up-front cost of the engine and a very realistic service agreement program. We have bought engine costs way down with the approach we are proposing."
The amazing thing in this journey for Rob Herrod is that from the very early days when Howard Marsden nurtured and guided him, he has now taken the lease on the old Stone Brothers Racing engine facility, ironically set up under the guidance of Marsden. This is not lost on Herrod as he takes on another chapter of his Ford journey.
Asked to sum up his remarkable career with Ford, Supercars, DJR and his own business, he ended by saying…
"I just love doing what I do. I get out of bed every day loving what I do."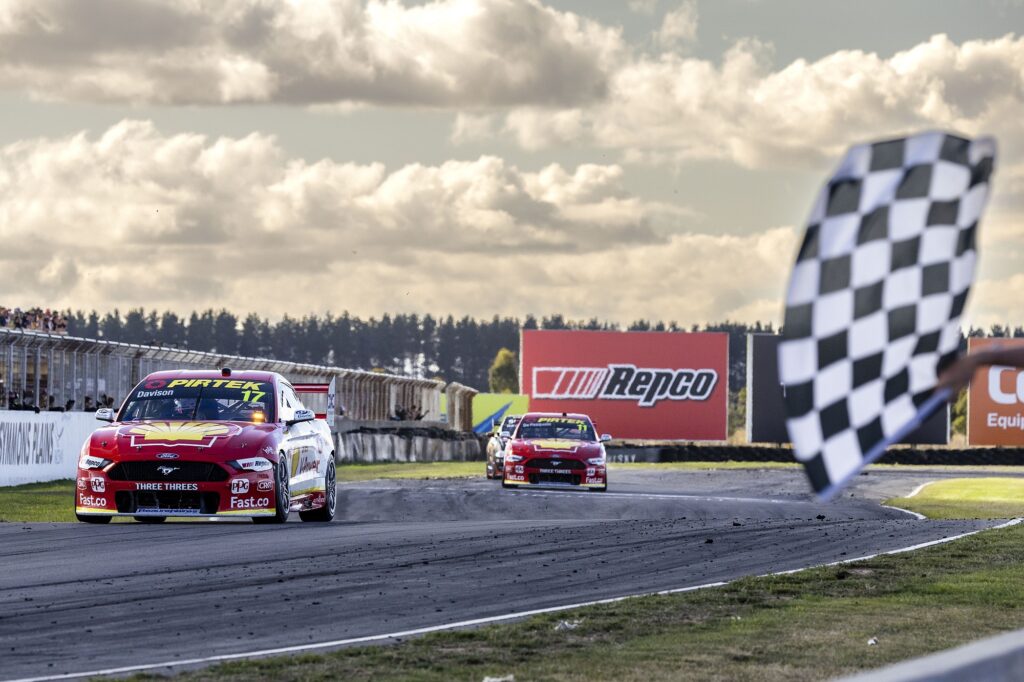 Photo credits: Scott Wensley, Herrod Performance, Mark Walker