DORIC POWER RANKINGS: Townsville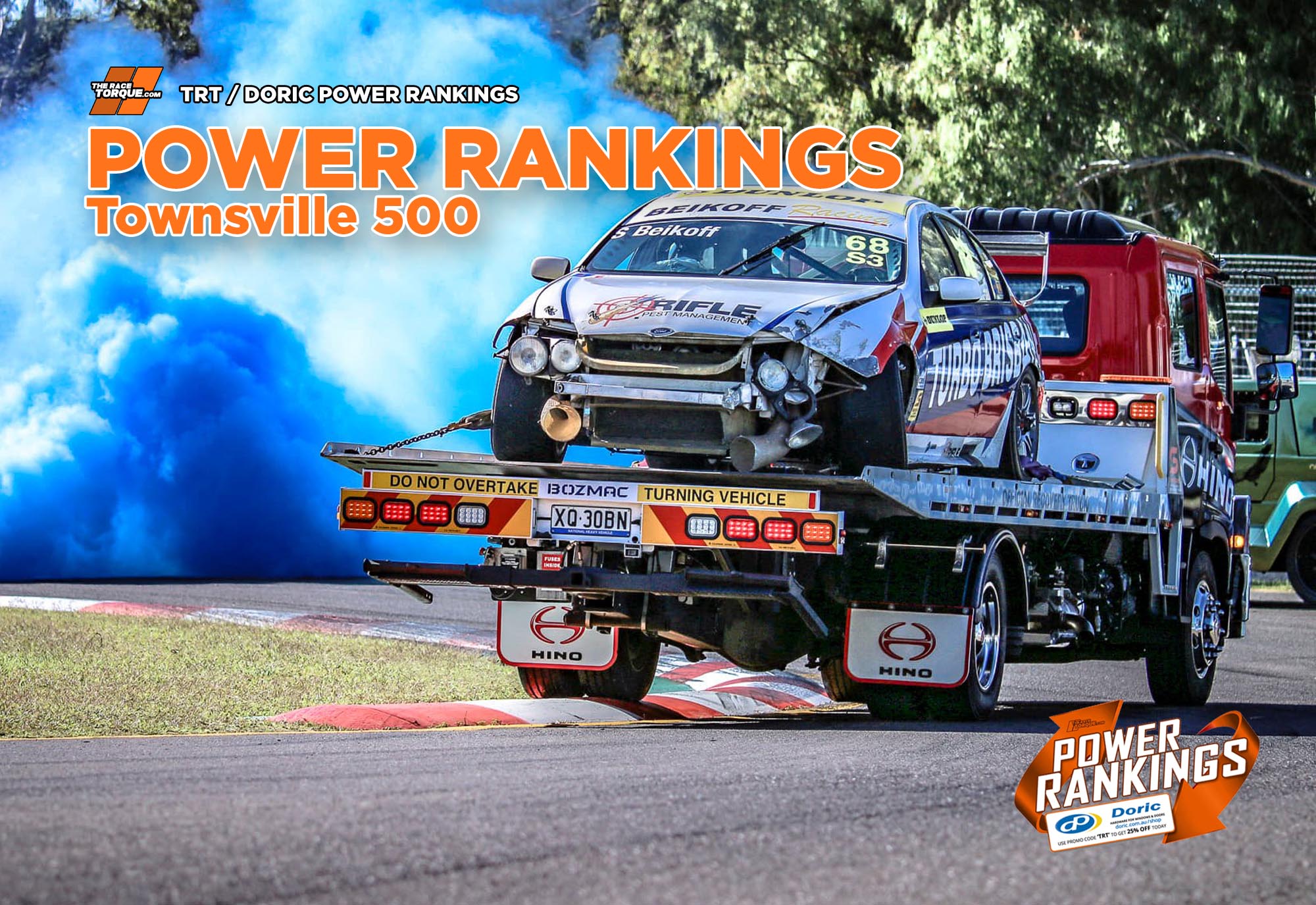 TOWNSVILLE has been a happy hunting ground for Supercars during Covid times, so it was nice to go there when things are more 'normal' and experience a cracking event.
Boy was there plenty going on, though – loads of content to make a particularly large column, one detailing the things that worked and the things that didn't – and also the things that made us laugh on a Sunday night at the afterparty.
Welcome, then, to the next instalment of the DORIC Power Rankings..
---

---
HOT
1. Race two finish
BOYS, have at it! After a race that was interesting rather than truly compelling, the finish to Sunday's race was an absolute thriller as Anton de Pasquale sent one from a long way back and punted van Gisbergen as if they were on the nearby Townsville stadium turf.
The afterplay as Anton tried to redress – with Shane having absolutely no intention to play that game – was just as good. A common sense penalty from race control that saw SVG get the win and Anton hold second was the best outcome and in the end everyone was happy – especially the Supercars social media department who will get a video that will click it's proverbial play button off.
We're not sure that race deserved a finish like that, but the whole Townsville weekend probably did so in the end, that was a good outcome. Sport the winner. Fantastic.
---
2. Shane van Gisbergen
WHAT else can we say? Two more wins, his championship lead extended to 274 points and more victories to his remarkable tally. And just to show it really is all coming up Millhouse for the flying Kiwi, his old man was on hand to see it as well. Chur.
---
3. Townsville
TOWNSVILLE has been good to Supercars during the pandemic era, doubling up their support for the last two years. But this year, like so many other events, it felt like it was back to where it really should be as an event. The crowd was significantly larger than the last few years – and probably the last few pre-pandemic years too – but overall the whole thing felt fantastic. The city looked good, the weather was fine and the Reid Park circuit was as fast, challenging and brutal as ever. Great event, good city, fantastic weather, wild racing. The TSV should be on your must-visit list.
---
4. Shell V-Power Racing
THEY still aren't winning enough but the Red Falcons appear to be in very good form at the moment with more podium finishes and at least one driver – be it Will or Anton – continually putting the pressure on van Gisbergen. Qualifying form is outstanding, and their race pace is getting better. As we could have seen, they could have won on Sunday, too.
---
5. Cam Waters
FOLLOWING a few wonky rounds in Tasmania and the Grand Prix, Tickford (well, at least the Car 6 side of the garage) appear to be consistently competitive once again and Cam Waters continues to be a threat in every session and in every race. Has gained ground on the Shell Fords and while it appears unlikely that anything with a Blue Oval on the front is going to win the championship this year, the battle for best of the rest appears to be between three Mustangs – at least at this point of the championship.
---
6. TV Updates
IT'S the little things that matter and Supercars Media continues to tune up their product and, in a remarkable display of something unusual in the sport, they are actually listening to the punters as well. Between the timing pylon number change to the picture-in-picture replays it's a continually evolving product, for the better.
Furthermore, integrating fan reactions (see Carrera Cup onboards tweet below) is a really nice touch.
Special mention to Channel 7, who continue to deploy picture-in-picture action when their ad breaks roll.
---
7. Super2 Racing
THE only thing we can really say is that Super2, as has been the case for most of this year, went 'Full Super2' in Townsville. Some of it was good, some of it was bad and some of it was just bloody awkward but that's why we love it so much. Never change, DVS.. never change.
---
8. Supports
34 Toyota's, 32 Porsches and 31 Super3 cars prove support land is in a reasonable place. The racing was pretty brutal at times but when it was good – it was good. The Porsche's were fantastic on Sunday with a host of new winners and some pretty competitive racing. The Toyotas had some brilliant storylines (Clay Richards winning was awesome) and Touring Car Masters might not have had a massive grid, but their racing was very competitive and as entertaining as usual. While there was a lot of Safety Car, when they were racing, the undercard was very good in Townsville.
---
9. Andre Heimgartner
ELEVEN races in a row inside the top-10. Probably lost a podium on Saturday, but BJR and their new Kiwi driver are stringing together a cracking middle of the season and rocketing up the championship order in the process. He's now eighth in points and feels very much a contender for a top five or six finish in the championship this year. Mega stuff.
---
10. NTIs ongoing support
IT was a good weekend for NTI (National Transport Insurance) who have become one of our sports biggest sponsors. Not only did they announce an extension to their title sponsorship of the Townsville event but they enjoyed success on track too thanks to the outstanding qualifying performances of Jack Le Brocq in his Truck Assist-backed Matt Stone Commodore.
Furthermore, they raised more than $550,000 for Fight MND via a raffle.
---
BONUS HOTS
Thomas Randle making the shootout was a big result
Clay Richards winning his first Toyota 86 result. A third-generation Richards' wins at a national level and the remarkable legacy of one of Australia's finest racing families (and ripper people) gets better again.
First wins for Jackson Walls and Callum Hedge in Carrera Cup. Serious young talents, both.
The 992 Cup Car on street tracks: Quicker than a Supercar over a lap and superb racing.
The World Championship fight for P12 on lap 8 of the Sunday race.
Chad Neylon's level of fame – literally opening doors to restaurants that would otherwise be closed (See: NOT)
Our colleagues at Speedcafe always put on a good afterparty in Townsville
---
WHAT
Bath time irregularity penalty
Coming in hot…
Revenue raising
Erm? Trademark infringement?
---
NOT
1. Tony Quinn's shunt
THIS looked bad when it happened live and then progressively got worse as we began to understand the full extent of Tony's injuries. An enormous impact at an unyielding part of a tough street circuit.
There's not much more we can add, really, other than to join the chorus of offering Tony our best wishes for a recovery as bright as his racing car.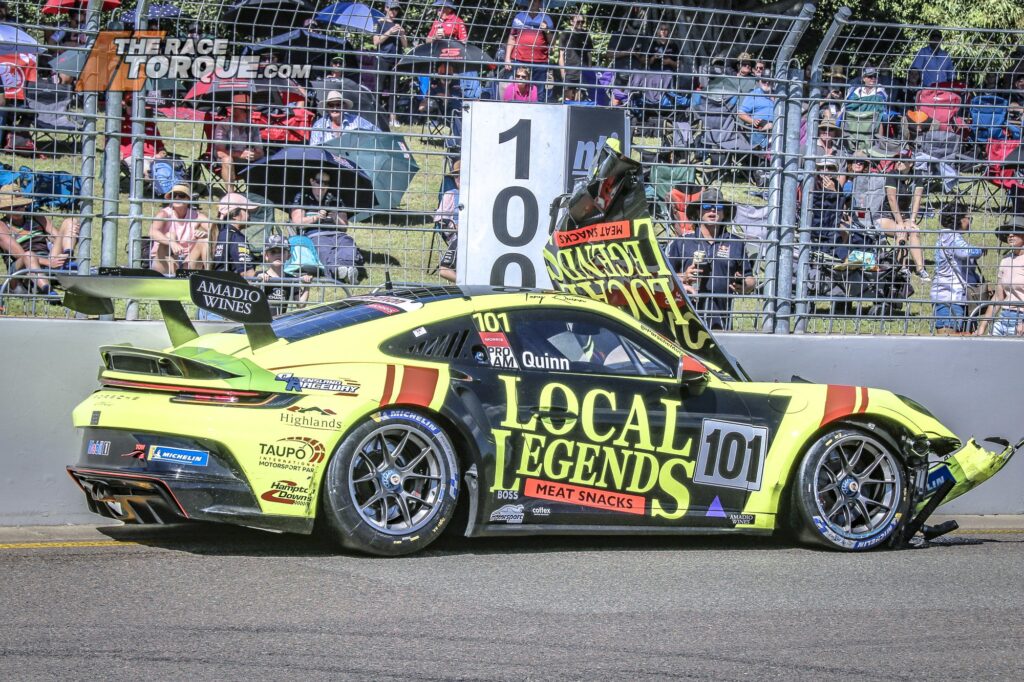 ---
2. Getting to Townsville
WE all love coming to Townsville at this time of year, but right now the travel industry is making it pretty difficult. More than half of the people TRT surveyed had issues getting up North, be it flight cancellations, delays, missed connections or more. We know several people in Brisbane who just gave up and drove to make sure they were there.
It's an awesome trip up North but this year the city and the event were let down by the chaos unfolding in our travel industry.
---
3. Porsche race 1 farce
RACE ONE of Carrera Cup had a lot going on, the least of which was the 10-plus car shunt at the start of the race, followed by Tony Quinn's enormous accident at turn 10 later on the opening lap.
To cap it off came the farce post-race when the top three were excluded for their final lap being slower than double the race winner's fastest lap – as per the Motorsport Australia standing regulations for circuit racing.
The rule was, technically, correctly applied but it was another case of the regulations being so rigidly worded that they had no room to cater for the fact the race finished under Safety Car.
Where there could have been a common sense discussion to not enforce that regulation on account of the finish under caution, there was the farce of the top three cars being excluded for something they couldn't control.
The result was that the sport looked bloody stupid and while it was eventually overturned – following a host of protests and a Saturday morning stewards hearing – this was borderline a debacle that didn't need to occur, saving the sport from twelve hours of people going "What the hell is going on?" and looking stupid.
We're sure the rule will be amended to ensure this doesn't occur again, right?
---
4. The poor AU Falcon
THE first AU Falcon to race on the Reid Park Street Circuit had a tough weekend. It made many people sad. Us included.
---
5. Scott Pye's run of luck and also Team 18's power steering
SCOTT PYE had a shocker in Townsville despite showing the best pace of his year to date, getting fenced on Sunday while running up the front of the field.
Also, more Power Steer issues for Frosty in the Irwin car, which seems like (had it not already) it has gone beyond the 'Oh it's funny they're having more power steering issues again' to 'how the hell is that still happening?'
---
6. TCM Smash
MICHAEL ALMOND ran out of brakes, Cameron Tilley was turned into a braking marker and everyone's heart broke for the drivers and the teams who prepare these incredible, lovely cars.
---
7. Nick Percat's qualifying run
20th for Race 19. 25th and LAST for Race 20. What on earth is going on down on Nick's side of the garage at WAU? There's a bit of Daniel Ricciardo syndrome going on here: We all known Nick should be in the top few of this grid but for whatever reason his current team can't give him the kind of car needed to do the job.
---
8. Jameses Courtney and Golding, Race 1 Start
NOT the ideal return to Supercars for Bieber. Bonus NOT for his hairdo, which remains challenging.
---
9. Super 2 Race 2 Start
If we said "The Super2 Field went 'Full Super2' at the start of Race 2", you'd know what we were talking about, right?
---
10. Townsville Hospo
OKAY, so we know the hospitality industry is still battling with the effects of 'Rona and staffing issues, but Sunday night in Townsville was not a good look at all.
Aside from the fact that multiple restuarants we attempted to book for dinner – for team TRT and a broader group of colleagues from Supercars media / TV land – didn't even bother answering their phones to take a reservation, the ones we did try and walk-in to told us we couldn't get a seat unless we'd made a reservation.. which we couldn't do because they wouldn't answer their phones in the first place.
It took the celebrity of Chad Neylon to secure a table for our group of 9 people on Sunday night, mainly because he's kind of a big deal but also because he refused to take no for an answer.
TL:DR: Townsville needs a 24/7 Macca's in the vicinity of Palmer Street.
---
11. Celery.
Obviously.
---
BONUS NOTS:
The fact people work out what the good strategy is on Saturday for these 250km races (when others roll the dice and fail), making the Sunday race much less a strategic affair.
How are Erebus still having pedal temperature issues in 2022?
The bus that dislodged the grate in the road on Friday, causing a delay.
---
TWEET
The battle of Ryan Walkinshaw versus QANTAS
The main attraction on Twitter over the past couple of weeks has been the ongoing saga of the WAU team owner against the national carrier. Spoiler: nobody won.
Before we lose track of Darwin…
Kind of a big deal
As if you needed another reason to like Todd Hazelwood…
Score
Break + Enter
Virtual > Reality
And we love you guys too.
---
PITLANE WHITEBOARD'S SPECIAL SECTION
---
MEME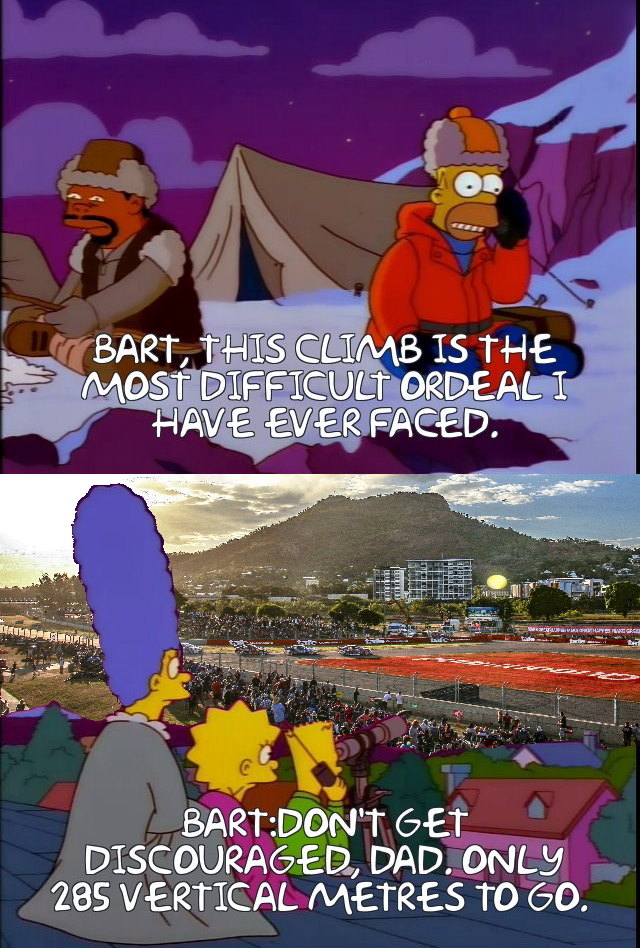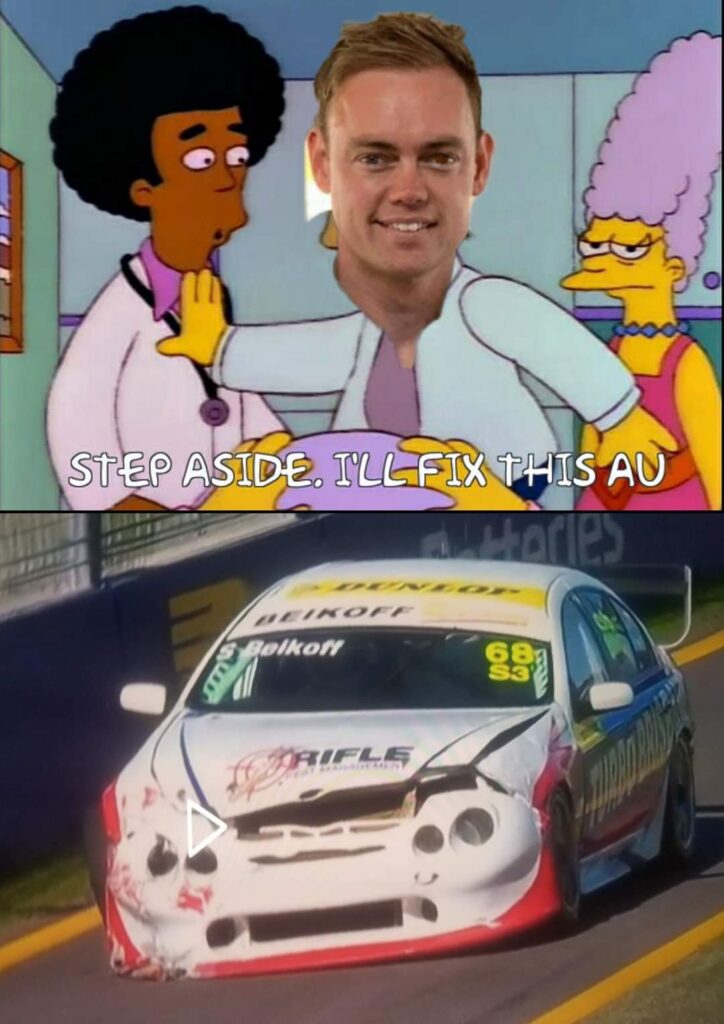 ---