ASBK Wrap: Morgan Park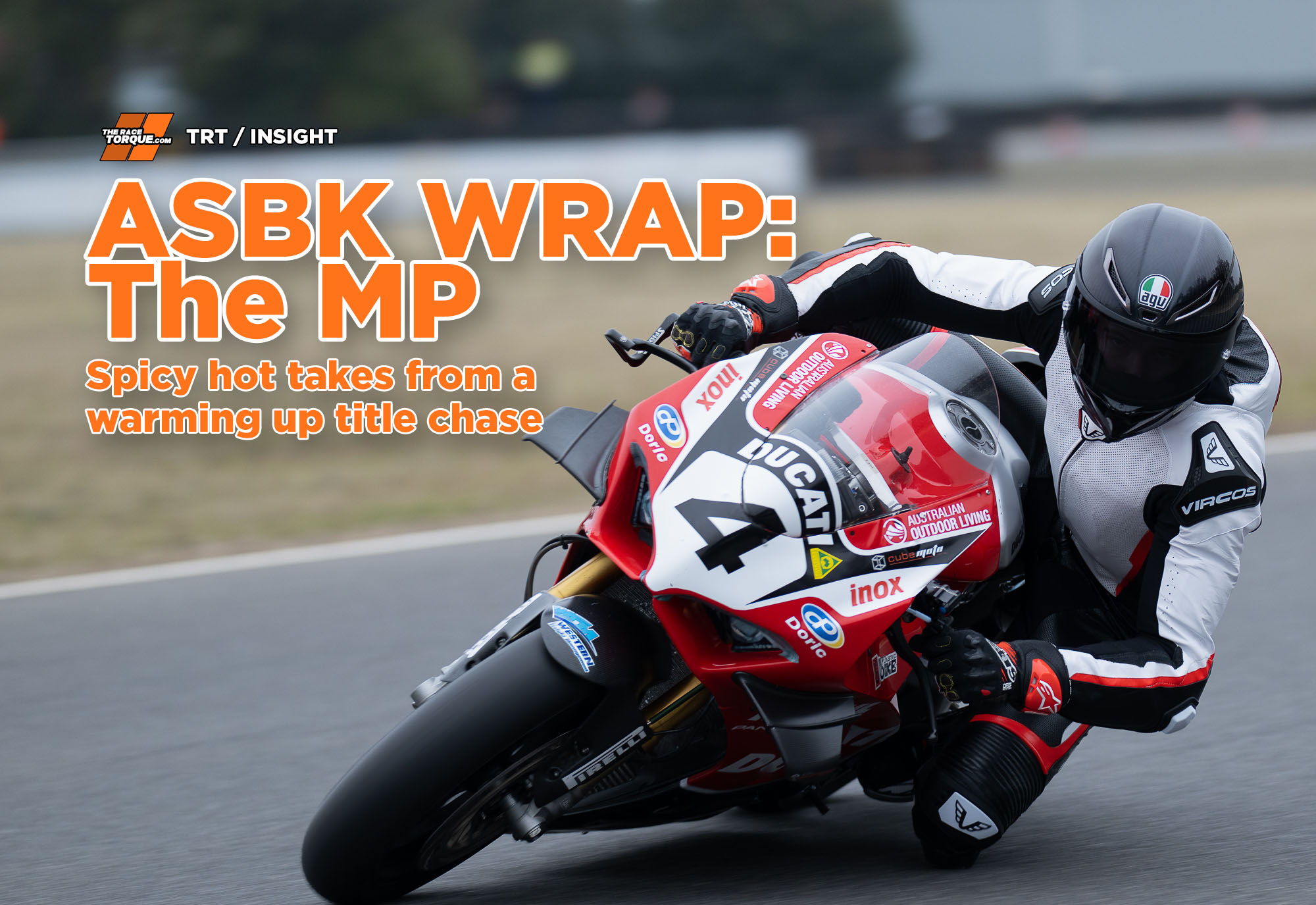 Our man with his finger on the pulse of the Australian Superbike Championship Tom Arciuli returns with his full Doric Power Rankings treatment on the fifth round of the title chase, which was contested at Morgan Park Raceway on the weekend.
Defending series champion Wayne Maxwell claimed maximum points, with a pole and two race wins, reducing the lead of Yamaha's Mike Jones' to 29 points with a pair of rounds to go.
This, is game on.
---
---
HOT
1. Broc Pearson
The rookie DesmoSport rider was outstanding all weekend and (oddly) thanks to a tyre mix-up in timed practice, he was sent out for the extra Qualifying One session.
That paid off as Friday's wet running meant that he had little dry track time and he was able to make significant progress on the Panigale V4R.
To show his progression, his fastest lap of the weekend was in race two, not qualifying.

DesmoSport Ducati would do well to ink Pearson a deal for 2023, he's the hottest property in the paddock right now.
---
2. Wayne Maxwell
The wily veteran was at his absolute best all weekend and took the maximum 51 points at a circuit where championship leader (and local lad) Mike Jones was expected to dominate.
Maxwell's passing moves on Epis and Jones were hard but ruled legal.
His career may be ticking down with just two rounds left, but he's racing like never before.
He's also fresh outta stuffs to give, and threw shade like confetti at the end-of-day press conferences.

The pass:

Throwing shade:

---
3. The Crowd
While not a record for Morgan Park, the turnout was impressive, helped by sunny weather and great local coverage of the event.
The locals seemed to be genuinely excited about the ASBK circus coming to town, and were out in force.
The local Mayor popped by on Friday for a photo op, and returned on Sunday just to watch.
The Southern Downs ought to remain on the calendar in 2023 and beyond for this factor alone.
---
4. The Sunday weather
After a horrifying Friday session and a less-than-perfect Saturday, the much-vaunted Queensland sun came out on Sunday as it should.
There was a fresh breeze all day, but the riders, crowd and photographers were happy with some Vitamin D.
---
5. The OJC
The youngsters were given a hell of a task on Friday: go out on a circuit most had never been to, in the rain, on wets for the first time in months.
It was the stuff of nightmares for series coach Garry McCoy, the mechanics and sponsors.
Just how many would fall off? Would we get a red flag?

The answer was none and no.
They all stayed upright, all improved their lap times and there was universal acclaim.
Their next round is as a support category at the MotoGP round at Phillip Island and it's going to be a blast for all.


---
6. The ASBK technical team
Post-race, there was yet another 300 class technical breach with Liam Waters found to have a number of not-so-legal-go-fast parts and mods on his Yamaha R3.
With limited resources and a large field, the decision by ASBK to seal the engines of the 300 class at round two was now paying off with Waters' results rescinded for each round where the sealed engine was in play.

A very clear message for 2023: turn up with a legal bike!


---
7. Garry McCoy turning laps on his WCM Red Bull Replica
Apparently, the media centre cleared when this was known, "Garry McCoy is in pit lane aboard a WCM Red Bull Replica (R1) for a photoshoot".
And then he cut some laps.
For fans who recall Mr Squiggle's antics in the two-stroke era, it was pretty special.
---
EXTRA HOTS
Bryan Staring's magnanimity towards new teammate Pearson. Happy to see him get the ride, and okay with him getting past in race one. For now…
Mike Jones stayed upright after Maxwell passed him on the last lap of race two and the YRT Yamaha went off the racing line and tried to give him a tank slapper. At this point of the championship, falling is the only way to gift Maxwell the title, and for a moment there, it looked super dicey.
2023 calendar rumours. From an NZ round to under lights at SMSP and three events with Supercars, there is some good gossip getting around.
---
NOT
1. The track surface
As Maxwell would note "great layout, terrible surface". In places, it's now diabolically bumpy.
It's a lovely little circuit and a photographer's delight, but it really should be resurfaced in the next 12 months.
---
2. Troy Herfoss' tyre selection in race two
Sometimes a slightly different tyre selection is a reasonable gamble to take, and sometimes it doesn't pay off.
As Garry Crilly from Pirelli was on screen talking about how Herfoss was the only rider in the top four on the softer rear option, Herfoss had reeled off a series of insanely fast laps to move up to second from as low as sixth.
Mike Jones noted later that while he didn't realise Herfoss was on the soft option, one look at the rear hoop on the Honda told him that he was nearly done with 6 laps to go and that the gamble wasn't going to pay off.
In the end, Herfoss would finish sixth, some 10 seconds down on the winner.
---
3. Glenn Allerton
After some significant steps at Hidden Valley, there was a feeling in the paddock that Allerton and his Maxima Racing Oils/Film BMW team had taken the steps needed to put the BMW back on, or near the podium.
But it was not to be with a combination of fitness issues for Allerton, and sheer lack of pace taking away any chance of a top finish.
---
4. Friday
The forecast was originally for some light showers clearing; what we got was persistent rain all day. ALL. DAY.
And we had a cloudburst Friday night which meant we arrived at a damp and green-looking track Saturday AM.
---
5. Self-interest
After Friday's weather, there was a push from some teams (Largely McMartin Racing, aka Wayne Maxwell's team) to split the 40-minute timed practice session in half, resulting in a 20-minute free practice and a 20-minute timed practice.
This would offer teams the opportunity to use extra tyres and get some dry running ahead of using their tyre allocation for the timed session.
To get this over the line with ASBK management, a unanimous decision would be required. All but three riders agreed, and those riders had all garnered significant track time ahead of the race weekend.
Self-interest ruled.
---
6. Cru Halliday
After qualifying third, the YRT number two rider failed to convert.
A crash in race one ended in 11th place and a crash-free sixth in race two where he was soundly beaten by rookie Broc Pearson.
He is now fifth in the title chase with yet-to-reach-full-fitness Troy Herfoss ahead of him.
---
EXTRA NOTS
TV Graphics predicting the outcome in race two. When they showed pole, fourth and seventh as "Wayne Maxwell", you could be forgiven for thinking it was all rigged.
It was the same weekend as the Shannons Motorsport Australia Championships at QLD Raceway. Clashes are inevitable, but a similar-level national motorsport event 100km away? Some spectators surely went begging at either meet. Bugger.
Wayne Maxwell throwing shade. While it was listed under HOT, it's also unnecessary and unbecoming of a three-time champion. We're also here for it… Awks.
Arthur Sissis. We were getting used to Arthur getting well-involved (and even leading) at Darwin. We also are used to seeing him fire the thing out at the start. Barely a peep all weekend. Results were eighth and ninth. Nooooooo!
---