AUNGER: 'Big Race, Little town'
THE BIGGEST Sprintcar event in the world, the Knoxville Nationals, isn't far away. The voice of Speedway, WADE AUNGER is a regular to the famous bowl in Iowa and details his love affair with this quirky, little regional town that bursts into life with Speedway spectacle each August.
WORDS + PHOTOS: Wade Aunger
---
I've been going to the USA since 1992.
I'm up to about thirteen visits since then so it's fair to say I'm a pretty seasoned traveller to and throughout the land of stars and stripes.
Often, when flying out of LAX (Los Angeles airport) to my eventual destination in Iowa I'll have an American pick up on my Aussie accent and say something like "Australian hey? Where you headed?"
I say "Knoxville Iowa mate," and wait for the inevitable response.
"Iowa? Whaddya headed there for??"
Iowa from LA geographically is like Perth to Alice Springs by the way.
To 99.9% of Americans, Iowa is not a place tourists would choose over New York, California or Florida.
But to we Sprintcar fans, Iowa is the THE MECCA.
The tiny city of Knoxville has only 7,500 people who call it home.
Yet in August, between August 10-13 specifically, it swells to over 30,000.
People travel from all over the world to "The Knoxville Nationals."
It's estimated up to 2,000 of those fans are Aussies.
On the Saturday night finale, the ninety-plus field of Sprintcar drivers is whittled down to twenty four and they vie for the $150,000 winner's cheque in a 50-lap race divided into two twenty five lap segments with a pit stop.
Seated in two grandstands on the front and back straight (there are no grandstands in the corners) are 25,000 Sprintcar fanatical people.
The Knoxville track itself is 800 metres long.
It's a half-mile – we don't have tracks that size in Australia for the most part.
To put that in perspective, you could fit Timmis Speedway Mildura on the infield TWICE.
Knoxville is very much the Wimbledon of Sprintcars.
Racing is held there weekly over twenty eight nights between late April and September but it's 'the Nationals' that is the jewel in the crown.
Aussie drivers are fast there but in the sixty years the Nationals has been held we've never had a win.
We've been close, but never won.
This year around ten Australians will race at Knoxville for the Nationals week which pays out over $1 million in prize-money over the four nights.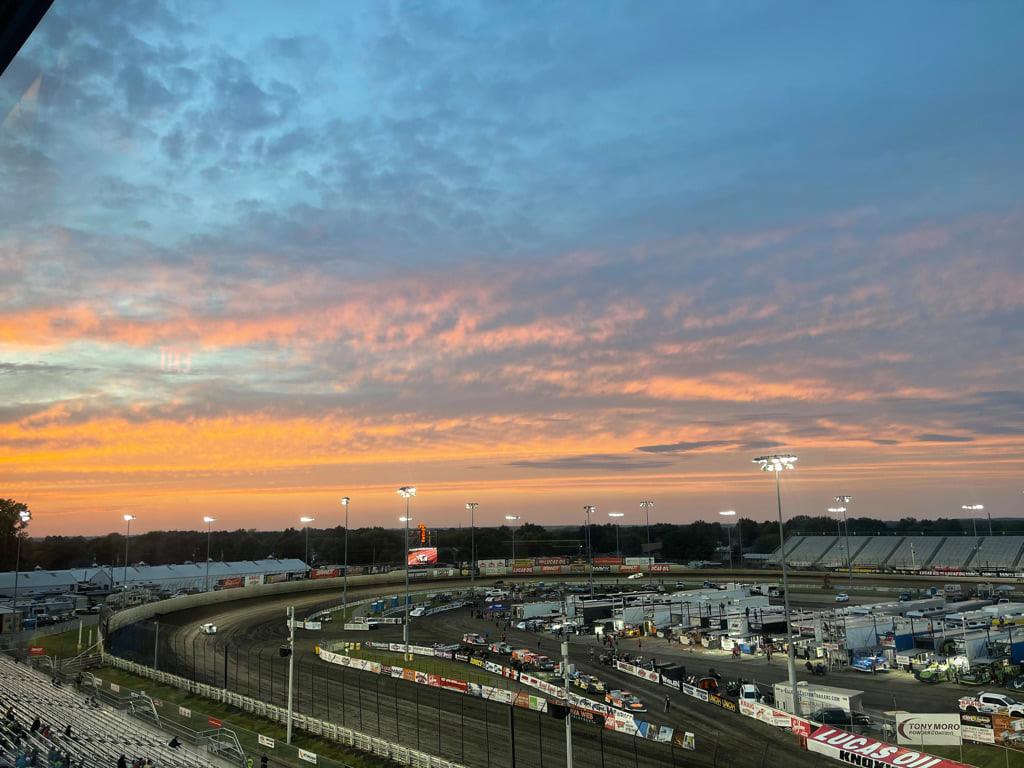 Whilst on Wednesday, Thursday, Friday and Saturday night the attention is solely on what happens on the track, during the day it's a cultural feast off the dirt where people from Australia, Canada, New Zealand and even England join their American counterparts to swarm through the town and surrounding campgrounds.
Pork tenderloins, hog roasts, fish fries, taco stands, burgers (A LOT of burgers) funnel cakes (basically deep fried flour) donuts, smoked briskets, pizzas and thousands and thousands and thousands of cases of beer are consumed by the multitudes.
Cornhole is the most popular activity to pass the time – tossing small bean bags into a slightly elevated small wooden backboard with a hole in the middle – which still amazes me.
I honestly don't get it, but the Americans love it.
The T-shirt sales for teams and the track would collectively run into the millions of dollars.
The heat is oppressive.
Normally around 38-42 degrees Celsius with significant humidity.
Harleys and pick-up trucks are everywhere and incredibly one of the most popular forms of road transport around town for the week are – wait for it – golf carts.
Yep, you can legally drive golf carts on the road there.
You have to have a flag on it though. Safety first!
The National Sprint Car Hall of Fame and Museum is huge and the immaculate collection of historical race-cars is incredible.
Knoxville becomes a sea of Sprintcar humanity.
The people are warm and friendly.
There's no aggravation and no frustration.
To me, this is America at its best.
There's no chest beating, only good-humoured ribbing and a hospitality extended to Australians that is so pure and so overwhelming it's almost embarrassing.
This is Disneyland on dirt.
A sleepy small midwestern American city of 7,500 people that swells to over 30,000 and almost one hundred of the best Sprintcar drivers in the world.
I've given up trying to explain this to the LA businessman in LAX who asks why I'm headed to Knoxville Iowa.
I just smile at him and say "because it's where America is."
---
WADE AUNGER is a renowned Speedway commentator on both sides of the Pacific. He's also one of the people behind Methanol Moonshine, and the new Speedway publication, This Speedway Life. Check them out by clicking the links.