Bathurst 1000: Saturday Notebook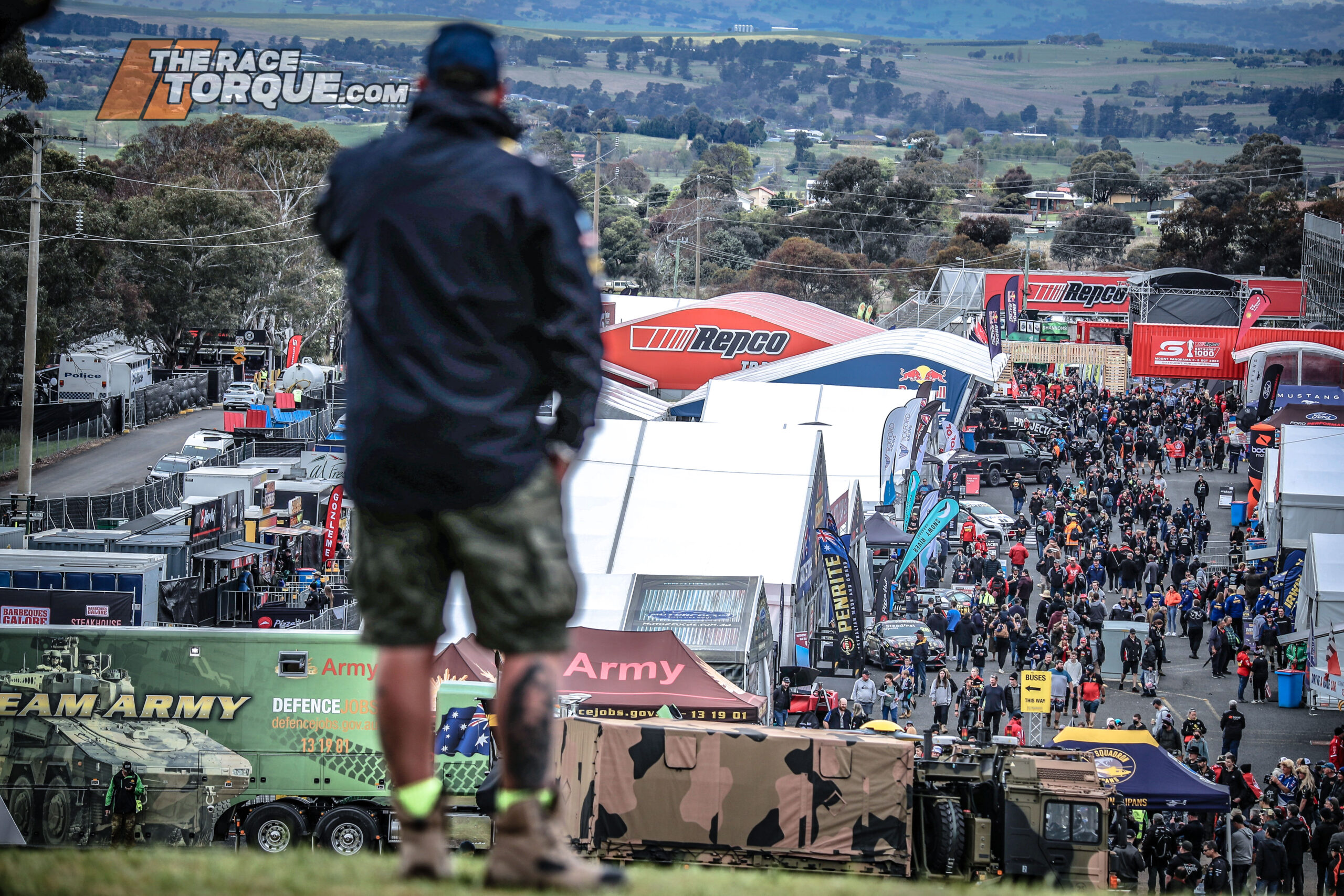 To help you celebrate Bogan Christmas Eve, we've compiled more of the best bits of Bathurst you won't see anywhere else. We trust Santa brings you a win on race day.
---

---
Next up: The Doric Power Rankings – hit us up on the socials @theracetorque, with the best bits making this week's coverage!
---
The Harris Park Vibe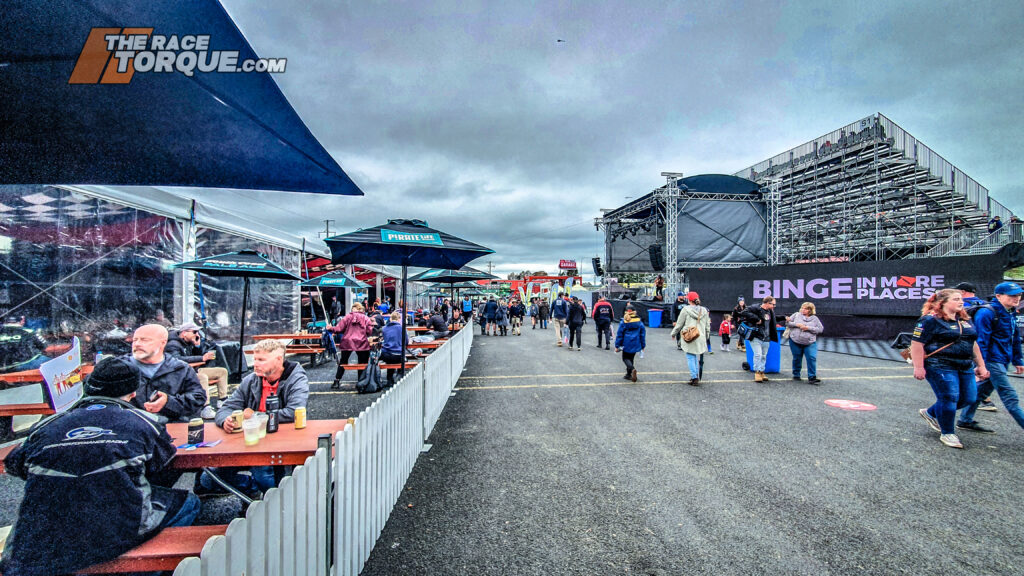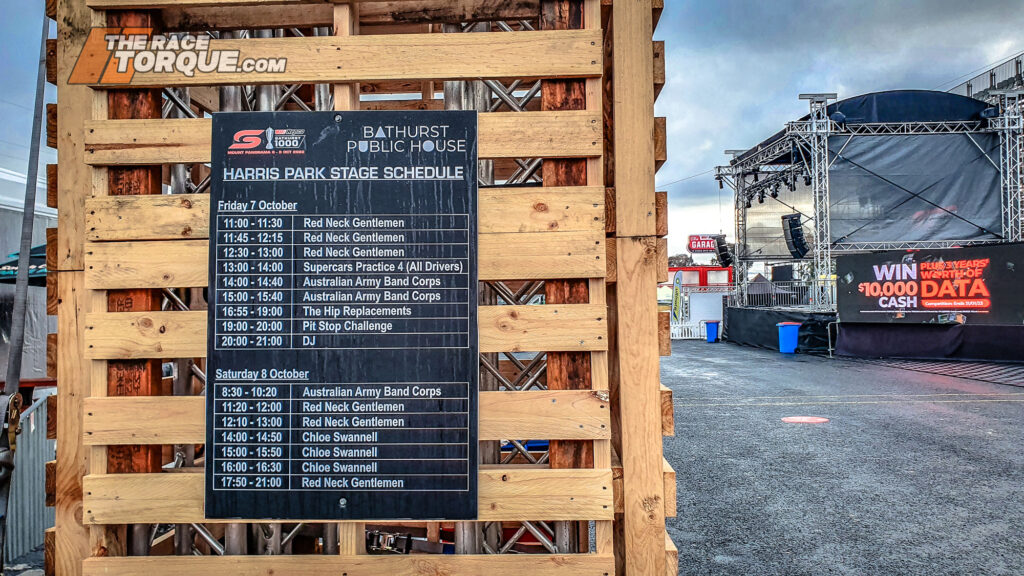 One of the massively noticeable changes to this weekend's race precinct is the re-worked Harris Park area – questions have been asked about what the new owners of Supercars will bring to the party, and we'd love to see more of this.
For instance, the massive beer hall has been a big hit, and placing it directly across from a stage playing live music all weekend long is brilliant.
Well done, more please.
---
The Repco Store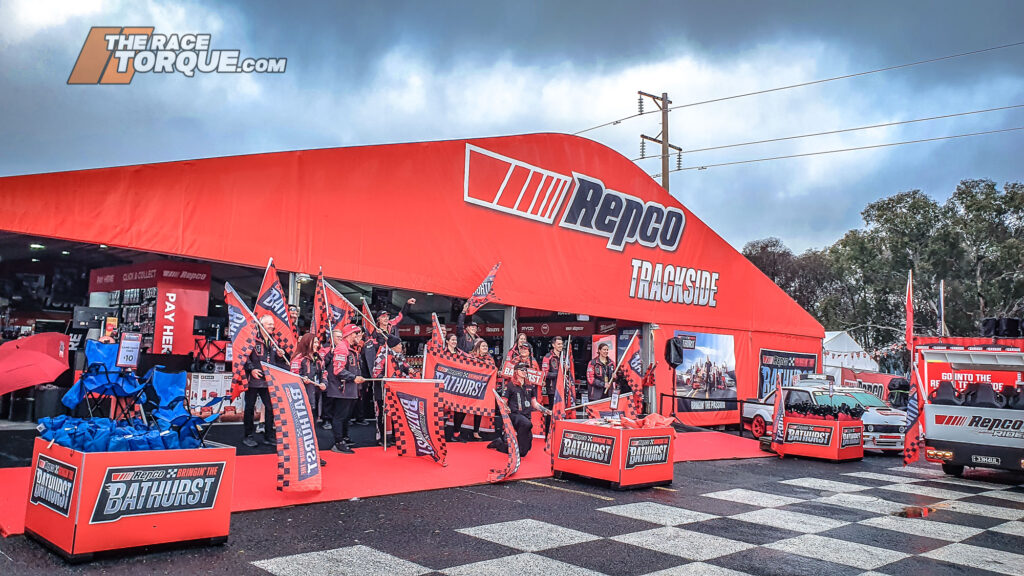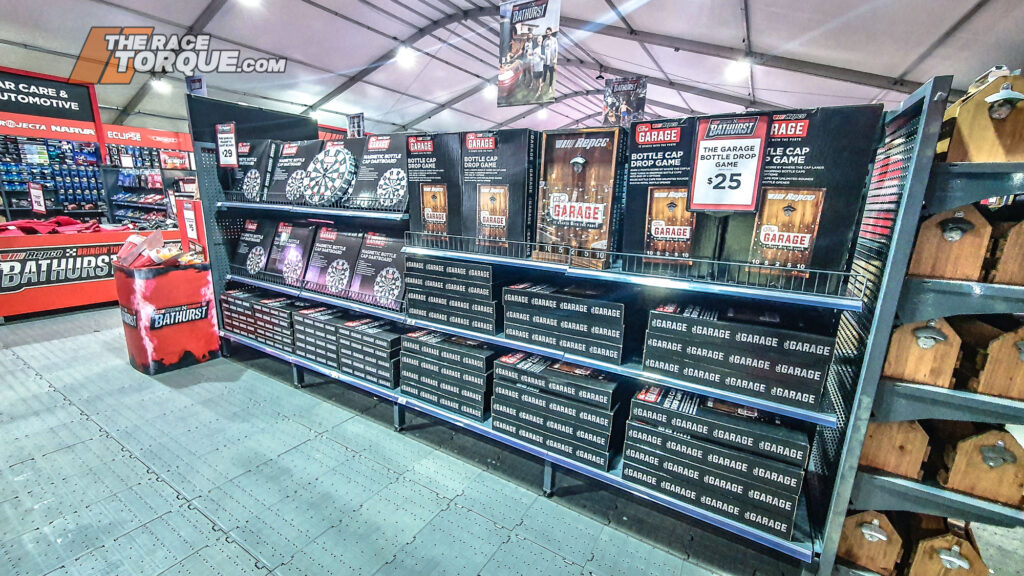 Yesterday we looked inside the Mountainside Repco outlet, today we're going shopping at the massive Harris Park branch.
It's a marked step up from their first attempt last year, with a focus on camping supplies and other goodies to keep the punters camping trackside occupied.
We're guessing whoever decided to stock a huge quantity of fresh, new socks, will be getting a promotion come Monday.
Also, offering a large selection of Snatch recovery gear: chef's kiss.
---
Helmet Showcase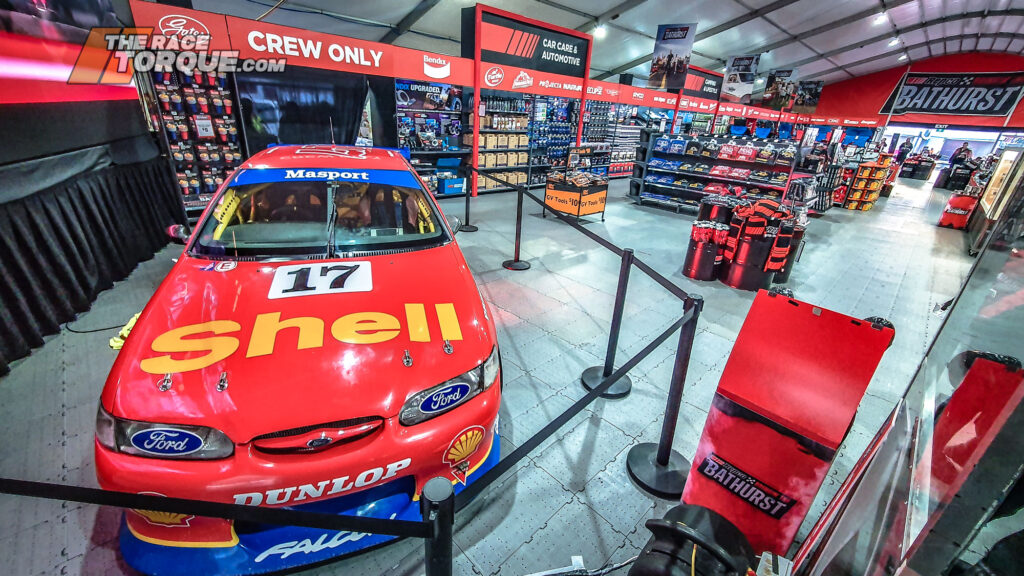 One of the best things in the Repco Harris Park shop is the great displays.
Not only is there a Dick Johnson EL Falcon, but there is a mega selection of helmets showcased, from drivers past and present.
One of the more interesting pieces is Tony Longhurst's skid lid from when he literally headbutted the fence at the Wellington street circuit… a very fortunate race driver.
---
Brock Tribute
Just across from the Repco outlet is a showcase in tribute to Peter Brock, with some machines on show in recognition of the 50th anniversary of his first Bathurst 500 win in 1972.
You can also have a chance to get your photo taken with the Peter Brock Trophy. Nice touch.
---
Armed Forces on Show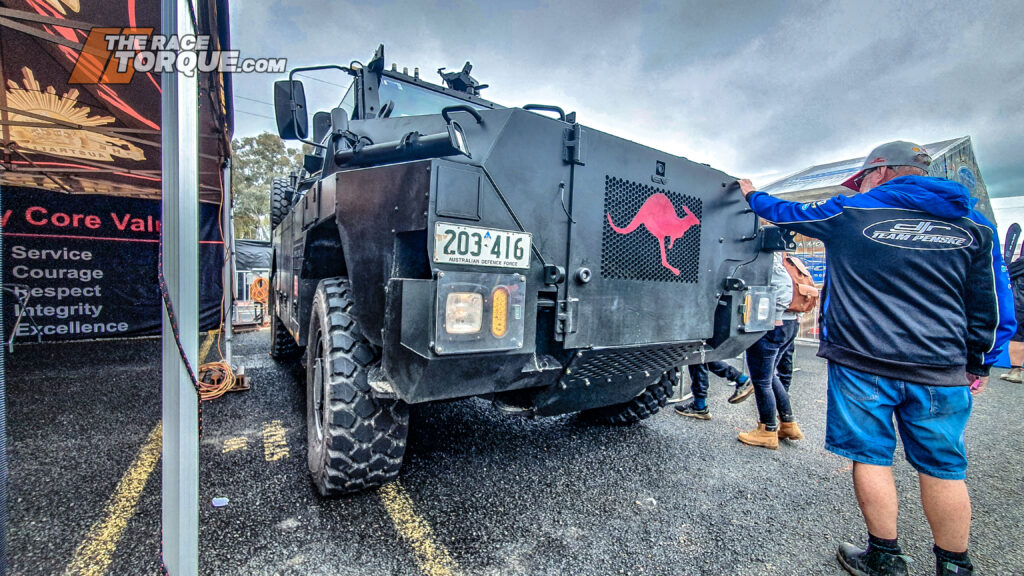 Another interesting activation at the top of Harris Park is from the nation's armed forces, with some particularly cool machines on display.
Also, don't forget, tomorrow's pre-race entertainment is scheduled to feature an F35 flyover.
You have been warned.
---
Our Annual Pete Irvine Appreciation Post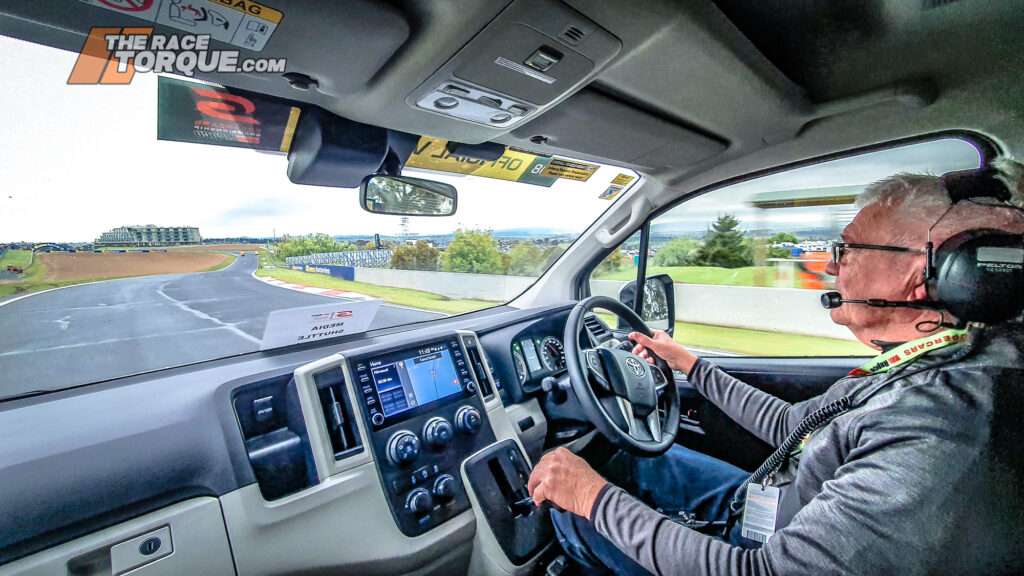 This is Pete Irvine, and he's a bit of a legend in media circles, with his assistance at the various events around the country keeping things running smoothly.
Once again for Bathurst, he has been running the photographer shuttle buses, ensuring that all of the snappers are able to get around the track to take in all of the action.
On the down low, we know for a hard fact that Pete's ability behind the wheel of the minibus would translate into an excellent race car driver one day.
By the way, we're not entirely sure he needs to have the sat nav turned on…
---
Infield uncovered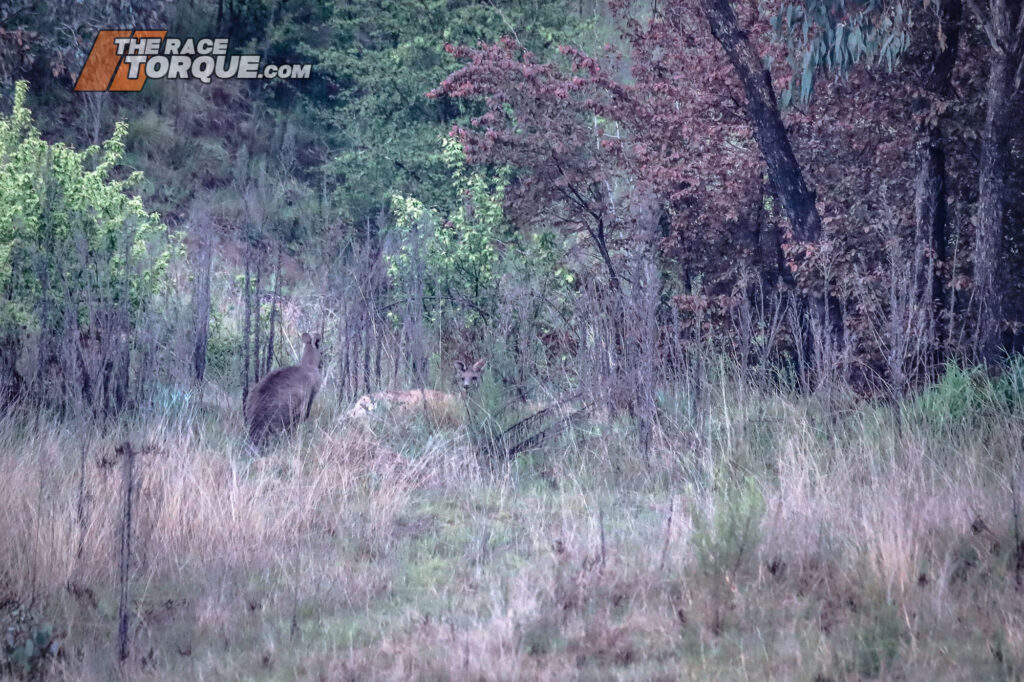 If you've ever wondered what lies between the back of the pit area and the Mount Panorama sign, this is a small sample of the quiet Mountain life that goes on for 47 weeks a year.
---
Timing's Everything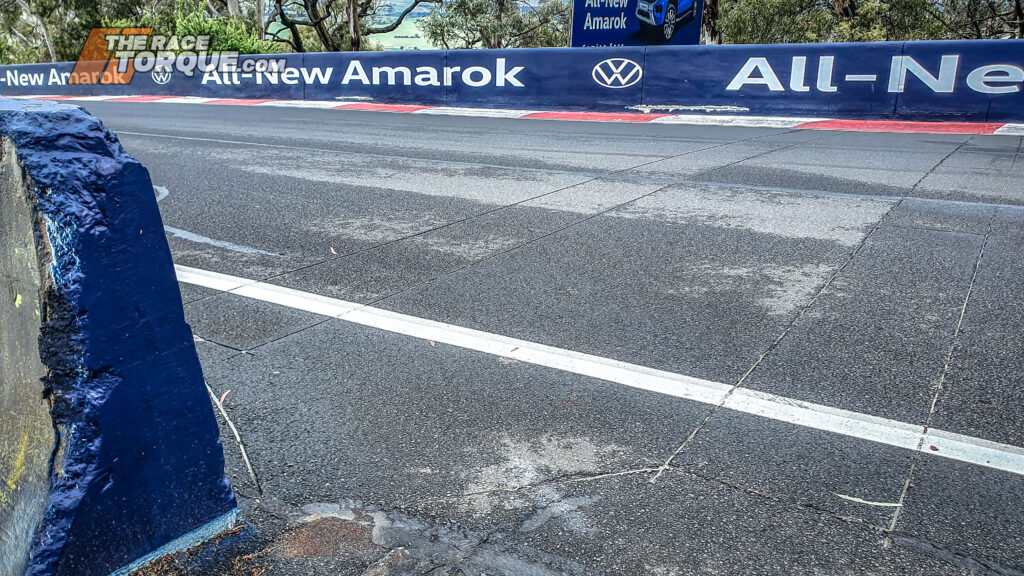 Have you ever wondered how the lap timing is actually done?
All of the cars on the track are fitted with a transponder, which interacts with loops cut into the track – there are two main timing sectors, plus a selection of micro sectors around the circuit, allowing teams to get fine-tuned information for individual corners.
Pictured above is the first sector timing loop at Reid/Sulman Park.
---
Podcast Corner: Flat Stick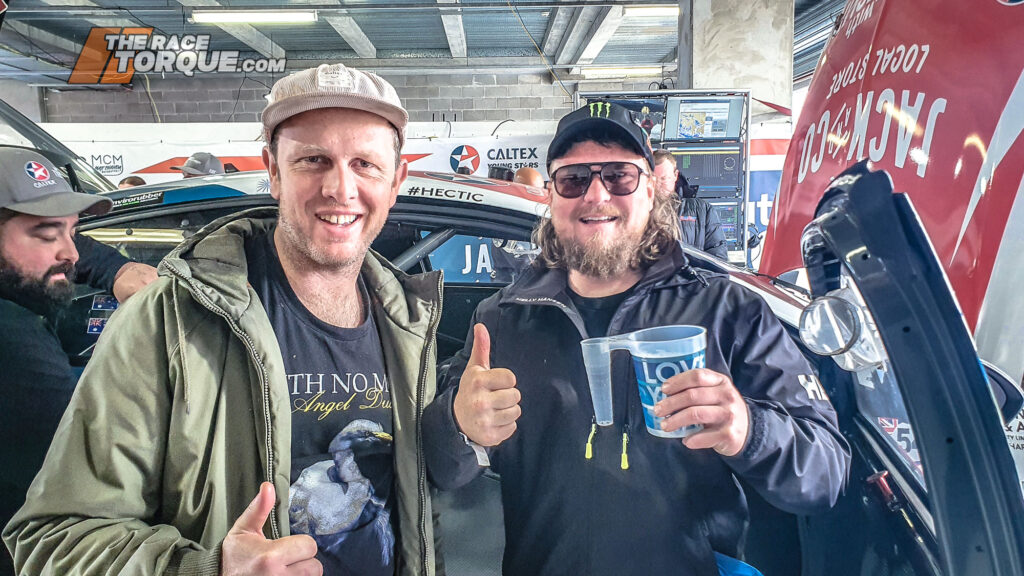 The lads from the Flat Stick Podcast, Nick Capper and Brett Blake are here this weekend absolutely getting amongst it. Catch the boys out the back of the Reid Park campground!
---
Private Camping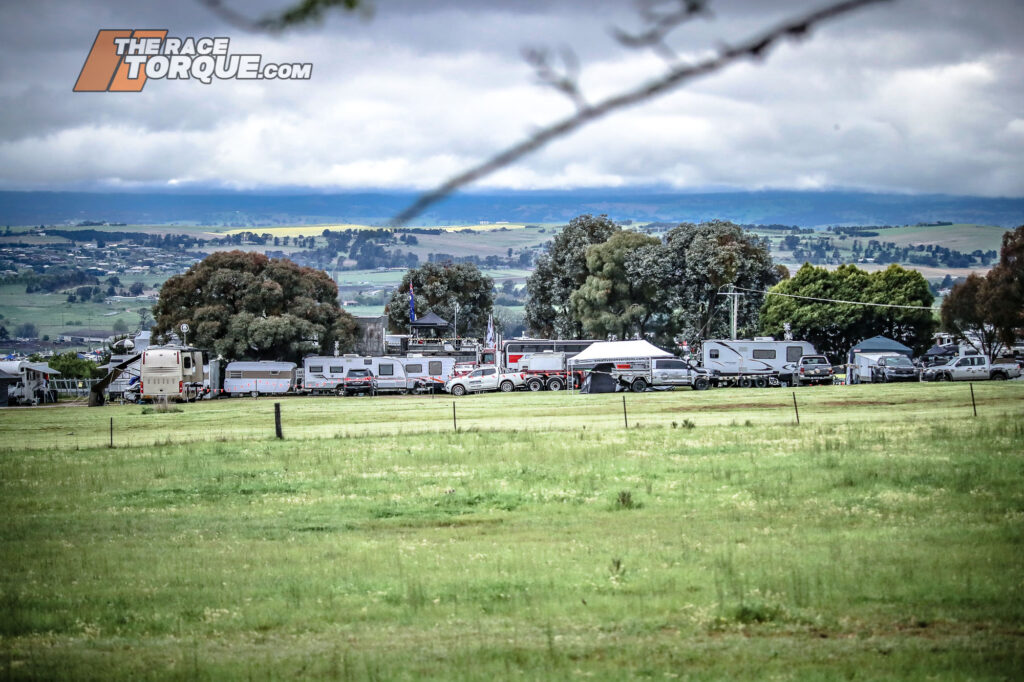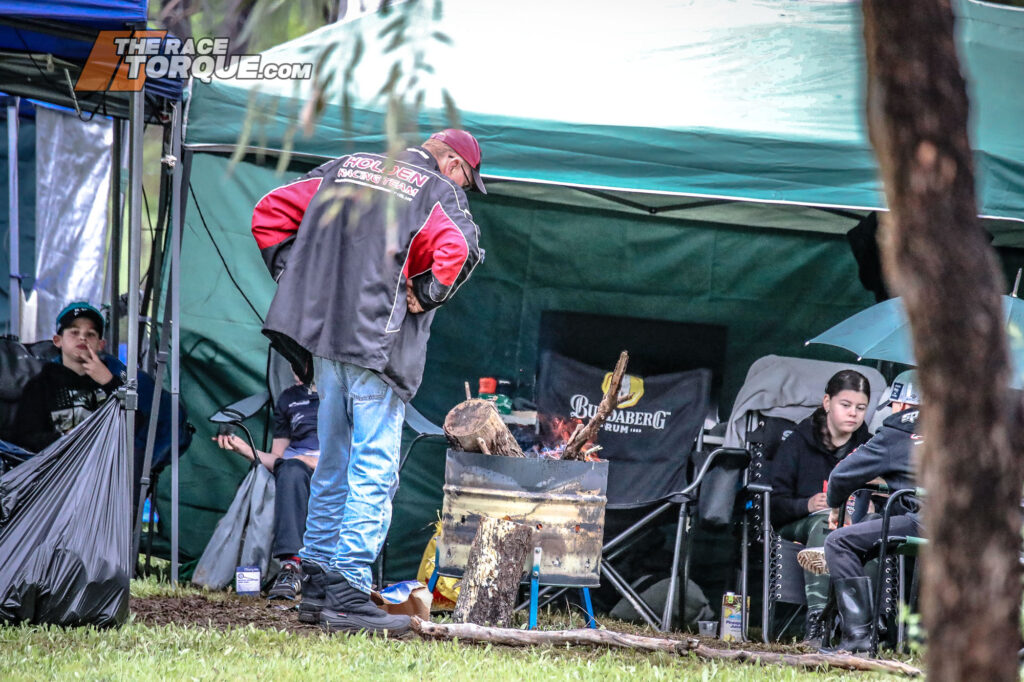 While the major campgrounds around the precinct have been sold out, recent years have seen more and more of the private properties opened up to either private camping or simply entertaining guests.
There are some really impressive setups in the mix.
---
Relics found!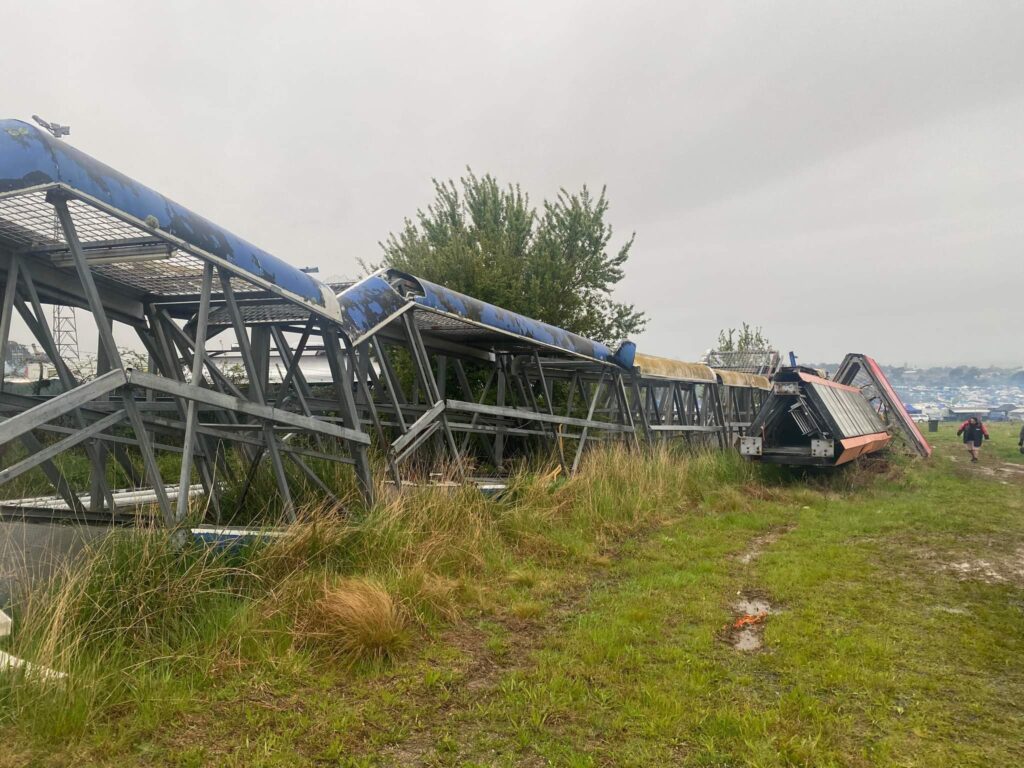 The old scoring pylon has been uncovered, dumped in the area of The Chase…
---
Fig growing update: figs are out of season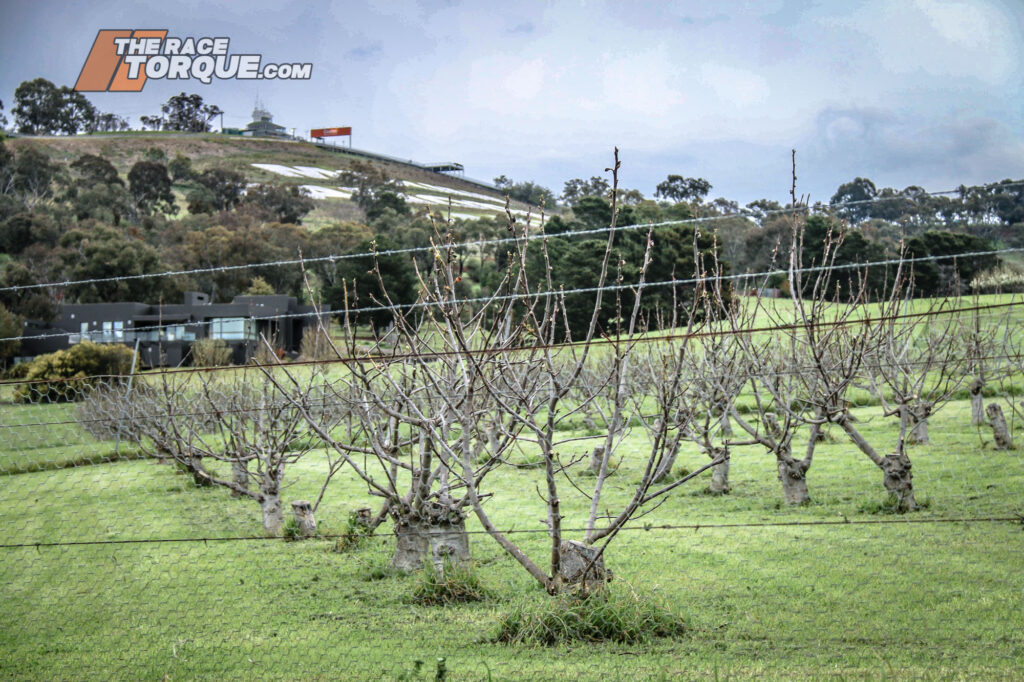 As we have ascertained previously on these pages, outside of the winery, there is a fig orchard on driver's left as the cars rip down Conrod Straight.
Unfortunately, it is clearly not fig season, so race fans can't treat themselves to fresh-from-the-tree figs.
They will have to settle for some well-preserved fig jam instead.
---
Around the grounds Saturday edition: it's muddy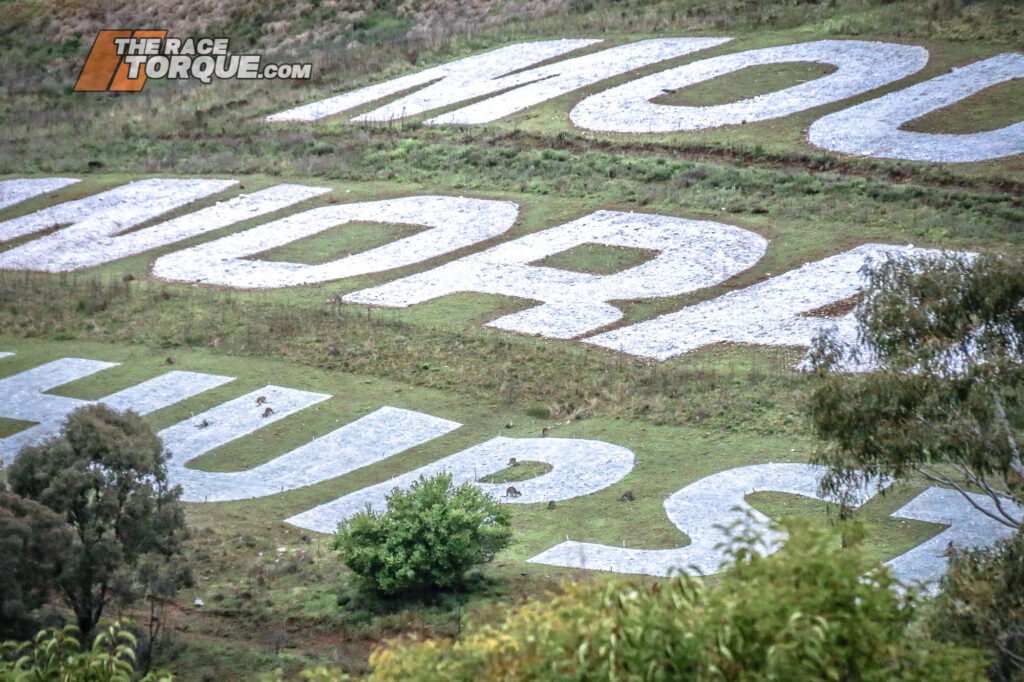 ---
Mud Duds Racing is feeling right at home…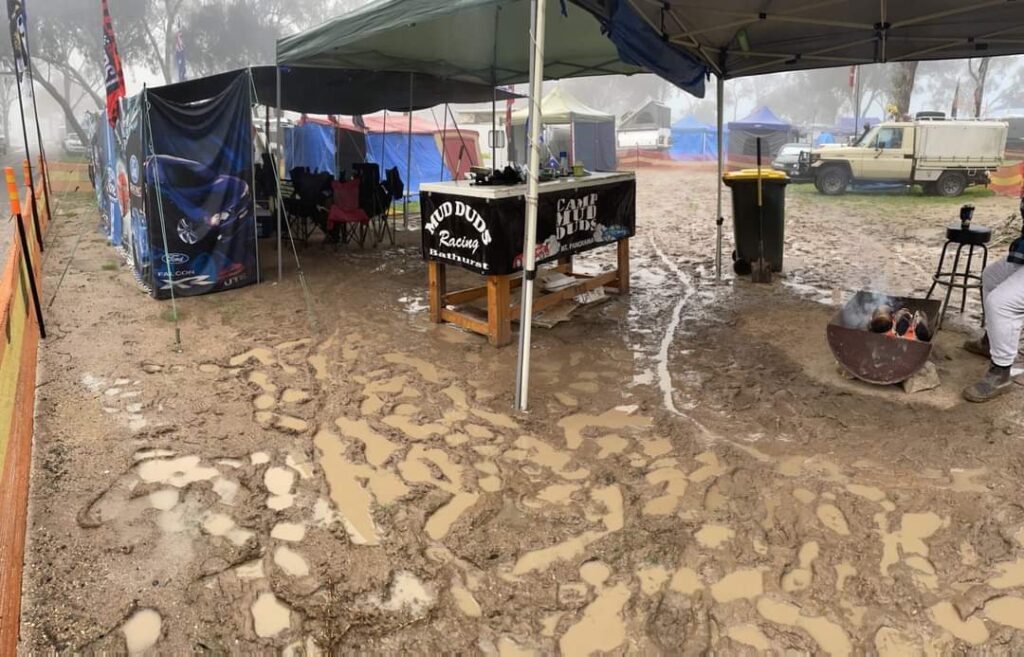 ---
The Monorail, again, because we can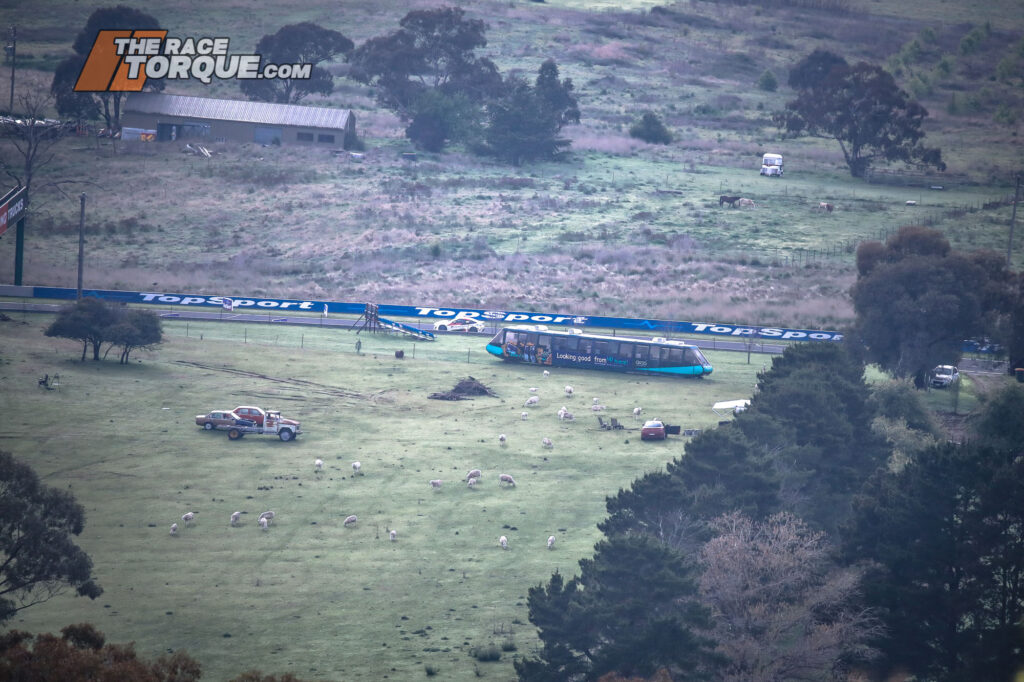 Earlier this week we profiled the new Mount Panorama Monorail.
Interestingly, it can be seen from space (we assume), or the top of the hill, as depicted above.
---
Big Greg Murphy Fans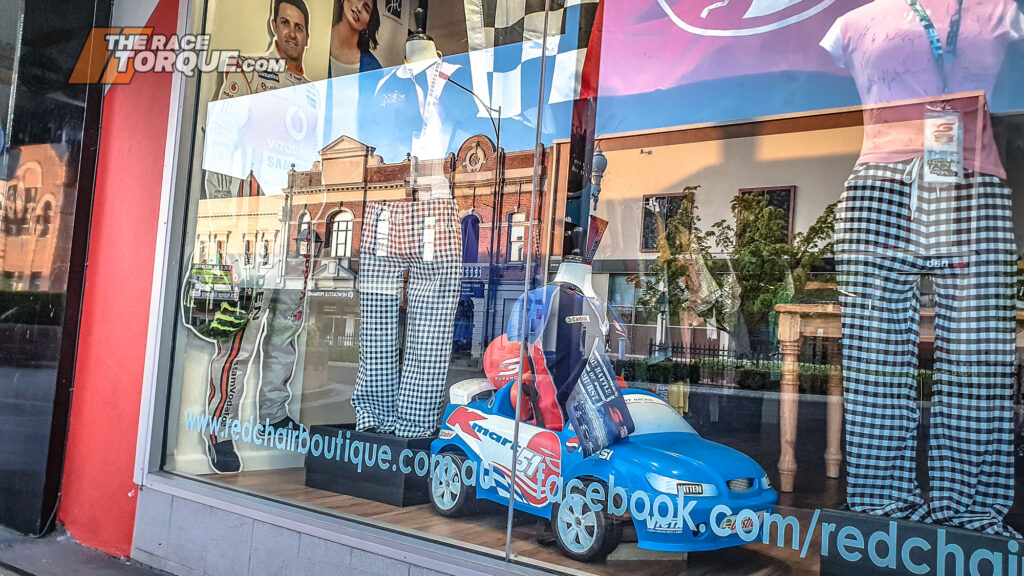 Some of the shopfronts around Bathurst have gone all out decorating for race week.
This Greg Murphy-spec Kmart racer would now be quite a valuable piece of memorabilia…
---
From the top of the Hill…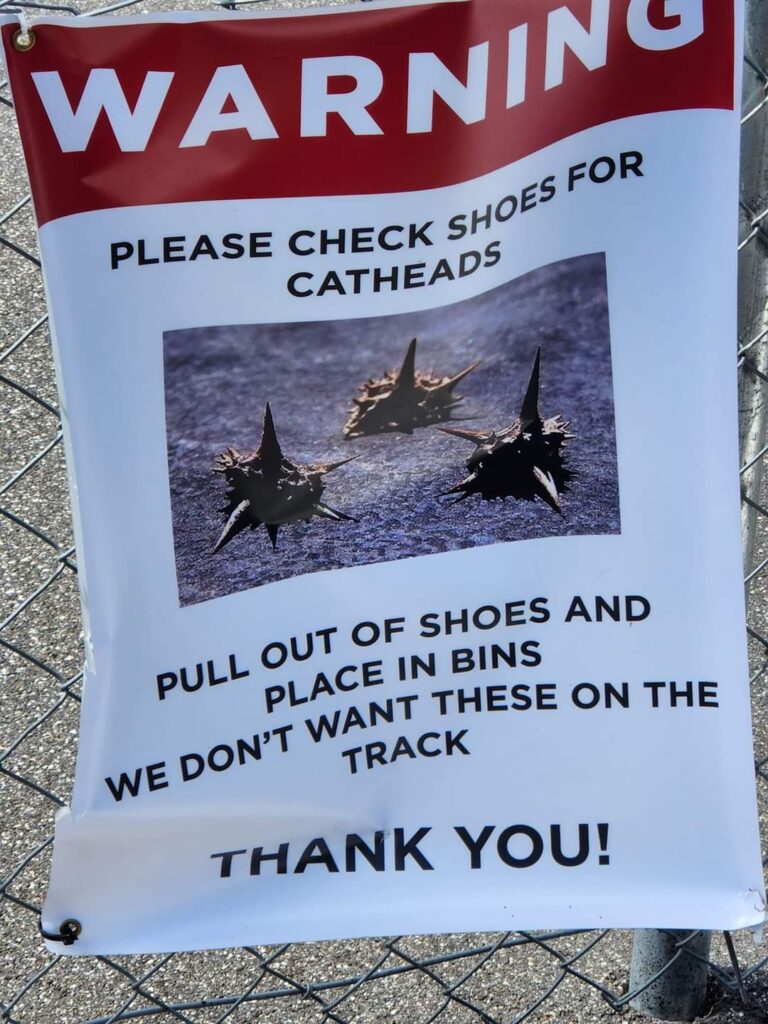 ---
BYO grandstand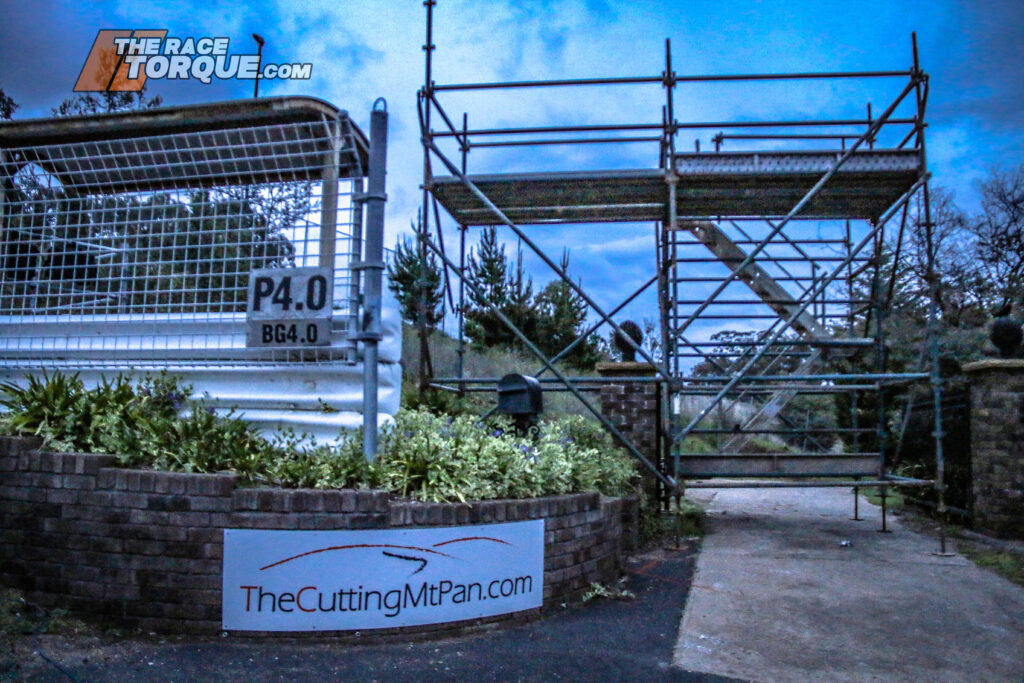 We have previously on these pages profiled the highest permanent accommodation on the hill, The Cutting Mount Panorama, and once again they have outdone themselves with an excellent temporary corporate box.
Give them a follow on Instagram here – they pump out some great content, including on their pet echidna, who made his on-track debut last year…
---
The more you look at Gazza and Shazza…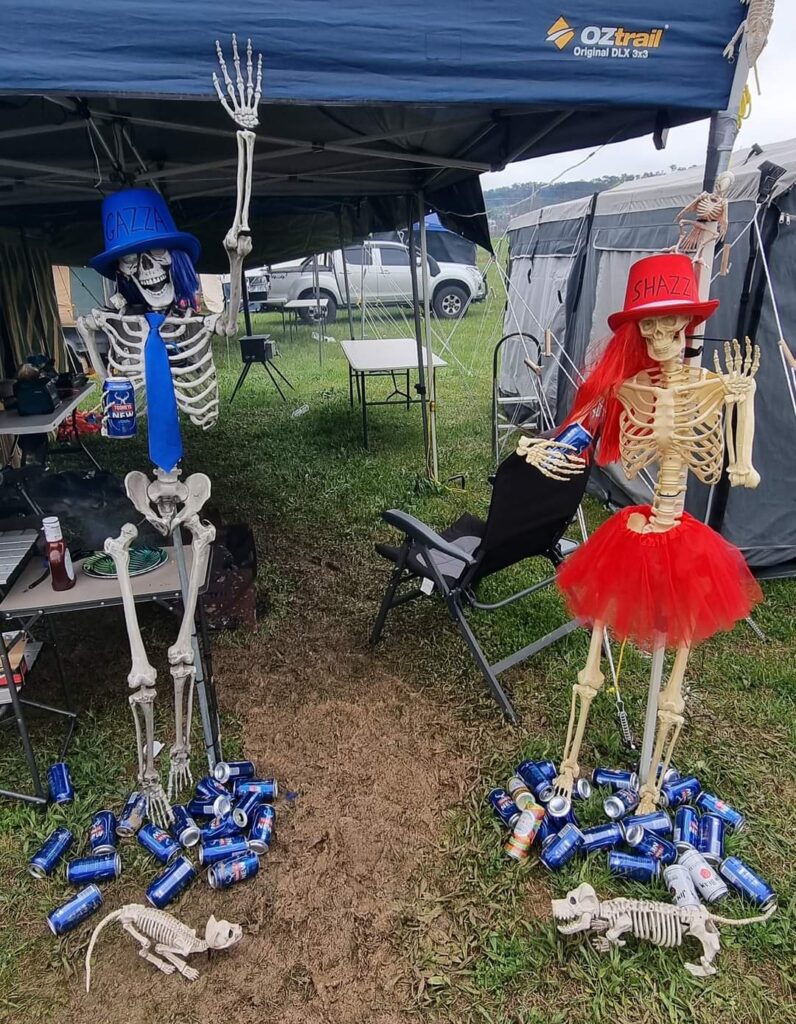 Is this a good ad for Tooheys New?
---
Poop the bed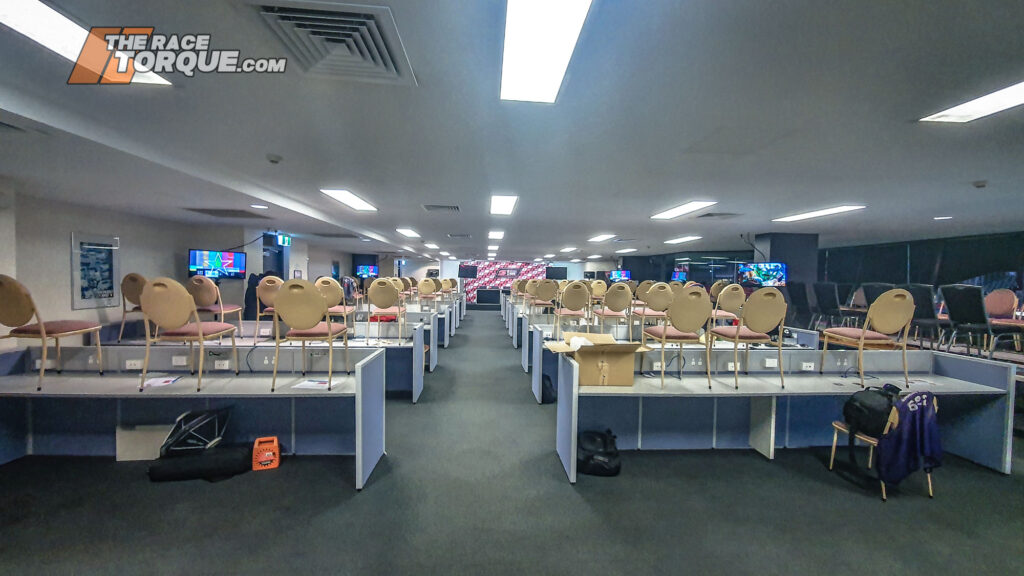 A sad indictment on our sleep patterns and work schedule this week, these three images were taken on the last three mornings, when The Race Torque won the race to the media centre, with sign-on times of 5:49am, 5:49am and 5:33am.
---
FROM THE INTERNET…
Class
Totes awks
Cutting laps
The big dogs are in town…
Well, this is awesome, well played Ruth!
Essentials
Ugh
Great with the birds…
From yesterday: can recommend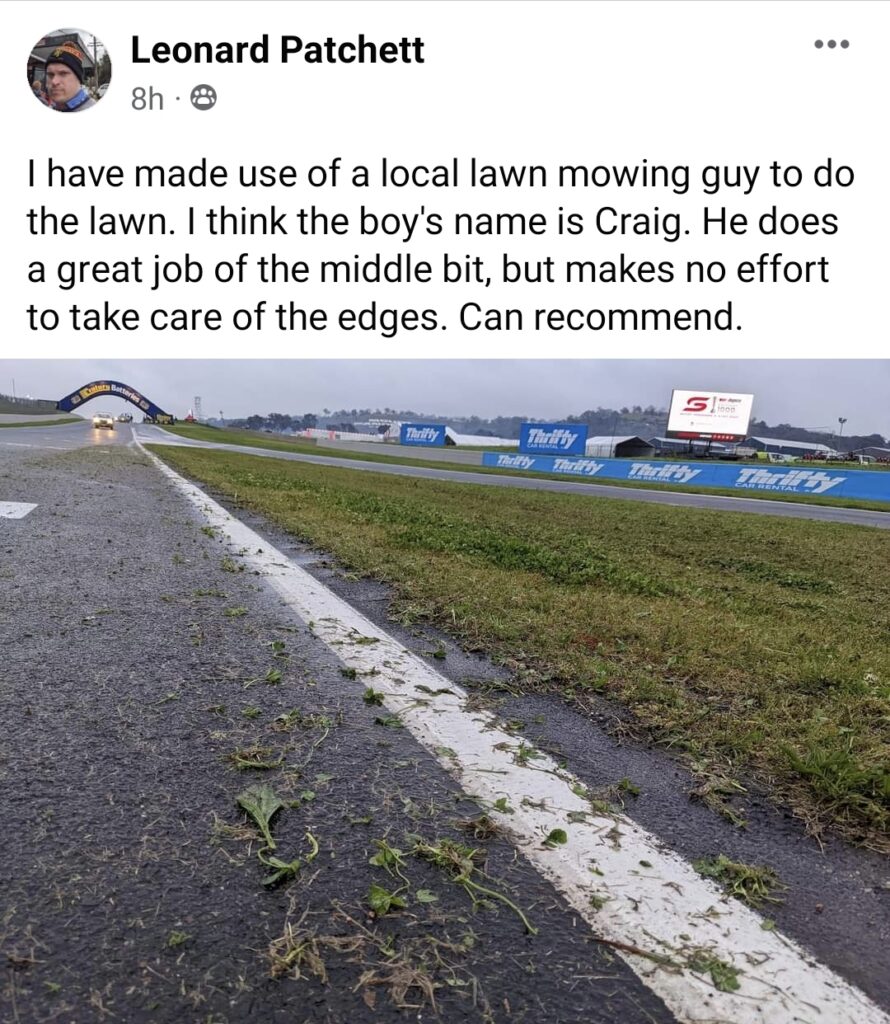 ---
ICYMI: The Bathurst 1000 on TRT
Today:
Friday:
Caltex Young Stars Qualifying for First Bathurst 1000
Bathurst 1000: Friday Notebook
Bathurst 1000: Craig Lowndes Super Splash Gallery
Inside the Wildcard: Practice makes perfect
Thursday:
Strong Start for Caltex Young Stars in Fast Bathurst Thursday
Bathurst 1000: Thursday Notebook
Bathurst 1000: Thursday gallery
Bathurst 1000: Track walk gallery
Wednesday:
Bathurst 1000: Wednesday Notebook
Bathurst 1000: Wednesday Gallery
Old meets new as Caltex history put on show
Bathurst 1000: On the Grid Preview Podcast
Bathurst 1000: TRT's Big Bathurst Preview
Race week build-up:
Bathurst 1000: Doric Inside Line Magazine
Caltex brand makes Bathurst return supporting young Motorsport stars
Bathurst 1000: Co-drivers rated
The incredible logistics behind Bathurst's TV
Bathurst Wildcards: A rollercoaster ride
Bathurst 1000: Everything you need to know
---
HOT
It hasn't entirely flooded. Yet.
---
NOT
The car parks are closed, and the grounds around the facility are an absolute mess
---
MEME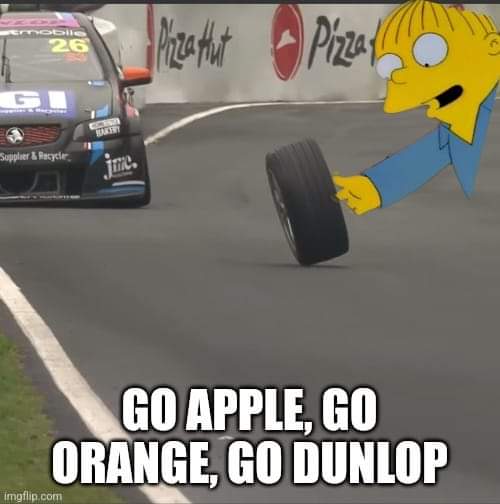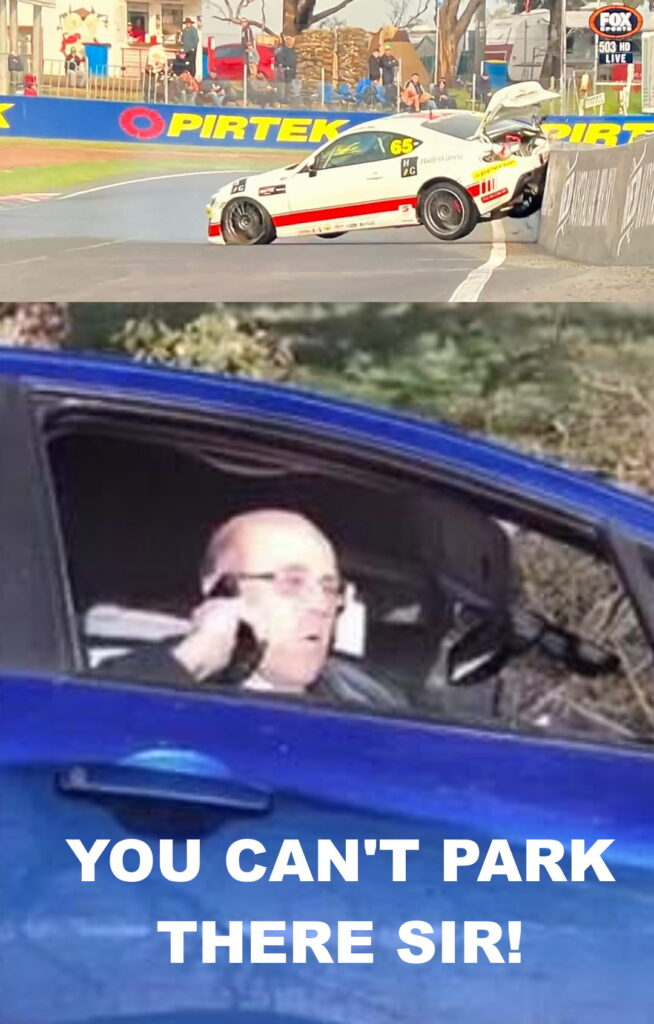 ---