Doric Power Rankings: Bathurst 1000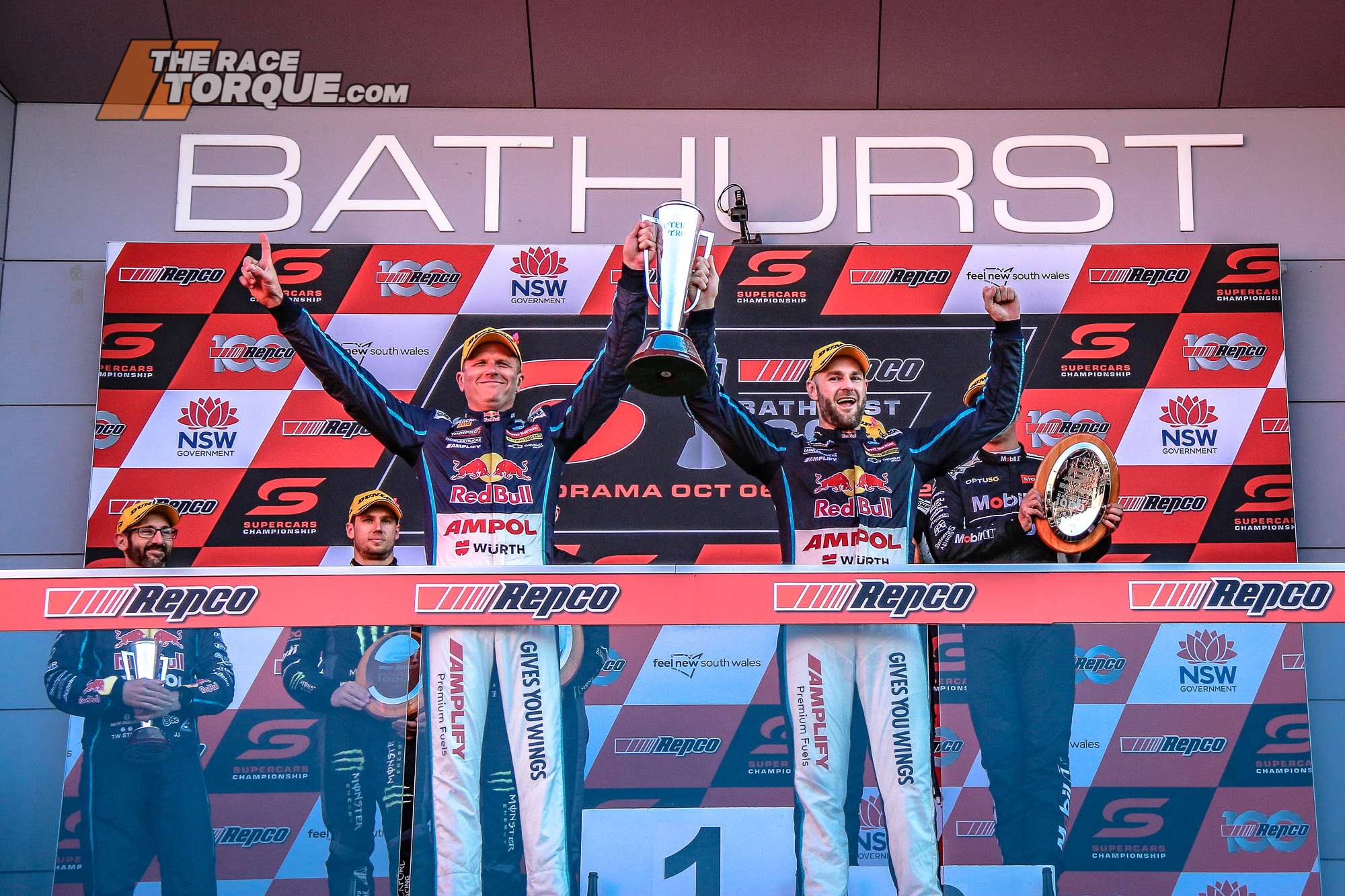 We're far too tired from that event to waffle on about how good it was. You know it was. Dig straight into the Doric Power Rankings below now, before it's too late.
---

---
Before we swing into this mega edition of the Rankings, if you like this content, you will probably appreciate our Bathurst Notebook series – you can read the collection from Wednesday, Thursday, Friday and Saturday here.
---
---
HOT
1. Bathurst is back
IT NEVER really went away, but my goodness wasn't Bathurst back to it's bullish best at the weekend. A full house on Sunday, full campgrounds from Monday onwards and an incredible vibe of the place being open for business and absolutely loving it.
The last two years were, lets be honest, rubbish and even though some people were back in 2021 it just wasn't the same. This year the whole thing was back to where it belongs, and the world is a better place for it.
---
2. SVG and GT
Where do you begin with this pair? It's already been so well discussed. Here it is in a nutshell.
Start 7th, lead the most laps and win the race under searing pressure.
Shane wins his second Bathurst, one week after scoring World Rally Championship points in NZ
Garth Tander wins his fifth Bathurst, joining an elite group of six legends to do so.
Triple Eight claim their ninth Great Race, second in three years and third in five.
They do it despite searing pressure from the defending winner.
Did we mention SVG was in a rally car last weekend?
Garth Tander the quickest driver of the entire event.
---
3. Holden going out on top
Fairy tales do happen and this was one of them. Holden's 36th and final Great Race victory came with a 1-2 result for Commodores as the brand finally says its final farewell to the Mountain, a place so intrinsic to the brand. That Garth Tander, who has claimed all five of his Bathurst wins aboard GM products, was one of the drivers to do it was even more special.
Even if Ford win the next 14 straight Bathursts, and let's be honest that seems unlikely (the record is 7) it would take the Blue Oval until 2036 to overhaul Holden at the top of the Bathurst brand winners list.
---
4. Chaz and Fabian
NOT a bad way to defend your Bathurst crown, a fighting drive to second position and a narrow runner-up spot by one solitary second. Didn't have track position early so had to work for this but Chaz's series of passes late in the race to work his way up behind SVG were as good as he's ever been. Fabian was incredibly strong – his opening stint and race start in particular – and played an identical role to the job Lee Holdsworth did last year. Outstanding, both of them and Walkinshaw Andretti United, too.
---
5. Cam and James
BATHURST'S 'Almost' team of late, Tickford's #6 crew just about did the job once again on Sunday onto to fall short at the final hurdle. Still, managed to finish third for Waters' third-straight podium and Moff's second. Have to wonder how costly the loss of track position after being punted by Kostecki really was. Did it make a difference? Quite possibly. Otherwise, Waters and Moffat were the shining light for Tickford in an otherwise dark and stormy day for the Melbourne team, once again.
---
6. TV
WHERE do you start with this segment? People around the world hailed the quality of the Great Race coverage, as they well should because it is world class. We could go on for hours here, but highlights include:
Larko, obviously. The man is a national treasure.
The chopper
The epic Fox Sports intro (which is yet to be posted on line as per the norm)
Channel 7 running picture-in-picture during ad breaks
Seven bringing Mel McLaughlin along to co-host with Beretts.
Plans – unfulfilled due to early non-finishes – to talk to drivers live on air whilst in car, like the good old days.
All the other good stuff.
---
7. Wildcards
THE BROAD criteria for the Great Race wildcards is that they need to add something to the show, to enhance the race and make it better. It would be hard to argue that the collective group this year didn't do just that – all three were excellent.
From Richie Stanaway reminding people of his talent in the rain by qualifying his Erebus car fifth, to young-gun Declan Fraser leading laps in the Supercheap Car and Jay Robotham at one point running 9th before stopping in the Caltex Car, they all did superbly.
Lowndes and Fraser ended up being the highest ever finishing wildcard entry, and deservedly so, but all three deserve praise and acclaim for adding and enhancing the Great Race story for 2022. Bravo.
---
8. Bryce Fullwood / Dean Fiore
BRAD JONES had a shocking day but for the unheralded efforts of Bryce Fullwood and Dean Fiore aboard the Middy's entry, who salvaged an otherwise brutal day by finishing 9th which is a thoroughly decent result indeed.
Bryce always goes well on the mountain (though his fifth last year did come with Warren Luff, who has more Bathurst podiums than TRT has had hot dinners) and this year was proof again, while Dean Fiore was Mr. Reliable, executing his role perfectly.
Given the pit stop comp was called off on Friday – meaning Bradley didn't have his winning cheque locked away – this result was a good one for the team and it's drivers.
---
9. Punters: Weather? What weather?
SUNDAY aside, the weather was horrible for much of race week but while the Mountain faithful could have had every chance to complain, to whinge, to blow up on the socials or even go home, did they? Not a chance mate. The spirit around the Mountain, despite the flooding and mud that made the Somme look positively dry, was outstanding.
As one punter told TRT on Friday; 'Mate, I don't care if it's raining or sunny. The beer tastes the same…'
---
10. New Mustang
BIT of a scoop for Aussie fans and Supercars in being the first to showcase Ford's new Mustang in the flesh; and didn't it look superb. It looked even more superb with the one and only Dick Johnson behind the wheel giving it its global debut. Ford are backing the sport hard here and this was a great nod to what is to come. Looks tough, too.
---
BONUS HOTS
Erebus Motorsport.. huge, huge comeback for the #9 car after the lap one dramas, while Kostecki and Russell almost went back-to-back on the Bathurst podium. 11th from Stanaway and Murph saw the team almost match Triple Eight with three cars in the top 10 at the end – a feat that Erebus managed in qualifying on Friday where their Holden rivals had just the one. Given the pre-round dramas just getting to the Mountain with three cars, this was a huge day for Erebus and the Boost Mobile boys and girls.
Repco Activations were outstanding and the new-look Harris Park setup was brilliant, a massive step forward for the busiest GA area on the circuit.
Supercheap Auto activating hard despite their losing the race title sponsorship. Getting Craig Lowndes was one thing, but getting half the town to sport their branding was another. Good for the sport.
Bathurst's wildlife
Three hours of fill on Saturday was still entertaining
PremiAir Hire Racing, in particular James Golding
Kai Allen
Reckless Brewing Co
Caltex for sponsoring us
The F-35 Lighting II flyover and anthem timing. Magnificent. To quote Neil Crompton in Darwin, "JESUS CHRIST"
---
WHAT
Garth's Bathurst-winning experience coming to the fore
Craig Lowndes splashdown
Who?
It's supposed to give you wings…
Quality question
Going the distance
Huge comeback
The new reality show you didn't know you wanted: How to Tap like a pit reporter
---
NOT
1. The Mud
IT'S hard to offer any criticism here because we suspect that even the most hardiest of hard-stand would have turned to mush given the conditions all week, but the fact remains that by Thursday night Mount Panorama – and in particular its carparks – was a quagmire. The mud was omnipresent, it was everywhere and it was unescapable and by Sunday night, it didn't smell real good, either.
1(a) New South Wales Roads
WE get it's rained a lot. Like, a lot. We get there's been a pandemic. But the fact remains the state of New South Wales' roads borders in some areas on being completely dangerous. Parts of the Hay Plain are so bad it needs to be dug up and started again, while both country runs from Victoria and South Australia utilised by TRT were shocking. For an event that has almost negligible public transport options and a city with few commercial air transport options, roads are key to getting to Bathurst and right now, many of them are frankly, dangerously unacceptable.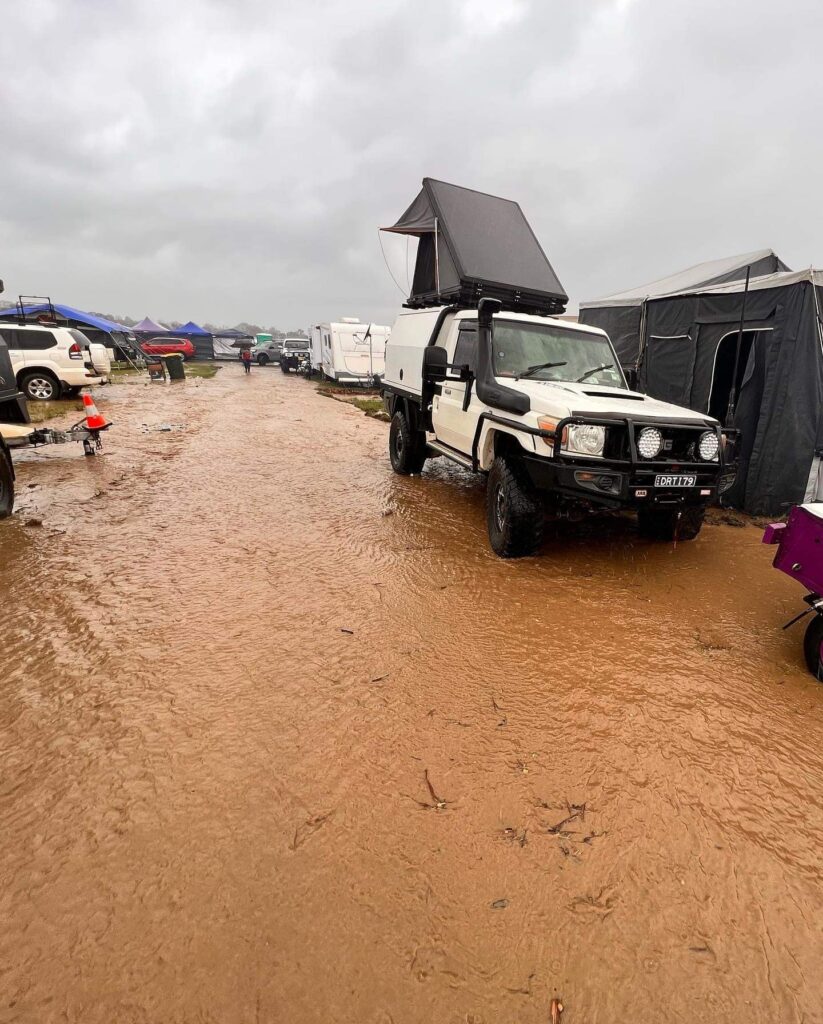 ---
2. The rain on Saturday and the Mountain Straight River
WE WILL fight anyone who says they could've gone racing or shootout-ing on Saturday after living through that particular downpour. It was biblical in its speed and its volume and very quickly things flooded beyond immediate control.
Perhaps more unfortunate was what was suspected to be a burst water main on Mountain Straight, that would ultimately assist in the lap one dramas on Sunday morning. Bathurst Council's public works department will have a big job to rectify and hopefully improve on some of the drainage issues that appeared on the weekend, even if it was a 1-in-50 year style event.
---
3. No Shootout
THE question as to whether the Shootout should have moved to earlier on Saturday is a topic for people paid more than us: the bottom line remains that losing one of the best hours of motorsport all year was a massive blow for all concerned – especially because it had the potential of being either highly unpredictable or highly competitive – or probably, both.
---
4. Early laps drama
THE fact that there was water on the track is beside the point here – the fact is that every driver knew there was chaos potential following the start and that's what unfolded. The old adage 'you can't win the race in the first corner, but you can lose it' rang true here, especially for the Castrol Mustang.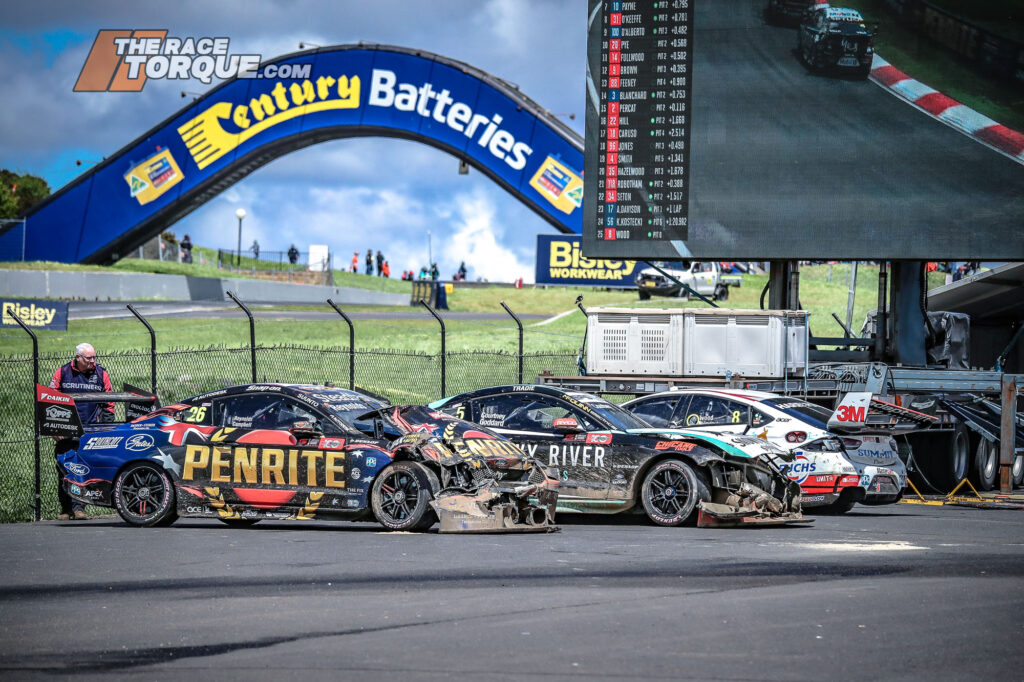 And then there was the Lap 5 drama of Zane Goddard firing across the Chase and into the path of Matt Campbell and Dale Wood, ending their days on the spot and in a particularly brutal way.
This was an ugly incident and the driver of the Tickford Mustang was fined appropriately in our estimation. The race, however, lost two properly competitive cars early on, and drivers were fortunate to walk away.
---
5. Dick Johnson Racing
Wow. After looking so strong throughout dry weather practice, things quickly turned south for DJR in the race. #17s troubles were well documented, with both Davison's ending up in the tyres at one point and ending their day.
Car 100 was solid if unspectacular and that's probably the issue: This is the third year in a row now where the Shell entries just have not looked racy enough when it comes to getting the job done on Sunday.
Remember back to 2020 when the race restarted late with McLaughlin in the mix and everyone expected him to contend.. only for nothing to happen? Or back to last year when they just never really factored? This year was more of the same.
---
6. Recovery Ute in the way
TOPICAL, right? How a similar scenario could unfold at Bathurst and Suzuka at the same time is beyond us, but it did. Safer in a Touring car, sure but far from ideal. Furthermore, it again opens up questioning about racing to the Safety Car train, which was clearly going on between Kostecki and Mostert as they battled for track position. Dangerous and not a good look.
---
7. Jamie qualifying over Broc
DEBATE all you like if this was the right call for the #88 in qualifying. But this decision ranks in the 'NOT' category for Jamie benching his co-driver and then promptly fencing it in the next practice session.. Not a great look!
---
8. Kostecki Brothers Crashing
THERE are a lot of tweets embedded below, all of them involving the Tradie Mustang bringing out either the Red Flag or a Safety Car.
---
9. Support category debacle
PRETTY grim reading from the support paddock ranks over the weekend with many leaving Bathurst why they even bother sometimes..
Porsche Carrera Cup lost one race entirely, and had a total of 9 green flag laps in total all weekend.
Toyota 86s also got 9 green flag laps, but that was nothing compared to Dunlop Super 2 and 3.
They got Two.
---
10. SVG fencing Macauley Jones in qualifying
ANOTHER moment filed in 'unnecessary'. Just didn't need to happen because SVG was locked into what was going to be the shootout anyway. All it did was hurt BJRs wallet and drop the 97 three grid spots, which didn't seem like enough compensation, really. At least both rebounded quite well on Sunday.
---
BONUS NOTS
Matt Stone Racing
Brad Jones Racing
Nick Percat fencing it
Course car ride session ran late on Saturday morning, delaying supports getting on track and ultimately costing them laps. Corporates are important, sure, but it's a race meeting, not a ride day.
The bathroom at Matt Naulty's place on Saturday
No #DoricGuy appearance! TV director has been cautioned.
---
TWEET
Forever the battle continues
All-time great content
The rig
Good grief…
Clearly got an itch
I'm seeing double, four Lee Holdsworths!
Saturday wouldn't leave us alone…
Spotted: Brett Blake, absolutely loving it
Scotty says:
Great down Conrod
We are ever so proud of our editor…
---
MEME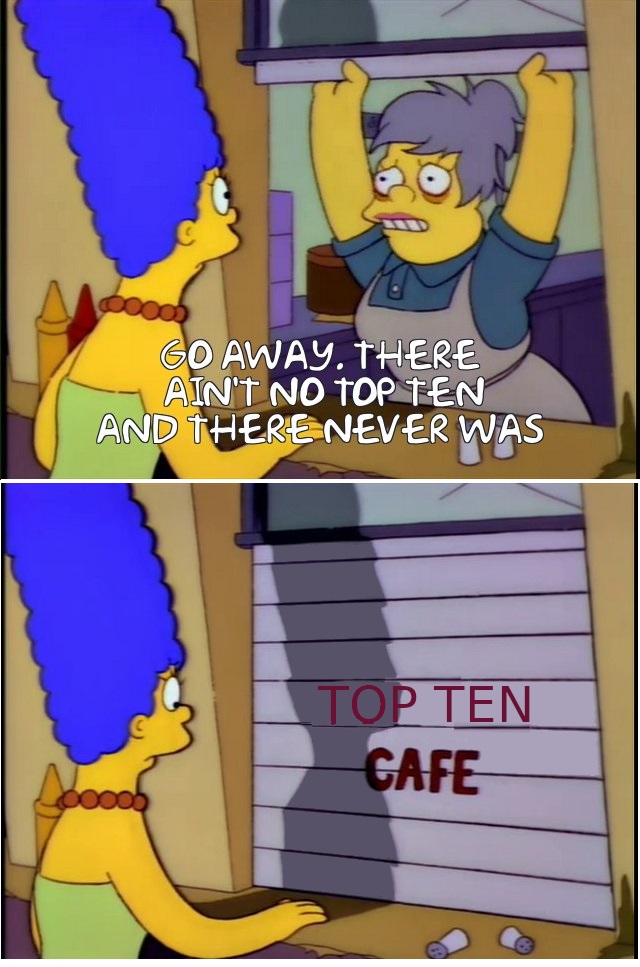 As yoinked from Marcus Garth
---