TRT's Big Bathurst Preview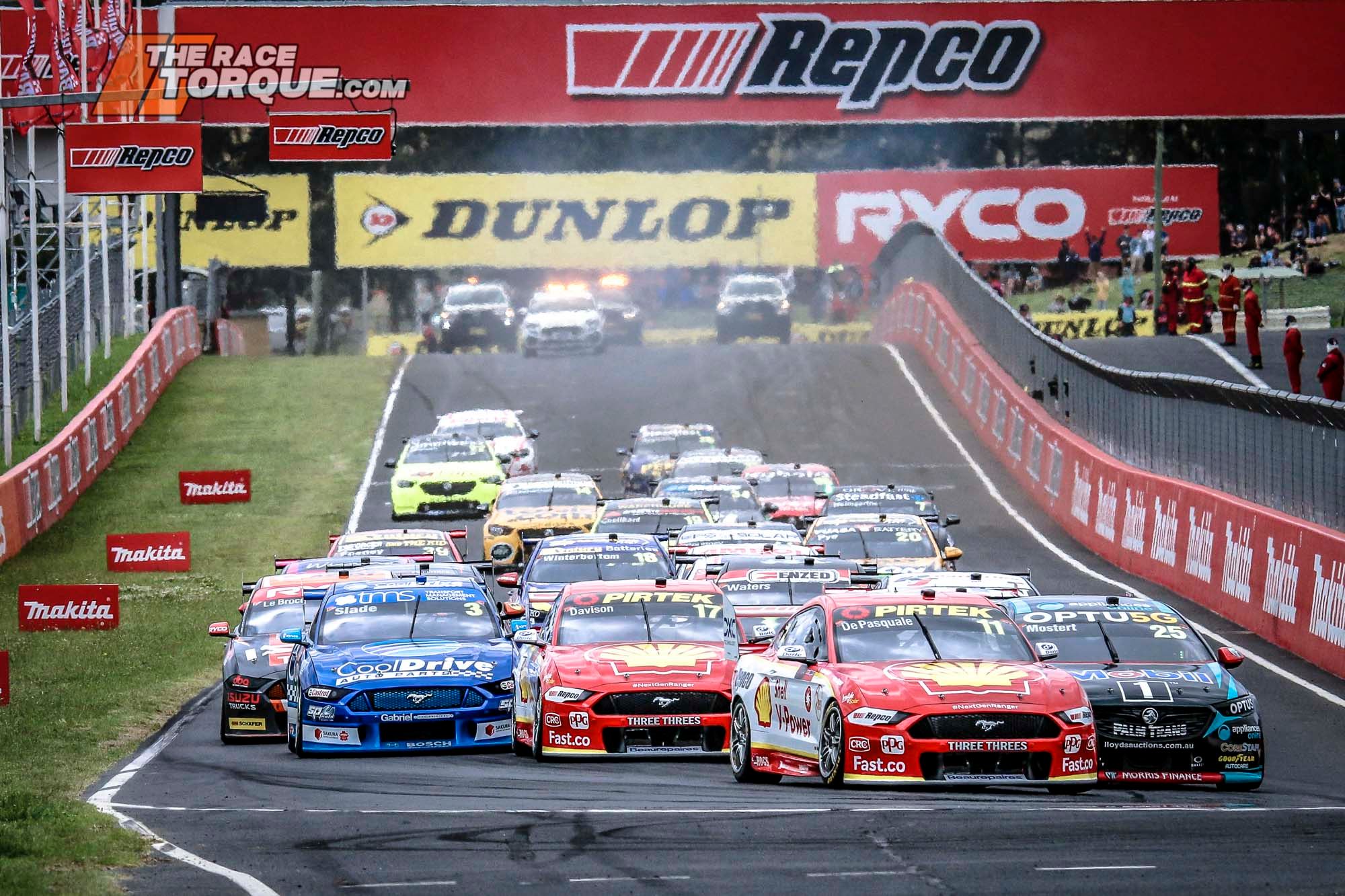 THE GREAT RACE is back where it belongs in October and the 2022 edition is set to be another thriller.
As always, we've delved into the brains – a scary thought, admittedly – of Team TRT to get their thoughts as to how the Great Race will play out. We've also invited a local along to join the fun because a) it's mandatory and b) the race won't happen without him.
To hear the drivers' thoughts on these same questions, listen to our Bathurst preview edition of On The Grid, which includes comments from defending winner Lee Holdsworth, the vastly experienced Michael Caruso plus Caltex Young Stars, Matt Chahda and Jaylyn Robotham.
Head to the Podcast page to check that out.
---
---
THE PANEL:
RICHARD CRAILL: Commentator, Journo, TRT Editor, fan of Bathurst parmy's
MARK WALKER: TRT's Photographer-in-chief and features wordsmith
TONY SCHIBECI: On the Grid Podcast Host, voice of the MCG which has little do do with this
DALE RODGERS: Been at Bathurst more times than everyone here, except
GARRY O'BRIEN: Garry was there when Mayor Griffin thought his 'scenic drive' would be good.
---
What's your earliest Bathurst memory?
CRAILL: I have vague, early memories on being on the family holiday in Canberra (people do holiday there) and watching a wet Bathurst and an angry man on the TV.. must've been 1992. My first visit to Bathurst itself for racing was 2005, while my first 1000 was two years later and it left a profound impression. You can read more about that a little further below.
WALKER: From the mid-1980s on TV. I remember my first day at the track – the Wednesday practice for the 1997 Super Touring race. I thought it would be a good idea to walk up to the top of the hill via the access road – how hard could it be? Clearly battling, a Range Rover pulled up to give me a lift. It was being driven by Terry Morris. Playing dumb, he asked who I thought was going to win, "Umm, Paul Morris, Sir," came the response. I earned myself a new best friend forever right there…
O'BRIEN: 1966, stood half on the fence about where the bridge is on pit straight and watched the start and finish. (NINETEEN SIXTY-SIX! – Ed).
SCHIBECI: My earliest Bathurst Memory was as a 10 year old in 1977. I remember watching the race on TV and seeing the Falcons come 1 and 2. I was devastated because I was barracking for the Torana's as my mum had one.
RODGERS: My brother announced to family that he was going to Bathurst in 1971. So, we watched a B&W Channel 7 telecast, which was their second or third full day telecast ever, crouched in front of the TV. Allan Moffat in the factory Falcon GT Phase 3 GTHO #65E dominated even with the help of a beer carton, on the grille, which we hoped at home was not of my brothers doing. We were a Ford family!
---
What's your favourite Bathurst memory?
CRAILL: My favourite Bathurst 1000 memory is everything in and around the last 40 laps of the 2007 race; the tension around the area as the weather built, the electricity in the air, the outburst of emotion when Steven Johnson passed Lowndes – and then moreso when CL got one back. The roar when Frosty dropped it and when they all shunted at the top. It was compelling, remarkable Bathurst drama and incredible to witness live. Oh, and all of the 2014 thing that happened.
WALKER: It's hard to go past the entire saga of 2014. What an incredible rollercoaster of emotions, and very cool to be somewhat stuck in the middle of it.
O'BRIEN: Shit, that is a hard one. So many. 1979, win by six laps.
SCHIBECI: Heading up to the mountain for the very first time in 2005. I found myself as a 38 year old kid in a lolly shop. Even better was the fact I was being paid to be there working for SEN.
RODGERS: After 35+ trips to the race, this is a hard one. I have been spectator, fan, photographer, supplier and journalist over too many years, but if there was one, it would be the X Box DJR Team Penske Falcon of Scott Pye and Marcos Ambrose. I was involved from mid- 2013 with the Penske journey but after all the issues of 2014, this was an extraordinary week. Outwardly expectations were modest, but internally the team believed this could be the stepping stone to the success they craved. Strong performance, big crash for Scotty. It was an amazing weekend.
---
If you could take one corner from Bathurst to drive for the rest of your life, what would it be?
CRAILL: Given I'm limited to 60km/hr in a rental car, I'll say the Dipper. 60km/hr in a rental car is too quick for the dipper, and it's great.
WALKER: Going back to my data logging days, there were two places where drivers needed to find speed: at the tree before Reid Park, and at Skyline. How could you go past Skyline? I'd keep cutting laps forevermore until I nailed it. Or the fence.
O'BRIEN: Sulman Park gate to the rise at McPhillamy, roller coaster.
SCHIBECI: My one corner from Bathurst would be turn 1 because it keeps going onto the rest of the racetrack. But if I could just take a corner and nothing else it would be the Dipper.
RODGERS: The run from Reid Park to Sulman Park. Is there a better bit of tarmac? Huge commitment when you crest the rise and attack Reid then everything on the line, pay homage to the Grate and blast through Sulman on the way to McPhillamy Park. Watching Supercars in this section of the track is jaw dropping.
---
If you were watching from punterville, where would you watch and why?
CRAILL: Assuming my budget didn't run to renting the top floor penthouse corner apartment in Rydges, overlooking the Chase – where I could have an endless supply of beers and catering – I'd start the race at Turn one, get the bus to the top for the middle bit, head to the Chase while they're all boxing on for the lead late and then see the finish from the outside of Murray's.
WALKER: I love to move around and see the track from as many different places as possible. Of course, the drive over the top from Skyline down into the Esses is incredible, and worth a session on its own, but I love to set up shop for the top-ten shootout from bank on the inside of The Chase. Big crowd, a great atmosphere, big screen adjacent, plus you get a good feel for how the drivers have attacked both the warm-up lap, plus how they are trucking down Conrod on their hot lap. Additionally, you are in the box seat to witness the antics of the chopper pilot, which can't be beaten.
O'BRIEN: The grate, back in the 70's the cars would skip and slide through there.
SCHIBECI: Top of the mountain. McPhillamy Park.
RODGERS: Well, if you are a wealthy Punter, I would book a suite at the Rydges Hotel at the Chase. Make sure you are at the Conrod end and grab a balcony. If the $$$ are not quite there, set up the digs at McPhillamy. Great viewing and great atmosphere.
---
You can have any Great Race winner from history to put in the shed.. what is it?
CRAILL: The 1984 Brock / Perkins VK Big Banger. No contest.
WALKER: Brock's 1984 VK, the last of the big bangers, what a thing.
O'BRIEN: 1979 A9X Hatchback.
SCHIBECI: Peter Brock's 1972 LJ Torana because it was the same as my mums. Well it was red anyway.
RODGERS: A 1974 Falcon XB Coupe in blue with McLeod Ford signage and John Goss and Kevin Bartlett names on the front quarter will do just nicely in my garage thank you. One of the true privateers to win the race and in extreme conditions. Gossy was a hero of this era, and the '74 win was one of the great ones. A very cool car!
---
Who wins?
CRAILL: I hate to be cliche' – who doesn't – but Shane van Gisbergen and Garth Tander, obviously. SVG is at the peak of his powers and having witnessed him in action in GT racing this year, I'd argue Tander has lost none of his mojo either.
WALKER: Hard to bet against van Gisbergen/Tander on any front, but the beauty of Bathurst is that nothing in the modern era is a given.
O'BRIEN: Van Gisbergen/Tander.
SCHIBECI: It would be very hard to say anyone other than the 97 car at this point in time. Ask me again on Saturday afternoon.
RODGERS: It is time for the #17 DJR car to be back on the top step of the podium. Will Davison is in scintillating form and if his bro can do his bit, the Davos' could well be celebrating around 5.30pm on Sunday. Speed will not be an issue for the DJR Mustang.
---
Who gets pole and what lap time will it be done in?
CRAILL: I'm going to go Chaz again and I'm going to go with a slightly slower than last year's pole time at a 2m03.4862
WALKER: Will Davison, 2:03.1842
O'BRIEN: Mostert, very high (2m)02.
SCHIBECI: Mostert – 2.26.9 as it will be raining.
RODGERS: #97 Van Gisbergen with a time of 2:12.27 – wet track
---
Who's the best smokey / outsider bet?
CRAILL: If we get the Penrite Racing that allows David Reynolds to qualify in the Top 10 and have very strong race pace – the one we saw across the first half of the championship – then he and Matt Campbell are a strong chance. TAB says they're paying $17.00 which is pretty good value, and I reckon they're more of a chance this year than anyone thought Reynolds and Luke Youlden were when they won it.. Have I mentioned how good Matt Campbell is?
WALKER: How motivated will Lee Holdsworth be? He was peak last year and topped qualifying for Tickford 12 months prior. Saying that, Nick Percat has the Warren Luff lucky charm onboard, so he has already finished third. Give them the trophy now.
O'BRIEN: Le Brocq / Seton.
SCHIBECI: Declan Fraser and Craig Lowndes in the 888 car. (Craig Lowndes a Smokey.. that's a new one.. – Ed)
RODGERS: Andre Heimgartner only because it would be hard to pick #88 as a Smokey!
---
This year is the first B1000 back in full since Covid. How many attend (201,975 in 2019)?
CRAILL: If it's not bigger in a Covid bounce-back year, I'll be shocked: 207,817 across the four days. Huge.
WALKER: 215K. People have been starved of Bathurst, and they will all want to be there. Last year, fans from places like Queensland and Western Australia couldn't attend, plus the December scheduling
O'BRIEN: 235,000.
SCHIBECI: 207,832
RODGERS: 187,270
---
On what lap does the winning pass for the lead happen?
CRAILL: I reckon the last pit stops will be key to deciding this bad boy, so lets go with 136.
WALKER: Lap 138 in the last pit stop shuffle.
O'BRIEN: 141.
SCHIBECI: 147
RODGERS: Leader will become winner on Lap 127.
---
Give two early HOT predictions:
CRAILL: 1. Bathurst being back to it's boisterous, full best 2. Jaxon Evans in the Jack Smith BJR Car.
WALKER: 1. Shane van Gisbergen – he is simply a standing hot in 2022, why would things change with GT on board? 2. A massive crowd, the vibe is back, big buzz around the circuit and town
O'BRIEN: 1. Race pace 2. VBs
SCHIBECI: 1. Lowndes and Fraser Podium and 2. The Amazing crowd that braved the weather.
---
Give two early NOT predictions
CRAILL: 1. Weather. We're due a wet one.. 2. Someone is going to complain about aero
WALKER: 1. The weather, including how far underwater some of the campsites are. 2. An unforced and unnecessary late safety car.
O'BRIEN: 1. Someone bins it on the first day 2. Not being allowed VBs in the media centre.
SCHIBECI: 1. The Weather. How wet does this place get! 2. The Great Wall closed for Wednesday dinner.
---
And give a sneaky 'What' Prediction
CRAILL: How do you top a hedgehog? I suspect it will be my reaction to a vast majority of @PitlaneWB's tweets.
WALKER: I really hope old mate makes a comeback in 2022…
O'BRIEN: A silly pit stop stuff up.
SCHIBECI: Lee Holdsworth and Chaz Mostert dead head to back to back winners.
---