Big speedway boost via high profile Classic entry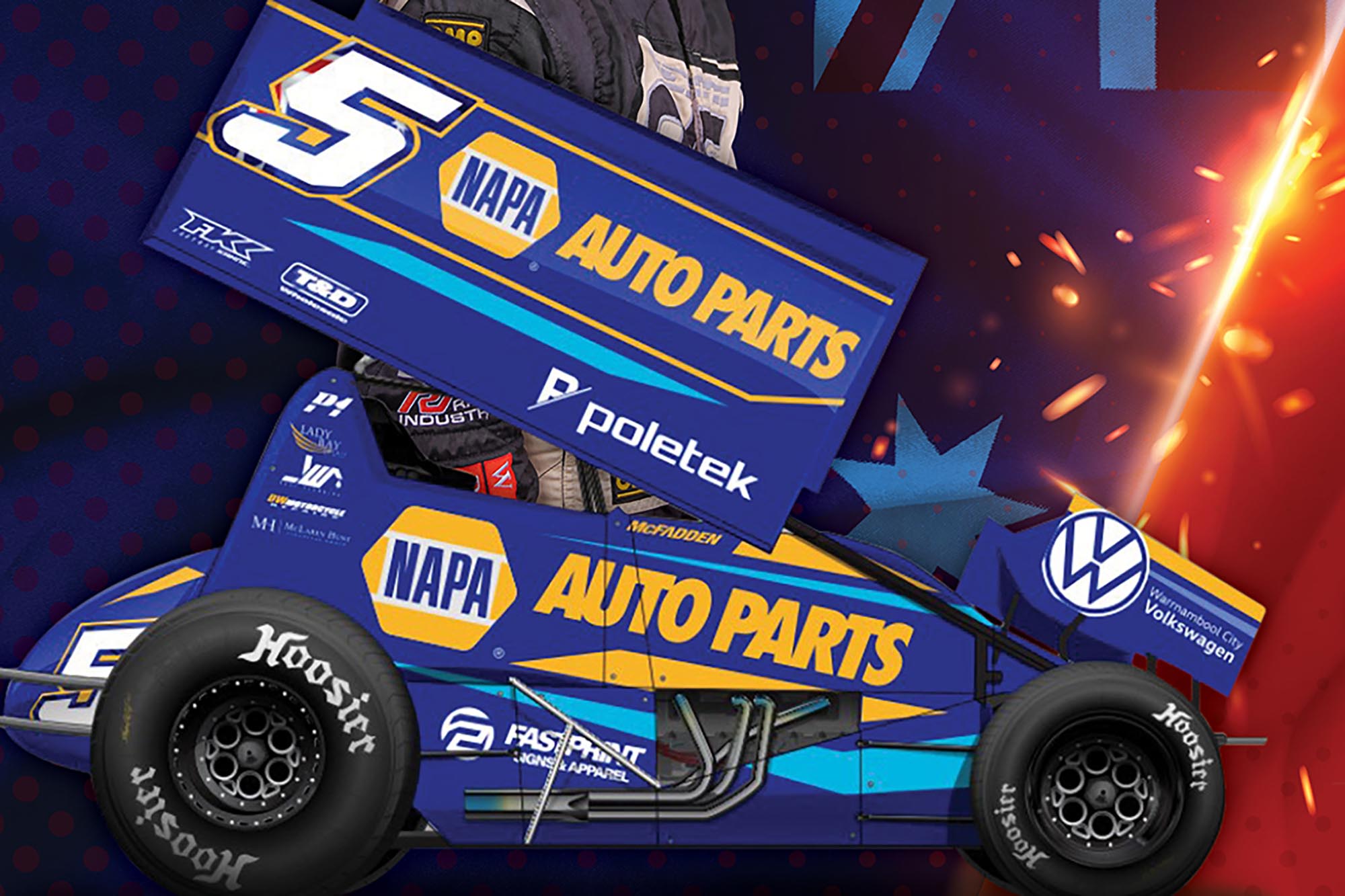 A HIGH PROFILE boost to Sprintcar racing in Australia will see IndyCar racer Scott McLaughlin, AFL star Jack Riewoldt and media personality Gerard Whateley join Tim Hodges in ownership of a team to contest the the 50th Grand Annual Sprintcar Classic in Warrnambool, on January 27-29, 2023.
NAPA Auto Parts will back the team that will see Australian Sprintcar ace James McFadden joined by legendary American World of Outlaws Brad Sweet at the famed Victorian event – regarded as the most prestigious Sprintcar race in Australia.
McFadden's car will be entered by Hodges Motorsport, headed by media personality and Warrnambool protégé Tim Hodges.
Mclaughlin, Riewoldt and Whateley will join Hodges in the ownership of the car.
Hodges, who produces AFL 360 on Fox Sports – a show hosted by Whateley – also worked closely with McLaughlin and Richmond AFL star Reiwoldt on the Balls and Bumpers podcast.
He also co-authored McLaughlin's 2019 book, Road to Redemption: A Championship journey.
Sweet's car will also feature NAPA backing however will operate under the Landrigan Motorsport banner in what will be a true Australia versus United States battle.
Originally from Alice Springs, Northern Territory, McFadden is a two-time Grand Annual Sprintcar Classic champion, having won the title in 2017 and 2020.
Now a regular competitor in World of Outlaws in America, the 33-year-old has taken five wins and finished seventh overall in both 2021 and 2022.
"The Classic is one of the biggest races in the world. It's a race I grew up watching on the hill at Premier Speedway, so it's always on my schedule to be back home in Warrnambool for Australia Day week," McFadden said.
"I love the event, I love the speedway, I love the town and I love how big the race has become right around the world. Everyone here in America either wants to come home to compete in it or to come and watch it.
"I love the opportunity Tim Hodges offered with this unique deal. He's a local boy and he knows how much the Classic means to this town, and like me this race means a hell of a lot to him and his crew – so I hope we can do something really special in its 50th anniversary running.
"I'd love nothing more than to win a third Classic crown in a year where it means so much."
The Grand Annual Sprintcar Classic is Australia's 'must win' race in the Sprintcar world. The event has been won by all of the big names in the sport – both from Australia and the United States. Former winners include Aussie aces Garry Rush, Max Dumesny, Brooke Tatnell and Kerry Madsen. Rush holds the record for the most Classic wins at seven.
For the Americans, Danny Smith has won six Classics, while Donny Schatz, Joey Saldana and Shane Stewart are just a few of the big name international stars to taste success at Warrnambool.
The 50th running of the Grand Annual Sprintcar Classic at Warrnambool will start on January 27 ahead of three full nights of racing.