Power Rankings: Bathurst International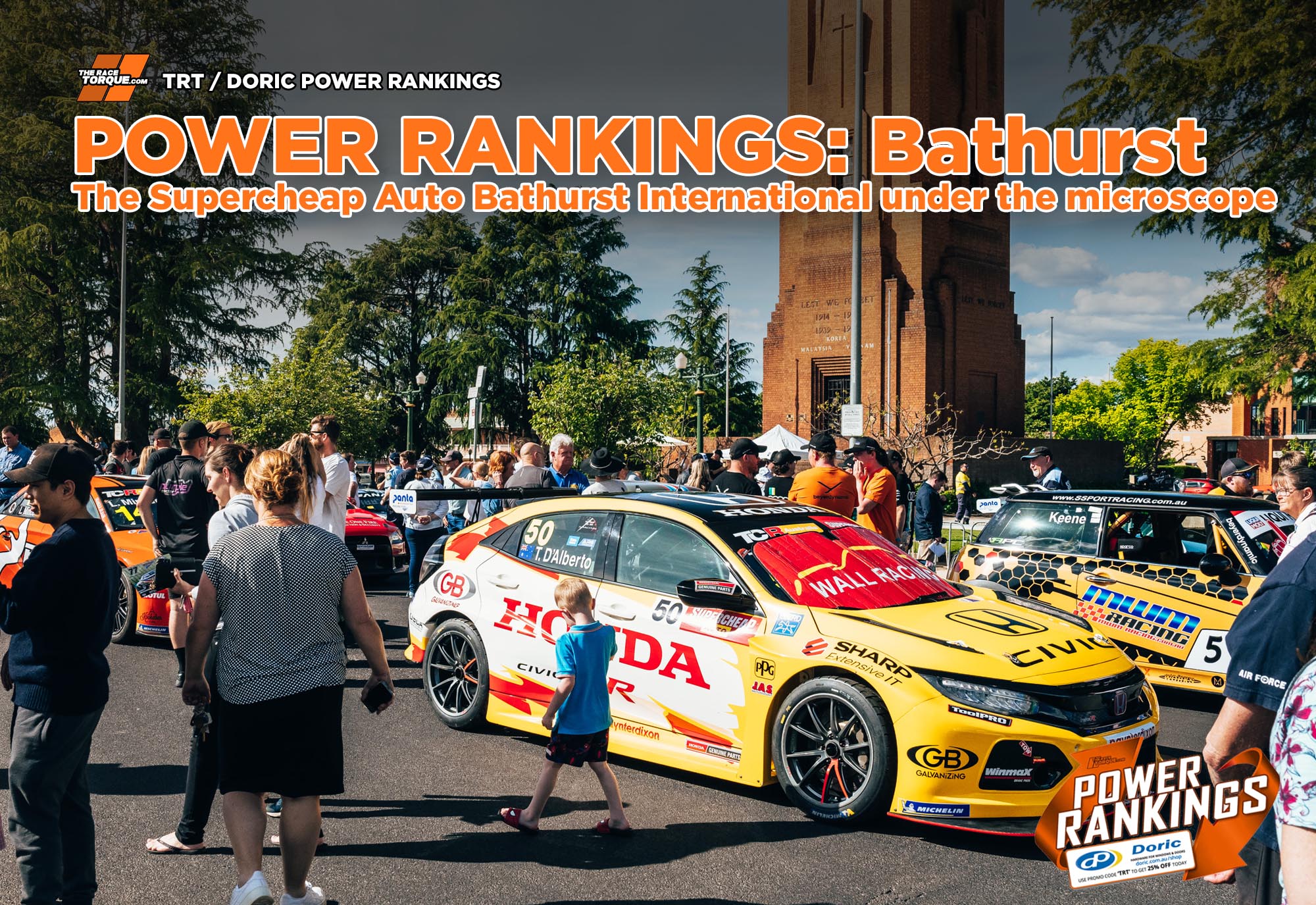 Because three Bathurst Power Rankings in one year just isn't enough, here we run our rule over the inaugural running of the Bathurst International.
There was plenty of hot and not with a sprinkling of what, as the SpeedSeries season came to a close on The Mountain.
---
---
HOT
1. TCR Showdown
THIS was as dramatic a showdown as you can get – Race 3 of TCR delivered on Sunday and did so in spades. From Will Brown's epic pass at the Chase on Aaron Cameron, to young guns like Bailey Sweeney going so well, Josh Buchan's passing, Jordan Cox doing Coxy things and everything else, it was a belter of a race. And then there was the will he-won't he of Tony D'Alberto's torturous run to the title. Outstanding theatre.
---
2. Touring Car Masters but mainly Race 2
Hard to know where to start with this, so probably just watch the highlights below. Safe to say, this was as wild a five laps of Bathurst as you are ever likely to see and proof again of why TCM rocks.
---
3. Steven Johnson
Here's what Stevie J did at the weekend:
Won the Trophy Race after out-duelling Ryan Hansford
Charged from 12th to 1st in Race 1 to win brilliantly
Survived the rain to perform a Bathurst masterclass in Race 2
Ran at breakneck speed for all of Race 3, again against Hansford, to win.
First driver to sweep a four-race TCM event
First race wins since Bathurst 2021 and first round win since Bathurst 2019!
Scored his 50th race win
Scored Ford's 200th TCM race win
Scored Ford's first race and round wins of the year
Entertained everyone.
It's so good to have Johnson back in TCM, and my goodness did he deliver.
---
4. The GTWC battle between Triple Eight and the locals
THIS race could have been very flat, but the engaging race-long fight between Brad Schumacher / Tim Slade and the Prince Jefri Ibrahim / Broc Feeney AMG was compelling. Had some strategic variability and when they went to battle it was sensational.
---
5. Tony's title
HUNG on to the very end and claimed this by the skin of his teeth, but this was a well-deserved crown for Tony D'Alberto, Honda and the Wall Racing outfit in TCRs most competitive season ever, by a long margin.
---
6. TransAm
REMOVE the dominant Nathan Herne from the mix and this category becomes incredibly competitive. The cars are awesome to watch at work around Mount Panorama and the sheep stations on the line appear to be bigger than ever – witness the dramas at the Elbow at the end of the Trans Am 100.
---
7. Circuit to City
OKAY, so it's a bit of a ripoff of the already established 'Town to Track' in Bathurst 12 Hour land, but it was effective. Running in the afternoon gave it a different vibe and the setup in town, with food trucks and live music, was a nice addition. Cudos to the Bathurst Council for rocking that.
---
8. Supercheap Auto
WENT hard on their activations and literally painted the town red – and have big plans for the future which is awesome. But they're in the hot because they went around the circuit and handed every volunteer official a gift card for use in SCA stores which is a classy touch indeed. Made it super.
---
9. TV things
ANOTHER great TV product from Bathurst. The use of the drone was great – more around the Chase, please – and the return of Andrew Jones to the team was very welcome. AJ adds heaps to any coverage and his exclusion from Supercars is for the benefit of the Stan coverage. Hopefully he can come back more next year.
---
10. Lots of news & Marcello Lotti
AMONG all the news over the weekend, included major announcements that have a significant impact on the sport moving forward, including;
TCR World Tour coming to Bathurst (and another venue in 2023)
GT4 Cars joining Australian Production Cars
ARG buying into Australian Production Cars
The best thing is it's all positive for the sport, with sensible decisions for both the International event and the series' in question.
Meanwhile, the boss of WSC, the brains behind TCR, was a brilliant guest – engaging, funny and super enthusiastic about being at Bathurst and what the future held. You get the feeling that the World TCR tour event at Bathurst next year is kind of a big deal for his organisation.
---
WHAT
Only in Bathurst…
Putting the "International" in "Bathurst International"
---
NOT
Prince Abu Ibrahim's massive shunt
Enormous one at McPhillamy Park that saw a 40G impact for the young Prince, who was fortunate to walk away unharmed.
---
2. Weather
Seriously, this is getting old. It's remarkable that we 'only' lost the one race at the weekend for weather-related reasons. It could have been much worse, but it's getting pretty old.
We feel for the people of Bathurst and country NSW as well, who have been smashed lately.
---
3. Jay Hanson's shunt
Pushing hard in pursuit of Bailey Sweeney but fenced his Audi hard at Reid Park while battling for the lead in race one of TCR. Enormous impact and ended his weekend chances in an instant.
---
4. Moff and Cox, Cox and King
The qualifying crash between James Moffat and Jordan Cox was unfortunate, but from a championship point of view the Cox-Luke King one was perhaps even moreso, with the five second penalty to the former dropping him off the front row for the reverse-grid race to the back of the field, putting a further dent in his chances to challenge for the championship.
---
5. Frenchman in an Aussie car?
WE'RE not entirely sure why more effort was invested in this, but given the French driver Teddy Clariet was one of only two real internationals brought out for this event in particular, being lumped into a car sporting a large boxing kangaroo and the green 'n gold of Australia's national sporting colours was wrong. Putting the French flag on the bonnet only just seemed cheap.
---
6. Time Certainty
Sure, you can't just have a race go on in perpetuity, however it still remains frustrating to have a race cut short when the broadcast medium is a streaming platform with (in theory) no real time limits.
---
7. No S5000 racing
THE fact S5000 was missing was a big loss for the event and would have added the x-factor that perhaps it needed, given the international factor wasn't really a thing this year. The brief demonstrations by James Golding and Cooper Webster – even they were hindered by track schedules and weather – were spectacular.
---
8. The loss of TCR Race 2
THE reasons for its ultimate cancellation were understandable – that rain was bad and the visibility across the top was completely non-existent – but there's no doubt it influenced the title decider. Would Tony D'Alberto and his mysterious lack of pace have been able to withstand the onslaught for another 20 laps – god only knows it was hard enough to last the two races he had to survive in the first place.
Some of the TCR teams complained about losing a race and not having it rescheduled, but that was never going to happen (at least, not at the expense of another category. They should be happy they got two races in: talk to Porsche teams about it – they've lost three this year.
---
9. TRTers strike dramas!
No good for TRT reader Shane Fowler – he of 'Shane's Signs' fame, who was all set for a massive weekend racing at his home circuit only for a misfire to rule him out early in the weekend. Sorry, Shane!
---
10. Lack of Remembrance Day observance
It would have been nice to have a minute spared in the program to observe some silence at 11am on the 11th.
---
TWEET
Twas big…
Stig approves
The mystery caution sure spiced up TCR Race One
Facts
Sunday morning sucked
Our little mate nailed it… attaboy
---
MEME
---