Bathurst 12 Hour Field Set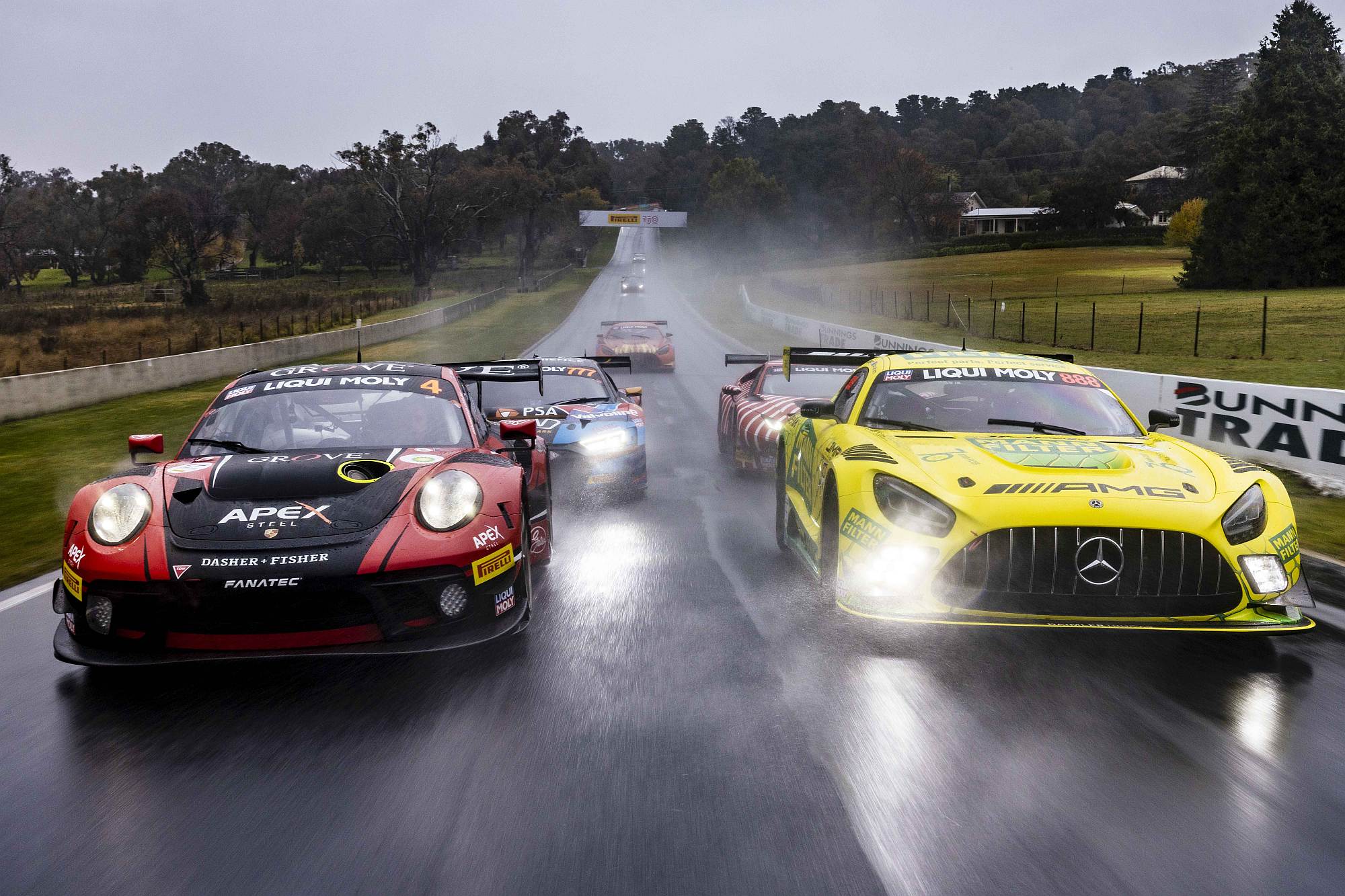 THE FIELD is set for the 2023 running of the LIQUI MOLY Bathurst 12 Hour, Australia's International Endurance Race. 
The world will return to Mount Panorama this February 3-5 with entries from Australia, New Zealand, Germany, Hong Kong, Belgium and the United States all featured on a 28-strong entry list of GT3 and invited vehicles.
The race will again double as the opening round of the Intercontinental GT Challenge powered by Pirelli.
The 22-strong GT3 entry, spread across Pro, Bausele Pro-Am and Silver categories, includes manufacturer representation from Mercedes-AMG, Audi, BMW, Porsche and Lamborghini.
Nine Mercedes AMG GT3s are entered, the most of any single GT3 model in the 12-Hour's history, while BMW's M4 GT3 will make its Bathurst debut this February.
The field is headlined by an eight-strong GT3 Pro contingent which includes each of the defending 2022 race podium finishers: winners SunEnergy1 Racing, Craft-Bamboo Racing and Triple Eight Race Engineering.
The pair of BMW Team WRT entries will also contest for outright honours, while Audi will field an all-Pro entry in their bid for a record fourth 12-Hour win.
The exciting addition of Manthey EMA ensures the all-German battle for outright supremacy will continue to include a Porsche 911 GT3 R.
The Bausele Pro-Am category will also be fiercely competitive and includes another eight cars, including Grove Racing – who will partner with EBM (Earl Bamber Motorsport) Giga Racing.
Triple Eight Race Engineering will field a Pro-Am entry alongside their Professional class car, while Pro-Am will also be the home of the Scott Taylor Motorsport / Prostate Cancer Foundation squad headed by Craig Lowndes.
The first of two GT3 entries from Volante Rosso Motorsport features in Pro-Am, with a sister car in the Silver class.
A host of competitive Audi R8s and Mercedes AMG GT3s add to the Pro-Am battle, as does a second EBM Giga Racing Porsche 911 GT3R.
Notable among the Pro-Am entries is Hallmarc Racing and their Audi, long-time owner/driver Marc Cini who should start a record 11th Bathurst 12-Hour race this year.
The Silver class has received six entries, including the lone Lamborghini Huracan GT3 in the race.
A six-strong Invitational Class adds further variety to the field: a pair of the ever-popular MARC Cars Australia cars are entered, as is the KTM X-Bow GT2 fielded by M Motorsport and the Our Kloud – Up To 11 MotorSport Porsche 911 GT3 Cup Car.
Mark Griffith will enter his Mercedes-AMG GT4 in the category, while a wildcard and likely popular addition to the field will be the Sin R1 entered by the Daytona Sports Cars team, who previously contested the race on several occasions with a Daytona Coupe and a Dodge Viper.
Drivers already confirmed include MotoGP World Champion Valentino Rossi, Bathurst legend Craig Lowndes, current Repco Supercars Champion Shane van Gisbergen, reigning DTM champion Sheldon van der Linde and a host of other superstar drivers from here and abroad.
The full entry list, including drivers, will be released closer to the event.
Secure your tickets for the event by clicking here.
2023 LIQUI MOLY BATHURST 12 HOUR – ENTRY LIST
| | | | |
| --- | --- | --- | --- |
| Sun Energy 1 | PRO | Mercedes-AMG | AMG GT3 |
| Supercheap Auto Racing | PRO | Mercedes-AMG | AMG GT3 |
| GruppeM Racing | PRO | Mercedes-AMG | AMG GT3 |
| Mercedes-AMG Craft-Bamboo Racing | PRO | Mercedes-AMG | AMG GT3 |
| Melbourne Performance Centre | PRO | Audi | R8 LMS Evo 2 |
| Team WRT | PRO | BMW | M4GT3 |
| Team WRT | PRO | BMW | M4GT3 |
| Manthey EMA | PRO | Porsche | 911 GT3R |
| Schumacher Motorsport Fuchs Racing | PRO-AM | Audi | R8 LMS Evo 2 |
| Melbourne Performance Centre | PRO-AM | Audi | R8 LMS Evo 2 |
| Hallmarc | PRO-AM | Audi | R8 LMS Evo 2 |
| Makita Volante Rosso Motorsport | PRO-AM | Mercedes-AMG | AMG GT3 |
| Triple Eight Race Engineering | PRO-AM | Mercedes-AMG | AMG GT3 |
| Scott Taylor Motorsport | PRO-AM | Mercedes-AMG | AMG GT3 |
| EBM Giga Racing | PRO-AM | Porsche | 911 GT3R |
| EBM Giga Racing | PRO-AM | Porsche | 911 GT3R |
| Harrolds Volante Rosso Motorsport | SILVER | Mercedes-AMG | AMG GT3 |
| Valmont Racing | SILVER | Mercedes-AMG | AMG GT3 |
| Wall Racing | SILVER | Lamborghini | Huracan |
| Supabarn | SILVER | Audi | R8 LMS Evo 2 |
| Melbourne Performance Centre | SILVER | Audi | R8 LMS Evo 2 |
| Melbourne Performance Centre | SILVER | Audi | R8 LMS Evo 2 |
| Our Kloud – UpTo 11 MotorSport | INV | Porsche | 991 GT3 Cup Gen II |
| Nineteen Corporation | INV | Mercedes-AMG | GT4 |
| MMotorsport/Vantage Racing | INV | KTM | GT XBOW |
| Daytona Sports Cars | INV | SIN | R1 |
| MRA Motorsport | INV | MARC | I Mazda |
| Wheels/FX Racing | INV | MARC | II V8 |