T8 Boosted for Bathurst, Stanaway called up early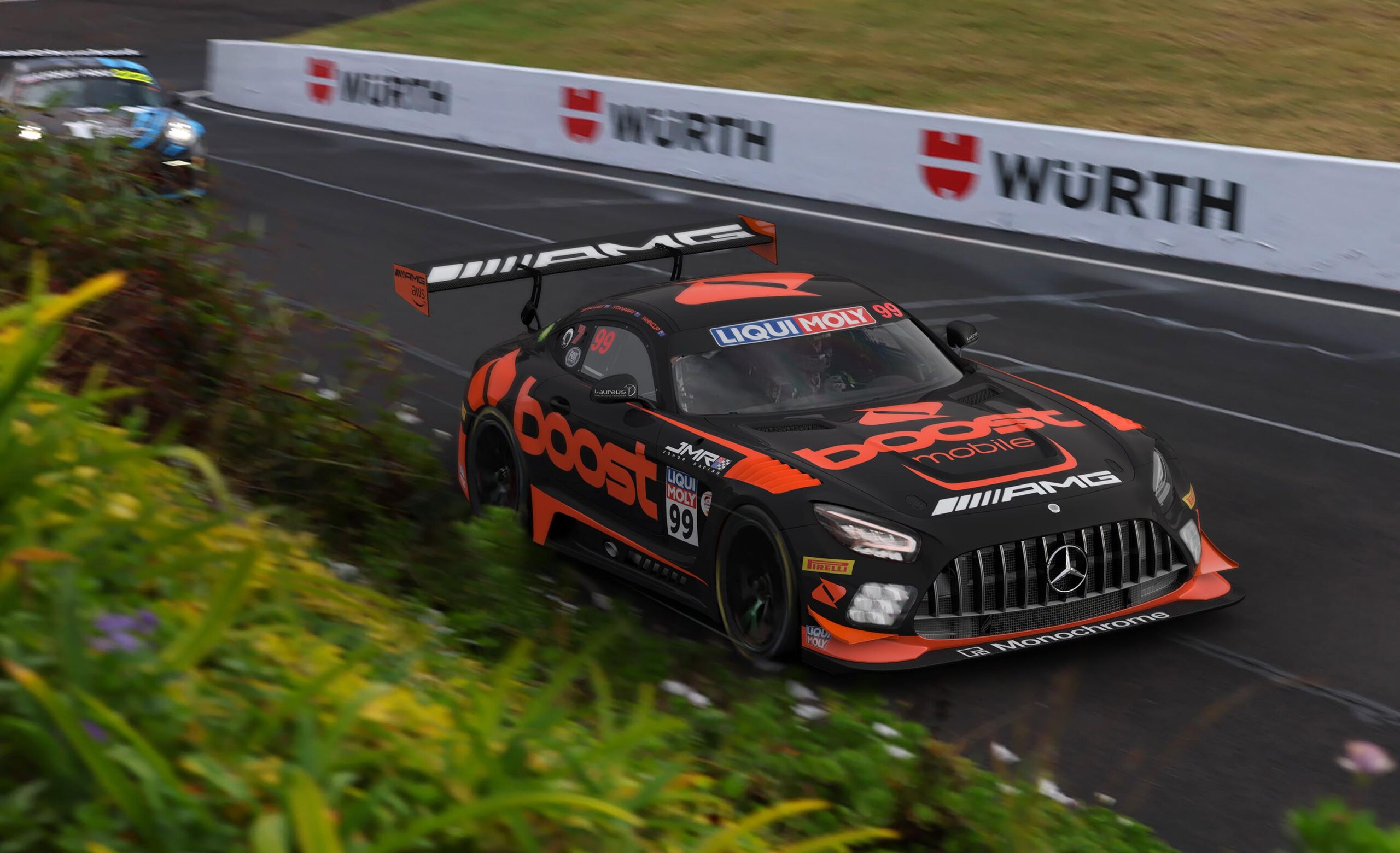 TRIPLE EIGHT Race Engineering has confirmed details of their second LIQUI MOLY Bathurst 12 Hour entry, running in partnership with Johor Motorsports Racing and Boost Mobile.
The #99 Mercedes-AMG GT3 will see Prince Jeffri Ibrahim joined by former 12-Hour winner Jamie Whincup and newly-signed Triple Eight Supercars enduro driver Richie Stanaway.
It joins the teams Pro class entry to be driven by Shane van Gisbergen, Broc Feeney and Maximilian Götz.
The 2023 12-Hour will mark Prince Jeffri's second 12-Hour, the Johor driver finishing third in last year's race with van Gisbergen and Feeney on his debut.
He and Feeney then won the Bathurst three-hour GT World Challenge enduro last November to cap off his strong domestic season.
Whincup won the race in 2017, sharing a Ferrari 488 with Craig Lowndes and Toni Vilander that was supported by Triple Eight.
Stanaway will make his Bathurst 12 Hour debut this February, with the race a return to an endurance format where the 31-year-old Kiwi is well-versed.
Stanaway contested five seasons in the FIA World Endurance Championship with Aston Martin, including three starts at Le Mans, before returning to Australia to race Supercars.
He returned to the track last October in a Bathurst 1000 wildcard run by Erebus Motorsport, driving with Greg Murphy.
Prince Jefri Ibrahim
"Bathurst has always been a special track, and one of my favourites. There have been a lot of good memories there; from standing on the podium at my first endurance race in 2022 with SVG (Shane van Gisbergen) and Broc, to winning the Bathurst International six months later.

"This year's Bathurst 12 hour will be interesting as there are a lot more cars and international teams entering; competition will be high, but I'm really looking forward to working alongside Jamie who has a lot of experience, and wins, at this track. It will be my first time driving with Richie, and I'm really excited by our team this year.
"Triple Eight have been working so hard towards this race, and we hope to have a good result, carrying on the positive momentum of last year to fight against the field in 2023."
Jamie Whincup
"The Bathurst 12 Hour is one of the highest-regarded events on the international motorsport calendar – you just have to look at some of the names participating in their year's race to prove that.

"Teaming up with both Prince Jefri and Richie and having the backing of Boost Mobile and Johor Motorsports Racing is an exciting prospect. Prince Jefri achieved an amazing podium finish at last year's race, and we all know what Richie is capable of around Mount Panorama.

"To have two Triple Eight-prepared cars participating in this event alongside the world's best teams is an experience we should all cherish."
Richie Stanaway
"This year's Bathurst 12 Hour is going to be a great race to be a part of. I've never raced at the 12 Hour before. I did a lot of GT racing when I was in Europe, but it's been two years now since I've driven a GT car.

"I'm looking forward to getting the feeling of a GT car again with its extra downforce compared to what I've driven in the past few years. It's going to really helpful for me to drive at Bathurst again and complete more laps than what I would have done at last year's Bathurst 1000.

"It's one of the top international events in the world, and I'm looking forward to experiencing what it's like. I'm also excited to be sharing a car with Prince Jefri and Jamie – he's someone I've looked up to my whole career."
Peter Adderton – Boost Mobile
"We look forward to seeing Boost Mobile Racing in action at this year's 12 Hour in a Mercedes-AMG GT3 run by Triple Eight Race Engineering. We wish Jamie, Richie, Prince Jefri Ibrahim and the team all the best for the 12 Hour – what a great combination.

"As for Richie – we have supported athletes in various sports for more than 20 years, including in Australian Motorsport. We have always believed in Richie and that he deserves a full-time drive in
Supercars.

"On the back of the great performance with Greg Murphy at the 2022 Bathurst 1000, it's great that Jamie and the team at Triple Eight also appreciate his talent."