Glenn Ridge's Incredible Motorsport Story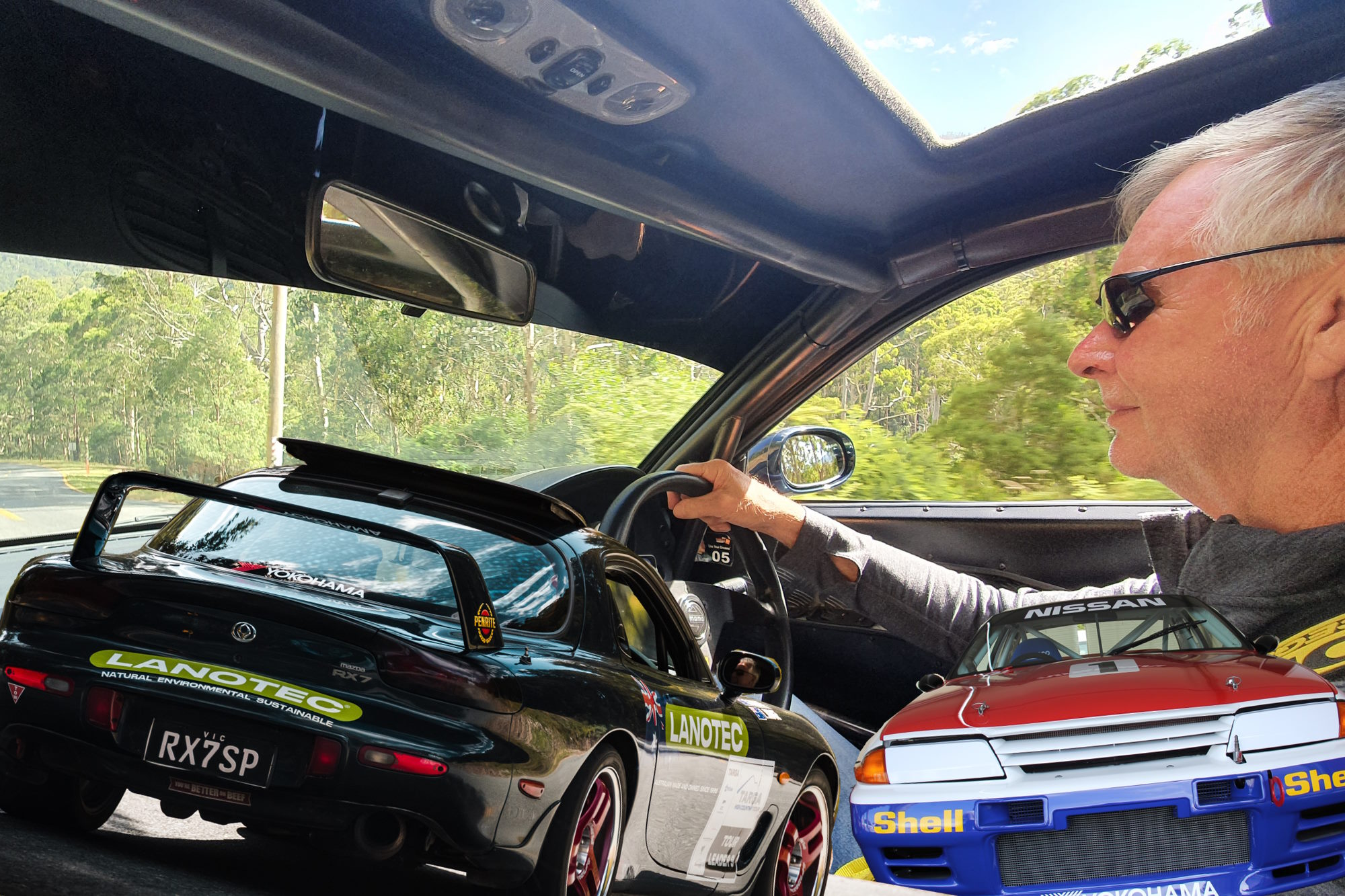 There's no doubting it, Glenn Ridge is a rev head through and through.
After a decade of hosting the prime-time TV quiz show Sale of the Century and a long career in the media spotlight, Glenn became a household name nationwide.
And it was this success that paved the way to multiple opportunities in the motorsport world.
From a successful competitor, both on and off-road, to dabbling in drifting, to hosting dedicated motoring TV shows and being a circuit racing category manager, Glenn has been there and done that in automotive circles.
And after 30 years in the sport, his competitive spirit still burns bright.
---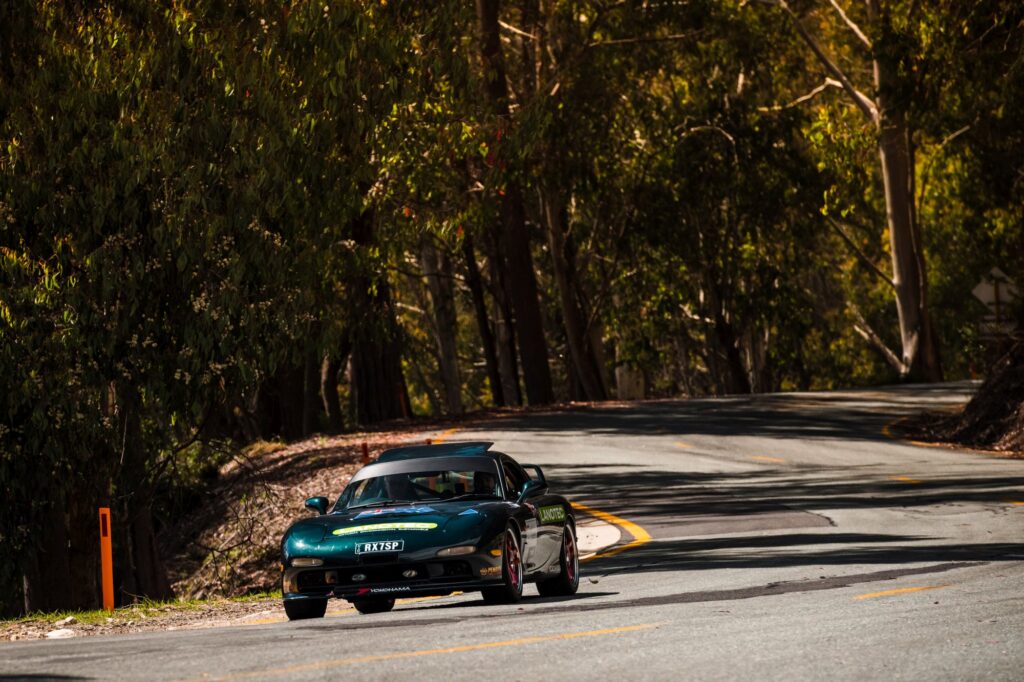 The motorsport bug & bogging Richo's GT-R
From a young age, Glenn had an interest in motoring and motorsport, with his brother working at the Adelaide Chrysler factory.
He remembers being taken by his parents to Rowley Park Speedway, plus being trackside watching the Geoghegan Brothers banging around in their Chargers.
"It wasn't until Sale of the Century opened up a lot of doors, and I was able to hop in other cars, and the opportunities just became a lot easier," said Glenn, with the early 1990s seeing him a fixture in various celebrity races, such as those at the Adelaide Grand Prix, the Gold Coast Indycarnival and Perth's Rally Australia.
A subsequent Nissan tie-up opened doors for Glenn to get behind the wheel of one of the most fearsome cars of the period, the Group A Godzilla.
"I had a day when I went out to Calder with Jimmy Richards and his GT-R… how on earth he drove it so well, I don't know. I copped the turbo lag, but then all of a sudden the power kicked in and I was a passenger, spinning into the infield," recalls Glenn.
"I'll never forget it, it was one of those moments – the PR person came over – "We've got to go now, see ya!", and we left Jimmy with his GT-R stuck in the middle of the mud… and he still talks to me, he's still a friend, and I don't know why!"
The association with Nissan also paved the way to the biggest buzz of his life, somewhat off the beaten track.
"We were giving Nissans away at that time on the show, and they asked if I wanted to do a desert race, so I did an Australian Safari in a Patrol, which was just fabulous," said Glenn.
"We won our class that year, I shared with Craig Martin, the off-road champion. He'd never navigated before, and I'd never driven or navigated, so it was quite funny. It was just a great experience, he was an amazing driver, and I think we came top-ten, but that was more through Craig's doing.
"Then I thought I wanted to do this again, so I came to an arrangement with Nissan, and I got another Patrol.
"That was when they were bringing out the diesel, so I got a diesel Patrol, and my mate Bob (Taylor), who navigated a lot for me in Targa Tasmania – he was a good drinker but a lousy navigator, so he fitted into the team well – he navigated for us up there, and we won the diesel class on that occasion because there were no other diesel cars in the field… We wound up going for another three years after that, and I had a great time in it."
It was also in the early 1990s that tarmac rallying appeared on Glenn's radar, and has remained a fixture ever since.
Although he missed the inaugural 1992 Targa Tasmania, he debuted in 1993 as a co-driver in a mate's classic Porsche 911.
"I navigated, but that's probably the last time I really ever navigated in an event, I decided I didn't want to be a passenger-side airbag anymore… in fact, on that first one, he put it on its lid in a stage called Riana, and I found it was a really good feeling walking away from someone else's Porsche on its roof," reminisced Glenn.
"From there I decided I was going to do it each year. I had a Nissan 300ZX, and we raced that for a few years, then we had a Lotus Elise, then on Sale we were giving away Alfa Romeos, so we had a GTV, and then I got the RX-7 through an association with Mazda."
That RX-7 SP has been the mainstay of Glenn's tarmac rallying efforts since.
Bred as a homologation special for the production car racing scene of the day, the limited run of under 30 makes it a collector's item, with the model's credits including a win in the 1995 Eastern Creek 12 Hour, as piloted by Dick Johnson and John Bowe.
The twin-turbo twin-rotor rocket is a potent piece, with the car coming from the factory featuring 120 modifications over the standard road car, which in itself, was a sporty package.
Perhaps Glenn's best effort in the black beauty was in its debut Targa Tasmania in 1996, when he placed fourth outright for the event behind Jim Richards, Ray Lintott and Guy Beddington.
On the penultimate stage, he gained a position when Rusty French slipped off the road, while he also edged out Peter Fitzgerald, who was classified fifth in the final run down.
Outside of Targa Tasmania and the various other tarmac events that have been hosted around the Apple Isle, Glenn has utilised the car far and wide, including events such as the Lake Mountain Sprint, the Mount Buller Sprint, Targa High Country and Targa West.
Elsewhere, Glenn has participated in numerous classic rallies, such as those hosted in Perth and Adelaide, Dutton Rallies, Grand Prix Rallies, plus dirt rallies in varying capacities.
---
On the side
Outside of being behind the wheel, Glenn's interest in the automotive space has included being host of the Car Show on Channel 9 for seven years, while more recently he presented the Garage 41 series on 7mate.
Often overlooked, however, was his involvement in circuit racing category management. His most recent foray was with the Targa Invitational slots on the Supercars undercard at venues like Symmons Plains and Phillip Island.
Prior to that, Glenn was involved in the early days of the Touring Car Masters, as the series morphed out of Historic Group N into the national touring series for more heavily modified cars that continues to be a crowd favourite today.
Glenn's other involvement in the space was unfortunately a whole heap more tumultuous: managing the Carrera Cup.
After previous custodians, Sherrin Motorsport, fell into liquidation, Glenn's Qmedia became involved with the organisation of the series, just as the global financial crisis struck.
It was a perfect storm that was further compounded as Porsche were seeking to implement a new model for the 2009 season.
Ultimately, a hard reset was required, which saw the category put on hiatus until 2011, when it was brought in-house at Porsche Cars Australia.
"For a variety of reasons, it just didn't add up, so along with Porsche we pulled the pin, the only people in the world to stop a Carrera Cup series – I don't know if that is good or bad!" Said Glenn.
"I think it put a bit of a rocket up Porsche, as their commitment to that category needed to be greater than what it had been previously, and I think they needed to support the drivers more, which they then proceeded to do.
"Although it was only very short-lived, I'm proud of the fact that emotions went out of it, and it was a business decision, and I think it was a decision that helped a lot of people come up and have a breather, and after two years, it came back stronger than ever.
"I take my hat off to anyone who runs a racing category, because it's a very different world, there are lots of ups and downs, there were lots of egos at play – it's one of those jobs that can be quite thankless, but it's rewarding as well."
---
Keeping it in the family
Motorsport is a family affair for the Ridges.
Glenn has had his brother and all three of his kids navigate over the tarmac rally journey, while his son Olly has also fallen headfirst into the motorsport world, however, along a very different path.
After acquiring a Silvia drift car, the Ridge's did the only sensible thing: shoehorn the powerplant from an R32 Nissan GT-R under the bonnet.
When that option became a bit long in the tooth, the logical progression was to fit the sporty Nissan with a dirty great Commodore V8, which is proving to be a hoot.
"The first time I drove it, one of Olly's mates taught me how to do a handbrake turn on the skidpan at DECA in Shepparton, and I just love it," said Glenn.
"I'm still not good at it, but at least with the car now, and the way it's set up, at least if you miss it, you keep your boot into it and just do another circle and get back to where you have to go!
"I love spending time with Olly when he goes racing – it's just a really good atmosphere, drifting is actually inclusive for a lot of people, and their car handling is just superb."
---
Climbing Mount Buller
Recently, the author was invited along to ride shotgun with Glenn for the opening day of Targa High Country, and it proved to be a memorable experience.
The day featured a pair of blasts up the 16km road that winds its way to the peak of Mount Buller, an incredible ribbon of bitumen at the 40-60km/h posted speed limit, but out of this world when travelling at a decent clip.
With the genre of Tarmac rallying currently in a state of upheaval, there was a level of consternation within the Tour section of proceedings when the speed limit for the non-competitive section of the fixture was cut by Motorsport Australia from 120km/h to 100km/h on the eve of the event.
Disappointing, sure, but frankly, on a road as challenging as Buller, there were only a handful of places where 100km/h was truly an issue.
Glenn joined other Tour leaders at the event, such as Luke Youlden and Justin Ruggier, who chaperoned small groups through the Victorian Alps.
Behind the wheel, Glenn was supreme – firstly, he was completely on top of the car – 30 years of continued competition use results in an intimate bond between man and machine.
Secondly, Glenn has blasted up that stretch countless times previously, with his car positioning spot on, despite the absolute lack of pace notes provided from the left seat.
While the medium compound Yokohama A050s fitted to the SP can cope with a week of racing around Tasmania, they also offer a high degree of grip, even from cold.
Power was smooth and copious, although Glenn complained of turbo lag coming out of the tightest hairpins, an issue I would argue.
Coming from a personal background appreciating rotaries, the onboard sound was sweet but not overpowering, while the cabin stayed comfy with the sunroof cracked.
What a thrill – probably the best race car ride I can remember – and there have been a few wild ones along the journey.
And the Ridge RX-7 gets attention too – plenty of punters love rotaries, and especially appreciate the heritage of the rare SP.
In a sea of Targa exotica, the car's lines, sounds and the driver all stand out from the pack.
Backers such as Lanotec, Penrite and Yokohama have jumped on board, with Glenn's presence ensuring they attract plenty of eyeballs.
For Glenn, being a diehard car guy, his motorsport interest continues to tick boxes.
"I've been very fortunate… nobody has ever expected me to be very good at motor racing. I've done it, competed, and had a lot of fun doing it, but winning has never been an objective," he said.
"Having fun is effectively what we've done for 30 years, and what I've found out is that there are some really cool people who take part in this sport.
"At Targa events, there is a lot of time to stand around to talk and mingle… there are some really good people; some have got so much money that they could buy a South Pacific nation, while others scrape together a few bucks to come away and do an event like this, and they all have an absolute ball.''
"It's been a good sport for me, and I love it."