GLENNEY WINS RXAUS THRILLER
STEVE GLENNEY has defeated Will Orders in a thrilling Super Final conclusion to round two of the RXAus.com.au RallyCross championship at Marulan.
Across a pulsating six-lap final, Glenney and Orders were never split by more than half a second in a race that came down to joker-lap tactics within the final two laps.
Orders used the Joker – a one use per race longer section of the circuit – on his penultimate lap, counting on getting track position on Glenney when he took the detour on the final lap of the race.
When Glenney took his on the final lap the pair emerged on the final straight side-by-side, with only Glenney's added momentum allowing him to edge Orders home for a narrow victory – by 0.4 seconds.
Arron Windus completed a stunning RXAus debut by finishing third in his VW Polo, Richie Dalton, Troy Dowel, Mike Conway and Darren Windus completing the order. Justin Dowel was unable to start the Super Final after mechanical issues in his Hyundai.
"It's been a great day," Glenney said, having beaten Orders' more modified open-class Mitsubishi with his more standard model.
"The thing with Rallycross is that the tracks are fairly tight so while we're all really keen to have a lot of horsepower it's about managing it. If he had got the start he would have cleared out and pulled away from me but as it was, it was a good race and good for the crowd."
The former Targa Tasmania winner said he enjoyed his debut at the Marulan circuit.
"It's a great little track at Marulan and a good mix of dirt and tarmac and good close racing," he said.
"There was some really good competition here this weekend and lots of good drivers turned up with some fantastic cars, which made the competition really close.
"Every time you enter a RallyCross event it's really enjoyable. Every time you get out of the car you're pumped and you're high fiving everyone whether you came first or fourth."
Glenney also won the ultra-competitive 4WD Production final, beating home Arron Windus and Richie Dalton. Glenney's TechSport Mitsubishi was in superb touch all weekend and won two of his three heat races before leading all the way in the class final.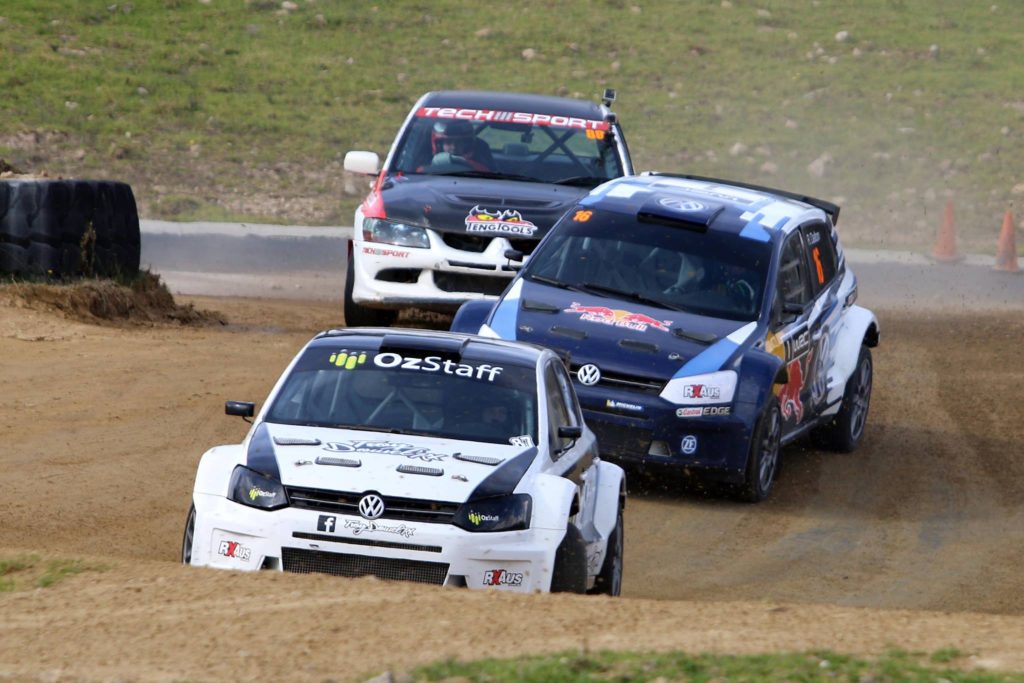 He didn't have it his own way though, he and Windus battling out one of the best heat races yet seen in RXAus competition in the third of three heats: Windus' VW Polo edging the Mitsubishi driver by 0.234 seconds in a thrilling duel to the line.
In the first of two finals for two wheel drive class cars, Ron Bustard took his Hyundai Excel to the victory, leading home Ross Murdoch (Excel) by a comfortable margin in the Group B 2WD class.
Derek Reynolds finished third in his Datsun 1600 while Ashley James was unlucky to not score a result after mechanical dramas slowed his VW polo – a car with pace to potentially win. Bustard also won the inaugural Excel Cup class in RXAus competition.
A dominant Mike Conway won the 2WD Group A final, leading lights-to-flag in his screaming Ford Escort RS to win by three seconds.
Conway won all three of his heat races and led home Darren Windus (Mazda 2) in the six-lap final. Troy Dowel edged out Michael O'Hagen for third spot in a thrilling side-by-side battle to the line. Conway also made the SuperFinal for the second time in two rounds.
Will Orders defeated Justin Dowel in the 4WD open class final with Jamie Sargent's Mitsubishi Lancer failing to finish.
The next round of the RXAus series will be held at Stanthorpe's Carnell Raceway in regional Queensland, on June 10.
WORDS & IMAGES: Richard Craill