ROLL into Sandown Raceway this weekend and you could be forgiven for thinking that you'd taken a trip back in time. 
Aside from the fact the manicured grounds, surrounding infrastructure and imposing grandstand building look (and basically are) untouched since the 1970s, the Supercars now-annual 'Retro' round will be in full force with an array of stuff going on to give a respectful and fun nod to the history of our sport.
While the Supercars teams – some more successfully than others – get out the crayons to design retro liveries, fans dress up in all their old merchandise that hasn't seen the outside of the spare bedroom closet since they bought it in 1993. There'll be fashions on the field and even classic cars, in the form of the Touring Car Masters, on track as well.
Last year it had a distinctly charming vibe that ensured you could not help but smile at a majority of the stuff going on.
Which got me to thinking: I wonder if this nod backwards could actually help us transition into the brave new world of Motorsport we face – the ones where Commodores are powered by Turbo V6s, where the major Touring Car category also runs the GT class and the Utes sit higher than some of the walling at certain circuits.
These changes, of course, have not been well received by a portion of the fan base who are not as welcoming of the way things are heading as others may be.
Some are particularly vocal about it on social media and should these vocal minority be lost to the sport then I will not be distressed because they don't do it much good anyway.
However it's the fans who we risk having quietly drift away, because their sport no longer resonates with what they once watched, that we need to grab hold of and drag back into the fold.
I wonder if, perhaps, this retro round concept is the thing that can do it?
As I sifted through the media releases and Facebook updates this week showing off the new liveries it struck me that what we're doing this weekend is building a bridge between what has been and what is happening now.
And it's those bridges, metaphorical they may be, that might just help keep people invested in what the sport is doing.
While I doubt that the Red Bull Holden Racing Team's 'retro' livery (using more white and the old font does not a heritage livery make) will do much to stir the emotions of old Holden fans, efforts from Triple Eight's Caltex team, Erebus Motorsport, Garry Rogers Motorsport, HSV Racing and Brad Jones Racing are much more convincing.
Erebus' Team Brock Holden Torana effort is exactly in the spirit of what Retro round was designed to achieve and they should be commended for that and for getting Phil Brock out to help launch it.
The Commodore Craig Lowndes and Steve Richards will race takes me right back to Colin Bond's excellent Sierras of the late 1980s and looks as fresh today as it did then.
HSV Racing quite rightfully are using their heritage to good effect, as are GRM with their 1998 throwback to Garth Tander's first drive with the team.
And I'm not surprised that it was James Moffat who suggested they roll out some big Al colours on his No. 34 rig – the Rothmans livery looked great on a VL Commodore at Monza and will do the same on a VF at Sandown. It will be truly retro if they finish seventh, too.
Brad Jones Racing's efforts are even more commendable in my book.
Utilising the Jones' brothers family connection to Norm Beechey to come up with their retro theme is not only a fitting tribute to a legend of our sport, but a touching one as well from one of the few teams that can still be called a 'family-run' outfit.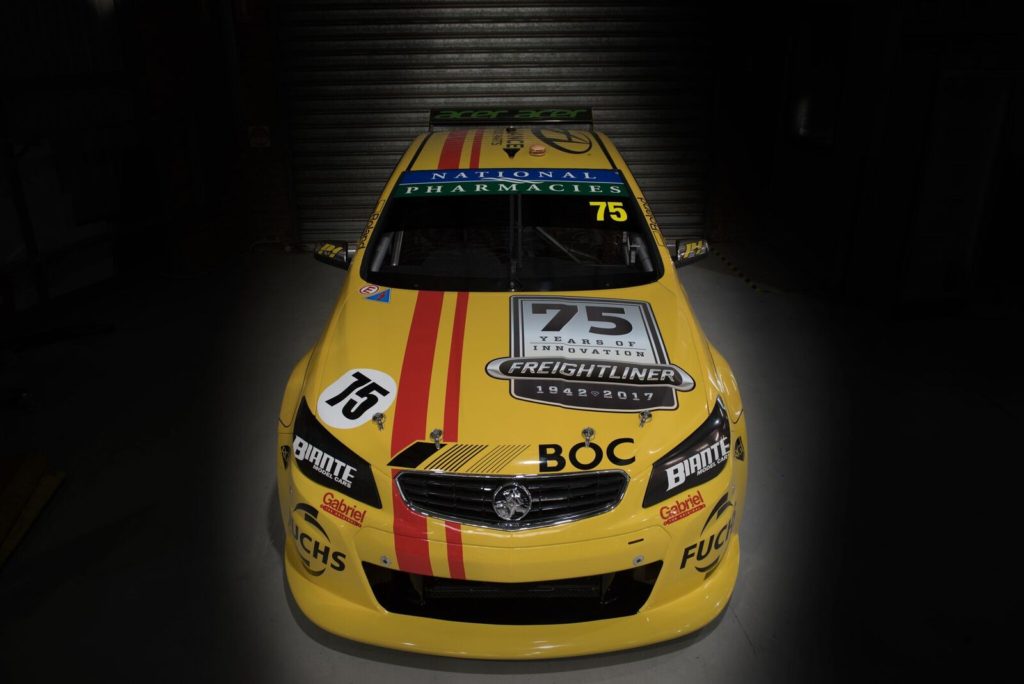 Additionally, it serves to prove that racing cars tend to look much, much better when simplicity in a livery is emphasised over trying to see how many colours can be put on the one vinyl wrap.
If anything their efforts could be a little too subtle, though if the team does their job correctly there will hopefully be more references to 'Stormin' Norman' in the broadcast this weekend than ever before as the tribute is explained.
It's at this point that I'd suggest Prodrive Racing take note of what BJR are doing, because they're a team that traditionally has more logos than they do space to place them – but their efforts to replicate the Bob Thorne Supercheap car from 20 years ago is extremely commendable and proof there's always room for purple on a racing car.
Even simple stuff like DJR Team Penske's simple and subtle nod to the long-term relationship between Dick Johnson and Shell is valuable and enhances the event.
It's all great stuff that has people looking back and reading the stories that have shaped the sport – be they about the Brock/Brock Torana or Bondy taking the fight up to the Nissans and Dick Johnson's Shell Sierra's in his red and white rocket.
In two years Retro round has gone from being a unique way to promote the Sandown 500 as an event and for teams to sell some more merch, to being something more and more people are embracing as a worthwhile exercise in the context of the sport overall.
It's clear that when we – very sadly – loose Sandown in 2019 the concept must continue; either at the new home of the pre-Bathurst 500 or at a circuit with a similarly notable story to tell.
Retro round isn't going to be the ultimate deciding factor in helping sway fans on the precipice of falling out of love with it that the sport still has something to offer.
But the nod to history on show this weekend will be a powerful reminder of the fact that what we have today had to come from somewhere.
The current Supercars series is intrinsically linked with the Australian Touring Car eras of the past and there is ambition in the industry to recognise that.
And if that keeps one or two 'old school' fans engaged with what we're doing now, then it's a massive win for everyone.
Now, I have a Larry Perkins hat I bought at Mallala in 1997 that I need to find for this weekend.. I think it's buried in a closet in the spare room..
WORDS: Richard Craill
IMAGES: Team media release