Is the aero obsession in Motorsports hindering the entertainment?  
One of Dick Johnson's greatest quotes was, 'the only thing you get from looking backwards is a sore neck.'
In nearly all cases it is not hard to disagree with DJ, however to really gauge the state of motor sport health both here and overseas, it may be wise to turn one's head just a little.
Many categories are delivering fantastic racing and pure entertainment. Others not, however a common thread appears to be the desire to attract a new younger audience on one hand and the perennial technology versus entertainment debate on the other.
So let's look backwards just a bit, sorry DJ. The quest for aero grip dates back to the late 1960's where strange and dangerous solutions popped up on Formula 1 and Sports Cars. Wings on open wheelers over 1.5 metres tall supported on spindly supports, created an aero benefit but when they failed catastrophic results ensued.
The governing body of the day banned them quickly and mandated position and size front and back of the open wheel machines, and to this day the configuration broadly stands. Of course what has happened over the last 40 years is extraordinary in terms of complexity and engineering brilliance to deliver the Formula 1, Indy Car and WEC racers of today.
But has the push for aero in Formula 1, Sports Cars and indeed Supercars delivered on the entertainment side of the ledger? Many times drivers bemoan the fact that they can glide up to a car in front, but then the aero wash simply means they lose front grip and cannot effect a pass.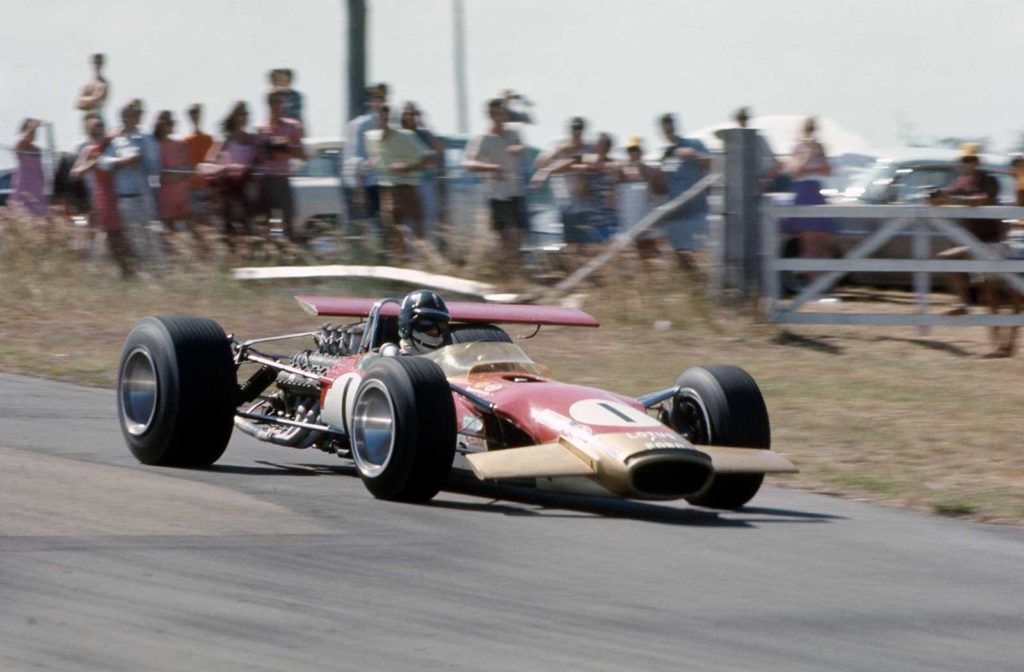 There are categories that have stuck to the entertainment edict, none more so than NASCAR.
Not all NASCAR events however. The Monster Energy road course events at Sonoma and Watkins Glen coupled with Xfinity races at Road America, Mid-Ohio and Watkins Glen featured cars way out of their comfort zone.
But the racing was pure entertainment. Little aero, under braked, heavy powerful cars. Pure entertainment.
The new era British Touring Car Championship has also developed from a formula where aero, whilst a key component, does not seem to dictate performance and processional racing. At the other end of the scale are the hi-tech DTM cars which are an aero work of art but, Norsring aside, provide very little action packed racing. More often follow the leader: Pit Stops largely dictate passing in the DTM and many other categories.
Even in the Sprint format of the Supercars Championship, Pit Stops and undercuts are often the main shake up of running order.
But is there a solution? Irreverent ex F1 pilot Eddie Irvine is credited with saying, 'Loads of overtaking is boring. You go fishing and you catch a fish every ten minutes and it's boring. But if you sit there all day, and you catch one mega fish, you come back with stories that you caught a fish this big (indicates a big fish), instead of this size (indicating a small fish)'.
In some respects he is right, however he made this comment prior to the artificial DRS solution now found in F1, F2 and DTM to name a few. Think about the irony.
The cars are so efficient and have such short braking distances that engineers and rule makers needed to artificially introduce a way to upset the aero, so was born the Drag Reduction System (DRS). It is quite bizarre really. Introduce a method to upset the amazing aero grip we have produced on the racing car. Why not come at it a different way.
How about making the total aero package on F1, WEC, DTM and Supercars and many other classes less efficient? How about heading down the mechanical grip path. Increase braking distances, allow cars to run right up behind their rival and slipstream and battle side by side.
Hey Eddie – it is not just about passing. In other words, pure entertainment?
Simple. Of course not, but motor sport needs to wary of the next generation. Digital savvy, short attention spans and instant gratification. The current race formats here and overseas coupled with the types of cars and action provided will be under the microscope more than ever in the next decade.
Me? I am off to watch an NASCAR Xfinity road course race where the good ol boys are climbing all over each other! Pure entertainment.
WORDS: Dale Rodgers
IMAGES: Graham Ruckert Photography. https://www.facebook.com/GrahamRuckertPhotography/
Special thanks to Graham Ruckert Photography for the use of the remarkable images contained in this story. Please check out their Facebook page at the link above for more! 
Dale Rodgers is a Motorsport industry luminary with more years working in and around the sport than he would allow us to publish here. An expert photographer, journalist and marketing / PR guru, Rodgers spent 10 years running Revolution Racegear before assuming the head PR role at DJR Team Penske in 2012. He now heads the marketing of Melbourne Automotive group, Bayford, a 100 years old business with 11 dealerships around Melbourne.