THE FIRST EVER round of TCR Australia was dubbed 'a new breed' of Touring Car racing for Australia. Was it? Here's TheRaceTorque.com's take on the debut of the first four cylinder alternative to the Touring Car norm to take to our circuits in almost two decades..
WORDS: Richard Craill
IMAGES: Supplied by TCR Australia / Photos by Daniel Kalisz
IT'S IMPOSSIBLE to come away from the opening round of the Carsales TCR Australia series without being impressed by the show and intrigued about what is to come.
We can't remember the last time a totally new category started in Australia with such an impact, both on and off the track. Certainly Formula 4 did not and nor did SuperUtes.
Before that the V8 Touring Cars – now Super 3 – started with four cars and struggled for ages while other categories have come and gone without creating much of a footnote in the sport's history.
17 cars and a decent depth of talent both on and on the track made for a very good show and a big event vibe in Sydney.
Optimism can sometimes be hard to come by in this game but there was plenty of it at the weekend about what is yet to come and that has to be a positive.
ARG, who own and are promoting the series, have thrown everything and the kitchen sink at putting it together and should be pleased with the weekend, though it's unlikely to be clear if they will get a payoff from it for ages yet.
Here's some of the points we scrawled in TheRaceTorque.com notebook across the weekend
> Outside of possibly one or two senior officials or Sydney Motorsport Park trackside marshals, there are exactly two people who have attended every Shannons Nationals round at Sydney Motorsport Park.
And both agree that it was by far and away the biggest crowd for a Shannons round ever seen at the Western Sydney venue.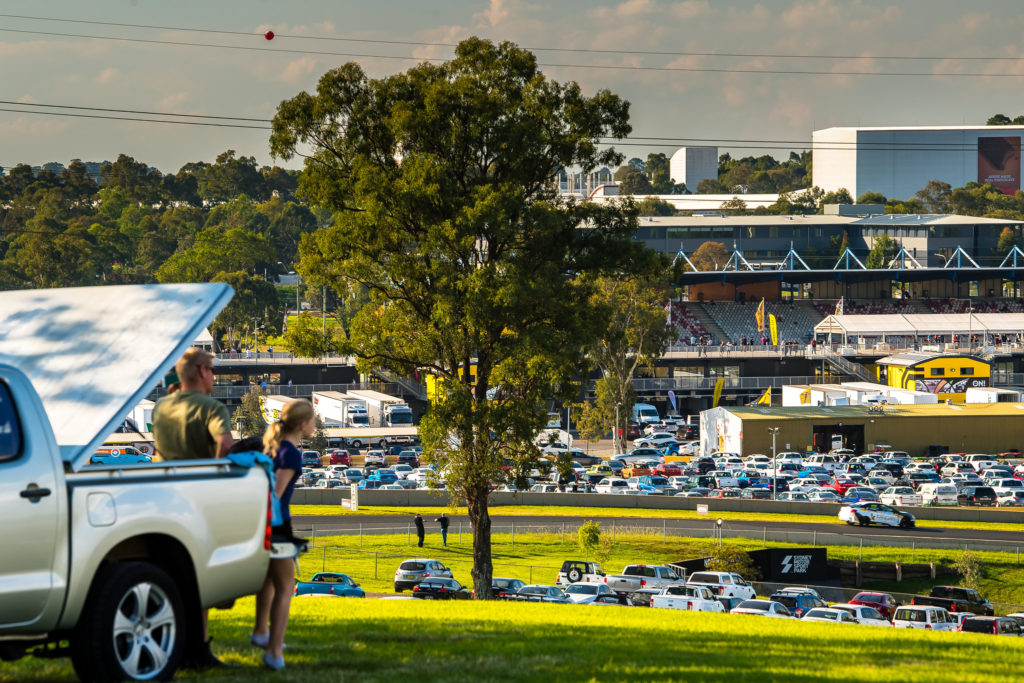 While not near Supercars or even Muscle Car Masters numbers, the swell of people in the paddock on Saturday and Sunday was impressive and surprising, as were the number of cars scattered on the turn two hill and up at turn 12.
Strong pre-event promotion, an almost unstoppable month-long PR blitz and lots of local media – including a spot on Channel 7's Sunrise on Friday morning and half-page adverts in the Daily Telegraph in the leadup – prove that if you promote something well people will come.
The Shannons Nationals, be it by lack of interest, budget or having something truly marketable to sell, has always struggled with crowds, so perhaps TCR is the headliner they've been looking for.
They'll need to be careful balancing the needs other categories on the program and making sure they also feel loved, but trackside at least it felt like an event which has to be a good thing.
> THE OPENING race of the series wasn't a thriller, that's for sure. The first couple of laps were great but it quickly settled down into a follow-the-leader affair.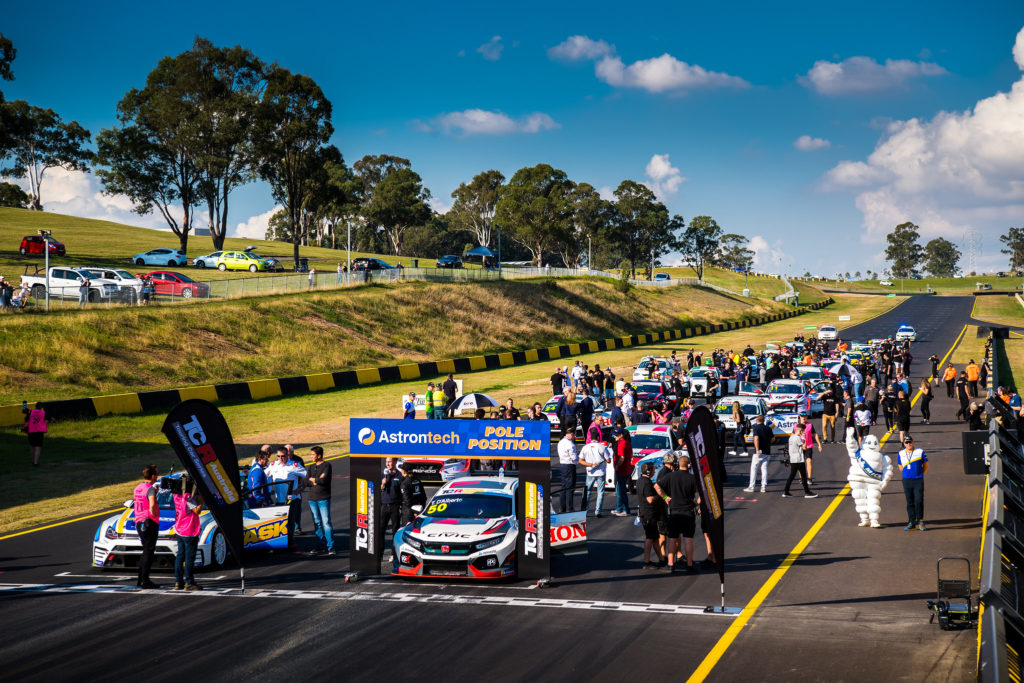 We were told that drivers were either overtly or quietly reminded that it would be in everyone's best interests to make sure they got to Sunday with the same 17 cars they started the weekend with.
While there was live TV for Saturday's 16-lap dash, it was clear the big ticket item was Sunday's two-hour show and pair of back-to-back races.
So with that in mind and a 17 nervous drivers still trying to work out how to drive their still very new machines, you can forgive race one for being a bit flat.
Sunday was better – much better. Race two was decent and the battle between Will Brown and Dylan O'Keeffe for the lead was great. Race three was even better; the fight for the lead was again superb while the squabbling in the pack was great.
The biff and barge was there and it was generally a pretty good show.
Sydney Motorsport Park isn't famous for producing breathtaking racing, either, so when they get to a racy joint like Phillip Island or – and don't laugh – Queensland Raceway, the field is good enough to put on a very good show indeed.
> It's too early to tell if the break between races two and three actually works.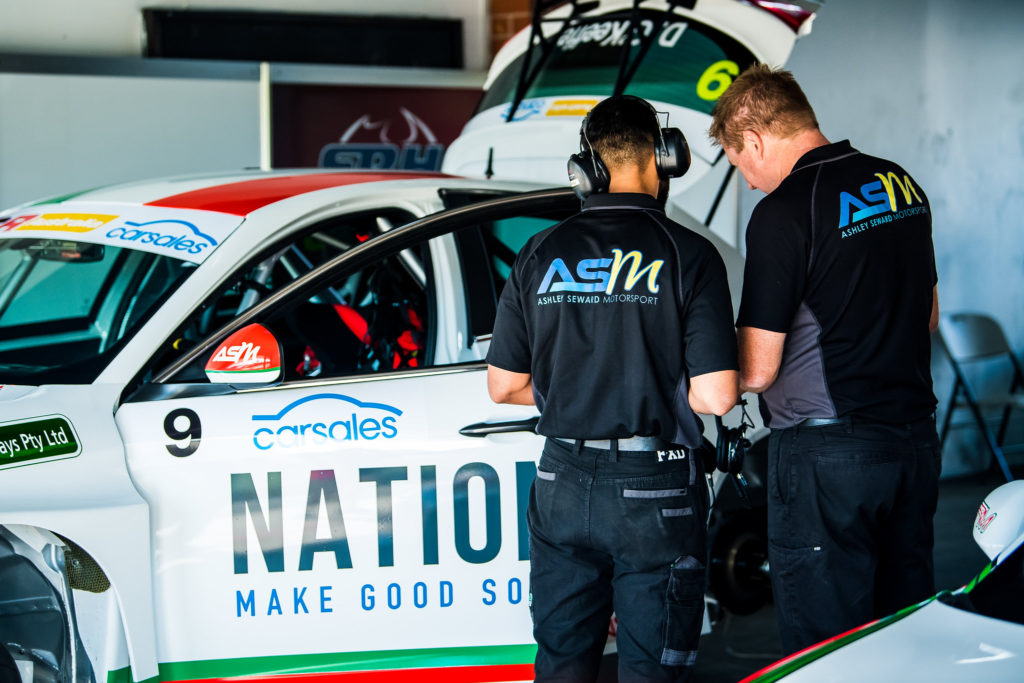 Because there was little to fix after race two, it felt a bit flat and the quiet period with nothing on-track killed a bit of the buzz that came from what was a very decent race.
For TV it looked fine with lots of interviews and packages to show, but at the track there should probably be something in between: demo laps of the S5000 would be a start but we were told that got vetoed by the organisers. Next time, perhaps.
But then again, few probably expected anything resembling a 'crowd' to turn up – the product is clearly geared towards TV at this point and rightly so. If attendance continues to grow it will be worth looking at.
Given there's nothing on track, perhaps opening up pit lane to punters to wander up and down the garages while teams fix their cars might be a cool, fan-friendly thing to do.
> Will Brown continued his great form of late and after a spotty start to his Super2 career, continues to show his versatility by winning in a multitude of different cars.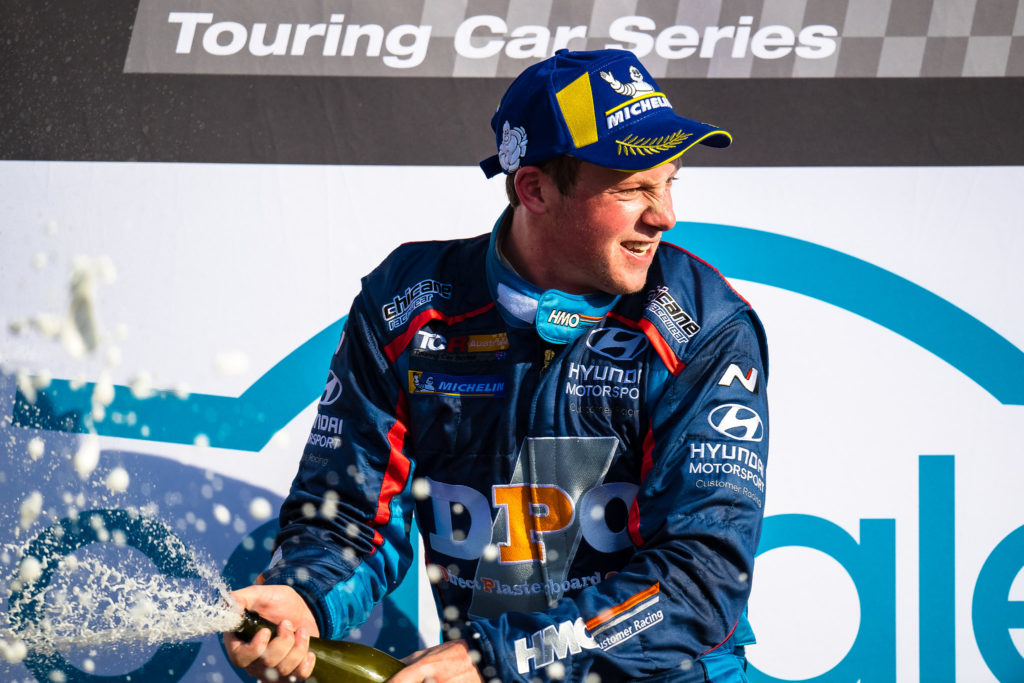 He'll be a good front-man for the series going into round two, as well, because he's relaxed, funny and chatty to the media and genuinely looks like he's having good time with it all. There are bigger names in the series, but a few more weekends like that could have the young man from Toowoomba dominating on all fronts soon.
> In the flesh the cars look good and sound decent, too. The different makes and models certainly make their own unique sounds.
We went and watched from the inside of turn one and it was pretty good.
The Hondas had a ferocious crackle on the overrun though the high-speed left hander – while Mike Almond's GWR Hyundai spent a lot of the weekend through there flat in fifth gear, limiter bashing.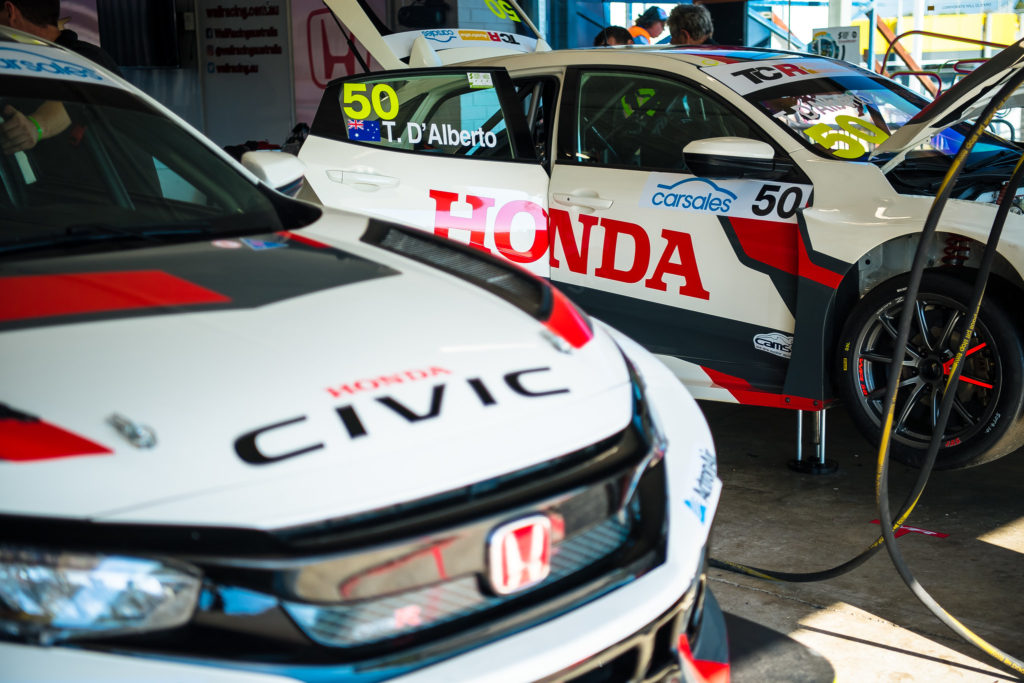 They've got plenty of aero and loads of grip from the very good Michelin tyres (the fronts are the same as on a Porsche Cup Car) so externally they don't move around a heap.
This will be a series that really creates it's best impact if and when they get 25 cars on the grid and 10 of them are crashing into each other through turn one.
At Sydney they were four seconds slower than the Porsche's and a few more than that when compared to a Supercar, but they're quick enough – though from the standing start feel like they take a looonnng time to get rolling.
> The paddock looked good, with the Wall Racing Honda team and HMO Customer Racing's Hyundai's the clear standouts on a presentation standpoint. So too was Alex Rullo's Kelly Racing Castrol Astra.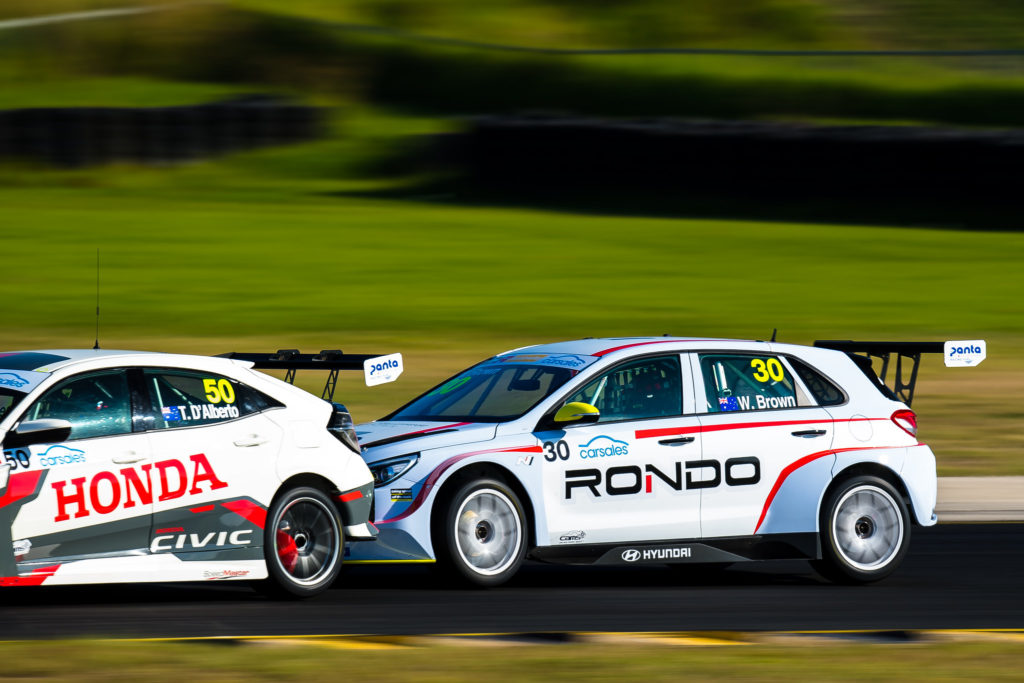 The last minute nature of some of the deals was clear and there were a lot of white cars with hastily added, simple graphics for this round. As the series matures the presentation will too.
The series needs to make sure they get on the 'fan friendly' bandwagon as quickly as possible too: it was pointed out to us that teams shouldn't be allowed to wall off the back of their garages – as some were doing.
> SOMETHING else pointed out to us after the event itself was the fact that Race three went 'Time Certain' rather than the full number of laps.
The early Safety Car following the start-line crash between the Audi and Alfa Romeo ensured that in the window allowed, only 14 of the 16 laps were completed.
More than one person has suggested to us since that the series should look at quickly ditching the lap count for their races – and stick purely to a timed, 30-minute window to get the racing in.
As Supercars have found and we've covered extensively on this website, cutting laps to suit a TV window leaves some fans feeling short changed and angry (even if TV is the driving force behind it all, which is generally is..).
Run the race to time and time only and at least that removes the expectation of a race going a full lap distance. We'd back that move!
> RELIABILITY will also improve, which will be good news for some.  
Kelly Racing, in particular, had a shocker with all of their fleet struggling at one point or another.
Andre Heimgartner's Subaru broke a suspension component in race three while running second, while both he and Molly Taylor battled gearbox issues in their cars throughout the weekend.
Molly then had a puncture in the third race to cap off a challenging debut to circuit racing.
Meanwhile, Chelsea Angelo's promising weekend was stopped when her Astra broke a tie-rod end in the front suspension in race three, forcing her out at almost exactly the same point where her Kiwi teammate had parked his Subaru earlier.
Alex Rullo complained that while his car was good in the twisty bits, he battled straight-line speed while Angelo's Astra was also down on poke.
Those guys just can't take a trick at the moment.
> Did we see the makings of the first TCR Australia rivalry in race two, when Nathan Morcom spent much of his journey getting into trouble with race control?
Certainly he won't be on the Facebook Friend lists of Jason Bright or either Honda driver after Sunday. Which is great!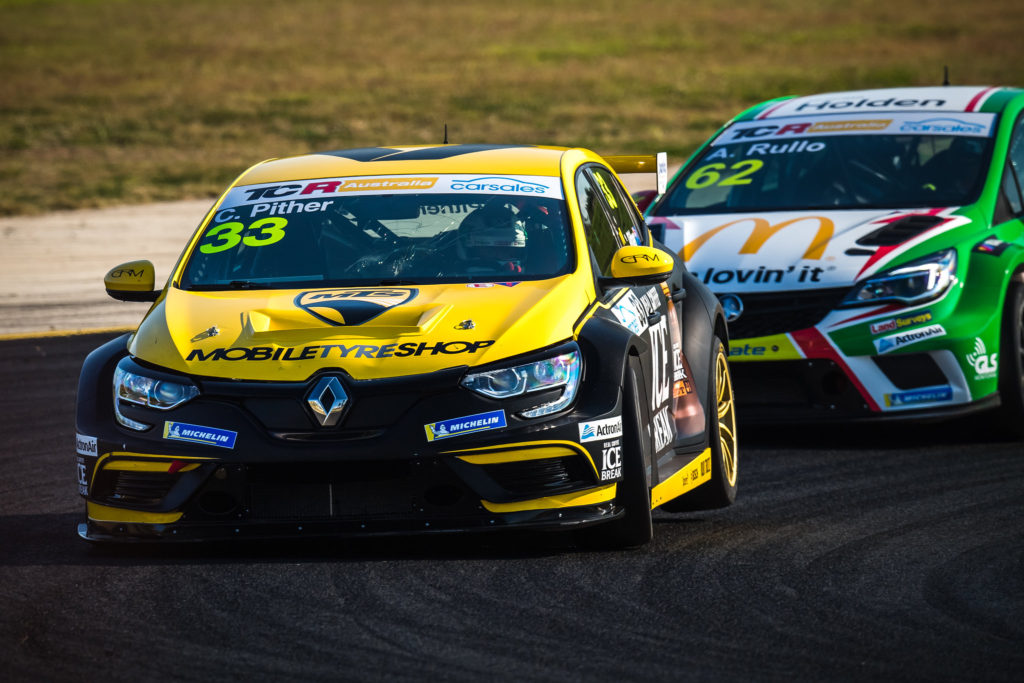 While the series has some great talent it really needs to build on the rivalries as early as they can to get the same kind of chatter going that Supercars enjoy, with more household names like van Gisbergen, Whincup, Reynolds and McLaughlin.
> Michael Almond was on a one-round deal with GWR Australia but ending up on the podium will make it hard from him to stay away, surely.

He also holds the early TCR Australia record for 'most cars passed', too, thanks to some terrific moves on Sunday.
> If it wasn't for Will Brown, Dylan O'Keeffe was probably the star of the weekend as he and his single-car team not only comfortably beat the GRM squad they are associated with, but very nearly won two races.
The Carrera Cup graduate explained that while his Alfa had plenty of straight-line handling, the Hyundai's punch out of slow corners gave Brown the advantage while battling this weekend.
But different tracks will show different strengths and weaknesses for these cars which is supposed to be part of the appeal, so that's a positive.
> ON that topic, it was noted by the large fraternity of Porsche people in the paddock that those with experience in Cup Cars were very strong from the outset in TCR.
The fact they use the same Michelin front tyre and are a car with plenty of grip may have helped their cause.
> We hate to bring it up, but how long before there's Balance of Performance chatter here?

It's the dominant subject in World TCR and the paddock seems fairly well informed that (at least at the moment) the Hyundai and Honda are probably the best rigs in the paddock right now.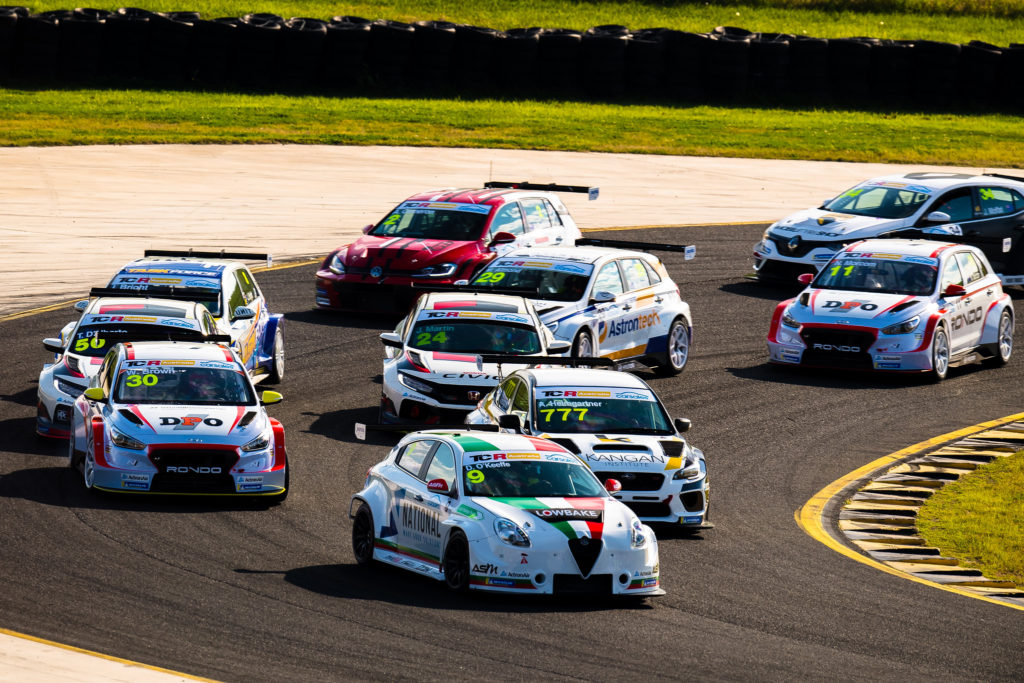 The word is that the Kelly Racing Opel / Holden Astra's should also be handy when they get up to speed while the VW / Audi Golf / RS3 clones (they're very similar cars under the skin) are decent as shown by Jason Bright's win.
Ash Seward and Dylan O'Keeffe nailed their Alfa Romeo setup while GRM Struggled with theirs driven by Jimmy Vernon, and their Renaults were very quiet (when James Moffat's wasn't expiring on the grid).
Meanwhile, Andre Heimgartner deserves praise for hauling the Subaru up the order because there weren't that many who thought it should be there given it's overseas priors.
World TCR is rife with tension about BoP and it often becomes much more of a discussion point than the actual racing. TCR Australia follows the global BoP regulations, so lets hope the local series doesn't descend into that very unappealing area of this kind of racing.
As we've experienced lately, parity talk isn't that great, really..
> Spotted! Plenty of fans weren't just the only ones getting a first-up look at the TCR Australia series at the weekend.
We won't name names, but TheRaceTorque.com counted category managers from four or five national-level categories (ones not running at the weekend) floating around the paddock checking out the vibe.
Most of the CAMS hierarchy was there, understandably, while some Supercars figures were definitely soaking up the atmosphere.
Perhaps more relevantly, a multitude of team owners – both those running cars in other categories at the event and those not – were in Sydney to see the cars in person and investigate their own program in the future.