QUEENSLAND RACEWAY may be on the endangered species list when it comes to the Supercars calendar. But if it's going down, it's going down swinging thanks to a cracking weekend in the Sunshine for Races 19 & 20 of the 2019 championship.
WORDS: The Race Torque staff + Contributors IMAGES: Mark Walker
THERE were so many good stories from the 'switch, including the classic Race 20 finish and Holden winning back-to-back races for the first time in ages. Yet, there was still plenty of questionable moments that have not escaped the watching eye of our crew.
As always, they're presented here as either 'Hot' or 'Not' in the latest edition of The Race Torque Power Rankings.
HOT
1. THE PASSION
SCOTT McLAUGHLIN has dominated this year. He's won more often than not, scored almost every pole position and generally dominated – so you could be forgiven for becoming slightly blase' about it all.
Yet then you're reminded of the fire that continues to burn in his young belly when, after defeating Shane van Gisbergen in Sunday's race, his passion overflowed as he celebrated victory.
From the fistpumps in the car to the lap-long burnout and the celebration with the crew afterwards, it's a reminder that no matter how many times Scott McLaughlin wins, it still means plenty. Which is why he's so good and why he'll be so hard to beat for a long time to come.
2. WILL DAVISON & 23RED RACING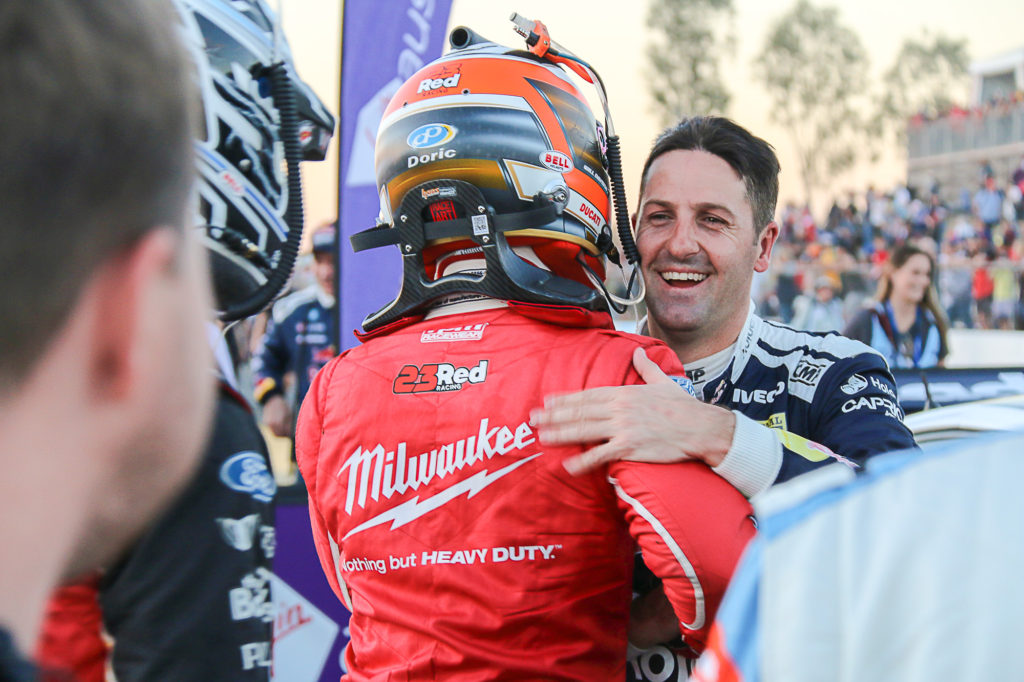 THIS was a weekend a long time in the making for both driver and team.
Will Davison's drive on Saturday was superb and the vision of team PR Annie on face-time to an absent Phil Munday at the end of the race was just as good.
For an owner who has sunk millions into the sport without much in the way of results, and a driver who hasn't tasted the champagne since the remarkable Bathurst victory with Tekno in 2016, it kinda felt like a podium for the good guys on Saturday evening.
Backing up the podium with a solid top-five on Sunday was nearly as good and showed that there's plenty left in Will Davison, and that the Tickford Mustang package is very decent indeed.
3. COMPETITION
SUPERCARS and F1 are proof that when one team is on a rout it can be terribly boring – but when others get their act together it's far from it. QR was further proof of that.
With Fabian having a shocker, DJRTP found themselves under real pressure on Saturday and missed the podium completely for just the second time this season. Then on Sunday McLaughlin was hounded all the way by Shane van Gisbergen, resulting in a classic battle.
Triple Eight's return to form and the there-or-thereabouts winning pace from Tickford ensured there were three different teams on the podium on Sunday. And that's what we want. If it's like that for the rest of the year, hold on to your hollyhocks.
4. THE PROGRAM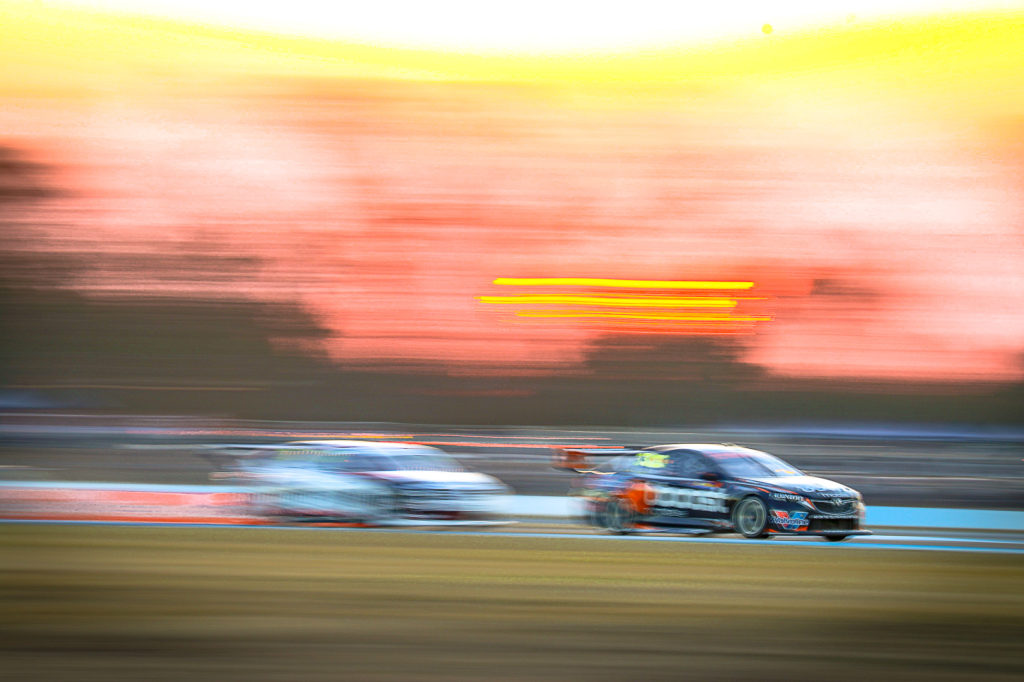 SIXTY Supercars! All three categories on the schedule for the first time since Phillip Island 2017, when Super 3 was branded V8 Touring Cars. This is what the punters like! There was great racing across all there levels and once again Super 3 showing its addition to the Supercars ladder is a clever move. Add in a strong TCM field and all in all a good show
TCM was excellent, as always, and the Aussie Racing Cars provided one of the race finishes of the season so far. Even the SuperUtes put on some good racing (which is no endorsement, but at least they've stopped rolling them).
The VASC undercard has been questionable at some rounds this year – but this was not one of them.
Meanwhile, the Saturday evening race remains a pictorial highlight of the season.
5. NICK PERCAT
BRAD JONES RACING has had a terrible run of it lately but ended the 'Northern Swing' with a return to form from Nick Percat – who we think has had a cracking season. While Tim Slade struggled, Nick logged finishes of eighth and ninth, respectively, in the two races and now has 15 top-10 finishes this season. Sunday drive made even more impressive by the fact he had a truly awful start and dropped from eighth to 23rd on the first lap..
6. TOM RANDLE
HIGHLY RATED by many, it's been a tough season on occasion from young Thomas but he was in very good touch at the weekend. News that he will be in a wildcard Tickford Mustang at The Bend next Month is welcomed and we'll be watching that very closely indeed.
7. JAYDEN OJEDA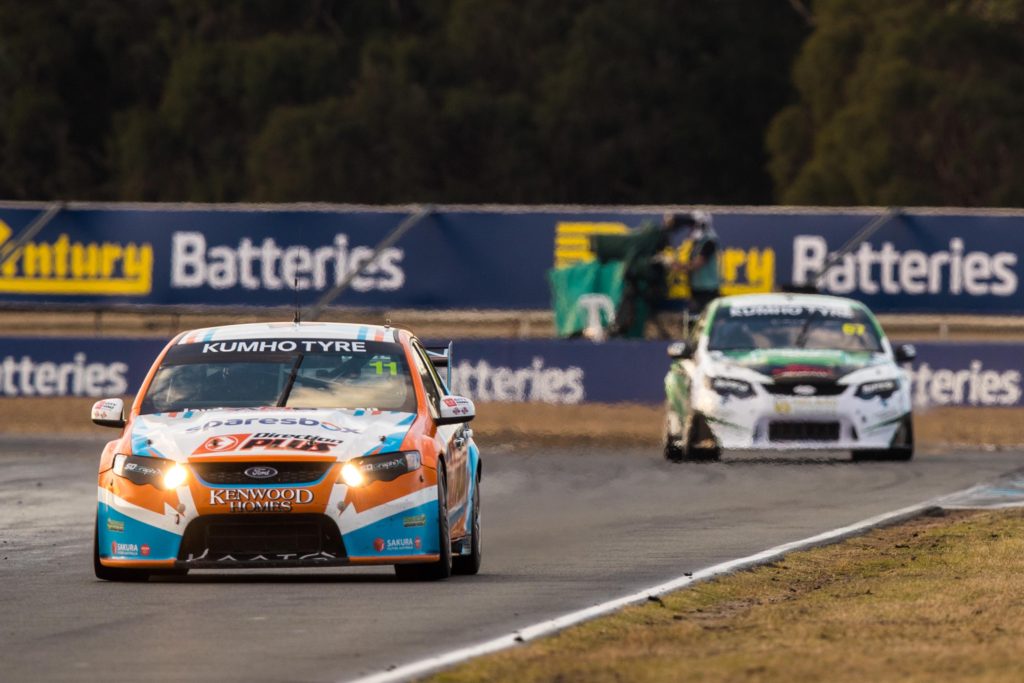 WHAT A STORY this kid and his privateer Anderson Motorsport crew are becoming. Right place, right time yes – but with the car speed and consistency to back it up in an enormously competitive Super 3 Series this year. Showing his class and that teams without a Level 1 or 2 affiliation can still kick goals in the Kumho Series.
8. AMBUSH MARKETING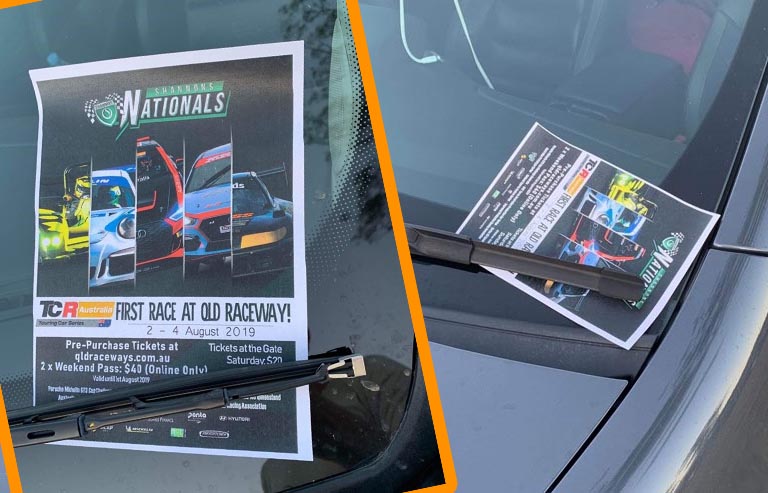 MUCH has been made of a potentially building 'rivalry' between Supercars and TCR of late – so when The Race Torque team returned to their cars on Saturday evening to find flyers under the windscreens – promoting this week's TCR / Shannons Nationals round at the same venue – we had to have a laugh.
Clever sneaky marketing from the promoters for the ever-popular QR double. It's the kind of thing promoters in the 1970s would've done. We approve!
9. THE FIGHT FOR SECOND
A SHOCKER from Fabian Coulthard and Triple Eight's resurgence has energized the fight for second place in this year's championship. Fabs is now only 87 in front of Shane van Gisbergen, while Chaz Mostert is only a handful further back in fourth. Whincup, in fifth, and Reynolds, in sixth, have to also be considered in the mix given the point-scoring potential between now and the end of October.
The Bend will be a key round for this fight: It wasn't good for the Red Fords last year. It was very good for the Blue Holdens, however. Could be key – but the enduro races will be critical for the spot to be the best of the rest this year.
10. MASONS NEW MUSTANG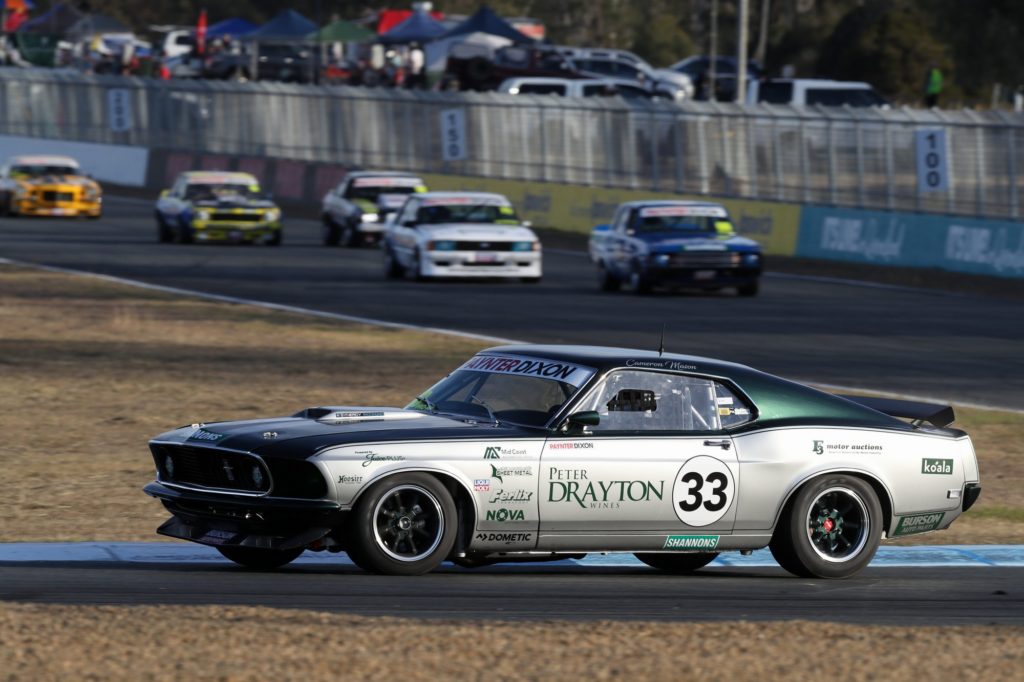 STUNNER! Cam Mason's Brut 33 Retro Livery Mustang TCM car is brilliant and was consistently surrounded by fans in the support paddock all weekend.
A meticulous build by Marty Brant's Garage1 and a winner first time out in the Trophy race, the car is a testament to those who built it and owner Russell Hancock. The sport needs more people like him to invest in building pieces of art like that – and then letting them go and get raced hard as is the case in TCM.
MILD
QUEENSLAND RACEWAY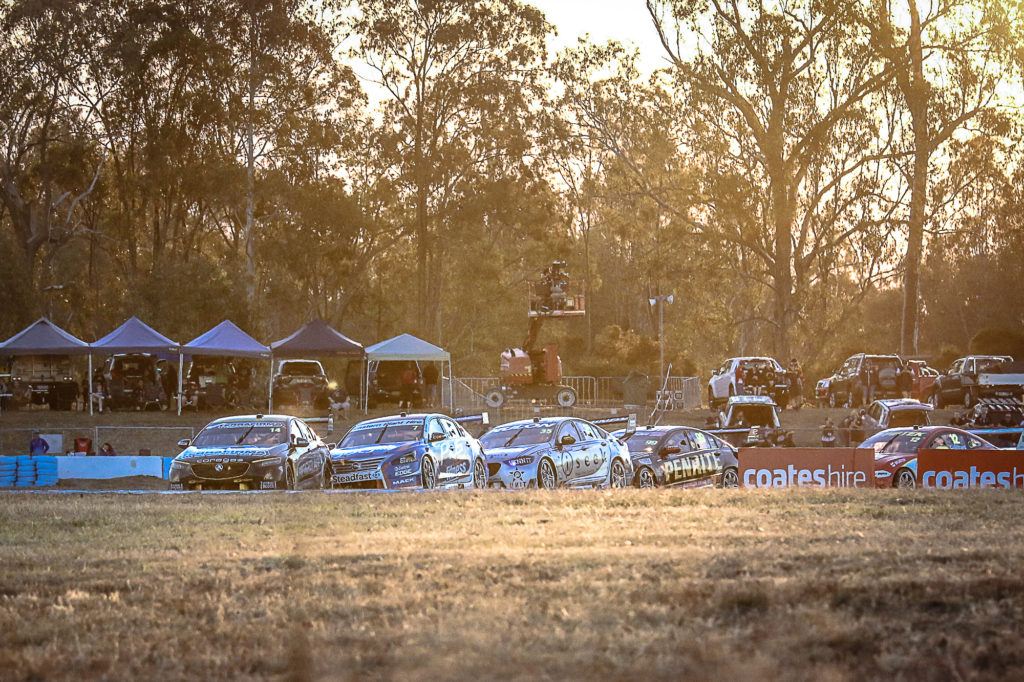 WE HAD to include something about QR here as its place on the calendar gets debated.
Spring weather in the mid 20's in Queensland winter bought out a very healthy crowd with the park and view area really well supported: Old school – sit in the car and watch the races. The venue, while criticised by many, offers great viewing and turns on excellent racing. A number of Supercars drivers threw their weight behind keeping the venue on the 2020 calendar and you have to ask the question: What happens to all the people who paid money to watch on Saturday and Sunday if the round is gone?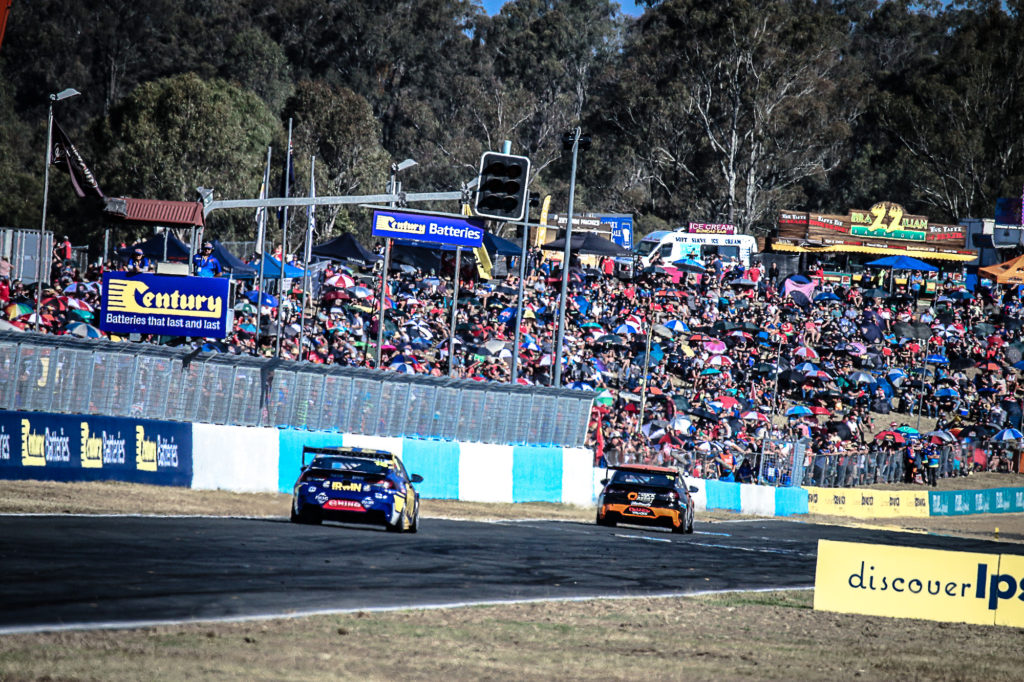 We're not so certain they'll make their way to the Gold Coast, for starters.
A number of very visible track upgrades were welcomed, but will it be enough? It still falls short in several areas, including the pit lane garages and frankly laughable bathroom amenities for fans.
Like Winton, this is a 'heartland' round that plays to the core of the sport so while there is a very valid argument, given the need to reduce the number of rounds on the schedule, to drop QR – there are downsides, too.
We asked the punters via our @TheRaceTorque twitter account and, suffice to say, it generated mixed opinions..
I'm from Brisbane and QR is a great spectator track. GC is one of the worst to visit, terrible vision, no paddock. Would be sad for SE QLD Supercars fans if QR goes. Love your work Crailsy.

— Andrew Kerridge (@AndrewKerridge) July 29, 2019
I live in Ipswich so QR holds something special for me, but lets be honest, the facilities are quite shit so I can see why supercars would want to drop it….

— Sphere © (@FertileSphere) July 29, 2019
We wouldn't go to any #vasc events if QR went. I don't think there's many that would go to the Gold Coast either.

— Michael Keating ✈️🚊🚗 (@D_Keating) July 29, 2019
Simple tracks with good visibility generally make for the best racing (QR, Winton, Symmons, Oran Park, etc) in my opinion. Plus they are good for the fans. Should be the bread and butter of the calendar.

— Stephen Ottley (@stephenottley) July 29, 2019
NOT
1. FINE MANIA!

WE CAN COP the fine for the burnout on Sunday occurring past the designated point. That's fine. But the $10,000 fine for Ford celebrating their Manufacturers title on the podium seems pretty steep. We get that it's in the regulations and that they need to be enforced. And we also get there are commercial considerations to understand through all of this. We truly do. But at the same time this is one of only two vehicle brands currently invested in the sport at this level celebrating a major victory at a remarkably early point in the season. Holden would've done the same, surely.
Well played to the Shell V-Power team whom, we suspect, were aware that they would get pinged for the poster celebration but elected to do it anyway. That's how you support a major partner.
2. EREBUS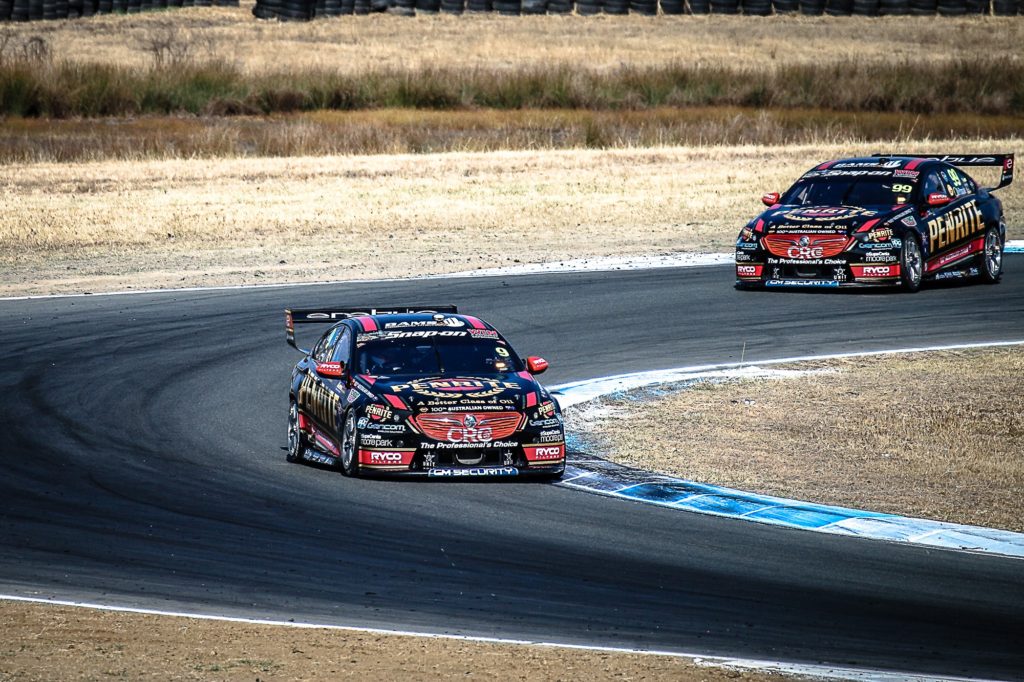 EREBUS PENRITE Racing have been a firm 'HOT' in the Power Rankings on more than one occasion in 2019, but missing the fuel drop by one litre on David Reynolds's car necessitating a third stop in the Sunday race was a major fail for the team. Then there was the fact that after almost topping practice 3 on Saturday, they rarely figured at the pointy-end afterwards and only got one car into the Top-10 in qualifying on Sunday.
With Team Manager Barry Ryan not present, this will be a hard pill for the team to swallow. The team were a little off their best all weekend, but both drivers pushed on hard and it's far from the end of the world – more a reminder of how tight the margins between success and failure are this year.
3. SUPER 2 SCHEDULE
ODD. Within a good program, scheduling for Super 2 was weird. Their first outing at 12.55 on Saturday for Qualifying was very late, with a race start Of 14.55. Possibly some of the crews got to sleep in, but it became a very condensed day for the teams in what is our second tier category.
We'd argue that the 'Less Practice, More Racing' philosophy should apply here. Super 3's program ensured that after qualifying first thing Saturday, it was all racing from there. Get the timed sessions out of the way early, go racing when the punters and TV audience are engaged during the day, we say.
4. BESTS' WORST LUCK
WHAT DOES this kid have to do? Two Super 3 Series rounds in a row Zak Best won the first two races of the weekend and led the third race, which offers more points for winning. And two rounds in a row things outside of his control have seen him out of the race and not only miss the round win – but getting a trophy all together. He's won five races this year but remarkably sits just third in the championship. It's a rough deal and will test the mental toughness of this 17-year-old kid from Benalla.
5. YO-YO NISSANS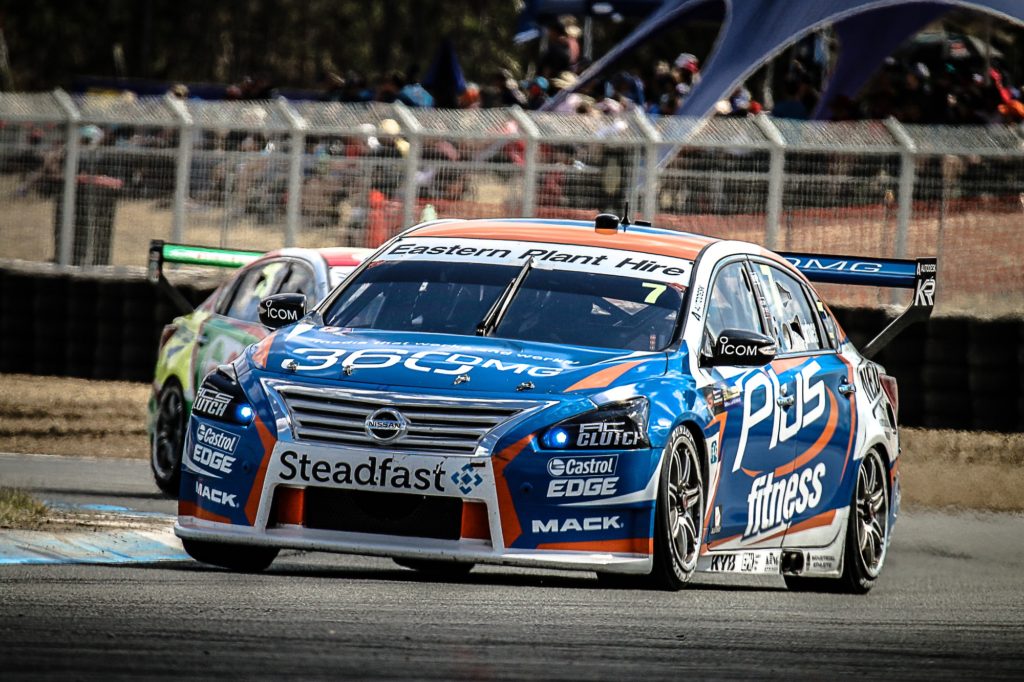 GETTING the Altima into the working window is proving a challenge for Kelly Racing this season, despite the best efforts of Rick Kelly and Andre Heimgartner who continue to drive them outrageously hard.
Couldn't get any of their four beyond the top 15 in Saturday qualifying, but then were much, much better on Sunday with Hemigartner finding one-lap pace (as he does regularly) before both he and Rick raced into the 10 in Race 20. Frustrates us and we're just watching from the sidelines so we can't imagine what it would be like for the team and their drivers.
6. BATTLING HOLDENS
WALKINSHAW Andretti United have now missed the Top-10 for the last six-straight races: Their last visit to the 10 was when Courtney and Pye finished 9th and 10th, respectively, in Darwin's first race.
Tim Slade, meanwhile, has had a shocking run of late and hasn't featured in the 10 in nine consecutive races.. his last coming at Phillip Island. It's in sharp contrast to BJR stablemate Nick Percat's continued run of trips into the 10 this year.
IRWIN Racing's Mark Winterbottom finished in the 10 in five of the first nine races: the next 12 races delivered just 3.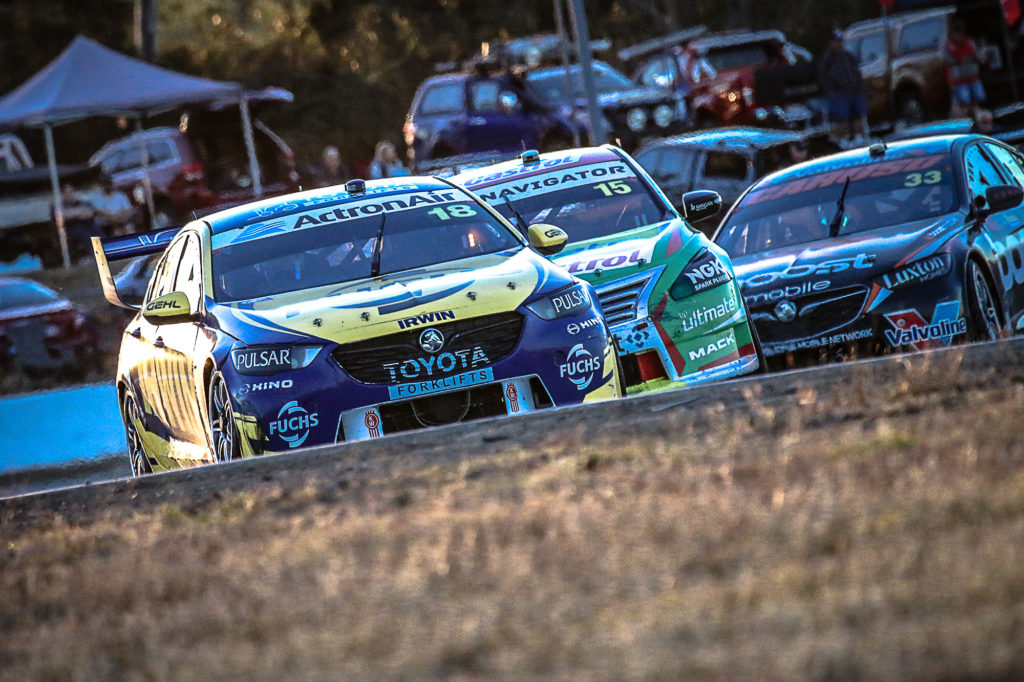 Meanwhile, GRM continued to struggle and while finishes of 13th and 15th for James Golding could be considered respectable in the context of their season, Caruso's 17th and 20th were more standard for that team this year.
Tekno, meanwhile, are having a proper shocker and at no point in the weekend did Jack LeBrocq look like having the gear required to drag his Truck Assist supported car into the top 20.
We were going to add Matt Stone Racing to this list: Todd Hazelwood has just a single top-10 finish this season, yet their qualifying pace is strong and increasingly regular visits into the 10 in qualifying show that they're not far off a very impressive result.
7. CHAD NEYLON / AUTOGRAPH HUNTERS
OH DEAR. Autographs are one thing, but then claiming to be Grant Denyer..
We'll be keeping tabs on noted Power Rankings fan Chad to make sure this doesn't go to his head.
Pretty sure they thought I was @grantdenyer 😂 #VASC pic.twitter.com/7LvIZktwGc

— Chad Neylon (@chadneylon) July 27, 2019
8. SO LONG: COLE AND SAM AND DAVE
IN TOWNSVILLE we said 'Seeya' to Supercars.com writer Mitchell Adam, who departed after that round.
Queensland Raceway was the last stop on the tour for three additional members of the Supercars media core: Corporate affairs boss Cole Hitchcock Digital Media guru, Sam Barker and long-time Cameraman David Lovell
Hitchcock, who has – aside from a one or two year absence a few years back – been a staple of the series for the better part of 15 years isn't sure what's next, but after leaving and returning once before, he is certain that this isn't a John Farnham-style tactic.
Barker, responsible for the series enormous digital component which is a key element to its success, is departing for an adventure in Formula One.
Lovell has patrolled the pit lane for years working behind the camera at Supercars Media and is a staple of the business. All will be missed.