FORTY-FIVE years after he last saw it, Kevin Bartlett was reunited with a piece of his own racing history at last week's Paynter Dixon Sydney Master Blast at Sydney Motorsport Park.
WORDS + IMAGES: Richard Craill VIDEO: Mark Walker
Thanks to car owner Geoff Walters, who just completed a lengthy restoration, and Touring Car Masters racer Aaron McGill who facilitated its appearance at the event, 'Big Rev Kev' was reintroduced to the Chesterfield Lola T330 he used in the Tasman Series in the early 1970s.
While perhaps most famous for his 1974 Bathurst win, 1980 Hardies Heroes pole position lap or turning the same Channel 9 Camaro into the Channel 6 Camaro during the 1982 Great Race, Bartlett is one of Australia's most successful ever open-wheel drivers.
He was twice a winner of the Australian Drivers Championship during the peak era of Formula 5000, finishing runner-up a further three times.
He was third in the 1970 Tasman Series and his 12 Gold Star race wins put him 10th on the all time winners list of Australia's peak open-wheel award.
The Chesterfield Filters T330, however, is a notable piece of Bartlett's history, given it left him hospitalised after a substantial crash during qualifying for the second round of the series at Pukekohe Raceway.
The last time the now 79-year-old saw the car was as he limped away from the broken chassis, much of the left side of his body shattered after the high-speed impact.
While the original chassis was replaced following the incident, much of the componentry and driveline from the original car was pressed back into service later that season in a re-tubbed car.
It is that componentry that formed the basis for the recreation of this particular Lola's restoration that returns the car to the period specification in stunning detail.
"The T330 Lola was a new car in 1973, late '73. It did five races here in Australia, Sandown, Phillip Island, Surfers and a couple of other smaller races, in preparation for the Tasman serries in New Zealand," Bartlett told The Race Torque at Sydney Motorsport Park.
"We took it to New Zealand in January '74 at Levin Raceway and it ran quite well, we were quite happy with the car, my mechanics had set it up beautifully and we had quite a lot of experience with Lola's.
"I went to the next race at Pukekohe Park and in qualifying put it into the fence.
"I come out of that a little bit bent myself, and the car was bent quite badly and we had to dispose of the actual tub. We kept quite a few of the bits and pieces and lucky for me, and for everyone really, Geoff Walters has taken up the gamble with it and built it into exactly what it was. I
"It looks exactly as it was when we built it as it came out of England."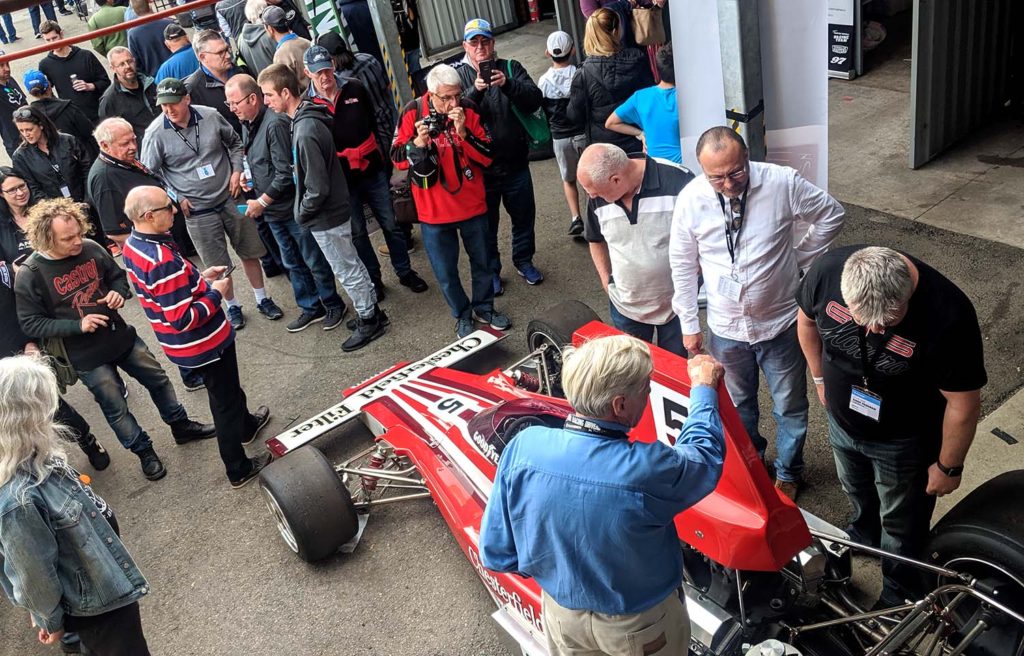 Given that Formula 5000s track record for safety wasn't exactly spectacular, Bartlett remains nonchalant about what sounded like serious injuries.
"I had substantially just all the left side," he explained, casually.
"The feet, knee, tib, fib, new pelvis, broken and blah blah blah.. that basically was all it was. I never lost consciousness – I stepped out of the car and then realised I didn't have a left leg working too well and fell over!
"Apart from that, 4 of 5 months of rehabilitation and once I got back, I got back into the car that they built for me, went to Oran Park and got very close to the lap record there within five laps."
Bartlett also went on to explain that his time laid-up also had a positive side-effect; a visit from fellow racer John Goss led to them doing the deal that would result in them winning the Bathurst 1000 in a Falcon hardtop later that year.
However it was his open-wheel career that Bartlett fondly remembered on being reunited with the classic Chesterfield Filters Lola.
"It's astounding. I've seen a couple of photographs with the body on and the body off, but there's nothing like the real thing, is there.
"(It was a) Fantastic car to drive – all the F5000s were great to drive. I drove a variety of them."
Hear more from KB in The Race Torque's video feature on the revival of his old Lola, plus his thoughts on the brand-new S5000 category to launch soon, via the player below: