SOMETIMES people get hit with the lucky stick however in this case, TRT's Richard Craill was smashed by it over and over again (some would say they knew that already..) Here, he reflects on an incredible opportunity to take to the skies with the best of the best from the Australian Army.
WORDS & IMAGES: Richard Craill
"Alright everyone can I have your attention, it's time for the Safety Briefing."
The Australian Army soldier talking down the intercom was standing about six feet from where I sat, connected to the intercom via a lengthy umbilical cable and fully clad in camouflage fatigues, a helmet complete with night vision goggles, gloves and a life preserver should things get damp.
I, on the other hand, was in day-old racetrack wear and a slightly too small helmet with headphones, a microphone and a 'is this actually happening' grin on my face.
It should also be noted that I was also sitting, with some work colleagues and a racing driver, in the back of Sikorsky S70A-9 helicopter that is generally otherwise known by its real name:
Black Hawk.
"You are flying in an Australian Army Black Hawk. The emergency exits are right in front of you," the soldier gestured, to the wide-open side doors that would soon shut just prior to take-off.
"Basically, If you see me running away from the aircraft, I suggest you follow!" With that the intercom clicked off and thus ended the briefing.
I glanced across to my commentator colleague Wade Aunger, who was on the right-hand side of the forward-facing bench that ran along the rear of the aircraft. Wade shared my laughter, but I could tell that his mind, like mine, also went almost immediately to a notable 2001 film starring Aussie acting legend Eric Bana that also featured a similar helicopter model. Why did they have to call it Black Hawk Down?
Nothing like a bit of military-spec gallows comedy, however, to lighten the mood!
How we came to be in a such a situation gives proof to the old adage that often in life it's not what you know, but whom.
In this case, the whom was Lieutenant Colonel David Burke, who in casual clothes would pass easily for your fifty-something, gray haired Dad down the street but in uniform was one of, if not the ranking officer in charge of the Army's extensive activations at the 2008 Nikon Indy 300 event on the streets of Surfers Paradise.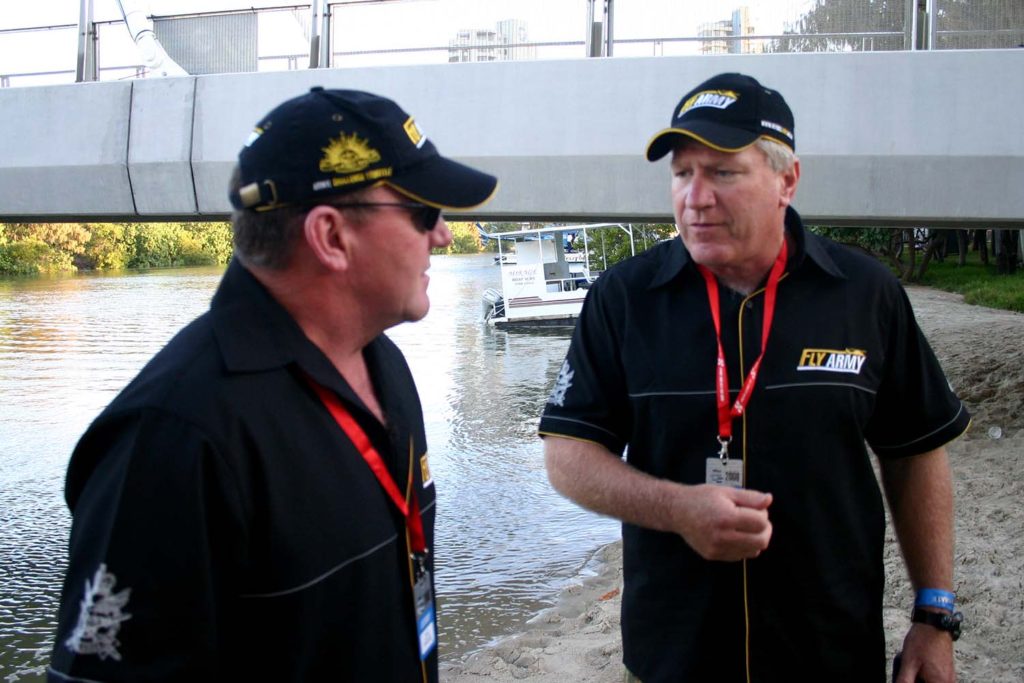 Wade, yours truly and a cast of many were calling the action for IndyFMTV, the on-track big screen TV production that would attempt to keep the many thousands of fans entertained across the massive four days of racing. With Wade, I had the plum job of calling the IndyCar races – but the schedule also saw us filling time between sessions, plugging sponsors and talking up the many and varied activations occurring around the precinct across the event.
It was there were we had the particularly good fortune to meet the aforementioned Lt. Col. Burke, who would come and join the commentary team when the Blackhawks took to the air above the circuit to demonstrate their capabilities.
I would later learn that by the time we met the Colonel he had already enjoyed a lengthy career in the Military, having served as an instructor on the Black Hawks at the Oakey Army air base, then in Townsville and more, before heading overseas with the UN in the early 2000s and also flying operations in Afghanistan in 2006 and 2007.
All that absolutely made him adequately qualified to talk to a pair of aviation-mad commentators and a mostly intoxicated crowd about what was going on above their heads, then.
Meeting the Colonel was fun, especially when junior officers would stumble apon him.
With us, he insisted we call him 'Burkie', but when a subordinate would enter the room and see a Lt. Col in their ranks they'd snap to attention.. but there was none of that with us.
Safe to say, Burkie was a hit on commentary; engaging, a good laugh and brilliant to chat to whether we were on air or off it. He was a ripper bloke to us and we loved it.
Turns out, he must have as well because after we'd finished describing the Army's display on Saturday, he turned to us and said: "Have you boys ever been up in one?"
The answer to the negative from both of us elicited a quick reaction.
"Right," he said. "Meet down by the water near the bridge at the Water Police dock in McIntosh Island at 1730 hours and we'll go from there. We've got space for a few others as well."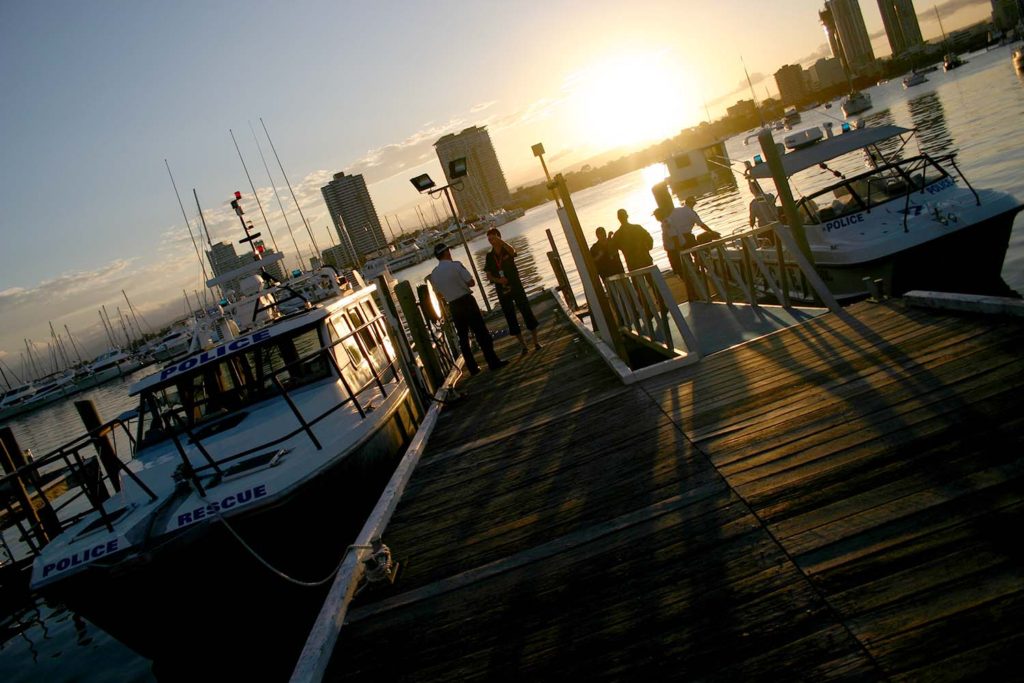 With that in mind, we rustled up fellow presenter (and then Gold Coast radio DJ) Matt MacKelden, Sonic Carrera Cup racer Dean Fiore and our long-suffering camera man Paul McGrath among a few others and headed into the middle of the circuit once we were off air on Saturday afternoon.
Naturally, Burkie was already there with a few others, standing next to a QLD Water Police boat moored to the temporary dock, in the shadow of the pedestrian bridge that crossed the waterway between McIntosh Island and the back straight of the Indy Circuit.
We jumped aboard and once we'd cruised slowly up to the broader Nerang River they opened the taps somewhat and we found ourselves charging North towards the Water Police base up on the Southport Spit, just south of Sea World. It was there, on a broadly square shaped vacant lot we saw a pair of Black Hawk helicopters looking particularly menacing, silhouetted by the rapidly setting sun off to the West. They would be ours for the next few minutes.
After working out who would go in which Chopper, Burkey instructed us to enjoy ourselves and being good soldiers following orders, we jumped aboard.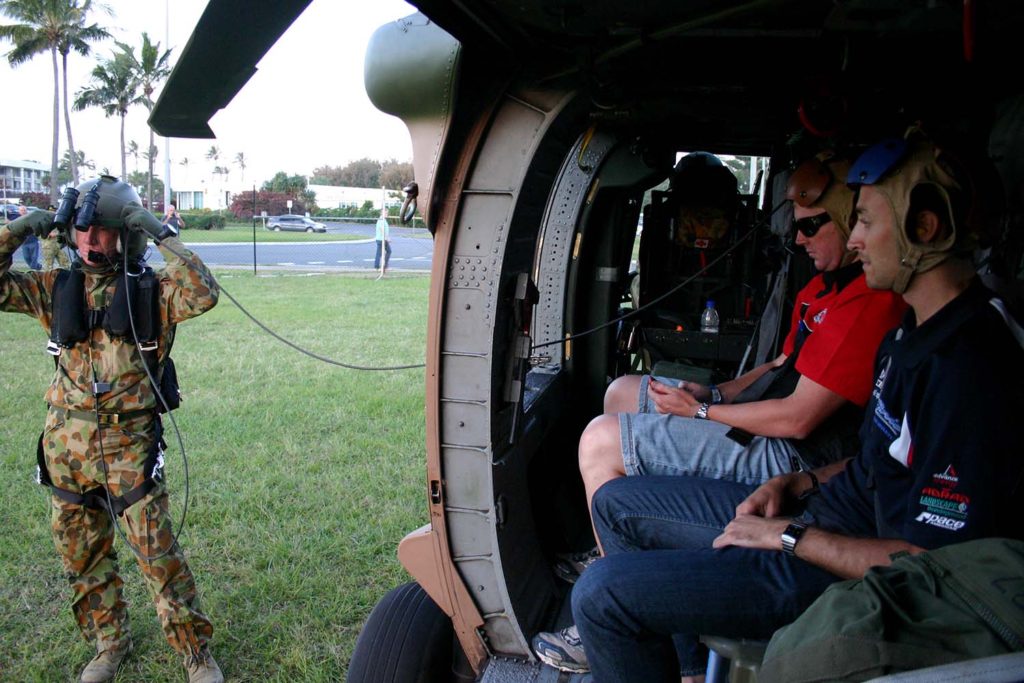 After our brief, somewhat casual safety instructions the Black Hawk fired up and after a short time on the ground, probably ensuring the rotors weren't going to fall off, the familiar and completely unique sensation that comes with a helicopter gently lifting off terra firma was felt.. only this time with the kind of intent and muscle you expect from something military. It all felt hefty and raw and utterly excellent.
By now the sun had dropped below the horizon, leaving the Gold Coast in that spectacular – if brief – twilight it gets at that time of year. We headed West at first before turning due south to head along the waterways, just inland from the Gold Coast Highway.
I still have the mobile phone vision, all blurry and pixelated due to mid-2000s phone technology, to this day. I only filmed a few short segments here and there, but it tells enough of a story about where we went and how we did it.
As we headed South we flew barely above the height of the skyscrapers that lined the Surfers strip, before banking hard over Broadbeach to begin our return. I vividly remember the odd sensation of looking out the side window straight down as the Black Hawk rotated on its axis and banked hard left, the dark mysteries of how the hell those things even flew in the first place less clear at that point than ever before.
We returned by heading North, this time out over the sea, again at about the same height as the tallest buildings. It was here the pilots gave us a handling demonstration, too, chucking the chopper left and right in what at the time felt like an excellent roller-coaster but was in reality probably a fraction of the aircraft's ultimate performance. Still, we got the idea: these things could move.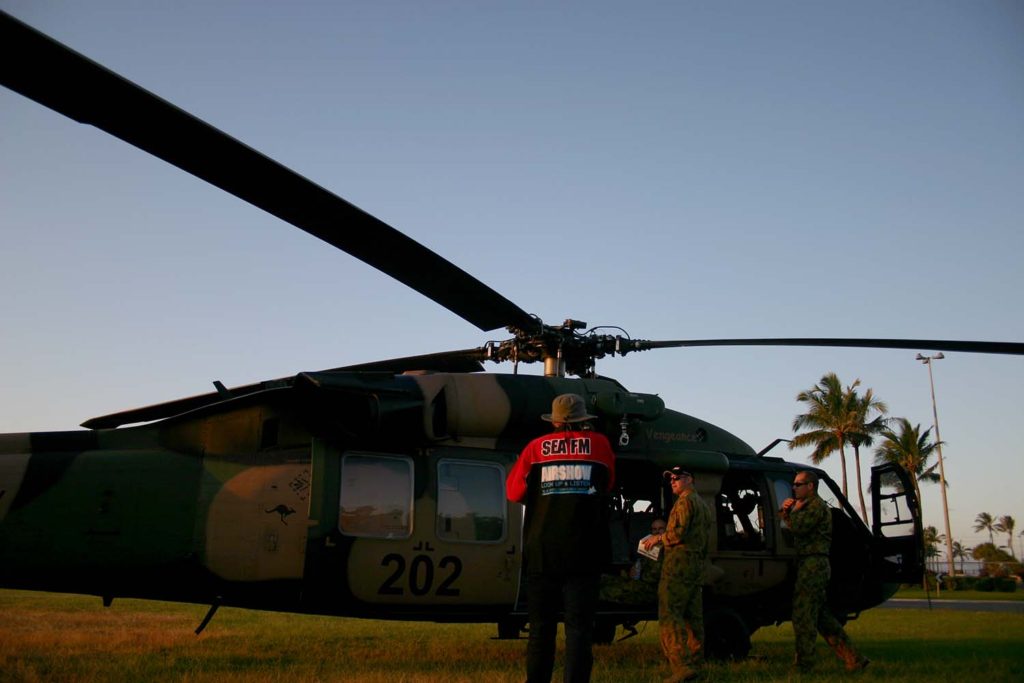 I remember laughing out loud at the time – I wasn't the only one – thinking about what a surreal situation it was: It was an incredible evening and I was on the Gold Coast, at an event Wade dubbed 'Schoolies for Grownups', getting paid to call IndyCars and in a Black Hawk doing aerobatics just off the Queensland Coast.
What a ride.
Burkie was waiting for us when we got back and I am not sure he'd ever been thanked so profusely by so many people in such a short space of time – but it was well deserved. I don't remember what he said exactly, but he recognised the role we played in promoting their efforts and he was only too pleased to show off his toys to us in return.
The Water Police were good enough to drop us back down to the track from where we left, the ride back down the river and between the now illuminated buildings an almost perfect way to end a pretty remarkable experience, even if it had probably lasted no more than 90 minutes, in total.
Wade and I still talk about that chopper ride to this day, 12 years on – it was that memorable.
All thanks to us having a bit of banter with a ripper bloke, called Burkie.