A FULL Month of back-to-back-to-back-to-back Supercars action came to a close with the second Townsville SuperSprint event at the weekend. TRT charts how the series did across its unprecedented four-week run of racing.
WORDS: Richard Craill IMAGE: Mark Horsburgh / Supercars
A TOTAL cumulative audience of over 3.3 million watched Supercars' four-straight weekends of racing, at an average of 282,000 per race, on Fox Sports and Channel 10.
The stretch of two races each in Darwin and Townsville came to an end on Sunday with a Fox Sports-only event that offered solid numbers.
TOWNSVILLE 2.0
121,000 watched Saturday's Race 22, the biggest Fox Audience for a Saturday race in the four-week stretch.
119,000 then saw Race 23 early on Sunday before 140,000 settled in to watch the Red Bulls take on Scott McLaughlin in the climactic finale' on Sunday afternoon.
Race 24 was the second largest Fox Sports audience for the month, second only to the 144,000 who watched the final race from the Darwin doubleheader.
Once again the support categories did well: 79,000 tuning in to see the Excels tear each other up.
THE MONTH AS A WHOLE
FOX Sports saw a gradual climb of ratings across the four-week stretch which proves a consistent audience was tuned in across each weekend.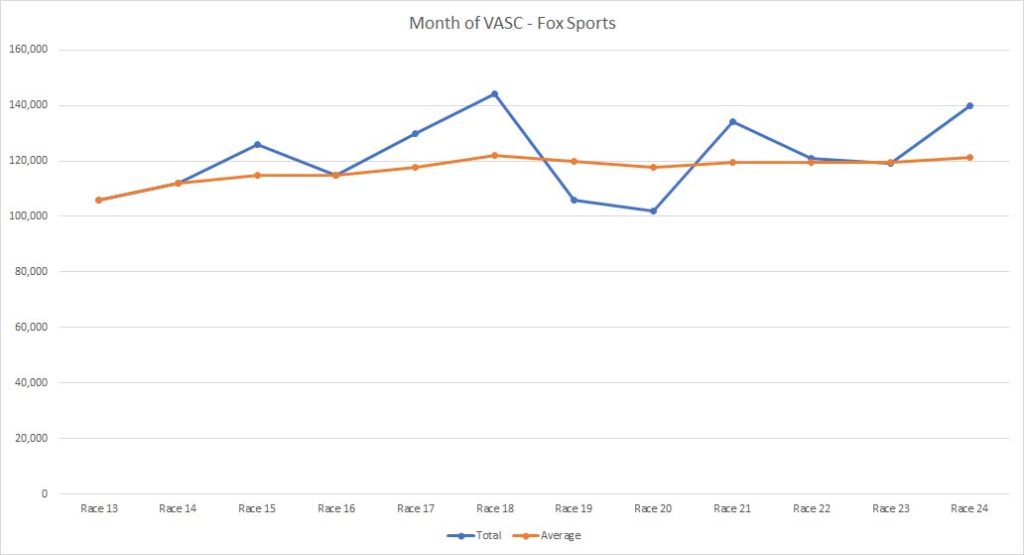 Standing at an average of 114,000 at the end of Darwin 1.0, the average Fox Audience climbed to 121,000 by the end of Townsville 2.0.
Fox Sports' stand alone events – Darwin 2.0 and Townsville 2.0 – both drew larger numbers for the Subscription broadcaster than their equivelants shared with Channel 10. This proves why Fox wants and pays for exclusivity in their media rights; their ratings are better when there is not a free-to-air alternative.
Of course, the largest audiences were drawn to the events with both Channel 10 and Fox Sports coverage, meaning Darwin 1.0 and Townsville 1.0.
However, while the Fox numbers gradually rose across the stretch, 10's numbers dropped significantly between their Darwin and Townsville outings; a total audience 1.163m watching the three races in Darwin compared to 769,000 their Townsville effort two weeks later.
It's unclear what would cause the slip however a lack of serious promotion from 10, who are out this year, is a likely candidate.
It's proof that Supercars forthcoming switch to a new broadcaster for their free-to-air content will be highly anticipated in headquarters.
As always, we have only a vague idea about the audiences watching digitally, but based on average figures released by Kayo it's fair to say that approximately an additional 70,000 per race watched online.
That number is likely on the lower side of the total number when you include Foxtel Go and 10Play.
Regardless, it boosts the approximate average audience to just over 350,000 per race.
BRITISH GRAND PRIX
103,000 stayed the course and were delivered excellence when Pierre Gasly won the brilliant Italian Grand Prix overnight, the fifth of eight races to crack the 100k mark on Fox this year.
86,000 watched qualifying on Saturday night.