WHAT WE LEARNED + FRIDAY HOT / NOT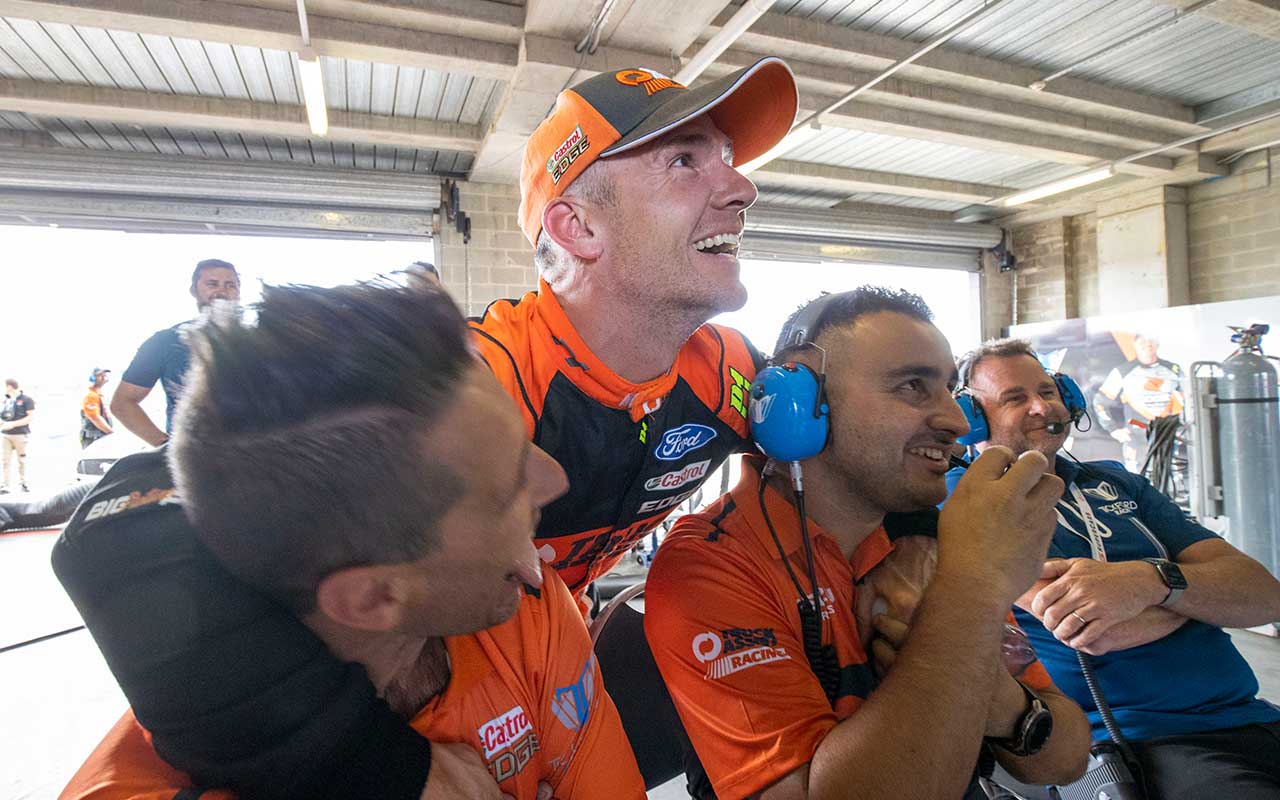 QUALIFYING day at Mount Panorama didn't let us down, with lots of drama and an intense 40-minute session at the end of the day that delivered a superb result for Mustang fans. Here's our take on the day that was..
WORDS: Richard Craill
HOT / NOT COMPILE: Mark Walker
IMAGE: Mark Horsburgh / Supercars
HOLDSWORTH THE STAR
RIGHT, so we're happy to admit to being a little bit biased at this point because NTI Australia, the company behind Lee Holdsworth's major backer Truck Assist, has also been a major supporter of The Race Torque for more than a year now.
So there was definitely some fist pumping going on when Lee Holdsworth popped to the top of the charts with just a few minutes to go in qualifying at Mount Panorama today.
Tickford Racing have had fast cars since the fist practice session but of them all, it's been the Cam Waters / Will Davison Monster energy that has been the quickest – but consistent work by the experienced duo of Holdsworth and his old mate Michael Caruso saw the Truck Assist car get better and better as the weekend evolved.
It's a great result for the sport broadly and a sponsor who has actually invested further, rather than pulling back, during the 2020 dramas. Getting the back page of the paper on Saturday morning is just reward for both the sponsor, the team and the driver.
HOW CLOSE IT IS
THE TOP four cars from Qualifying were from three different teams and two different brands, yet were covered by a paltry 0.0813 seconds. That's the kind of margin you expect at Symmons Plains, not the Moutain.
The haters will argue that of course the times should be close – it's basically a spec formula. But that's a far too simplistic way of explaining that margin.
Rather, it's a testament to the regulations that allow teams with different philosophies in engineering, drivers with different styles and levels of experience and cars with different performance windows to get so close on such a long lap. And to just how dammed competitive this year actually is.
HOW YOU CAN STILL BE EXCELLENT IN BUDGET-CONSCIOUS TIMES
IN THESE troubled times everyone is being budget conscious and saving the pennies, and Supercars Media and their key broadcast partner, Fox Sports, are no different – but all the penny pinching doesn't necessarily mean that you need to remove quality.
That example of thinking smarter, and not harder, was exemplified when Fox Sports hit play on their traditional epic pre-show introduction ahead of today's qualifying session.
For the most part, it was beat for beat the same as last year's epic, complete with a CGI-version of Fabian Coulthard's barrel-roll at the Chase that reportedly cost something in the five-figure range to produce.
But at the end, there was the current group of drivers – Chaz Mostert's blue hair included – walking along the pit straight at Mount Panorama.
A smart, up-to-date addition to what is up there as the best Bathurst intro of all time and another hair-raising precursor to one of the best sessions of the year.
Well played.
SUPER LITES.. SUPER RISKY!
MATT STONE RACING'S SuperLites concept this year, one that has seen Zane Goddard and Jake Kostecki split the driving duties in their car across the season, has been an interesting experiment with both of the youngsters having a chance to shine at various points across the year.
And up to qualifying both had done a pretty solid job: Goddard was 9th quickest in the co-driver session this morning, names like Luff, Moffat, Lowndes and Perkins behind him.
Kostecki then punched out a very competent 2m05.59s best in practice five which was pretty speedy for someone with such a limited amount of experience on the Mountain: but then Zane Goddard had the chance to jump aboard in a bid to go quicker to get the rights to qualify the car later in the day.
Seemed like a risky strategy and, as the broadcast pointed out, almost was as Goddard hung it all out across the top at McPhillamy. Ultimately he didn't quite go quicker; leaving Kostecki to qualify the car. But surely there were some stress times in the MSR garage as what are essentially two main drivers duked it out internally for the privilege of having a Bathurst qualy session to themselves.
It just doesn't seem like you need to add internal competition to such a competitive even as it is, but that was the choice and for a time it looked like they'd gotten away with it – a car clearly capable of landing somewhere in the 15th to 20th range in qualifying as a result.
As it turned out, it was all for naught – Kostecki jamming the car in the fence at the Dipper, ensuring an adventurous Friday will result in 25th and last on the grid for the Unit machine on Sunday – and a big overnight repair for Matt Stone tonight.
TOO MUCH JUICE?
JAYDEN OJEDA had one of those Bathurst days where it didn't just rain, it poured. Crashed twice, at similar spots on the Mountain, damaging both his main-game and Super2 Series rigs in the process.
There will be significant pressure on the 21-year-old from Penrith's shoulders this weekend, given the events that saw him line up alongside Tyler Everingham in the GRM machine this weekend, and there's a chance that perhaps he's felt it just a bit today as he deals with an already busy on-track schedule and two different cars.
And you have to wonder what the outcry would have been if it was Nathan Hearne in his position.
Still. Bathurst has claimed bigger names than the Juice, and others have had worse days than he at that place.
The joy of Bathurst is that there's always room for redemption.
Hopefully a quiet chat with GRM's resident guru Richie Holloway tonight will settle the Sydneysiders nerves down for tomorrow, and he can return with solid performances in both cars tomorrow and, most importantly, on Sunday. Certainly, the talent is there.
HOT / NOT / WHAT – FRIDAY
PUBLIC SERVICE ANNOUNCEMENT
DON'T forget – the race start time has changed: it will now start half an hour earlier on Sunday at-
11:00am NSW/VIC/TAS
10:00am QLD
10:30am SA
9:30am NT
8:00am WA
1:00pm New Zealand
HOT
1. QUALIFYING AT BATHURST
HOLY cow, it's always awesome. Say what you like about this current generation of car, but they are built for Bathurst. Big, brash and fast, please don't deviate too far from this formula for Gen3. Top four covered by 0.0813sec over a 6,213m long race track – incredible.
so happy I got to make it home in time to watch this on the TV. Best Qualifying session of the year. #vasc

— George Gutierrez (@georgegutierre_) October 16, 2020
2. LEE. HOLDSWORTH.
BANG. How do you like that? Awesome lap, genuine emotion, and well done to our mates over at Truck Assist – reward for a big commitment to the sport. Tickford are legit here to play this weekend…
.@LeeHoldsworth comes out on in @ARMORALLAusNZ Qualifying for The Great Race! 👏👏#Bathurst1000 #VASC pic.twitter.com/AacFOTwrHb

— Supercars (@supercars) October 16, 2020
3. DRIVING PORN
YEAH, that's rad…
PRECISION 🔥#Bathurst1000 #VASC pic.twitter.com/5EIRhLegZx

— Supercars (@supercars) October 16, 2020
4. BRYCE FULLWOOD
AT THE conclusion of Happy Hour in the final pre-qualifying practice session, Fullwood mailed in a time that was ultimately second fastest. Hugely impressive time amongst all of the noted big guns. Just missed the shootout.
How about that! 👏

Fullwood records an impressive 2:04.4849s and he moves up to P2! @FollowWAU #Bathurst1000 #VASC pic.twitter.com/4SesqLvCTo

— Supercars (@supercars) October 16, 2020
5. SUPER 2/3 BATTLES
WHILE 2020 has depleted the field, there were some cracking battles throughout, including the rather large pucker-inducing moment below.
😱😱😱 #VASC pic.twitter.com/3pge3UpztV

— SupercarsMaster (@SupercarsMaster) October 16, 2020
6. HELMET WARS: 2020 EDITION
WHILE car liveries are always a hot topic, driver helmets meanwhile are always on point. Below is a selection of the skid lid designs from Frank at R Star Design, as well as Dale Wood's classic from Antman. What's your pick? Shoot us a line on the socials at @theracetorque.
7. A LATE COOOOOL ONE FROM THURSDAY
THIS one missed deadline yesterday, so it has been included today. I hope this is sufficient to keep everyone happy.
Hot – @chadneylon and @andrewjonesv8 referencing Cool Runnings during the Pit Stop Challenge #sankayoudead #kissmyluckyegg

— Jono Beikoff (@JonoBeikoff) October 15, 2020
If Cool Runnings doesn't get us in nothing will. We shoulda brought Naulty down to play John Candy

— Chad Neylon 🇦🇺 (@chadneylon) October 15, 2020
WHAT
WE SERIOUSLY CAN'T REMEMBER THAT ONE
A LOT of things happened at Bathurst 2014, but this one appears to be a delivery bowled straight to the slips.
A genuine "what?" #vasc pic.twitter.com/e6wO8MKBIN

— Mark Walker (@markwa1ker) October 16, 2020
BIG NEWS OF THE DAY
IT SEEMS that one of our pundits has picked the controversy of the day like a dirty nose. When was the last time the phrase "Kissing passionately" was used in a report from Mount Panorama?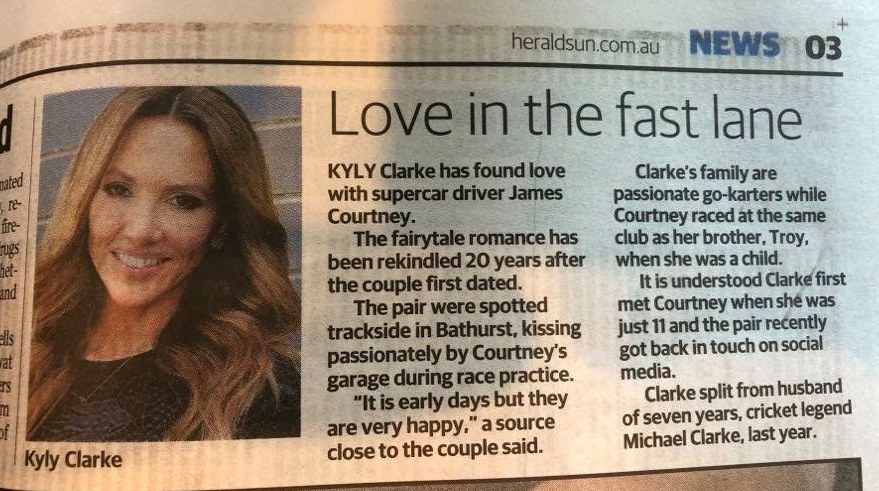 IT'S IN THE NUMBERS
OUR own Dale Rodgers has done some serious number crunching in the lead up to The Great Race.
WHY THE 17 WILL WIN: Our @DaleRodgers27 reckons Car 17 will win the Great Race this year, and has 'backed up' his opinion with some remarkable numerology-based 'evidence'… Listen to our full Bathurst preview podcast now >> https://t.co/bmA1TyegSX | #VASC #Bathurst1000 pic.twitter.com/x5PRPPEccK

— The Race Torque (@theracetorque) October 16, 2020
SICK FLICK SPIN
WHAT we really like about this clip is the immediate feedback from the one beered up punter in the vicinity.
Bit of work to do on the flick-spin there @michaelcarus0 😅 #Bathurst1000 #VASC pic.twitter.com/BgUOqaeDOf

— Supercars (@supercars) October 15, 2020
NOT
1. QUALIFYING RAIN
DAMMIT. Disappointing outcome, but we're stoked for the farmers. I guess…
The rain has started coming down.

Holdsworth looks to have this in the bag #Bathurst1000 #VASC pic.twitter.com/GEJLzTLkXm

— Supercars (@supercars) October 16, 2020
.@Mark_Skaife at the end of the quali session #VASC #Bathurst1000 pic.twitter.com/oXFBTvkyzQ

— Matt 🇦🇺🇳🇱 (@MattJL_98) October 16, 2020
2. WILD CARD RED FLAG
AFTER a lead up in the headlines, the one thing the wild cards really needed was a quiet weekend to prove a point. A shunt on the last lap of Super2 race at the same spot and a couple of offs at Chase haven't been ideal for Ojeda, sometimes you need to slow down to go faster.
Replay: GRM co-driver Ojeda locks the rears into The Cutting and the session is red flagged #Bathurst1000 #VASC pic.twitter.com/vtSMREhwZA

— Supercars (@supercars) October 15, 2020
Rough day for Ojeda, same crash twice in two different cars #VASC pic.twitter.com/JiuqfKSq3B

— DarcyF1 Multimedia (@darcyf1) October 16, 2020
3. SCOTTY BOWLS A WIDE
A BIG ooof at the end of practice five for McLaughlin. Crashing and not damaging the car was almost hot, and third in qualifying proved that the car was still strong.
.@smclaughlin93 has bowled a wide and hit the fence hard! 💥#Bathurst1000 #VASC pic.twitter.com/neMjCfEYQZ

— Supercars (@supercars) October 16, 2020
4. RED FLAG TWO: BOYS WILL BE BOYS
WE noted the duo of Hazelwood/Boys was living on the edge yesterday in our wrap up podcast, and it all came unstuck at Hell Corner for the rookie. Hat tip to those involved that have extended the tyre barrier in that area in recent years, if this were a meeting with concrete, it could have been much more expensive.
Practice 4 is red flagged again. This time Boys has gone in hard at Hell Corner 😬 #Bathurst1000 #VASC pic.twitter.com/yE6S6mjqiU

— Supercars (@supercars) October 15, 2020
5. SUPERLITE OUCH
JAKE Kostecki has given hit lads a late night out. Large ouch.
OUCH! 💥

That's day done for Jake Kostecki. Thankfully he is ok #Bathurst1000 #VASC pic.twitter.com/ZPcA7nH2RO

— Supercars (@supercars) October 16, 2020
6. TWITTER DOWN
WHEN Twitter went down for an hour this morning in the lead up to Practice 4, it was a stressful time to be piecing together this article…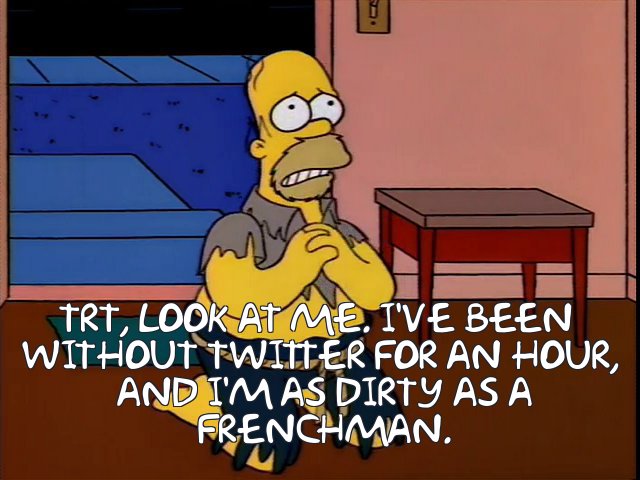 TWEET
MOUNT PANORAMA'S LONE PUNTER ENJOYING HIMSELF
WHAT we didn't see was him digging up many slabs of buried beer…
SVG = every fan when they go to the top of the mountain for the first time 😮 😂 #VASC pic.twitter.com/QLdE91NXWm

— James Pavey (@jamespavey_) October 16, 2020
.@shanevg97 appears to have found a friend on top of the Mountain 😂 @supercars #VASC #Bathurst1000 pic.twitter.com/yRNBUexcOh

— Matt 🇦🇺🇳🇱 (@MattJL_98) October 16, 2020
MORE ROMANCE
FURTHER to James Courtney's exploits, Larko is also in the zone.
"Good lookin' tyres turn me on," – Mark Larkham's pit lane insights have gone slightly MA15+ today. #VASC #Bathurst1000

— The Race Torque (@theracetorque) October 16, 2020
FURTHER LOVE ISSUES
Someone at supercheap auto needs help #VASC #Bathurst1000 pic.twitter.com/Oypj5ZbUYj

— Mat 🇦🇺 (@Simmo99_) October 16, 2020
MINI ME
October 16, 2020
FRONT ROW SEATS
Boys are set for the #Bathurst1000 #VASC pic.twitter.com/D263qmLbYW

— GibboPK (@GibboPK) October 16, 2020
UNUSUAL: UNACCOMPANIED SINGLE BIRD ON TOP OF THE MOUNTAIN
Yep #VASC pic.twitter.com/2qFrYB8Gma

— SupercarsMaster (@SupercarsMaster) October 16, 2020
LOCATION, LOCATION, LOCATION
Geez the agent in charge of selling that house on Conrod really messed up by not getting a bigger FOR SALE sign#VASC #Bathurst1000

— Shane B (@ShaneB19) October 16, 2020
…BUT I HAVE TO STAY HOME
No, getting a COVID test is not an elaborate ruse to ensure I can lie on the couch and watch Bathurst all weekend.

— Peter Anderson (@zerogeewhiz) October 16, 2020