Longest stage shakes up Shannons Adelaide Rally leaderboard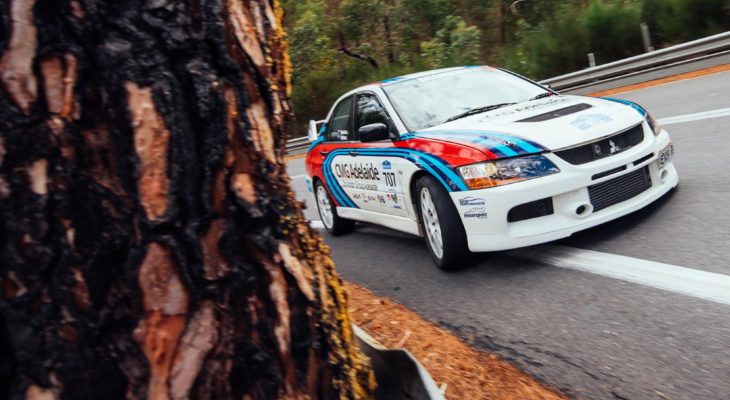 The Shannons Adelaide Rally is far from over with Friday morning providing a game-changing stage.
Competitors took on Norton Summit (SS19), Stafford Ridge (SS20) followed by a regroup at Cudlee Creek before tackling the mammoth 19.2km run on Marble Hill (SS21).
As the longest stage of the event, Marble Hill proved to be decisive for the leaderboard, shaking up some of the results.
It was make-or-break for some classes, especially Classic Competition while the podium battles are still intense all around.
The second leg of the day will take in a further five stages, steering competitors back towards the southern end of Adelaide hills around Bridgewater.
A further 33km are still to play for the afternoon with plenty at stake on the busiest day of the event yet.
Morialta (SS23), and Heysen (SS24) are still to run before a regroup at Stirling Oval followed by Ironbank (SS25), Sturt Valley (SS26) and ending the day with Eagle on the Hill (SS27).
Modern Competition
Ben Calder and Steve Glenney still lead the Modern Competition field but if you blink you will miss the fight for second.
In their Tommi Makinen Edition Mitsubishi Evo, the Calder/Glenney combo opened the morning up with a two-second stage win on Norton Summit (SS19) and stayed competitive on the next two runs.
Their lead gap is largely unchanged, with 39s up their sleeve over Jeff Morton and Daymon Nicoli who snapped up second position.
Morton and Nicoli's Porsche GT2 RS was quickest of all on Marble Hill (SS21) which saw them climb the overall ladder from fourth to second position.
However, there is only four seconds to Julian Newton and Nicholas Wotton in third driving a Mitsubishi Evo 9, laying the foundations for a close afternoon duel.
Dean Lillie and John Lilleyman find their Evo 10 fourth, 12s further back, while the Evo 9 of Daniel Traverso and Matt Dillon remains fifth, more than two minutes off the leader.
Classic Competition
The gloves have well and truly come off in Classic Competition as the fight for victory hots up with a lead change.
Matthew Selley and Hamish Mckendrick in a 1985 Hartge and the 1974 Porsche 911RS of Roger Paterson and Richard Geue continue to trade stage wins at the head of the field.
The pair are so close that they set the exact same stage time on Norton Summit (SS19), before Selley and Mckendrick had the edge on the next run and ended SS20 with a 10s advantage.
Paterson/Geue managed to overhaul that cushion on Marble Hill (SS21), the Porsche beating the Hartge and resulting in an overall lead change which put the Paterson/Geue car to the top by 1.7s.
Selley and Mckendrick aren't giving up and will hunt the new leaders back down, while Roger Lomman and Anne Bainbridge jumped to third in a 1972 Datsun 240z.
Modern Challenge
Justin Perkins and Andrien Brabbins are unbeaten in Modern Challenge while the fight for the remaining two spots on the podium is a game of musical chairs.
The Subaru pairing of Perkins and Brabbins picked up a narrow win on Norton Summit (SS19) before falling 0.3s short on Satfford Ridge (SS20).
They ended the long run on Marble Hill (SS21) with a 21s lead, while second place chopped and changed multiple times.
Nathan Robbins/Alex Johnson moved to second on the first stage of the day before Gordon Christie and Nigel Mcgaffin got back into the runner-up position on SS20.
However, with less than a second in it, the almost 20km Marble Hill was bound to throw a curveball.
In their Audi S3, Robbins/Johnson won SS21 by half a second — the top three separated by less than two seconds — enough to put them back in second position on the overall leaderboard.
The gap to the third-placed Volvo S60 of Christie and Mcgaffin is 1.4s heading into the rest of the day, while Robert and Alex Bryden are a further 30s back in fourth.
Sharing a 2020 Lotus Exige, the Brydens demoted the Ben Auld and Lucy Barker Porsche 911 997.2 GT3 CS to fifth at the end of SS21.
Classic Challenge
Lachlan Cox and Sam Martin are not giving up any time to their rivals and remain in control of Classic Challenge.
Collecting all three stage victories on Friday morning in their 1970s Ford the Cox/Martin duo increased what was a 15s advantage to 36s by the end of Marble Hill (SS21).
Will Coulter and Andrew Colliver cemented themselves in second position closely following Cox/Martin on SS19 and SS20, before finishing Marble Hill (SS21) 16-seconds off the stage pace.
Ross and Emma Smith leaped to third with a strong run on SS21, while Dean Cook and Simon Richards slid down the order dramatically.
Bill Lakstins and Tim Nicholls, driving a BMW E30 vaulted to fifth in the overall standings, after also giving SS21 a red hot go.