Driving, young driver support in Hodge's Motorsport plan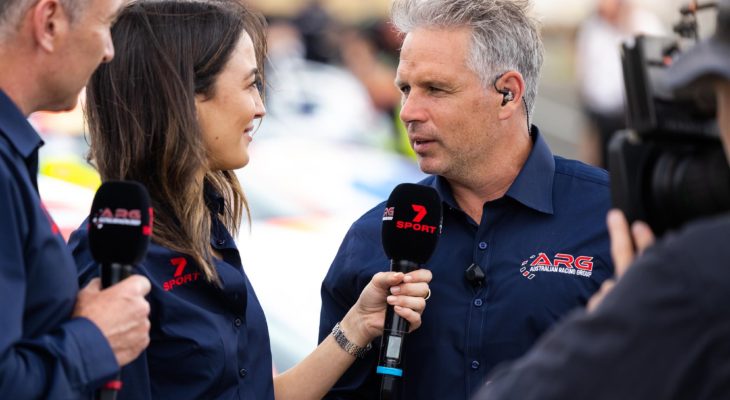 BROADCASTING from within the cockpit of a racing car and helping youngsters achieve their racing goals are key elements of Brad Hodge's motorsport obsession moving forward.
As a Cricketer, the Victorian averaged more than 55 for his country in test matches and scored more than 10,000 domestic runs for his state.
Hodge has since transitioned to broadcasting and this year joined the 7 Sport crew covering both Supercars and the ARG suite of categories at Shannons events.
His enthusiastic love of the sport are clear for all to see – however his involvement goes beyond fandom or working behind the Microphone.
While pulling together his own plans to get behind the wheel, he has also targeted the establishment of a young-driver support program thanks to some links forged while playing Cricket professionally.
"The future is interesting; you know that motorsport is financial, it's quite difficult to put together exactly what you want, but I've got some high ambitions," Hodge told the On The Grid Podcast this week.
"I've partnered with a renewable energy company called Lotus Energy who are doing work as we speak over in Africa and also in India – which is where I met them during in the IPL; they are building six smart cities.
"I spoke to the boss and I told him that in my time spent in motorsport, one of the most interesting things that I found is that there is no clear path, there's no pyramid, there's no triangle-style system like in cricket or in footy, where if you are good enough you will generally make it.
"Cash certainly comes into the equation, so we are sort of looking at building a little program of sponsorship for some youngsters, so if all goes well that will certainly play out, I'm hoping it comes through."
As well as supporting the next generation, now that his cricket bat is firmly packed away Hodge has his own competitive ambitions behind the wheel, too.
"For myself, I need some financial things to work, but I've certainly got some ambition to race," he explained.
"Maybe in GT Trophy or even Porsche Challenge, that would be pretty cool.. but my wife and kids are over there, and she's definitely a no-no!
"I'll turn it around for them, it's one of those things you just do it and apologise later!
"It's interesting, just coming out of the 6 Hour, I said to Jack Perkins and Dave Reynolds, we have to roll around in this thing next year, they're keen as mustard, so we'll make it work… Jack said we have to get one of those BMWs, I said righto, leave it with me.
"There's some pretty cool ambition, and to broadcast inside the car I reckon is even cooler, so if we can pull that off, that would be amazing, so keep your eyes and ears open and watch this space."
PHOTO: Daniel Kalisz / Australian Racing Group