That time F1 and Can-Am met at a Sydney circuit..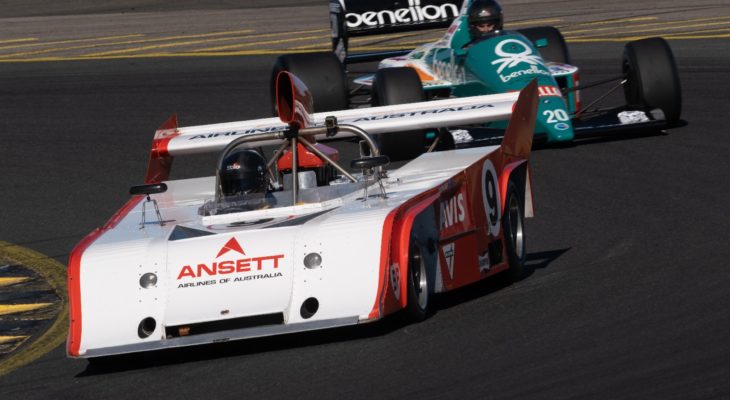 AS FAR as historic race meetings go, the HSCRA Sydney Classic doesn't quite rank there with the likes of Phillip Island's annual affair – but that's not to say it doesn't draw out its fair share of stunning machinery.
The 2021 event was held last weekend at Sydney Motorsport Park with a superb array of cars on show in the Sydney sunshine and as luck would have it, our man Andrew Hall was on the scene to capture some spectacular imagery of some equally spectacular vehicles.
While all the historic event staples delivered as usual – a big Group N field, the always entertaining Group A & C combined grid and a mammoth field of Group S Sports Cars – TRT's attention was naturally drawn to the slightly more extreme examples that hit the track at the Historic Sports and Racing Car Association of NSW promoted event.
Take, for instance, the Group QR Sports & Racing cars – which featured a glorious mix of Formula 1 machinery coupled with Can-Am monsters, IndyCars and an array of classic open-wheel and Sports Car machinery.
The category was dominated by a pair of well known racers; ex Super2 ace Josh Kean going head to head with former Formula 3 winner Tom Tweedie in a pair of completely disparate cars.
While Tweedie is well known for hustling with great aplomb the 1974 Elfin MS7 he regularly races (Alongside his similar F5000) at historic events, he was pegged against Kean's Benneton B186 Formula 1 car.
Adelaide racing fans will know the car well as it's a staple on the local scene, both at the Adelaide Motorsport Festival and The Bend Classic. It also went toe-to-toe with Jason White's McLaren Can-Am car at Baskerville, departing with a lap record.
After a few years undergoing a rebuild, the B186 – at the time the most powerful Formula 1 car in the world – was right on the money at SMSP, winning both races after a decent arm-wrestle with Tweedie.
Having said that, on ultimate pace there was just 0.1 seconds between the two in terms of their quickest laps of the weekend; both cars well into the mid 1m28s around the 3.9km Gardner GP circuit.
The class also included the notable SOKAL Bandit March 96C IndyCar, driven by Ian Buddery, the outstandingly liveried 'Mr. Juicy' 1977 Ralt RT1 steered by Malcolm Oastler and Peter Lucas (who once raced Australian GT in a Lotus) and his utterly stunning Ralt RT4 – a car that won the 1987 New Zealand Gold Star title in the hands of Kiwi hero, Ken Smith.
It would also be hard to miss the bonkers Lola T332 Can-Am car (essentially an F5000 with a body) driven by Andrew Kluver, remarkable front wing and all.
Groups MO&P combined a stunning array of open-wheelers, too; no less than 10 Brabhams of varying vintages on track together with a host of Elfins and other cool machines. A highlight was Sam Brabham, grandson of Sir Jack, driving a Formula Junior BT6 from 1963.
As an aside, we also learned that the starter for the March IndyCar is actually the Bomb Bay door-opening motor from a World War two B17 Flying Fortress..
Check out the stunning array of imagery in our exclusive gallery below, supplied with the usual grace by the incredibly talented Andrew Hall, on Fujifilm gear.