PODCAST: Scott Andrews on LeMans, Neylon on Bikes!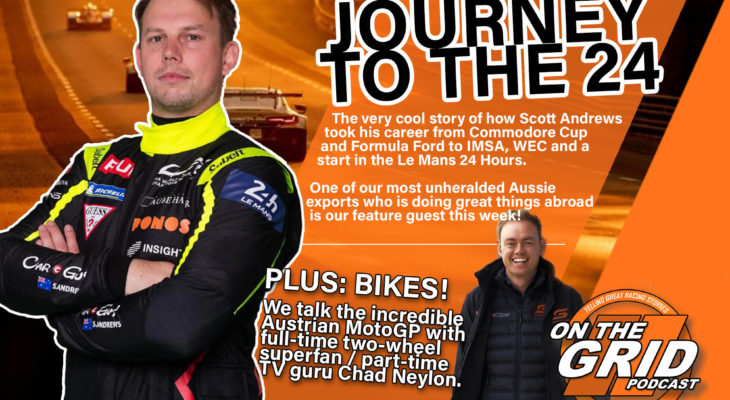 Le Mans is a long way from scenic Torquay on the Victorian coast, but that's where Scott Andrews finds himself this weekend as he readies himself for a crack at the iconic 24-Hour race.
We speak to the young Victorian, who now calls the 'States home, about his remarkable rise through the sports car racing ranks, running campaigns in WEC and IMSA at the same time, working for legends like Bill Riley, being on Romain Grosjean's team and much more.
It's a fascinating chat from one of the most unheralded Aussie's racing on the world stage – but one doing an awesome job.
Then MotoGP superfan Chad Neylon joins the show to debrief the remarkable Austrian MotoGP that saw Brad Binder hold on to win on slicks as the rest of the field mowed him down on wets. That and much more on this week's OTG!
Somehow we're still firing this thing out every week! Episode 29 – listen to it now, later, on demand, on your drive to work or whenever you get your podcast fix! The show is live now via the player below, Spotify, Apple, Google or via the Radio Show ltd. Network of channels at 9pm Thursday night UK time, on RS1.