Fantasy Supercars Airport Tracks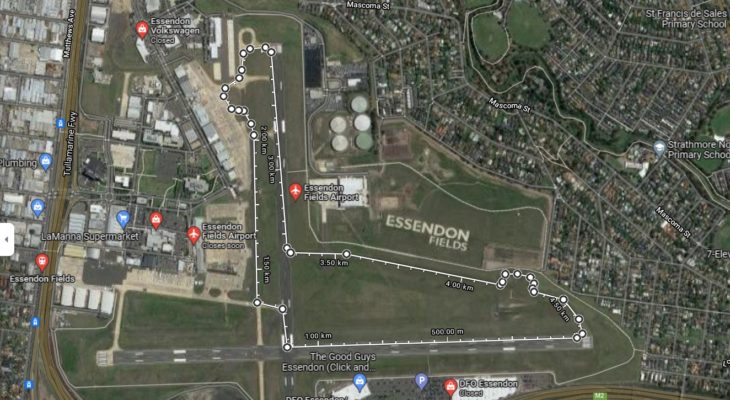 In this week's On the Grid Podcast, we rattled off a list of dream street circuits around the country, which when combined with fan feedback got the juices flying (big pun) – which Australian airports could we easily convert into race tracks?
---
Check out the podcast right here… we also chat to Craig Lowndes, who is also kind of a big deal…
---
In recent memory, tracks like Burke Lakefront Airport (Indycar), Diepholz Airfield (DTM) and Berlin-Tempelhof (Formula E) have all hosted some excellent high-level motorsport.
Closer to home, post-World War II, many former military airfields were repurposed for motorsport, with no better example than Mallala, which we have recently focussed on.
Several of our fantasy venues listed below have existing motorsport connections of varying degrees.
Repurposing non-motorsport venues for race use isn't unusual – hell, street circuits are all about temporary borrowing, while the Collie Motorplex in Western Australia is built on the disused access roads of a long-gone coal mine.
Even in the post-vaccination landscape, there is no guarantee that big crowds will instantly come into being, so there isn't necessarily the need to have mass spectator facilities – consider these fantasy tracks made for TV specials.
That said, even in normal times, airport tracks have a lot going for them:
1) In most cases, they would require a bare minimum of infrastructure and effort to turn into race tracks.
2) It would be reasonable to assume that the surfaces would be well maintained. Probably bumpy, but that's just character, right?
3) Much runoff. Teams hate the tear up of kit that happens at street circuits, but airfield rules dictate that there should be a decent clearance around runways and taxiways to solid objects.
4) Typically easy to broadcast.
5) Simple track layouts, so no need to overload on practice.
6) Using some creativity, in a lot of these instances, you can design a decent layout of fast straights and tight corners, with some artificial chicanes can be thrown into the mix to spice things up in some instances.
While this is entirely fantasy, to keep things within the bounds of reason, here are some ground rules:
1) It should be a relatively low use facility, even in times of COVID, places like Kingsford Smith or Melbourne Airport, busy general aviation airfields, or major RAAF bases for that matter, wouldn't shut themselves down for a car race.
2) It needs to make an actual track – while in the early days, tracks often ran down and back the opposing sides of a runway around a 44-gallon drum, the fantasy tracks should form a closed circuit.
3) The roads should be wide enough to handle cars racing – F1 tracks need to be 12m wide, although Baku is 7.6m wide in on point, Monaco is between 7-10m. For the sake of this exercise, let's lock in a 10m width for service roads and taxiways.
---
Motorsport Connections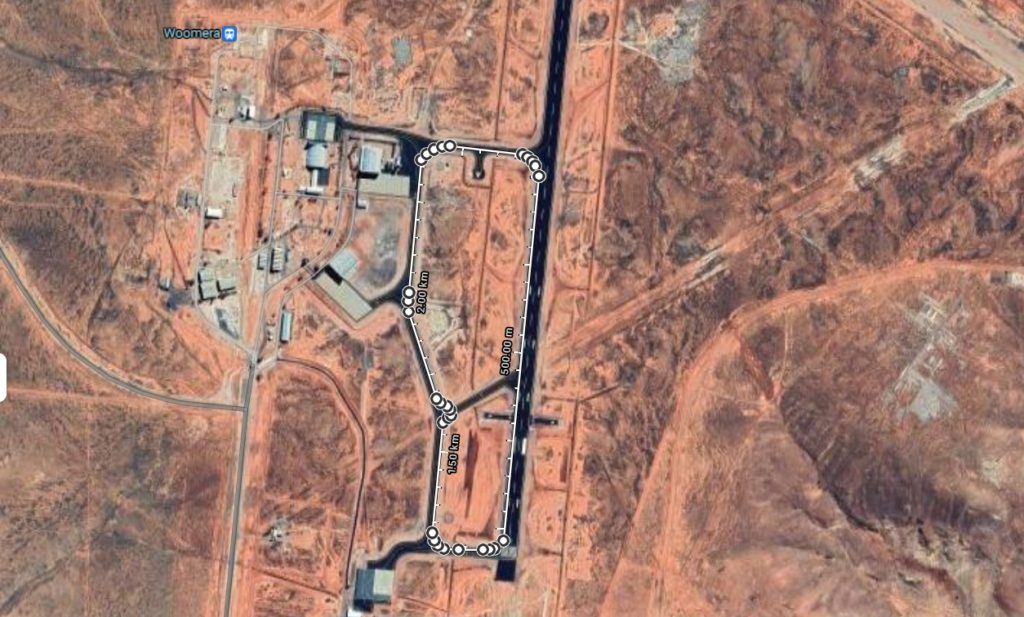 Woomera
South Australia, 2.75km
Famously used for testing by V8 Supercars squad Team Dynamik in August 2004, an act which earned them a $104,000 fine.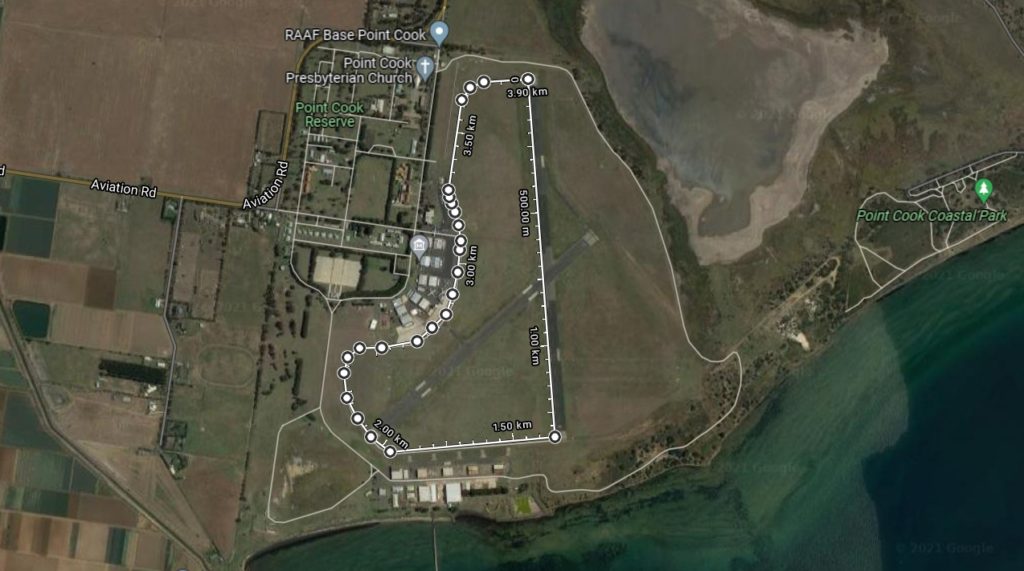 Point Cook
Victoria, 3.90km
This one is cheating somewhat – this exact layout was used for the 1948 Australian Grand Prix, which was won by Frank Pratt. The runways and service roads have not changed at all since that time. Point Cook is noted as the birthplace of the RAAF, so it contains some solid historic connections all round.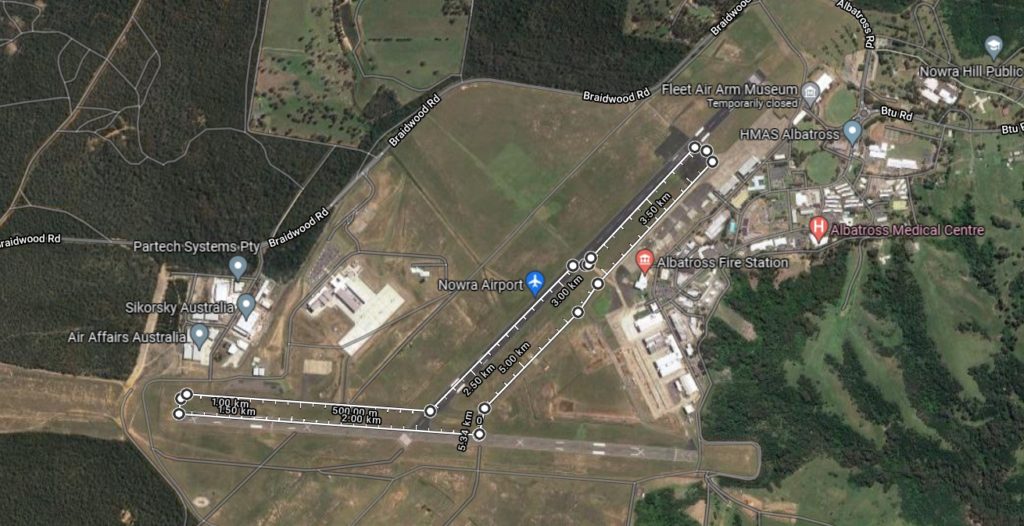 Nowra
New South Wales, 5.34km
Nowra was the home to two race meetings, one in 1947 which incorporated both main runways, and a smaller event that utilised the taxiways and apron in the acute angle made by the runways.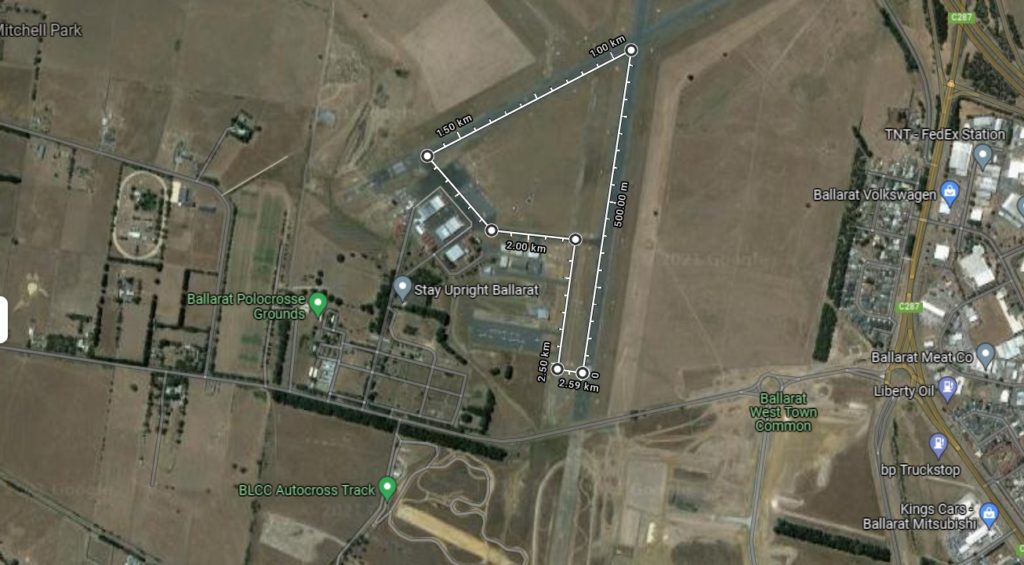 Ballarat
Victoria, 2.59km
Originally a 5.1km long circuit, the Ballarat Aerodrome was used for a handful of meetings post-war, including an international event in 1961 featuring Graham Hill, Dan Gurney and Innes Ireland. Combined with an event at the adjacent autocross track, and you've got for yourself Ballarat Speedweeks!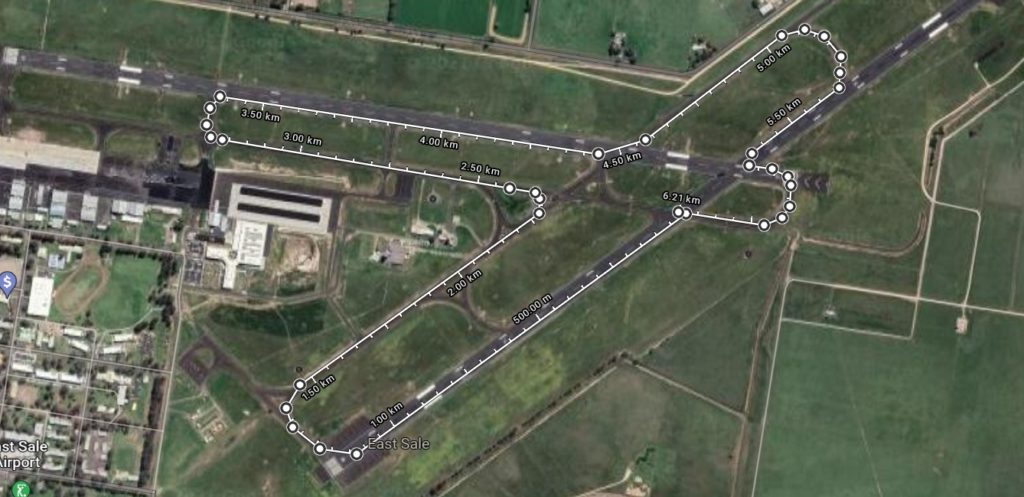 East Sale
Victoria, 6.21km
A regular venue for Supercars straight-line aero testing. Handily the same length as Mount Panorama, although the East Sale 1000 doesn't quite have the same ring as the Bathurst 1000…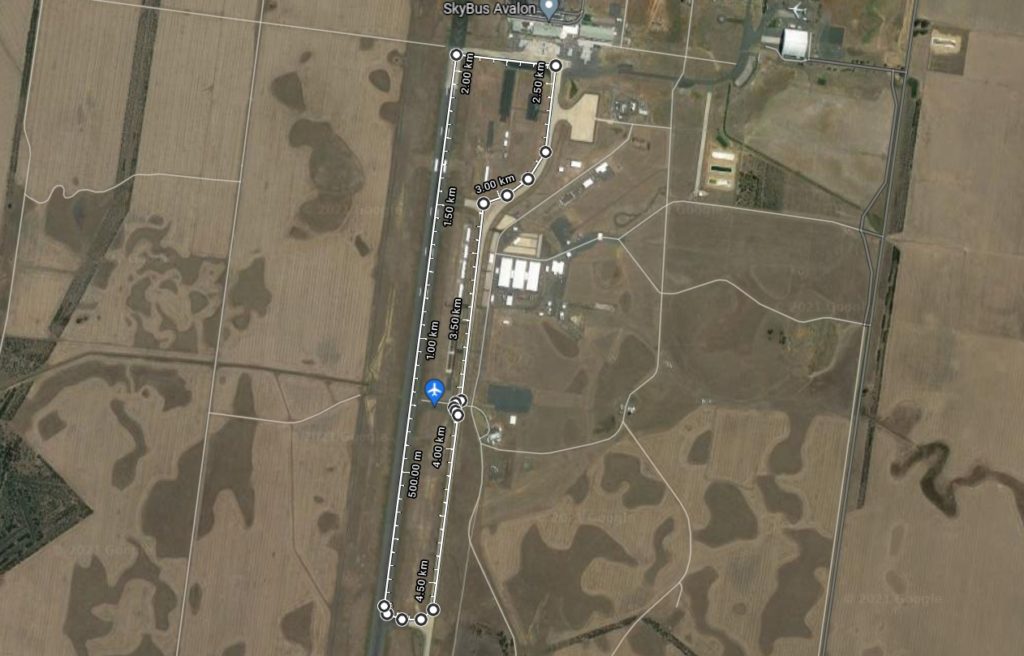 Avalon
Victoria, 4.82km
Another Vic venue that has been used for straight-line Supercars tests.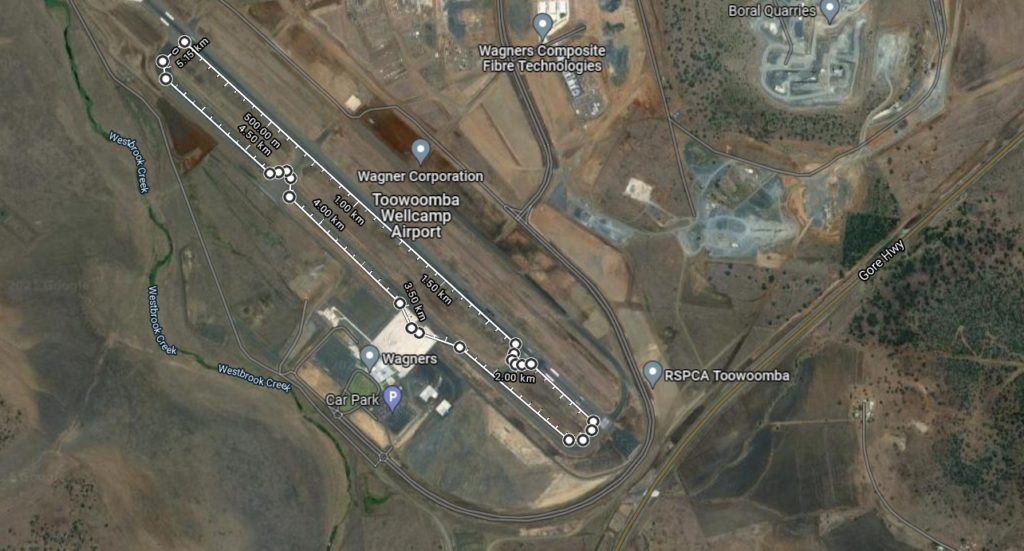 Toowoomba Wellcamp
Queensland, 5.15km
Opened with an Indycar and V8 Supercar cutting laps of the runway, with the facility's owners intent on building a standalone race track on adjoining land.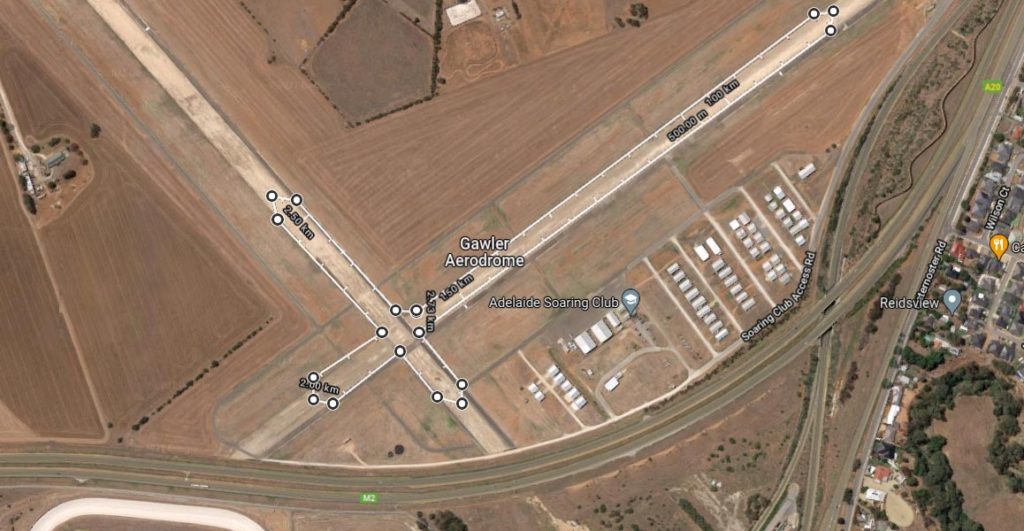 Gawler
South Australia, 2.79km
The Gawler airfield held racing from 1950 through 1953, both cars and bikes, using the two runways. Two variations were used, either ducking up onto the cross runway one way or the other, but never both ways. Our map above showcases both, but you get the idea. Racing ceased there in 1953 following the establishment of the Port Wakefield circuit. The airfield remains in use today as the home of the Adelaide soaring club, and as a base for fire fighting aircraft covering Adelaide's Northern surrounds during the bushfire season. Added bonus of being 11 minutes from TRT HQ. – RC
Slight bending of the rules, but anything at all that gets a TRT sponsored junket to the Barossa is 100% worth happening. –MW
---
State by State
Western Australia
Clockwise from top-left
Broome
Western Australia, 3.27km
RAAF Base Curtin
Western Australia, 6.93km
Learmonth
Western Australia, 5.33km
Port Hedland
Western Australia, 4.68km
Editor Richard Craill this week picked Broome out for a fantasy street race, so here's a ready-made solution! RAAF Base Curtin doesn't exactly have a lot of nearby infrastructure, fingers crossed the teams won't mind residing in the on-site immigration detention centre…
---
NEW SOUTH WALES
Clockwise from top-left
Tamworth
New South Wales, 3.91km
Dubbo
New South Wales, 3.52km
Coffs Harbour
New South Wales, 3.30km
Coffs is certainly a nice part of the world with its seaside location, and a perfect place to host the Big Banana 500.
---
SOUTH AUSTRALIA
Left to right
Edinburgh
South Australia, 5.16km
Mount Gambier
South Australia, 3.47km
Lots of really interesting layout choices available between this pair… Coordinating the racing with the RAAF's standard P3 Orion mid afternoon training flights out of Edinburgh would prove a scheduling challenge.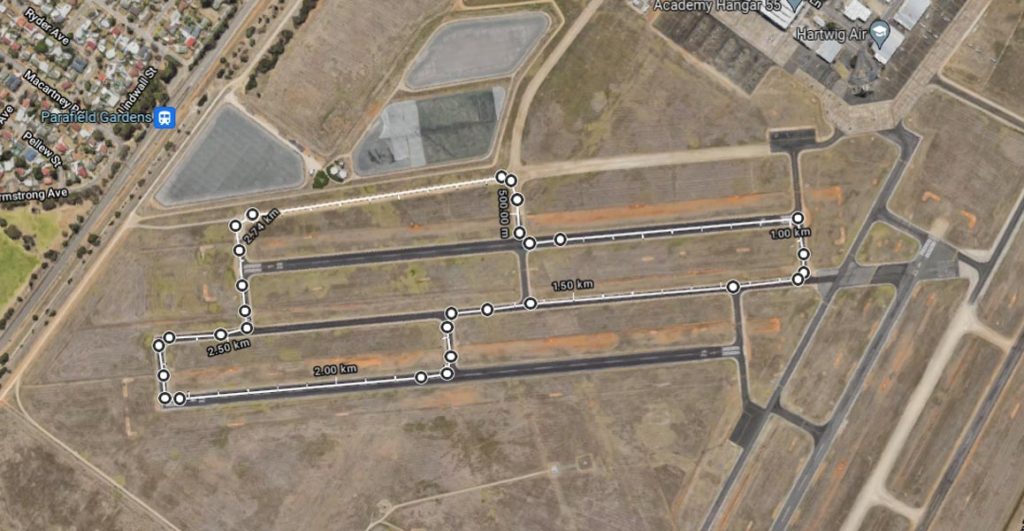 Parafield
South Australia, 2.74km
One of the busiest civil aviation in Australia, with over 250,000 aircraft movements a year, Parafield is just 20 minutes from Adelaide's CBD and if Cleveland is your inspiration, this place is about as close as you'll get. Four runways active runways mean you can close off half the airport and yet still have the other half functioning perfectly. Sure you'd get some noise complaints because it's slap bang in the middle of the populous northern suburbs, but everyone is already conditioned to the planes anyway. Railway station next door makes travel easy and has the added bonus of a classic aircraft museum and a bar within the precinct and yes, I have thought about this before. – RC
---
ELSEWHERE
Clockwise from top-left
Bendigo
Victoria, 2.65km
Rockhampton
Queensland, 3.81km
Katherine
Northern Territory, 5.29km
Katharine presents an interesting layout, although the race meeting would have to be scheduled for a weekend when an enemy country isn't planning on invading northern Australia…
---
You could also at a stretch include some of the busier regional airports and RAAF bases, such as Essendon in Melbourne and Pearce RAAF in Perth… where would you hold an airport car race? Hit us up on the socials @theracetorque with your thoughts and the gems we've missed!