PODCAST: Moffat on Bathurst, Westacott on AGP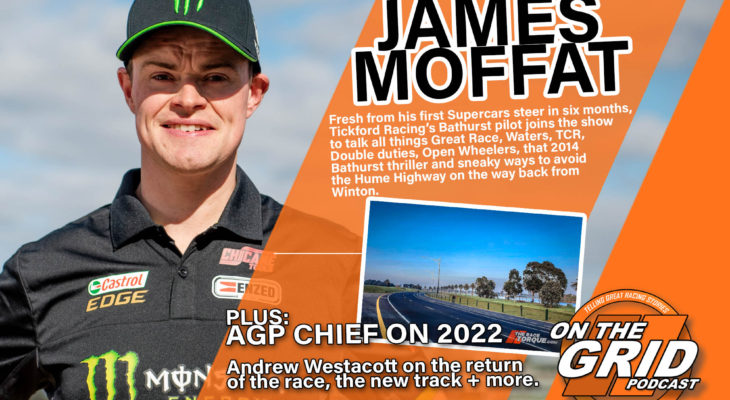 BIG SURNAMES are the story of this week's On the Grid and we're not talking about 'Schibeci', either. James Moffat joins us on his drive home from his first steer of a Supercar in six months, so he's as fresh as anyone can be to reflect on his day at Winton.
Moff talks his Bathurst campaign with Cam Waters, co-driver life, Tickford, TCR and more; plus sneaky trips about getting back to Melbourne without using the Hume..
We're also joined by Australian Grand Prix chief Andrew Westacott, who brings us up to speed on the new date, the new track and all the changes as we look forward to F1 returning to Australia in 2022.
Episode 38 is back with more guests, less inane rubbish from us! listen to it now, later, on demand, on your drive to work or whenever you get your podcast fix! Did you know that every time you chose to not listen to OTG, a race track dies? I mean, there's no evidence to that, but do you really want to take the risk? The show is live now via the player below, Spotify, Apple, Google or via the Radio Show ltd. Network of channels at 9pm Thursday night UK time, on RS1.