DORIC POWER RANKINGS: Sydney – Brown Out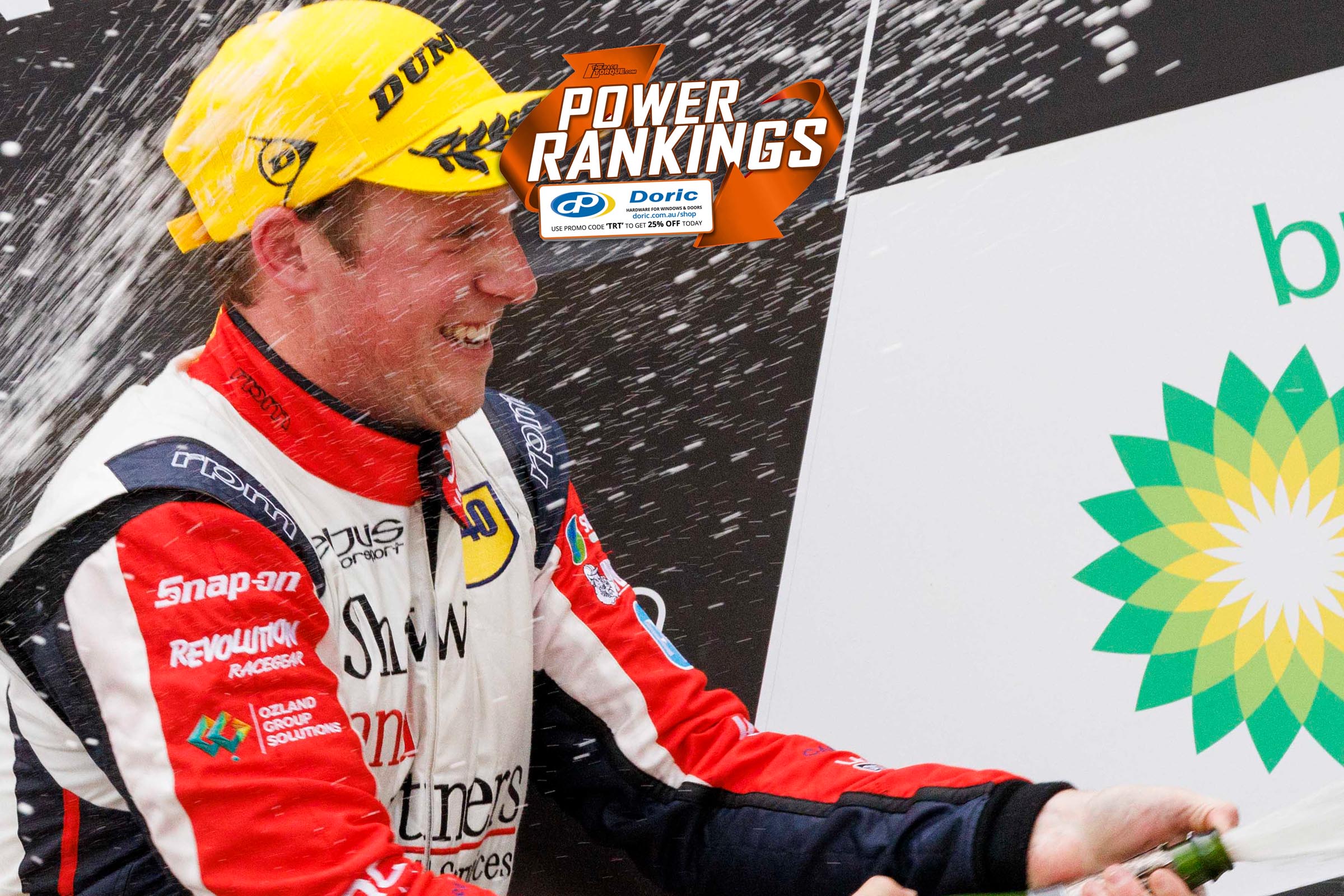 JUST when you're about to throw in the towel, sick of a third straight week of the same Triple Eight, DJR stuff at the same Sydney circuit each week, along comes Will Brown.
Race 28 of the Supercars championship was everything that the TRT Doric Power Rankings looks for in a car race. Sure, Race 27 was good, but 28 was the money race that we all probably needed coming into the business end of the season.
This was a weekend where it was actually difficult to find out things to put in the NOT column (except for you, Tickford. Naughty corner again..) and the HOT side of things had a surplus of excellence.
Which is exactly what we want. So, be like #DoricGuy and log yourself onto their website and use the promo code 'TRT' to get 25% off, and then settle in for the latest edition of the Power Rankings which remains, we humbly suggest, the only column you need in your motor racing life.

---
HOT
1. Will Brown, Erebus, Race 28.
HOT, HOT, HOT. The layers of storytelling behind this result are phenomenal and the reasons why when Supercars racing is good, it's really bloody good. The rookie driver for the underdog team, denied two weeks in a row by matters outside of his command, beat two of the greatest ever drivers with more than 170 victories between them to claim his maiden victory in a dramatic race that went down to a grandstand finish. Oh, and said greatest ever spent the last 10 laps boxing-on in an inter-team battle between them that was as exciting as it was not surprising at all.
Third in race one for young William was solid – despite another tardy stop – but Erebus nailed the finale', put their pit lane dramas behind them and produced when they needed to. Brodie grabbing 5th, 9th and 11th in the three races was evidence of their all-round performance once again.
But the main reason this driver, team and race gets the top spot? It's just a great story. It's good for motorsport, it's good for sport in general and it's the kind of shot of adrenaline that motorsport fans needed after three weeks of almost-but-not-quite-brilliant racing at the same circuit.
That, perhaps, is the best HOT of all.
Oh, Bonus points for the fully hectic skids post-race, too.
---
2. Sienna Crompton
WE won't lie, Sienna (and by association, Neil) should probably call the police here because they have been utterly robbed of top spot in the rankings this week. It was cool enough that young Sienna Crompton got to sing the national anthem on Saturday, but then when Supercars dropped the split screen video of Neil's reaction.. oh man.. someone was cutting onions in TRT HQ.
A reminder that for all the competition, the dollars, the argy-bargy, the egos and the drama, motorsport is not only a people game, but it's often a generational family affair too. This was a highlight of the season.
---
3. Anton de Pasqaule
HERE'S a dot-point summary of Anton's weekend.
0.3sec fastest in P1
0.1sec fastest in P2
0.3sec fastest in Q1
Won race 26, had to fight back after a four tyre stop by passing the Triple Eight cars
0.1sec fastest in Q2
P3 in Q3
6-second win in Race 27, with a four tyre stop paying off as he overhauled his teammate
Solid points with P9 in Race 28 after having no tyres left after earlier four tyre stops
In a weekend where tyres play such a role, that's as dominant as you're likely to get. Big one again for ADP.
---
4. Triple Eight
KEEP reading for more on the Red Bulls, but the good stuff first as always from the best team in the business. Shane's 2nd, 3rd and 3rd means he's still leading the Sydney Cup and for the fourth round in a row will start next weekend leading the championship by more than 300 points – an entire weekend.
Jamie finished 4th, 2nd and a rather combative 2nd in the final race, after perhaps exercising some team owner discretion, to maintain his grip on second in the championship and what is likely to be the best farewell-season for a retiring driver in the sport's history. And that's before he teams up with Craig Lowndes for Bathurst..
Also See: Not.
---
5. Race One Start
WILL DAVISON was the punching bag in one of the most talked-about starts of the season, as Jamie Whincup went hard left and almost put his good mate in the fence. It's in the rankings because it's hard, aggressive, competitive sport which is what Supercars needs to be, and no-one got shunted into the fence at 200km/hr.
---
---
6. Race Two Finish
JUST when you thought race 27's closing laps were good, Race 28 came along and laughed in your face – but that SVG-v-Chaz thing was bloody entertaining.
7. Matt Stone
PER Chad Neylon in pit lane, it turns out if you're the fastest tyre-changer in the team you're a lock for doing the job in the lane when it comes to pit stops – even if your other role is the team owner..
Such is the case at Matt Stone Racing, where the second-gen team boss led by example by getting on the tools and going 'over the wall' to help his team engineer their best result of the Sydney Swing yet – thanks to strong eighth and twelfth placed finishes from Zane Goddard in races 26 and 27, respectively.
Zane also gets a special mention for those performances here.
---
8. Jordan Cox
WE don't need an excuse to put Jordan Cox in the rankings.
We'd need one to NOT put him in the rankings.
As such, we present: Jordan Cox, in the rankings.
---
9. TV of Things
ONCE again the Supercars Media crew make their mark by continuing to mix things up and innovating.
The new turn one camera, down low on the exit of the corner, was inspired. The last time someone improved a corner by moving a camera so much, it was 1987 when Mike Raymond said 'What if we put a camera on the outside of the Kink at this new bit of road they call 'The Chase'?'.
After three weeks of same-same race track it was good to see things being changed up this week and we could watch an hour of super slow-mo from there.
And then there's young Master Jack Tunnicliffe. The son of Supercars broadcast Senior Producer and Head of Production David got his on-air debut at the weekend and, impressive haircut aside, threw some cutting questions at Crompton and Skaife that may or may not have been prompted by his (we assume long-suffering) father.
Highlights included asking MS about 'Australia's fastest corner' and NC about the sheep stations he is so fond of.
10/10 would recommend for a spot on the broadcast moving forward, but in the meantime, a spot on the Power Rankings has been reserved for young Jack.
---
10. Team 18
AFTER two weeks of tourment and toil, finally a result or two for Team Charlie: 6th, 13th and 6th for Scott Pye was excellent, while Frosty's 13th, 6th and 19th probably didn't showcase his real potential.
Bonus points for the IRWIN car self-fixing itself on Sunday. That was excellent and we hear Triple Eight has already lodged a protest about that new tech that they don't yet have.
(We're joking, obviously.)
---
WHAT
This Happened
---
Tough Qualifying
---
Petrol Wars
---
WHAT POSTSCRIPT
JC's Faux Pas
---
NOT
1. Triple Eight Self Own
THERE'S almost no doubt that Triple Eight kicked an own-goal on Sunday afternoon, the battle between Shane and Jamie doing just enough to give Will Brown the breathing room he needed to hold on and grab a maiden win.
Now make no mistake, this isn't here because we're upset they didn't win (we're not) or because we don't like teammates battling (we absolutely do). It's here because this team, that dominates the sport and has been renowned for winning for two decades, shot themselves in the foot.
It was absolutely the right thing to do, absolutely the best thing for the sport and absolutely a massive highlight.
But self-owning this hard and putting poor old Dutto in such an awkward situation gets you a NOT in our books, which is why it is here.
---
2. Full Tickford
JUST when you think the tide is turning, Tickford Racing went full Tickford at the weekend and were utterly atrocious for a good part of the weekend once again.
It started out when Jack Le Brocq fenced Cam Waters on Saturday, necessitating a late-night rebuild of the car that saw Waters just make qualifying two on Sunday morning. Courtney spun at Turn one and the three cars from one of the best teams in the sport finished 19th, 21st and 22nd.
Oh, dear.
Then on Sunday, Race 27th delivered 14th, 15th and 16th. Oh dear again.
Race 28 was better (there's a theme here) with Waters finishing 7th, Le Brocq 10th and Courtney 13th, but once again it seems that this team, whether by their own doing or external forces, starts each weekend so far behind the eight ball that it takes them three races to get it together.
Here's hoping, for their own sake as much as anyone else's, that they return to their Bathurst form when they roll into the 1000 in a few weeks time.
---
3. Winless Will
POOR old Will hasn't had a great time of it lately and Sunday at Sydney Motorsport Park was pretty much that in a nutshell. Was looking good for a win in Race 27, but then was overhauled by teammate Anton despite his tyres only being four laps younger.
Compounding issues, he started 15th for the final race of the weekend.
What does this guy have to do to win a race for the first time since Bathurst 2016? The Number 2 car at DJR has been an interesting story over the last few years and while it's clearly competitive – you don't lead a Supercars race if you are not – there's still some tuning that needs to occur on the #17 side of the garage.
---
4. Improved Production Holden Crunch
THIS hurt, the least of the dramas being it's probably two less Holden's in the world.
They're not making any more of them, you know.
---
5. Practice
AN HOUR of practice last week. An hour more this week. Then a test day on Tuesday and then, just for good measure, some more practice next Friday.
If we were at four different circuits we could understand this, but the amount of completely meaningless (to the punters sitting on the fence or on TV, anyway) running has been the strangest thing about these last few weeks of Sydney residence.
---
6. Kelly Grove Racing
REYNOLDS still MIA (and silent) aside, this was a very off weekend for Kelly Grove who clearly are looking for the sweet spot in terms of their consistency. Andre had a challenging weekend – being late to the grid for Race two and then having to look after their fuel was an odd one – and delivered 10th, 17th and 24th in the three races.
After strong runs in the rain last weekend, Luke Youlden's second time out was much more of a challenge with finishes of 20th, 23rd and 23rd, respectively, though who knows if that's the team or not.
Challenging times.
7. Grid waffle
WAS IT just us, or was there an overtly long time of nothing happening between a final support race and the Supercars actually launching into turn one. There is definitely a need for the 'Grid Wank' (it's an industry term) to occur – it's very valuable for the corporates and sponsors – but a lot of the time it feel like its 40-minutes of momentum killing nothingness.
And that's even when five minutes of it are filled with Larkham-style Gold in the Hino Hub.
---
8. Percat Race 1
NICK has been a star for BJR this season and especially in the last few rounds in Sydney, so a suspension breakage was an odd, momentum-killing moment that stopped him in his tracks.
---
9. #NoSocialHate
SERIOUSLY, people need to take a chill pill. The stuff thrown at Will Davo following Race 2 was rubbish, for instance.
If you want to rag on someone by hiding behind a username on social media, don't.
Our sport doesn't want you and you can absolutely bugger off.

(Written, authorised and spoken by R. Craill for TRT).
10. Thank goodness there's a different format next week
SO, it's been nice, these last three weeks, but is it only us or is it just so good that next week we get some 250km races, refuelling, co-driver sessions and super-soft tyres to really mix things up? No, we didn't think so.
---
TWEET
Doric Guy Update
Wings
The Debris Field was Large
It's Called Fa-Shun
Improved Production After Dark
And then…
Puntering It Up
---
MEME