DORIC POWER RANKINGS: Bathurst 12 Hour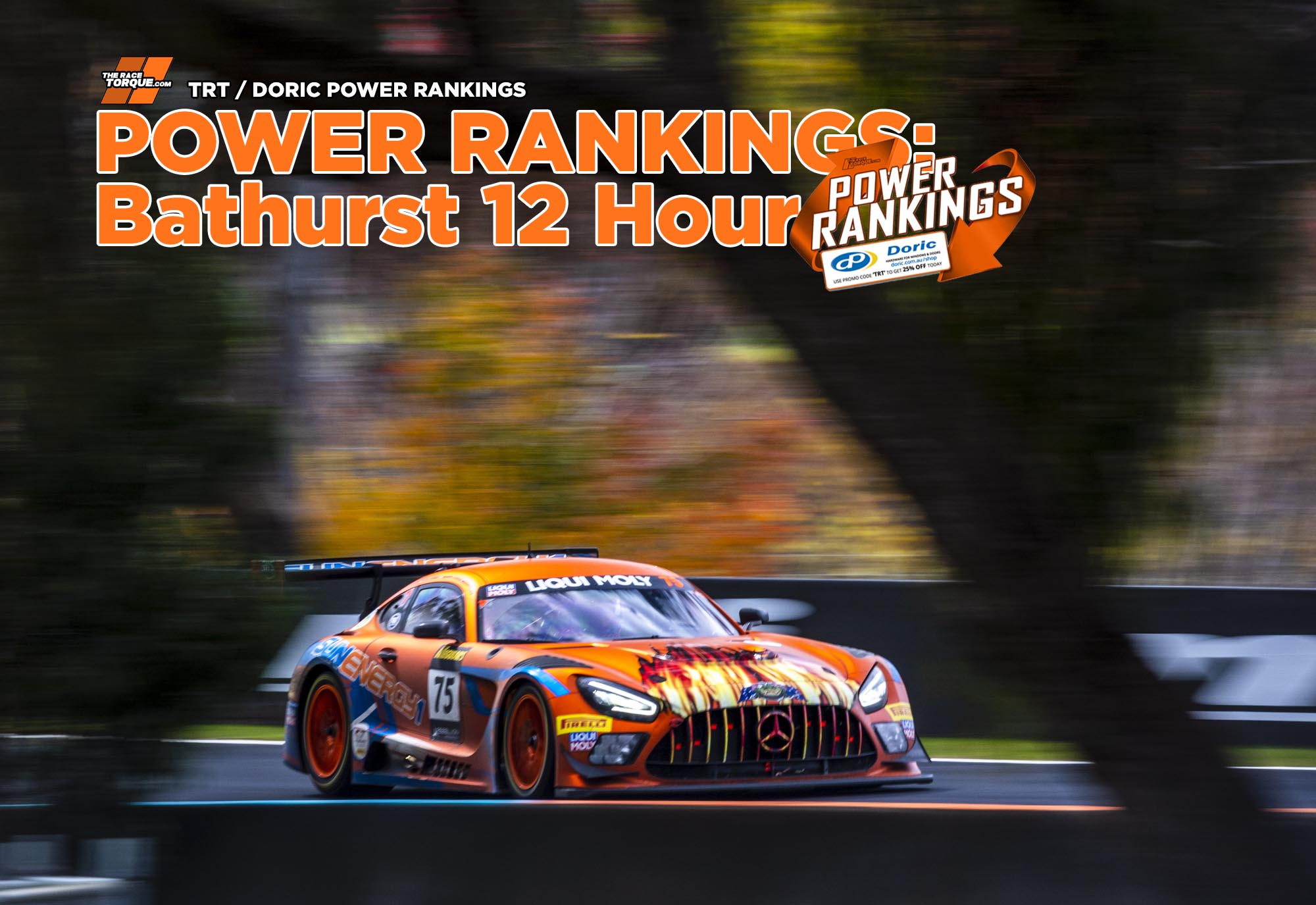 AFTER 830 days away, the LIQUI MOLY Bathurst 12 Hour returned at the weekend, with a flat-out race in challenging conditions delivering a Mercedes-AMG 1-2-3.
As always with an event with the scope and scale of Australia's International Enduro, there were lots of highpoints – but some stuff that needs some explaining, too. As such, welcome to TRTs debrief of all the Hot, Not and What from the 12-Hour, sponsored by our friends at Doric.
---
---
HOT
1. Kenny & Co
ONCE again Bathurst delivered a winning combination filled with emotion, passion and best of all a superb backstory.
Kenny Habul's drive and desire to succeed at Mount Panorama, created from a childhood spent coveting and ultimately working with the great Peter Brock, has been well documented. This wasn't just a wealthy bloke spending a wad of his own cash to win a car race – this was a guy that has a deep and genuine devotion to the place, to the point where he bought a house on the circuit so his US-born kids can grow up with the circuit (literally) in their backyard like he did.
And then there's Jules Gounon, who becomes the first back-to-back winner in a decade and did so with a pair of mighty stints. His first afternoon stint was relentless and line-perfect and then at the end he responded every time it looked like his German rival Maro Engel would begin to peg down his eight-second lead. Jules is regarded as the best GT racer in the world at the moment and proved why again on the weekend – and his passion was evident when he crossed the line, not even slightly diminished from when he won in 2020.
Luca Stolz drove for more than 4:40 in the race and copped all the worst of the conditions, while Martin Konrad was quick and efficient as the second Bronze driver.
A stunning performance that saw them play themselves in throughout the day to lead at the start of the final quarter – and never not lead from that point on.
Most of all, it was clear that the Bathurst gods wanted them to win: two drive throughs and a trip backwards into the sand at Murray's could have changed their day for the worse – but it didn't..
---
2. Craft-Bamboo's wild ride
THE only fully international team in the race this year were rewarded with second in the race – their best ever finish – but boy did they ever have to survive a lot to get there. Maro Engel hit a 'Roo in Friday's night practice, denting the front guard and A-pillar of the car. Then the team missed all of Saturday's running while executing an engine change after AMG technicians found 'Anomalies' in the data on Friday.
They then botched their first CPS stop – falling 1/10th short of the mandatory two minutes – but then proceeded to confound everyone in the lane by rolling out a strategy that was baffling early but later paid off. With the rules stating you couldn't do back-to-back CPS stops under a yellow, they instead elected to pit on the green flag lap immediately following each Safety Car. Sure they lost track position, but it also meant by the end of the fourth hour they had ticked all their mandatory stop boxes and could play the race on their terms for the remainder of the day.
They made 21 stops en route to second, but what a performance this was.
Maro Engel was mighty – his closing double stint as good as any in Bathurst history as he battled with a serious vibration in the front of his car but still matched Gounon tenth for tenth in their intense fight to the flag. Daniel Juncadella was very impressive on debut while Kevin Tse's performance as an Am saw them easily match, if not best, both the Sun Energy 1 and T8 Mercs in the Bronze-driver runs.
Team boss Darryl O'Young told TRT it cost four times as much to bring their car to Australia in 2022 compared to 2020, but they should be glad and proud that they did. They were huge.
---
3. Triple Eight Podium
TRIPLE Eight have been very good at getting close to Bathurst 12 Hour wins with their in-house AMGs for the last few years, only to fall short at the final hurdle and 2022 was another example of that – the Yellow Mamba just lacking the ultimate car speed to go with the sister Mercs. Played a massive role in the SunEnergy1 car getting home, though, and in the midst of a Supercars season and a GT World Challenge Asia calendar this was another proof positive of why they're the best team in Australia.
---
4. Kelvin van der Linde
WORTH the price of admission alone, the South African's final stints in the race were borderline remarkable. Angry at the penalties and the miscue by the Audi Sport Customer Racing team (see: NOT), VDL threw himself at the Mountain in an optimistic if unrealistic bid to unlap themselves on raw speed alone. Regardless, he blew the field away in the closing stages, at one point smacking out three laps in the mid 2m03s within less than one-tenth of each other. One day Kelvin is going to get a car on the lead lap in the closing stages of a Bathurst enduro – and we suspect people won't see which way he went.
---
5. Simply having a Bathurst 12 Hour in 2022
SUPERCARS, ARG, SRO and everyone involved moved heaven and earth just to get a Bathurst 12 Hour in this year, and while some people questioned even running it, ultimately that was a non-argument. Was it perfect? No, of course not. And you'd find few who would support running it in May again – but the fact that the race happened, and the fact it was as decent as it was, makes all the effort, compromise and dedication to getting it done all the more worthwhile.
---
6. Chaz's pole run
THE Change to qualifying was awesome and produced a thriller, thanks mainly to Chaz Mostert.
---
7. Getting the race start in
CRAIG BAIRD spent a lot of time looking at his radar and looking at Fog patterns of the weekend and while some said it was sketchy, on the whole it was a huge effort to actually go green on Sunday morning. Some of the Aussie drivers might not've liked it – but it's impossible to argue it wasn't utterly compelling viewing.
---
8. Jake Camilleri running second in a MARC Car after 3 hours
IF THE race had stayed wet, there is an entirely realistic chance that the MARC Cars Australia car could have won the thing. Jake Camilleri was massive in his stint and had his thing P2 for a while. Unravelled later in the day, but still – proof positive of how good the Aussie designed, developed, built and run MARC II Enduro Specials are.
---
9. Racing for the Prostate Cancer Foundation
THIS was a sensational idea and brilliantly executed, with more than (at last count) $60 grand raised.
If you'd like to donate, hit the image below!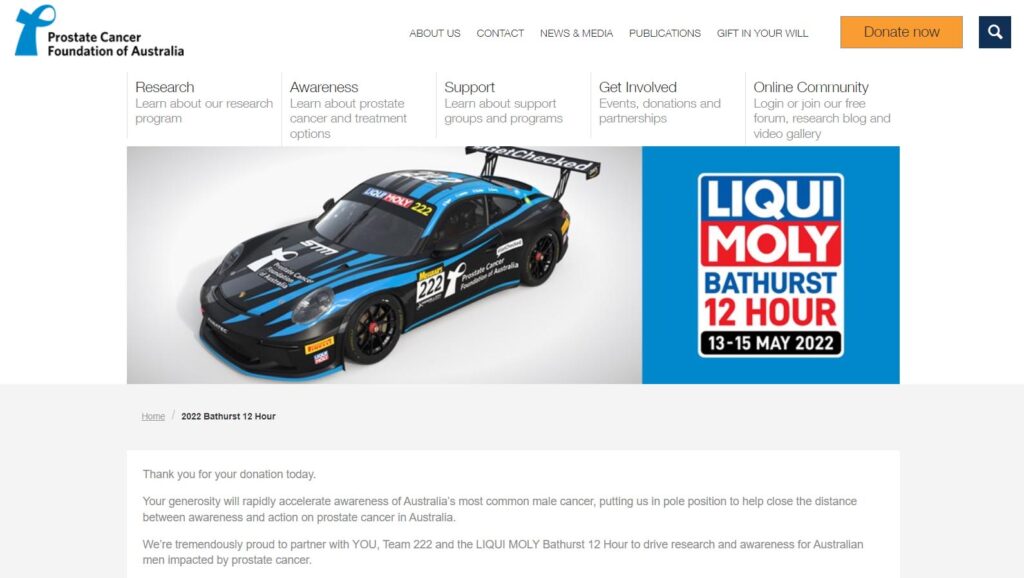 ---
10. Bathurst ressurections
MANY PEOPLE moved heaven and earth to ensure that all 20 of the entries that started the weekend made the start on Sunday – which they did.
Audi's rebuild of a brand-new car for the Supabarn team was enormous, shipping an older-gen car from Melbourne overnight on Friday to arrive on Saturday morning at 6AM. It was then upgraded to EVO II specification and all the enduro-specific bits were added. It was clearly a good job, because they finished 9th and won the AM class in the process.
Team BRM likewise resurrected their Audi following Mark Rosser's big shunt at the dipper on Saturday morning: All four corners were rebuilt, the front end replaced and a crack in the chassis repaired. At one point the team said a new headlight appeared from nowhere to be added to the mix – without them knowing from where it came! The rebuild was good enough for Joey Mawson and Nick Percat to drag the car to the race lead in the morning, which was an enormous performance.
The list goes on – Craft Bamboo's engine change, the #52 MARC Cars car being completely re-wired.. and so on. Such is Bathurst..
Bonus Hots
Bathurst means plenty to the Euro's. Mercedes-AMG, Audi and Porsche all sent engineers out to Bathurst to assist their customer teams, with the former adding in their boss of customer racing Stefan Wendle in the process.
Mercedes AMG won their first B12hr since 2013, and the first for the AMG GT3 after a run of near-misses in recent years, but also swept the podium – the first time it's been done in the GT era.
Wall Racing's run to fifth position was unheralded but hugely professional and well deserved.
Marc Cini scored his best ever Bathurst result in sixth, and posted probably his best Bathurst drive.
Photos of GT cars in the fog are immense. Full stop.
The TV coverage was superb, as always, but we're massively biased: See below.
---
SUPER-MASSIVELY HOT PRODUCT PLACEMENT
---
ATTABOY
---
WHAT
Going full Kenny
Objects may appear closer than they actually are
Posted without comment
Anyone else #teamchickensalt?
---
NOT
1. Audi.
AUDI entered the 2022 race as favourites. They had seven cars, on paper they had probably the best all-round driver line-ups, they dominated qualifying and everything looked right in the world for them to claim a record fourth Bathurst 12 Hour title.
But then their world imploded.
Firstly, as fun and thrilling qualifying was the shootout between Kelvin van der Linde and eventual Allan Simonsen Pole Award winner Chaz Mostert was not without its repercussions – attracting the attention of SRO's technical chief Claude Surmont who promptly applied a balance of performance change (as is his right, and indeed his responsibility under the way BoP is managed) to the R8's, whacking them with 15kg to carry on Sunday – which caused some consternation among the Audi hierarchy present.
The issues for the Coinspot and Tony Bates-entered cars were well documented and just things that happen at Bathurst, but Audi dirtied the sheets with their two lead cars on Sunday and cost themselves a shot at a Bathurst win.
The driving time stress for Brad Schumacher, in particular, was clear for anyone following the race relatively closely to see well before he jumped into the car for his final stint. In fact, if the team were watching the TV broadcast they would have been aware of it as both Chad Neylon and Richard Craill discussed it at length – the former strongly suggesting Audi needed a Safety Car break to help their dire situation.
Of course, that never came and they were whacked two minutes for exceeding Brad's driver time in his final stint. It was a race ender for the team, dropping them off the lead lap and into a position they'd never recover – despite clearly being the fastest car on the circuit by at least half a second.
That the error was repeated with Car 777 is borderline unforgivable.
This was an incredible miscue by the team on both counts, breeches of regulations introduced this year but very clearly laid out in the sporting regulations beforehand.
That Audi, with all that speed to burn and that driving roster and all of that potential, failed to even score an outright trophy on Sunday is one of the biggest own-goals in Bathurst 12 Hour history. They have no one else to blame but themselves and you'd imagine the head honchos at Customer Racing HQ in Ingolstadt will not be happy.
---
2. Negativity around the event
PREDICTIONS of doom by social media haters didn't really come to pass, did they? Sure, at times there were quiet periods of the race that a larger field might have aided – but then again few people expected such long green flag stints anyway. A good crowd, great TV and a decent race that saw three very good cars on the lead lap battling for a win was a good outcome, as was 20 cars entering and 20 starting the race. Time for the trolls to get back in their box – this event was in every measurable means, and an overwhelming majority of the 'feelings' criteria, too, a success.
---
3. Coinspot Audi woes
A BAD Bathurst day for the polesitters, with gearbox issues and finally a shunt ending their day, and removing a key contender from the mix. Pole is certainly no guarantee of a win at Bathurst..
---
4. Theo Koundouris's Friday stack
THIS was one of those Bathurst shunt's that just makes you cringe. Theo was briefly knocked out during this massive hit at Reid Park (That's why the car briefly went to full throttle) but was otherwise undamaged. Scary, and remarkably captured from multiple angles by the 12-Hour's own live stream and (off air) broadcast feed.
---
5. Kenny Habul's restarts
IT'S hard to put Kenny in the NOT column as well as leading the HOTs, but you've got to know the local rules of the road (or in this case, the race) and it was lucky his pair of restart miscues for overlapping didn't cost car #75 more time than it did.. they dodged the bullet, Matrix style, there.
---
6. Jack Perkins finds the wet & the wall
Called it the worst moment of his career (but then quoted his old man with the 'young bloke, cold tyres..' line), but ultimately Jack was just another victim of the Mountain and it's treacherous, changeable conditions.
---
7. Grove Racing's wild day
THE LONE outright Porsche dropped off the lead lap early, but were there or thereabouts for most of the first half – but some key errors cost them big time. Brenton Grove's off at Hell Corner when it began to rain was costly, while Stephen spun under Safety Car later on. He was then fortunate to walk away from a massive shunt at McPhillamy Park later in the race which ended a promising run to at least a top five.
---
8. RAM Motorsport adventures
ROUGH old race day for these guys, who did such a good job in the lead up and in the shootout, as well.
---
9. Invitational fizzle out
THOUGH limited in number, it was a shame to see the invitational class fizzle out somewhat in Sunday's enduro because it had the real potential to be entertaining. Sadly, one MARC crashed out early, the other had issues late and the KTM failed. Bit of an anti-climax there.
---
10. Entering the pit lane like this
---
Honourable NOTS:
The 2022 of Things: Missing some staples
Yasser Shahin passing cars under Safety Car
D'Alberto on Talbot
---
WOULD HAVE OTHERWISE BEEN A NOT, BUT: CHAZ
If the Power Rankings were to be posted mid-Saturday, the late change to the program and top ten shootout process would have found a home somewhere in the NOT list.
It was entirely understandable in the overall scheme of things, and in the context of the history of the event, but top ten shootouts at Bathurst are awesome.
One lap, all on the line, all of the focus on one car. As it transpires, the twin five car shootouts were brilliant theatre, playing out perfectly for TV. Chaz's heroics made everyone forget that a top ten shootout was even an option.
---
TWEET
You'd give an arm and a… err… to get to Bathurst..
A man who has things sorted out
Almost the most expensive shunt in the history of Bathurst…
Sick lid
When the supermarket sponsored car has a prang
Fingers crossed the sponsorship was for cash money…
What a product
Thank you
Race winning setups
Close enough
---
MEME
With thanks to Chad Neylon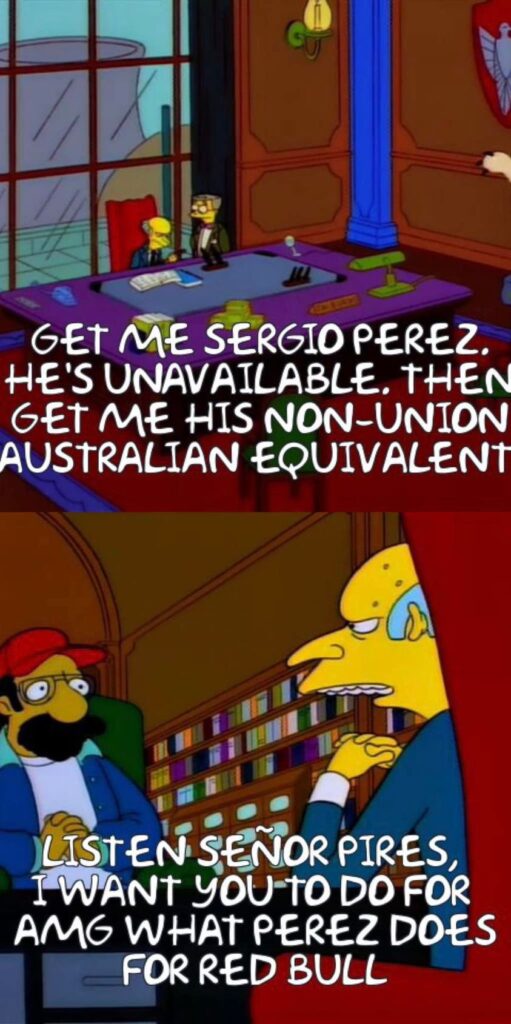 ---
---