DORIC POWER RANKINGS: Darwin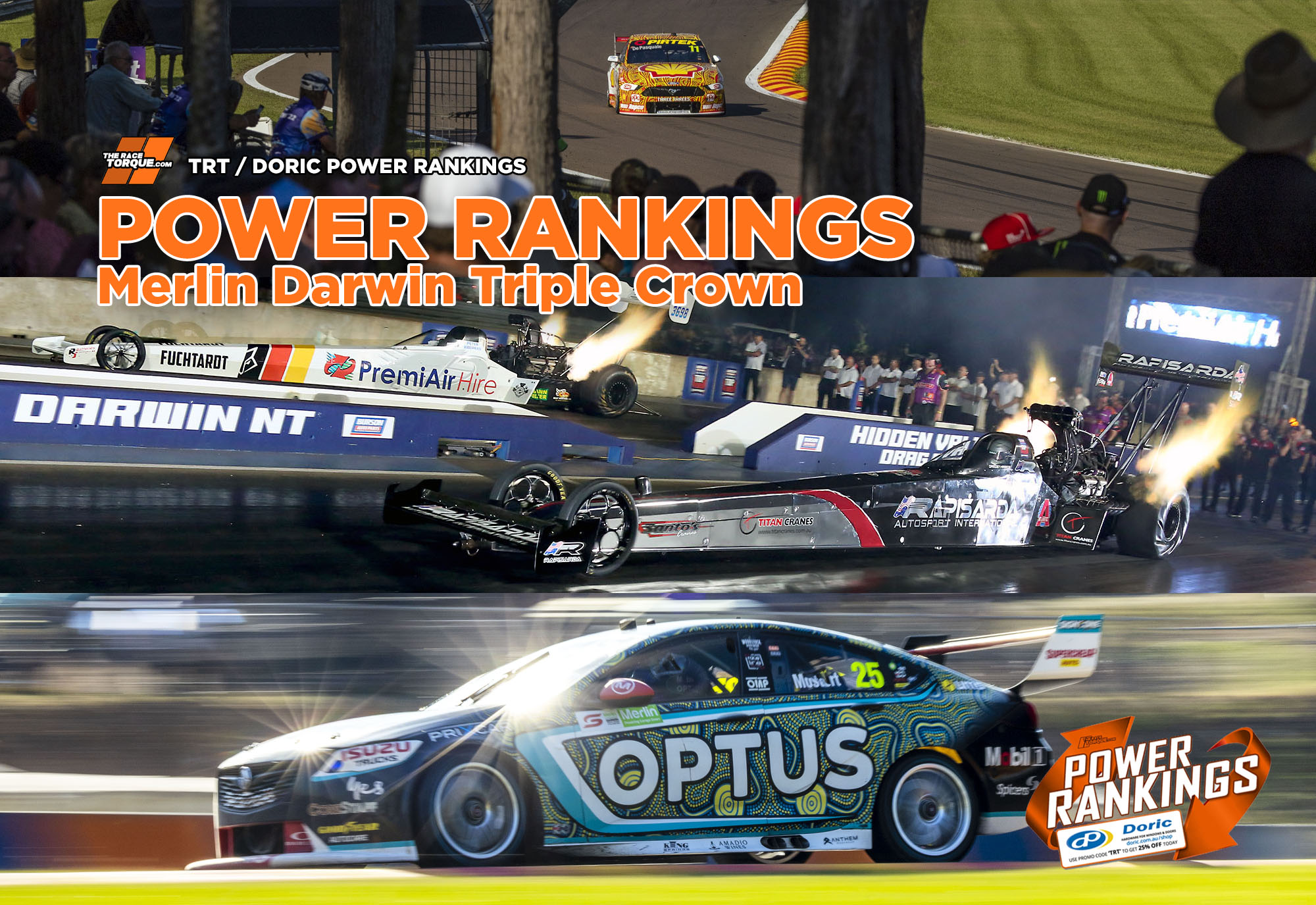 HIDDEN VALLEY was one of the few long-haul Supercars rounds that remained on the calendar during Covid, but it was still nice to see it back in full flight this weekend.
Seriously, this was one of the best weekends of the season so far, and probably the best since the plague started. A massive weekend on and off the track, in a great city and at a great circuit with some pretty great racing, too.
As a result, our HOT Cup Runneth Over somewhat in this edition of the DORIC Power Rankings.. but that doesn't mean there's not some room for improvement…
---

---
HOT
1. Darwin
YOU will need to argue long and large to tell us that the 2022 Merlin Darwin Triple Crown wasn't the best Supercars event since what… Newcastle 2019? In every single area you can rank, Darwin knocked it out of the park this year.
The crowd was massive – the biggest in a decade, at least – and access and amenity were improved over previous years with competent and friendly security and officials (take note, Sydney Motorsport Park) and a well-laid-out precinct.
Then there was the product itself, with the variety of categories, the drags, the bikes and everything else around it.
Then there was the fact that Darwin itself feels almost.. invigorated? Perhaps it was just us frozen southerners basking in the glory of 30-degree days and 25-degree nights, but the city seems cleaner, brighter and busier than it has in the last five or six years.
You simply must put the Triple Crown, Darwin and the Territory on your must-do list of motorsport events. It's outstanding.
---
2. The Supercars racing / Race three finish / Chaz Mostert
BROADLY speaking the racing at the weekend was very, very good. All three races were definitely interesting, while the finale' was an out-and-out thriller with one of the better finishes of the season so far.
As for Mostert, well it was a rollercoaster ride throughout his weekend and for a time it looked like it was going to be a debacle – but it ended in superb form with a victory against the odds on tyres that supposedly shouldn't have been up to the job.
Overall though, that was a very good weekend of racing – with the pre-event negativity about tyre pressures clearly not much of an issue.
However, see the NOT section for some follow-ups on the above topics…
---
3. Shell V-Power Racing
WE said that this was the weekend DJR needed to deliver or there would be real questions being asked about their credibility as legitimate title contenders in the post-McLaughlin era. Fortunately, the Queensland squad delivered.
Anton banged home a win in race one and then was fourth and second in the other two races to close the gap to the series lead by a not insignificant number.
Then there was Willy Davison, who in his milestone 500th event finished second, backed that up with second in his 501st and then fourth in the finale'. Add to that a pair of poles and a good haul of points and it was another positive tick for DJR in Darwin.
This was a great weekend for the team in a reasonably unpredictable weekend of racing. Big tick.
---
4. Supercars' inaugural Indigenous Round
IT would be fair to say that the championship's first attempt at an Indigenous Round was a success – and that runs deeper than the cars running cool-looking liveries.
For instance, a $44,000 donation from Grove Racing to the Melbourne Indigenous Transition School, the $10,000 donation from Boost Mobile to the Starlight Foundation and their Healthier Futures Initiative, or a continuation of the relationship between Shell V-Power Racing Team and Racing Together, to name a few.
There were many tangible efforts made up and down the grid for various reasons and causes, while the digeridoo trophies have the chance to be up there with the GC's surfboards as a mantle piece must-have.
On the liveries, hat tip to the bulk of the squads for embracing the initiative. Special mention to Red Bull Ampol Racing, CoolDrive Auto Parts and Subway – those cars, in particular, looked ace.
---
5. Nitro Up North
ADDING Drag Racing to the Triple Crown program was a masterstroke and making sure Top Fuel was part of it this year made it doubly so.
There's nothing like a Fuel car in the world of motorsport (or the world in general) and the utterly mammoth, enthusiastic and noisy crowd that turned out on Saturday was proof that they are a show not to be missed.
From home on the box, it was just great to be able to tune in to hear Wade Aunger again in his element, and the coverage itself was excellent. If there was one criticism, if it can be made, it would be nice to have a few more competitors or support classes to pad out the on-strip action in future.
Otherwise, tap it into our veins.
---
6. THAT F35 flyover
THE simple fact of the matter is that the F-35 Lightning II display prior to the start of Sunday's final race could be one of the most impressive in the history of RAAF activations at Supercars rounds ever.
Certainly, we've never seen something go that low and that fast at the same time.
The Air Force's new fighter might have been delayed and expensive but for all that is holy, my god it is awesome.
The best flyover of all time? It's in the conversation. Super low, bloody fast, mega loud.
Neil Crompton's reaction and those of the people he attempted to talk to on the grid told the full story.
---
7. Cameron Waters
TICKFORD seems to be gradually building – at least with the Monster machine – and another strong weekend for Cam Waters was proof of that emerging consistency. Their next stop is Townsville where, at least in one of their two attempts in 2021, they were very strong indeed, which bodes well.
---
8. Superbikes
LAST year's return by the Australian Superbike Championship to the Supercars undercard was good, but some of the major carnage was hard to watch.
This time around, the action was absolutely brilliant, a great showcase for the category in front of a live Foxsports and Seven audience. The first and third races had some mega racing down to the final corners for the minor placings, while race two was a corker – the lead pack battle between Wayne Maxwell, Mike Jones, Bryan Staring and Troy Herfoss went right down to the wire.
The rumour mill has the bikes being on the Supercars program more often next year, and if this is the action that can be expected, then that can only be a good thing.
---
9. Tickford's mega rebuild
HAT tip to the Ford crew for performing a miracle, and kudos to Supercars for building a highly repairable car – there aren't many machines in the motorsport world that could be resurrected like that in such short order. Extra credit points are also in order for fixing this car after it was shunted in Friday practice, with the team able to use their skills once again back at the workshop after the car was once again comprehensively boxed in the finale.
---
10. TV things: Goodbye Nathan, standard Larko
TV said farewell to their longstanding Chief Nathan Prendergast at the weekend while continuing to punch out their top-level fare. Larko was Larko and automatically ends up here while it was nice to add the insights of Jack Perkins – who is Good At TV – alongside Garth Tander and the Supercars regulars.
Also, congratulations to Neil Crompton for giving Dick's Last Resort a shoutout in Friday afternoon practice and also in the Sunday post-race show. Effing exceptional: if you know, you know.
---
BONUS HOTS
Race one start spice
THE start of the opening race was packed with all of the usual madness that can happen at Hidden Valley. Macauley Jones fired off at turn one. Teammates Anton De Pasquale and Will Davison came to blows hooking into the Valley. Bryce Fullwood punted David Reynolds off at the final turn, earning a 15sec penalty, Jack Smith had an off, Chris Pither and Will Brown speared off exiting the Valley. It had a bit on.

Supports
ALTHOUGH the final weekend didn't totally go to plan, Joey Mawson successfully defended his Gold Star title, further adding to his credentials for a climb up the ladder to Supercars. The highlight of the weekend was the reverse grid race two, with plenty of action and spirited racing taking place. The highlight of the Carrera Cup action was just how bloody tight the field was, with the spread in practice and qualifying bordering on nothing. While overtaking was at times at a premium, there was plenty going on down the order. After Harri Jones won the opening race, Dale Wood was successful in the latter two, with a cunning switchback at the first corner of the second race to take the lead from Jones being a highlight.
Andre Heimgartner – P4 race one – building a very impressive season for BJR
Jack Le Brocq – P6 race two was a superb performance by driver and team
Team 18 – P5 & P6 in race one, although they did clatter into each other. Awkward…
Prenderfest 2022 – Once again, if you know, you know…
---
WHAT
To be sure, to be sure
Fair point
How many Bathurst champs does it take to get one undressed?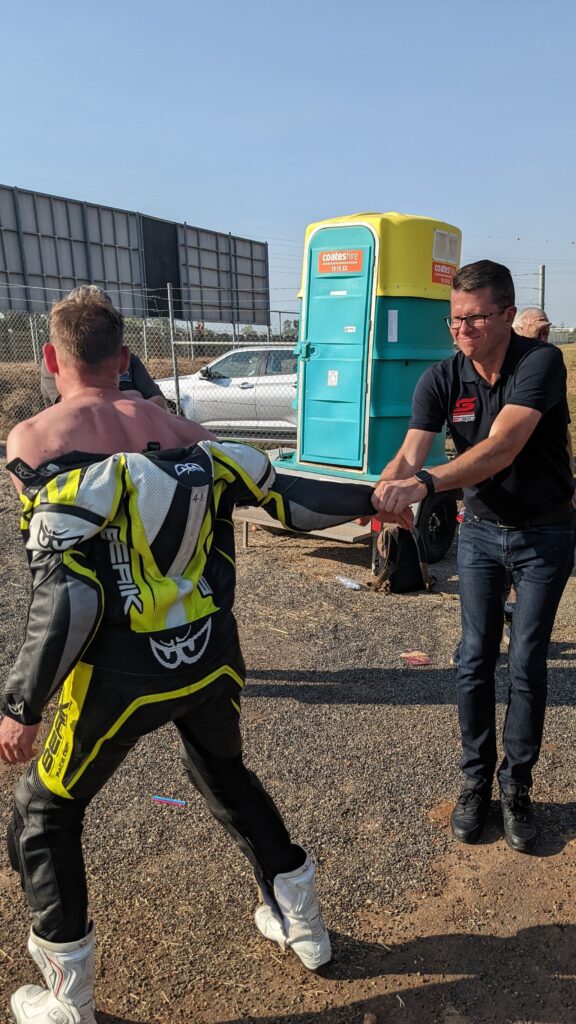 ---
NOT
1. Chaz Mosterts's DSQs
REMEMBER, Chaz Mostert was leading the pointscore leaving Sydney Motorsport Park, and the industry was abuzz with the top-flight resurgence of the WAU squad. Inconsistency has then been the story of car 25's season, with the effort on the weekend very much to the 2022 script, with epic highs balanced out by significant self-inflicted wounds. Losing the fourth place finish on Saturday has championship standings implications, and was unnecessary.
---
2. Race two start stack
U.G.L.Y. James Courtney got speared off in the mid-pack melee going into the Valley on the opening lap of race two, cleaned up the tyre bundle in the middle of the drainage ditch, then fired back onto the circuit, colliding almost head-on with the pack, including Scott Pye, Tom Randle, Todd Hazelwood and others. It's probably time to have a look at the tyre wall design in that area, because a crash of that attitude shouldn't be something that can happen. It was sad to see Pye wear the worst of it, leaving him on the sidelines rather than lining up from seventh for the finale.
---
3. SVG's race three restart
BEING aggressive has won him so many races this year, but it cost him one on the weekend. It was a big, bold, atypical SVG move, which he has pulled numerous times on Will Davison over the last couple of years – Davison clearly wasn't going to move over this time. One that got away, a good chunk of points handed to his title challenger De Pasquale, and the first event of the year that he didn't stand on the top step of the podium.
---
4. A few not entirely embracing Indigenous Round
IT was noticeable that not all of the teams entirely got behind the Indigenous Round livery theme, with Tickford Racing (with the exception of the Castrol / BP effort on Thomas Randle's car) the most obvious team that absolutely phoned it in with minimal effort. Teams in Carrera Cup and Superbikes put more energy into it than the Ford squad.
Hopefully, the fan reaction to those that did get around the concept is enough to sway the thinking of some of the outlying teams and sponsors.
---
5. Race two time certain finish
TO be fair to Supercars, it's been a long time since this has been a complaint which is probably why the Power Rankings votees jumped on it when it happened – Good old Time Certainty.
The race had already been delayed by the red flag, surely there was a minute of fluff that could be taken out of the program somewhere? Rules are rules, but for the sake of upsetting punters everywhere, it's surely something that can be addressed.
---
6. Best/Jacobson tangle race three & Wildcards
IT is a tough thing to come into the Supercars war as a wildcard, and the evidence only stacked up further across the weekend as Zak Best had a challenging weekend in his Tickford machine. Best finished with results of 21st, 21st and DNF, while Jayden Ojeda claimed 17th, 23rd and DNF, coming 12 months after Kurt Kostecki and Thomas Randle both claimed top-tens. Tough old game, Supercars…
---
7. S5000 qualifying stack
VERY much less than ideal, but a stout effort by the Team BRM crew saw the canoe brought back to life as a powerboat later in the weekend.
---
8. Drivers rubbishing the racing before it happens
SHANE van Gisbergen and a few others were quite vocal about the changes to Supercars minimum tyre pressure rules before the event kicked off, and were quite clear and open in their assessment that it would absolutely make the racing worse.
Now while quotes like that are mana to journalists, who love a story like that, they're not very productive are they?
You don't often hear a footy team saying "We're playing a pretty unattractive brand of footy, so our next game is going to be shit," do you?
We're not about pretending everything is sunshine and happiness – far from it – and there are always challenges in making sure the racing product is as good as possible, while also managing the safety issues around it as well.
But at the same time, rubbishing the product before you even know how it's going to play out does no one any favours.
---
9. Midgies
THE only bad thing about Hidden Valley that we can think of are the Midgies that attack quicker than an F-35 attacks your ears when it flies past at 200 feet… It's an itchy reminder of your Darwin visit for the next week…
---
10. Monday morning Darwin hangovers
We are told that young Chad, in his tweet below, speaks for all who were there.. (See Bonus HOT: Prenderfest 2022).
---
TWEET
Eat your greens
Whiteboard went there
Hoodoo corner
Amazing detail
Lost & Found
---
MEME
---