Why Formula 4 is making an Aussie comeback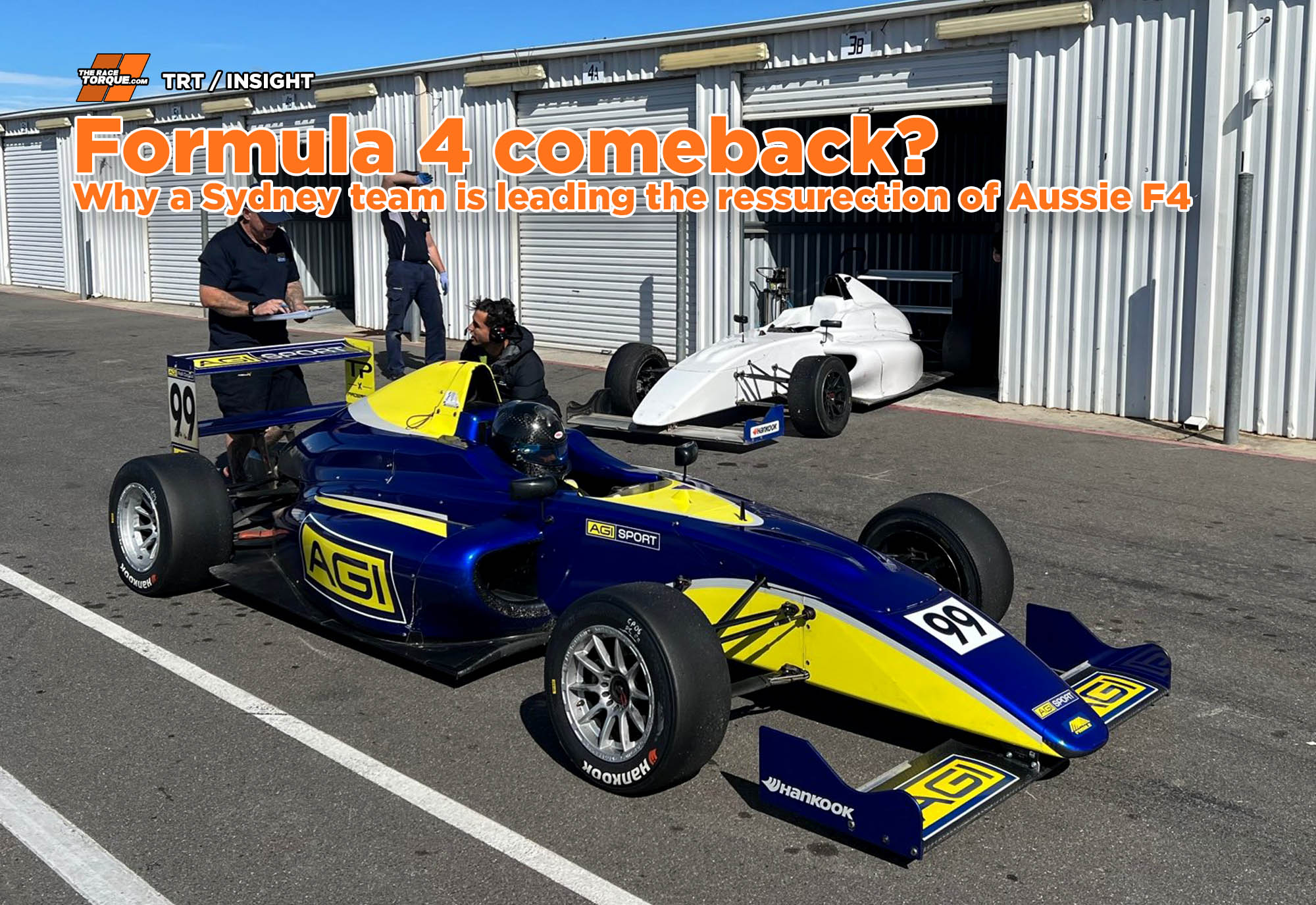 WHEN Formula 4 left the Australian racing scene 4 years ago in 2019 it was considered to be dead and buried however, as TONY SCHIBECI explains, it's making something of a comeback for a few key reasons.
A regeneration of 4 cars and the purchase of 2 additional cars from a British Formula Four team has allowed Sydney team AGI Sport to restart the 1600cc Ford EcoBoost Engine and give the Mygale F4 Chassis another life down under.
AGI Sport were one of the primary teams in the Australian Formula 4 Championship and at a recent NSW State Round at Sydney Motorsport Park, AGI Sport boss Adam Gotch unleashed his 4 rebirthed wings and slicks cars in the inaugural MSA AGI Formula Race Car Championship.
"We have found a home for our Formula 4 cars, the Mygales we ran in the Formula 4 Championship from 2015-2019," said Gotch, clearly happy to see the cars running again.  
"The NSW Formula Race Car Association has provided a class for us so we can run the cars here. We have 6 formula cars in total on the grid and it's great to get some use for the F4 cars again."
The category is predominantly made up of Formula 3 Dallaras from 1999-2008, but also had a Formula Holden as well as the F4 machines. And while 2 of the Mygale F4s were driven by Gentlemen drivers just wanting to have that wings and slicks experience, Gotch explains the other 2 have a very valid purpose.
"We have some youngsters here, some of the top Go-Karters in the country, having a drive of the F4 before they go to Europe and race there. It's a lot more expensive over there to get the test days, so we are providing these kids with the opportunity to test the cars and give them a racing opportunity in the State series."
Formula 4 is still a very competitive category throughout many parts of the World with series running in Europe, Asia, UAE and North and South America. And while the category might be finished here in Australia, Gotch, a former Formula one mechanic, hopes to one day offer junior racers a great opportunity here in Australia.
"We are working with Motorsport Australia and Ferrari at the moment to assist them with selection for their academy shoot out in Sepang in September," he explained.
"That shoot out is in Mygale Formula 4 cars, so we have 5 young Karter's that we are testing every second week at the moment, and getting them ready as much as we can for the Ferrari shoot out in September where there will be 24 drivers from the Australasian region.
"Then the top 2 from Sepang get to go to Maranello, at Ferrari's cost, where they will battle it out against the top 2 from Europe and the Americas and one of those six will then be placed in Ferrari's F1 driver academy."
AGI Sport, Team BRM and others invested heavily in Australian F4 series in it's 4 years of existence, however the AGI boss says it was always going to be tough for the series to continue in our Country.
"We're not a massive country and it's so hard to be running multiple single seater Development categories here in Australia. So it just a shame it didn't stick around but the way Formula Ford is heading with the talk of a new car, it's sort of going in that direction anyway, so maybe we were just a bit ahead of our time with the Formula Four product in 2015.
"So for the kids that want to go to Europe they are going to go into F4, so it's a no brainer for the parents to send the kids to us for testing and training in the same cars before they go over there."
Of the 5 Australian Formula 4 Champions crowned between 2015-2019, three have continued into major racing categories – including Will Brown who drives for Erebus in the Repco Supercars Cars Championship, Jayden Ojeda who has driven wild-car entries in Supercars and Luis Leeds who has recently driven in the S5000 series.