Caltex brand makes Bathurst return supporting young Motorsport stars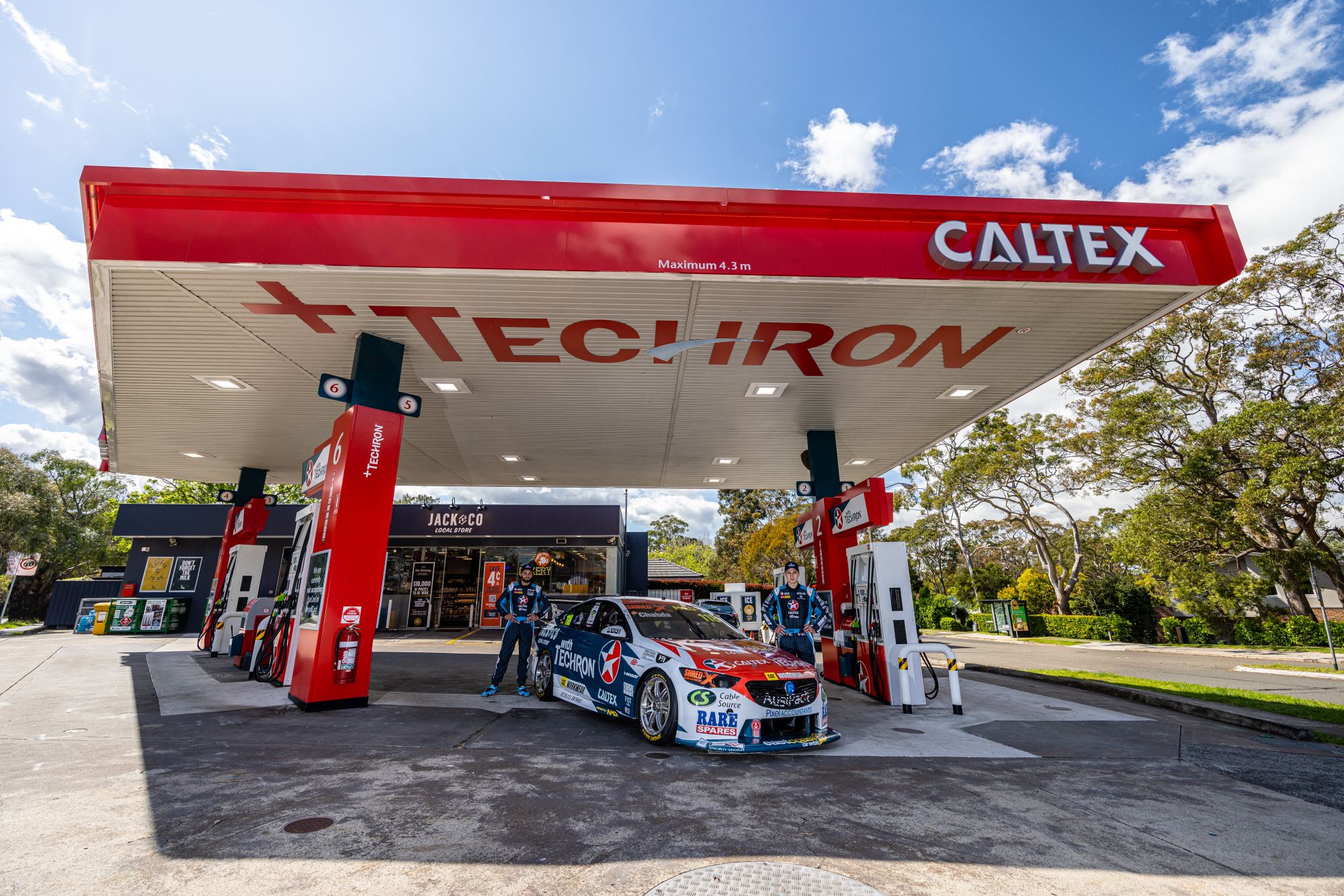 The Caltex brand will return to the Mount Panorama circuit as the major sponsor of the Caltex Young Stars team in the 2022 Repco Bathurst 1000.
The Caltex Young Stars team features young talents Matt Chahda and Jaylyn Robotham, who will each make their respective Bathurst 1000 debuts aboard a Holden Commodore entry this week.
Competing under the Caltex Young Stars banner, the #118 entry will feature major branding from the Caltex fuel brand, Caltex with Techron®, with branding support from Jack and Co local stores.
Matt and Jaylyn took the covers off the distinctive car at the Caltex / Jack and Co Local Store location in Sydney's Lane Cove on Monday morning ahead of their trip to Mount Panorama this week.
Caltex is a global brand owned by Chevron, one of the world's leading integrated energy companies with a 70-year history in Australia.
Caltex first appeared as a sponsor in the iconic Bathurst 1000 in 1987, supporting Australian Motorsport legend Colin Bond and the Caltex brand has since featured on no less than six winners of the 'Great Race'. Additionally, the 'Caltex Chase' was one of the most well-known sections of the famous 6.213km circuit for a long period.
The Caltex Young Stars team is an ambitious privateer team going head-to-head against this year's biggest names in Australian motorsport.
The family-run squad includes 29-year-old Matt Chahda, the son of am Albury – Wodonga car mechanic who has grown up with the sport deep in his veins. Chahda currently sits sixth in the Dunlop Super2 Series, the final steppingstone to the Supercars championship.
Meanwhile, 19-year-old Jaylyn Robotham hails from Lancefield in Victoria and has progressed through the junior categories to make it to the Super2 Series as a teenager. A race winner this year, Robotham – whose parents own the Lancefield Bakery – currently sits eighth in that championship.
The Caltex Young Stars team will enjoy the added support of legendary Supercars paddock figure Wally Storey, who will serve as Team Manager for the program.
The Repco Bathurst 1000 will be held at the iconic Mount Panorama circuit this weekend.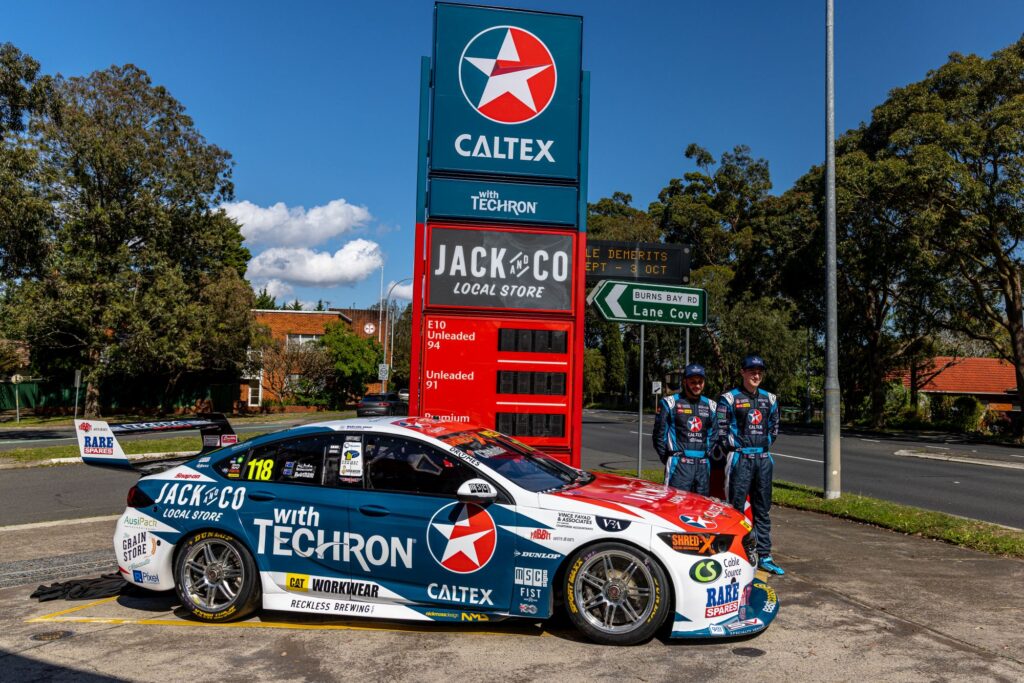 Matt Chahda – #118 Caltex Young Stars Holden Commodore ZB
"To have the support of a global brand like Caltex is a huge boost for our first Bathurst 1000 campaign. The car looks fantastic and knowing that we're carrying the same branding as some of the most famous names of this race is exciting.
"It's an honour for us to represent Caltex, giving us the best possible opportunity to take on the challenge ahead of us this week. Our preparation has been fantastic, and Jaylyn and I are as ready to go as we can be. We can't wait to get on track."
Jaylyn Robotham – #118 Caltex Young Stars Holden Commodore ZB
"It's surreal that we have the support of a brand like Caltex for our Bathurst campaign this year. I'm excited to be representing the Caltex Young Stars as Matt, the team and I go to Bathurst to tackle the Great Race for the first time.
"The build-up, testing and preparation have already been great, but to see the car in its Caltex with Techron® livery, alongside all our great supporters, makes it seem much more real. I couldn't be more ready to go."
Cris Gillespie – Head of Marketing, Chevron Australia Downstream
"This is an incredibly exciting way to be involved with Australian Motorsport, at the biggest race of the year and with an ambitious team really looking to challenge the sport's big names in their Bathurst debut.
"It's an event that features heavily in Caltex's history of motorsport sponsorship with famous names who have carried our colours in the past.
"We're proud to be supporting two young stars making their mark in the sport and building on the rich history the Caltex brand has in Australia's most famous motor race."
ABOUT CALTEX
Caltex is a global brand owned by Chevron – one of the world's leading integrated energy companies with a 70-year history in Australia.
Chevron is growing the Caltex brand and its premium range of fuels and lubricants following the acquisition of Puma Energy Australia in 2020.
A national rebranding of most Puma sites to Caltex is underway and includes the opening of new Caltex service stations, a program that will continue through until 2023.
Caltex is committed to the Australian market and is there to support you with expert advice and fuel equipment solutions, quality bulk fuel supply, premium engine oils and reliable lubricants.
The Caltex fuel brand, Caltex with Techron®, contains an innovative formulation, Techron®, that has been scientifically proven to help clean and protect engines. It's a cleaning additive that is trusted by motorist, enthusiasts, and manufacturers around the world.
Caltex is looking forward to powering many more journeys ahead with our vibrant, new Caltex network.
For more information about Caltex fuels and lubricants or to talk to your local business partner visit the Caltex in Australia webpage athttps://www.caltex.com/au/.