TRT features on stunning throwback Excel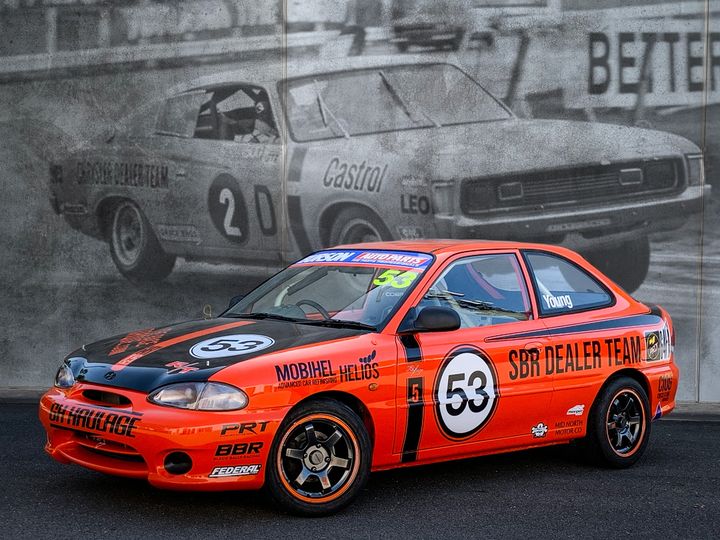 THE RACE TORQUE is proud to feature on one of the very best Hyundai Excel throwback liveries yet released in the popular one make, entry level category.
South Australian racer Andrew Young, one of the main movers and shakers among the organisation and promotion of Excel racing nationally, has shown off his new car which sports a throwback livery to the Bathurst Chrysler Chargers of the 1960s and 1970s.
Painted Hemi Orange by his dad, Reg, Young's new Excel features graphics designed and applied by long-time friends of TRT, Check it Out Graphics in Adelaide.
Check out more of their dedicated Circuit Excel wraps at their Facebook page here.
The sponsor logos reflect the many friends and supporters of Young's racing.
"SBR6 for me is a tribute car for three reasons. The first being my love for the late '60s and early '70s production muscle cars from the Australian manufacturers that raced at Bathurst and obviously one in particular being Mopar with the E Series Chargers," Young explained.
"Secondly was to have a car to get back racing amongst the Excel community. Excel racing has allowed me to see parts of the country that I would never have imagined before racing. I've got to meet so many wonderful people that are now great mates in all states of the country and have been fortunate enough to be able to be part of committees at both State and National level that have helped shape our great category.
"The third being the decals on the car represent those that I have been involved with since joining Circuit Excel."
TRT and editor Craill have had a long relationship with Andy and his team, including being allowed to steer Young's previous Excel at Mallala in late 2020, which resulted in the following video.
We're not totally certain that Craill's driving was the reason Young had to build a new car, though we suspect it played a role..
The cars is dubbed 'SBR 6', as the sixth car to be built under the superbly named 'Stooge Brothers Racing' stable of racing mates in Adelaide and South Australia.
Young did a vast majority of the work himself, making it an extremely cost effective proposition.
"A lot of people are saying that Excel racing is getting too expensive for a grassroots category. This car proves that you can still build a car on a budget if you have the skills, time and the desire to create something yourself," he said.
"So far I have put into the new build no more than $1300 as I have done everything myself. Yes I pulled the wheels, engine and gearbox from existing cars but I've done all the work on the car myself."
Other supporters include Brett Forrest, Mid North Motor Company, Pannowitch Racing Team (PRT), Check it out Racing / Check it out Graphics, BBR, GH Haulage, Mobihel, Helios paint and TRT.
We're thrilled to be given pride of place on the bonnet of this absolutely stunning Excel!