DIARY OF A NASCAR FAN – PART 1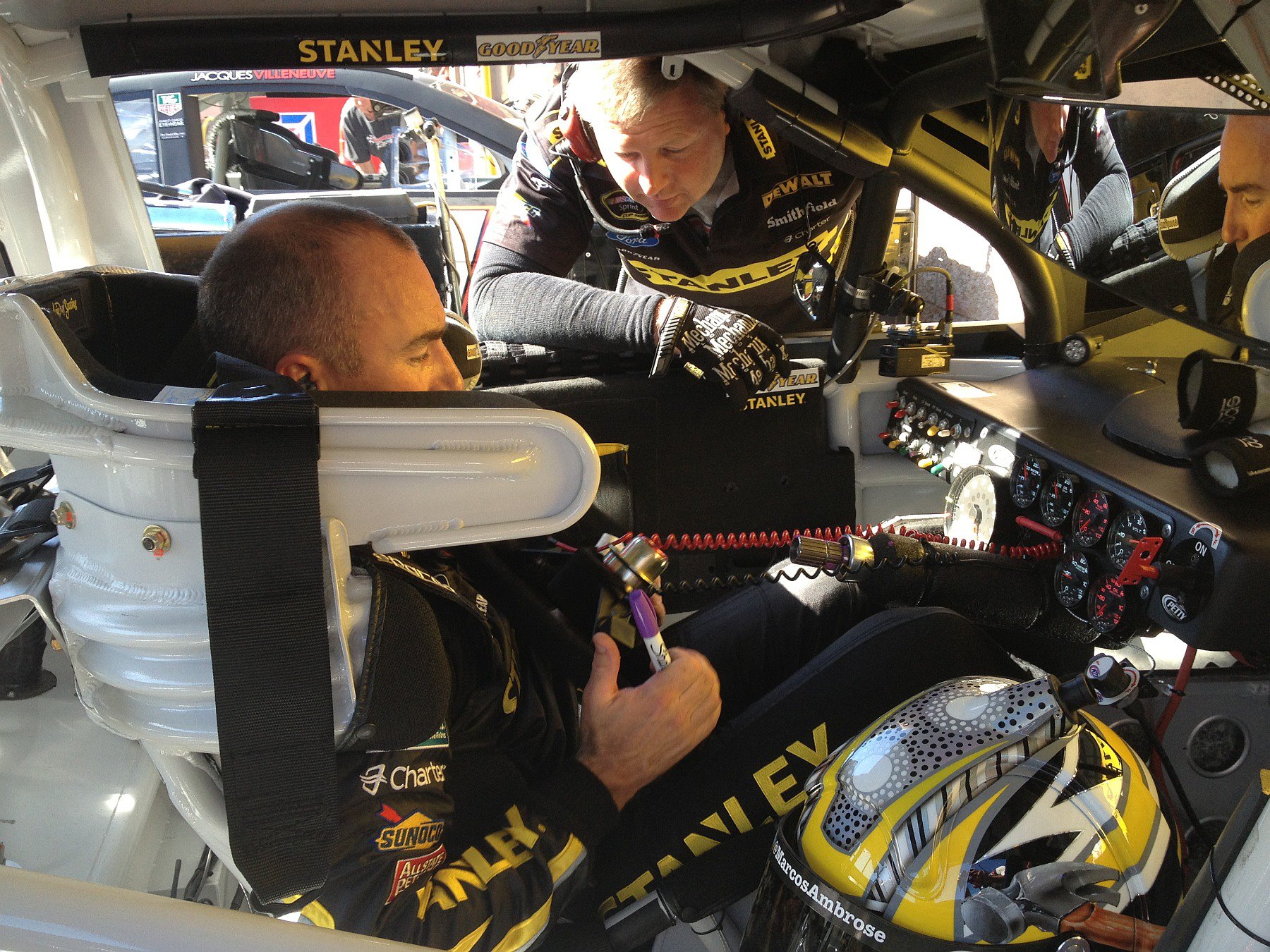 AS far as excellent weekends at the racetrack go, the NASCAR Cup Series visit to Sonoma in 2013 would go forever down as a personal zenith for the author.
WORDS & IMAGES: Mark Walker
As a thank you for doing his PR for a few years, Marcos Ambrose flew myself stateside for a spot of live race action.
Complete with Ford Mustang rent-a-rocket (a stunning complimentary upgrade on my Hyundai Getz equivalent), I checked in to the Hilton Sonoma Valley, which was somewhat NASCAR-central, with the carpark filled with haulers, while my next-door neighbour was Darian Grubb, Denny Hamlin's crew chief.
Thursday night at the bar I got drinking with the truck driver from the number 43 team, Ambrose's Richard Petty Motorsport teammate, who happened to be the team's cook, an interesting role for the team that was sponsored by bacon goods manufacturer Smithfield.
Upon learning of the sheer tonnage of bacon that the team were to consume during the event, I knew I was going to be in for a good time…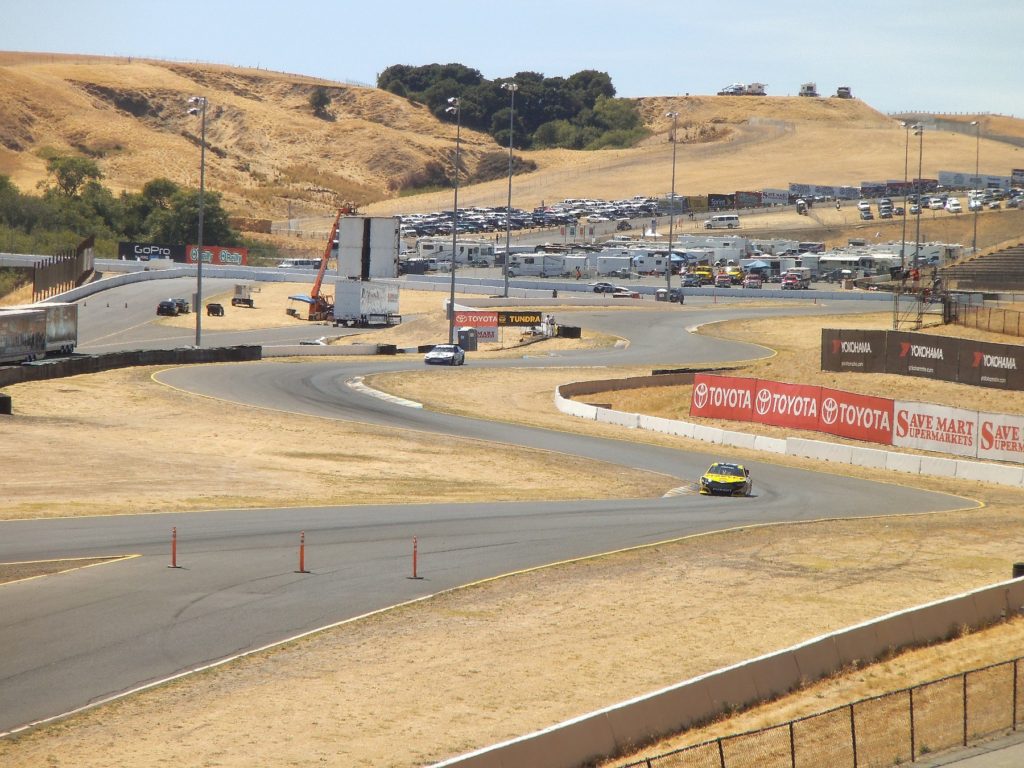 SONOMA Raceway – if it were in Australia, it would be situated smack bang in the middle of the Barossa Valley. Vineyards everywhere.
As typical of these things, television does not do the place justice – it's built into the side of a mountain, and with an artificial mountain constructed on the far side, the track sits in a valley.
What this means is that once punters have put in an effort hiking up the hills, the view from the spectator areas feature some nice long sight lines.
Friday trackside started with a small world moment – the woman who served me in the credential office was a Kiwi who used to live in Surfers Paradise (where I used to live), with family from Gympie (like me).
This most serendipitous moment resulted in myself earning a premium paddock car pass. An outstanding result for folks down under!
For a lot of the day I followed Marcos around, seeing what the NASCAR paddock was like.
Starting out with a media conference, which was held in the multi-level media centre, where reporter folk upstairs phoned in questions, Marcos was then ferried by golf cart to the top of a nearby hill to film his intros for the upcoming V8 Supercars programs, which were aired locally in the US on SPEED.
The golf carts, of which there are many, are transported around the country by a bespoke golf cart haulage company, whose workers co-incidentally spend the race weekends at nearby golf facilities partaking in a swing.
Following some further filming in the pits, it was then practice time, and importantly Marcos topped the charts, which meant for qualifying he would be in the final group to hit the track.
Further to this, for his efforts, Marcos was awarded a massive trophy from the Friday presenting sponsor, which sold haircuts.
That's right, for being good in practice, Marcos received a big silver cup from a hairdresser. Sensational.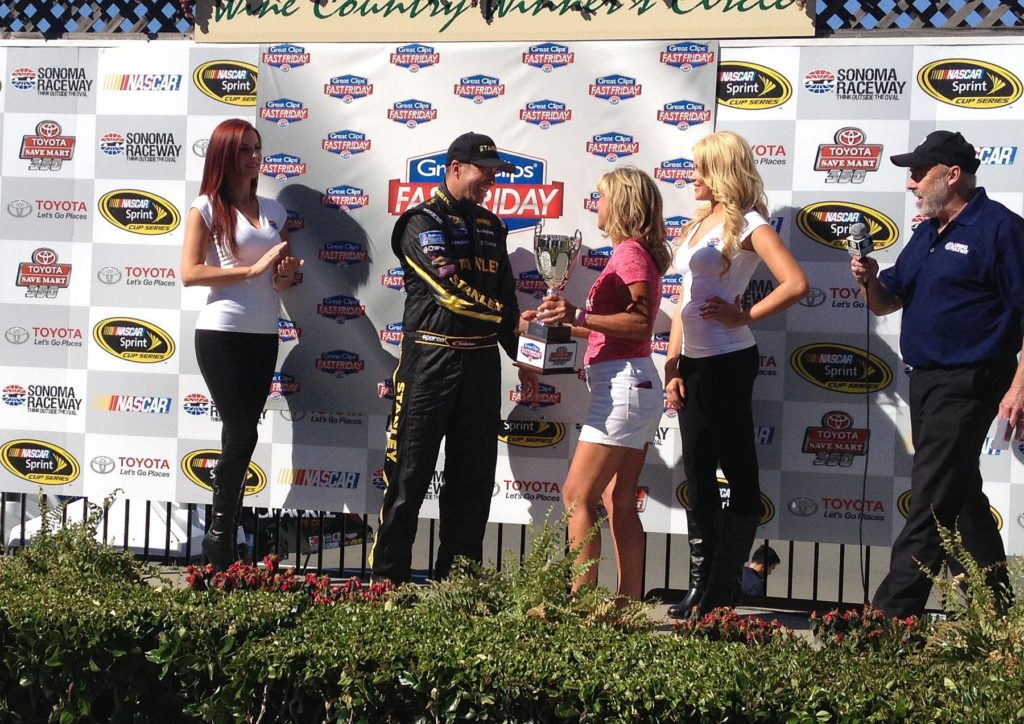 Carl Edwards dropped by the trailer on Friday, first of all telling some all-time classic stories, but eventually getting to the crunch: picking Marcos's brain on how to drive quickly around the place.
Marcos returns serve asking Carl why he didn't drop by last weekend, asking advice on how to get around Michigan, where he started and finished 23rd. Well played.
A cavalcade of superstars were to drop by over the event seeking helpful tips, included from next door neighbour Jacques Villeneuve, who was racing the number 51 for Phoenix Racing.
Later in the weekend, further mind games were deployed from the Ambrose camp when a team member was sent down the pit lane on a faux errand seeking a rating of spring that was never to see service on the race car…
The NASCAR paddock works a little different to Supercars – the garage allocation is determined by current championship standings, while the pit lane order is selected based on qualifying order.
Garages and pit lane are separate, and unlike Supercars, NASCAR's open garage policy means that outside of the toolbox, there are no other structures like walls or branding, meaning setup and knockdown can be completed in minutes.
The open garage also discourages cheating, as your neighbours in the point standings have line of sight access to all your secrets.
Also unlike Supercars, the "over the wall" tyre changers run a FIFO program – jetting in for race day, setting up the pit wagon (which are transported to the track separately to the team's trucks), complete the pit stops, then jet home.
Friday at the track ended with a yellow and back snake slithering across my path. Hopefully it's a sign of good luck… they don't have poisonous snakes around here, right?