SUPERCARS TEAMS TAKING ON HYUNDAI EXCELS: THE REALITY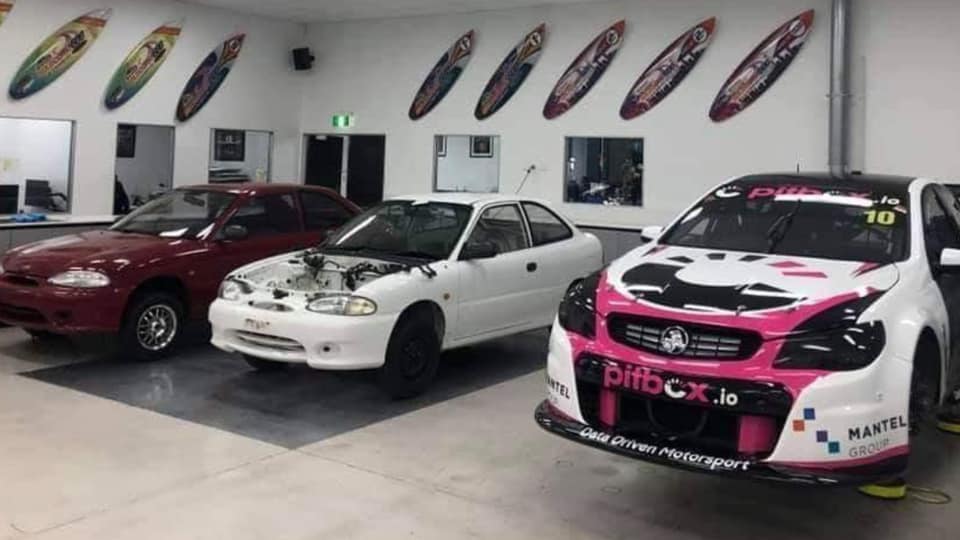 THE hot tip doing the rounds of the internet places multiple Supercars teams in various stages of constructing cars to compete in the Hyundai Excel Series, but what does this mean for the future of the entry-level class?
WORDS: Mark Walker IMAGES: Mark Walker, above image: Innovative Race Preparation
The category has already attracted attention from the top end of town, with several Supercars and Super2 drivers, as well as paddock identities taking an interest in the burgeoning class.
Recent competitiors have included Broc Feeney, who has been driving with his own car, as well as Tim Slade, whose father Gil is a mainstay of the series.
Jaylyn Robotham is a genuine product of Excels.
In 2017 at the age of 15, Robotham won the South Australian Excel Championship, with the skills earned in those formative years putting him in good stead for his subsequent progression, which has included the Toyota 86 Racing Series and TA2 Asia, where he was victorious.
Last weekend at Sydney Motorsport Park, Robotham stepped up into Super3, where he won on debut.
Will Brown, Jordan Boys and Chelsea Angelo have made guest appearances, while Paul Morris has been a regular in the Hyundai paddock, overseeing the first races of his ever improving son, Nash.
Feeney was paired in a two-driver event at Sydney Motorsport Park recently by Anton de Pasquale, while Brodie Kostecki also joined with fun, with brain power in the pits provided by Morris senior and Roland Dane.
The interest in the class is genuine, with the rumoured new entrants set to add an eclectic mix of drivers.
This influx of perceived big dollar interest in what is essentially the bottom rung of the motorsport ladder places in the category in an interesting situation.
Is benchmarking against the best a good thing, or will costs spiral out of control?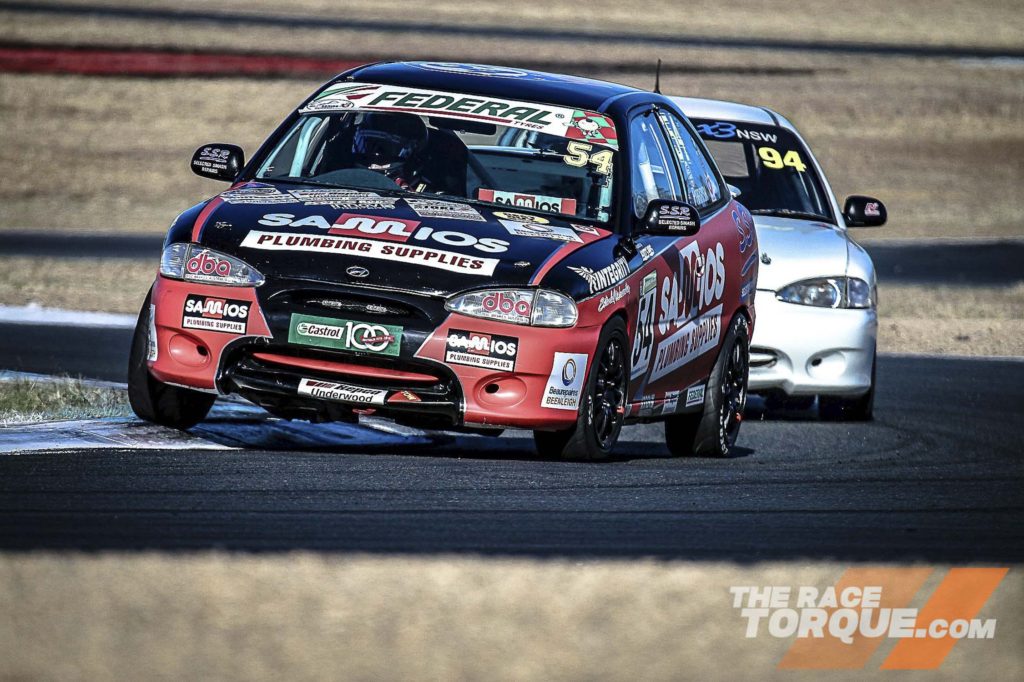 The Roots of Hyundai Excel Racing
To get a feel for where the class is headed, perhaps it a good starting point is to look at where it has come from.
In our recent story, Queensland Raceway: The Business of Motorsport, we covered the origins of Excels, which date back to start of 2010, with an aim at the time of producing race cars for the ultra-low cost of $2,500.
Introducing Brett Parrish, a front running Excel driver to this day, who was one of the original 12 participants when the series debuted in sprint format, while he was also one of three starters in the category's first ever race, alongside Peter Nankervis and Rod Dawson.
Since then, he has won four titles in the Queensland based Track Attack series, as well as placed on the podium in the category's nationals at Phillip Island in 2018.
From 2011, the Excel racing kicked off in earnest, with it growing to be a feature nationwide, scoring appearances at Mount Panorama, as well as on the Supercars undercard at Winton Raceway in 2019.
All told, estimates have the class at well over 500 cars log booked to date.
In the series' infancy, Parrish's $2,500-spec car featured a half roll cage, while teams soon started tinkering with engines, forever an area of competitive advantage in a one make class.
"The original rules were pretty loose, people were doing major work to their engines, which made for cheap horsepower," said Parrish.
"By clamping down the engine rules, bringing everything under control, the costs have gone up in that area.
"Previously you could do a lot of porting, honing and throating to the head, but with that outlawed under CAMS rules, you have to flow bench a heap of different heads to find a good one to base your engine on, and that costs money.
"If you are racing at the front of the field, you wind up with a stack of boat anchors shaped like Hyundai Excel engine heads…"
Suspension wise, coil over shock absorbers are limited to a choice of XYZ, Spax, MCA and Supashock, with most front runners finding a favourite between the latter two, depending on personal preference.
Many of the components making up a car are controlled, all in the name of cost saving.
In the class's homeland of Queensland there are two distinct rule books between the Queensland Raceways based Track Attack series and the general Motorsport Australia spec, with differences existing in areas such as control tyre make, engine, and brakes, although the Motorsport Australia engines can be run at Track Attack events, a relationship which is not reciprocated.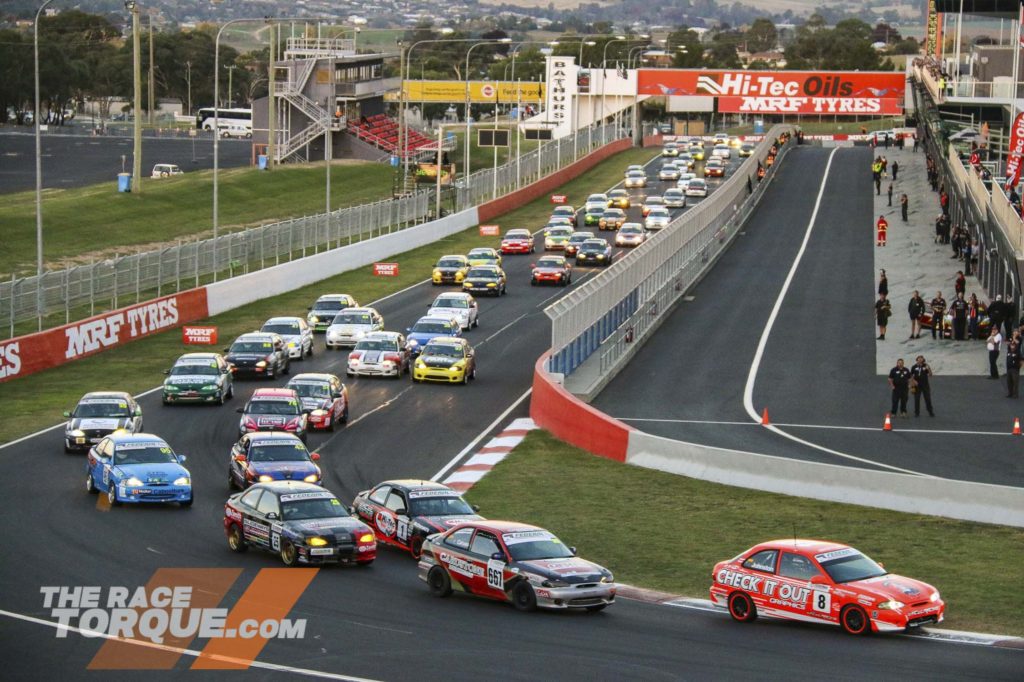 The Dollars and Cents
The general consensus is that a front running car comes in at around $20,000, with the big ticket item being a professionally built engine, which would set you back $5,000 to $7,500, with other substantial items including the roll cage at $3,000, $2,500 for suspension, and $1,000 for a seat.
In theory, you could spend big bucks on a carbon race seat if you like, but it won't make your car any faster, with a category minimum weight limiting the effectiveness of building a light-weight special.
Obviously, as is the case with anything in motorsport, labour can be a major cost centre – if you have the ability to build or run the car yourself, significant savings can be found.
Spares meanwhile typically come in the form of a wrecker donor car, which can be stripped as required.
While a $6,000 build is still ultimately achievable with a club-level bolt in cage and stock engine, cars that have traded hands for close to the $30,000 mark have typically achieved those figures based on their on-track pedigree, more so than for a tally of receipts.
Parrish heads the BPRO team, which for several years hyas banded together a group of mates to go racing, with Darren Whittington a regular front runner in the outfit's second car, while engines and are provided by Josh Brown's Innovative Race Preparation.
So will the inclusion of pro-level teams shift the goalposts for the current body of competitors?
"I think having these guys involved will be a good thing for the category, but it's still going to be affordable for mum, dad and kids to build a car to go racing out of their carport," said Parrish.
"Any form of motorsport costs money to be at the front, but it is something you can chip away at – you don't need an expensive car to break into it, if you start out with a $10,000 car, you can learn the ropes, and up the specs of the car as you develop as a driver.
"It doesn't matter if you have an unlimited budget, within the framework of the rules, there is only so much pace you can get out of the cars.
"It doesn't matter if a Supercars team cover their dashboard with diamonds, it won't make their car go any faster.
"Once you are at $20,000 investment level, there really are diminishing returns for tipping more cash into the car.
"At a front running pace, it's still cheaper than karting, while the initial investment in the car might be higher, the running costs are nowhere near karting over the course of a season.
"In all of my years in the class, the best investment I've continually seen is in drivers improving themselves with their race craft, Excels are great fun to drive, but there is a knack to driving them at the limit."
The Supercar Factor
Feeney, who will this year make his Bathurst 1000 debut alongside James Courtney in a Tickford Mustang, is the prime example of a top-flight competitor involving themselves at the ground floor on their weekends off.
Having supplied Feeney with his car, and watched him at close quarters, Parrish knows exactly the calibre of driver he is up against.
"These guys entering Hyundai Racing, they just want to stay sharp, but more importantly, they want to have fun with their racing like the rest of us," said Parrish.
"Sure, Supercars are the pinnacle and the cars are awesome, but the racing in Hyundais is typically better than in Supercars, it's door-to-door stuff, and you really need to use your race craft to be successful.
"Seeing Broc up close and what he was able to achieve in the spec car he was running was pretty impressive, he was well down on horsepower, but was still at the front of the field.
"There aren't many classes where you can race against top flight drivers like this, if you want to prove yourself, you can do it in Excels.
"If more professional want to get involved, I'm all for it, it will bring more attention towards the category as a whole, and hopefully we can sell some more sponsorship on our cars off the back of it.
"Obviously there are big events around the country that people travel to, that drives up costs, but by the same token, on any given weekend you can use your Excel at a sprint, hillclimb or club event at your home track.
"You can compete to a budget, but by the same token, it gives you opportunities to develop yourself and your car to race far and wide; the class will continue to be whatever you want to make of it."