DORIC POWER RANKINGS: SMP, once again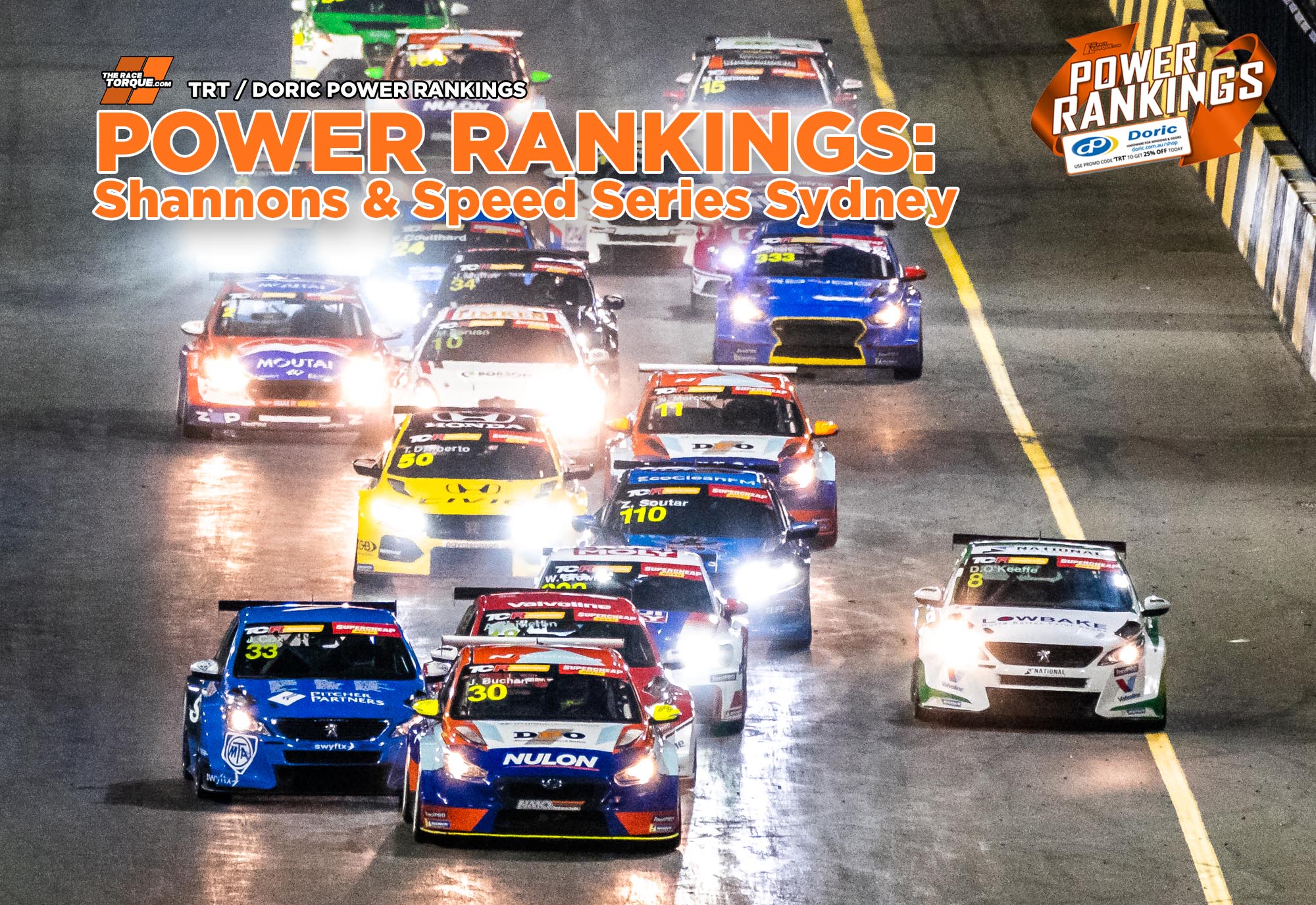 Seriously, how do you Power Rank that weekend? It was pretty bloody good – so we have given it our best shot.
It's hard to know where to start with such an immense weekend of racing however as always the TRT jury – both our editorial team and you, dear readers, commenting via our social media channels – have come up with some high positivity stuff and also some stuff that needs improvement.
We're here for both – shining the light on the good and detailing what's not in a hope to see it improve.
That's the idea of the Doric Power Rankings, after all. Read on..
---

---
HOT
1. Sunset scenery, Night Racing
WE'D write a million words about why it's so good, but they've all been said before so we'll just post this incredible photo, taken by the absolute guru Daniel Kalisz, and let it tell the story. Magic. Sydney's lights are a total, utter success.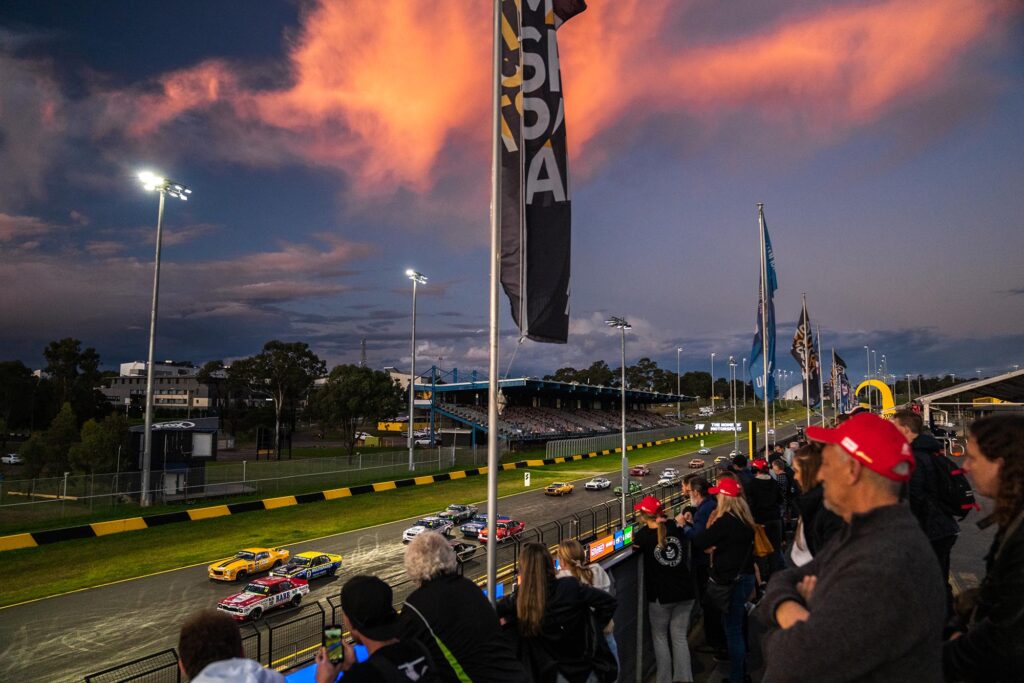 ---
2. The TV of things
If you didn't tune in over the weekend, you flat out missed out. It helps that there was some great racing, but the quality of the broadcast is probably better than being at the track. Highlights included:
The entertainment supplied by the on-air talent was top notch. Michael Caruso was a superstar – being himself rather than pretending to be a TV person is perfect.
Alternate S5000 camera angles
That Trans Am external shot on Nathan Herne's car
The use of the drone
Mid-race chats with Michael Caruso and Will Brown, with James Moffat's race two effort utterly brilliant.
The Stan phone app is ace – for instance, shrinking to a small box when you tap out to use other apps is much appreciated.
Greg Rust's podium announcing, where he successfully passed the audition to pick up the 2032 Brisbane Olympics gig.
---
3. Porsche Sprint Challenge
THE Porsche Michelin Sprint Challenge is always good value and this season looks no exception.
Ryan Wood's pass on Tom Sargent in Race one was good, but trumped by their epic finish to race two, which was even better. Courtney Prince was super strong and looks a contender, and the field itself was just brilliant. It's a mini Carrera Cup, and it's hard to offer higher praise, frankly..
---
4. Trans-Am Series
POUND for pound probably the best racing in Australia at the moment. Owen Kelly was mighty, Nathan Herne's drive from behind to second in the final race was huge and how about young Zach Bates on debut? Good to see Gricey Jr string together a consistent weekend, too.
Entertaining Motorsport.
---
5. Touring Car Masters
IT'S a great series with great racing and personalities and cars, all exemplified over the weekend. JB continues to be remarkably ageless in the category, the last-lap pass for the win in Race 1 on Saturday evening was superb.
And the outpouring of emotion from fans when Cam Tilley won on Sunday afternoon was remarkable. Of all the categories at the event, the 'congrats' post was by far and away the most liked and commented on – by a massive margin – on social media channels.
---
6. TCR
IT feels like TCR is in a sweet spot at the moment. The formats are working, the racing is very competitive and there's a great mix of talent to shake things up. Opening laps are incredible and breathless as the drivers hang on while tyres come up.
Hyundai, Luke King, Dylan O'Keeffe all get good wraps as does the championship battle, which has at least eight drivers in the mix, if not more. It's a breakout season for TCR, this one.
---
7. S5000
SURE the field was small but holy moly did they jam some decent motor racing in! Proof of the old adage that you only need two cars to put on a show.. Loads of stories to emerge from the paddock, not the least of which was Joey extending his Gold Star lead heading to Darwin. The Cameron v Mawson show all weekend was intense, while the Race 3 start was proof of how talented the grid really is. How they didn't all fire it off the road with that oil dry debacle we'll never know.
---
8. The Event
THIS ain't your dad's Shannons Nationals any more! Huge effort from the combined forces of Motorsport Australia, ARG / Speed Series and the sponsors to make these events feel like.. events. From the podium / hangout area with a continually banging playlist, to the Supercars-spec signage around the paddock and precinct to sponsor activations, it's all very impressive.
Speaking of sponsors, Supercheap Auto's pit lane garage is the coolest thing, giving punters a proper access-all-areas pass into the pit lane.. literally. This round it also included a pinball machine (Among other things designed to give people more things to do) which was an inspired idea.
Supercheap Auto sponsorship chief Justin Murray, we understand, is a bit of a pinball wizard. A challenge at a later round may be forthcoming..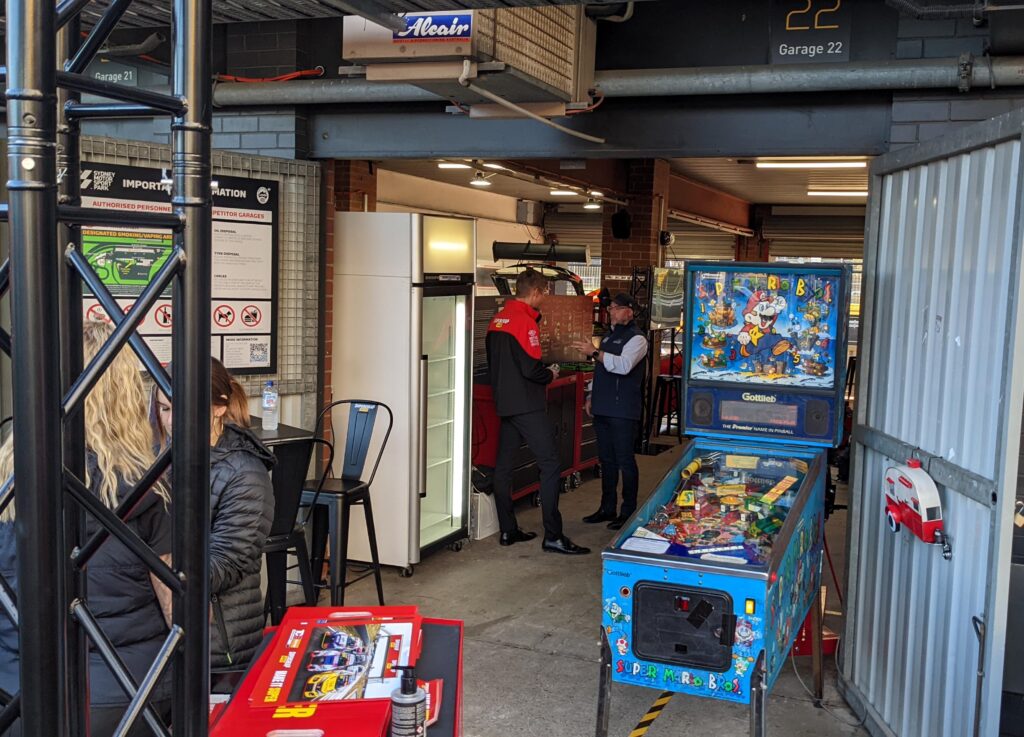 ---
9. Variety
FROM a decent Proddy Car field, to the diversity on show in the Prototype Series, the competitive Radical Cup Australia field and everything else going on, there really was something for everyone at this event.
---
10. Jordan Cox Fan Club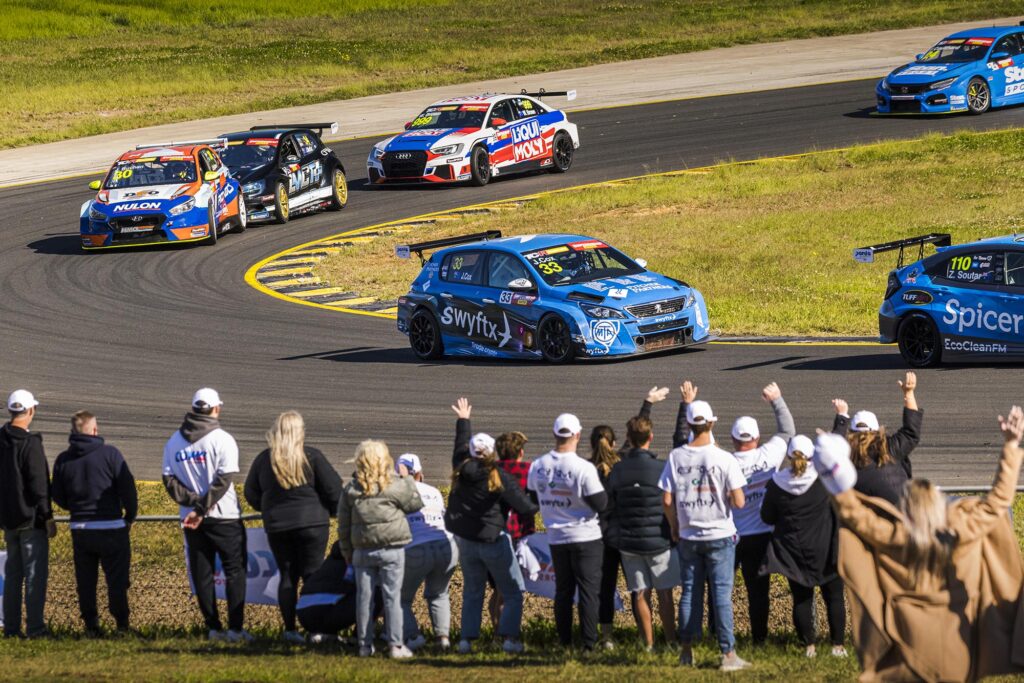 IF there were really 16,000 people there over the weekend (See: NOT), the Jordan Cox Fan Club accounted for 10,000 of them. Just awesome to see the local legend getting that kind of support.. often extremely vocally.
---
BONUS HOT
MICHELIN moved heaven and earth to ensure that the TCR and Porsche fields had an adequate supply of tyres for their seasons, and the dramas continued right up to the Saturday morning. Porsche were sorted before Winton, but TCR was touch-and-go as to whether they'd have enough rubber to use this weekend. Tyres cleared customs on Friday night on landing in Australia, and were shipped to the circuit on Saturday morning, arriving just in time for qualifying and the first race.
It probably came at an obscene cost to Michelin and Trevor Sheumack's European Technique business who supplies the motorsport product in this part of the world, but a herculean effort from the brand in these times of immense logistical issues.
---
WHAT
Kind of sad that Formula Ford was left off the program…
Hard oops
I was just working on my Guns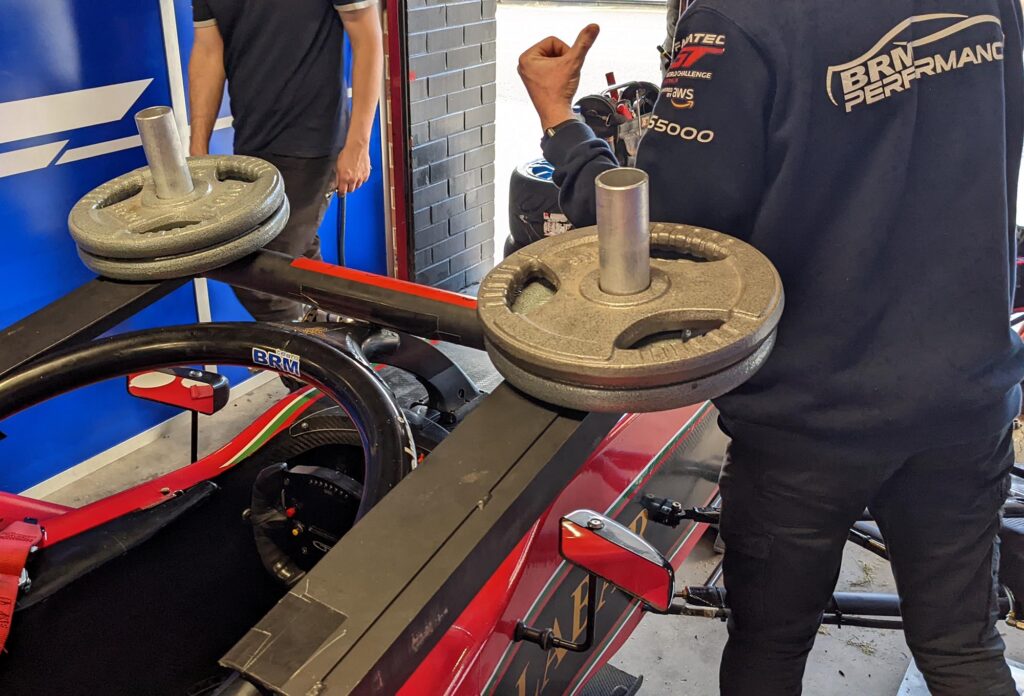 Fun fact, a full Joey Mawson weighs as much as these two dumbbells, used by Team BRM to get their car to the appropriate weight in the garage without forcing the driver to sit in it for hours on end. Nice..
---
NOT
1. Oil downs and the pre-S5000 'clean up'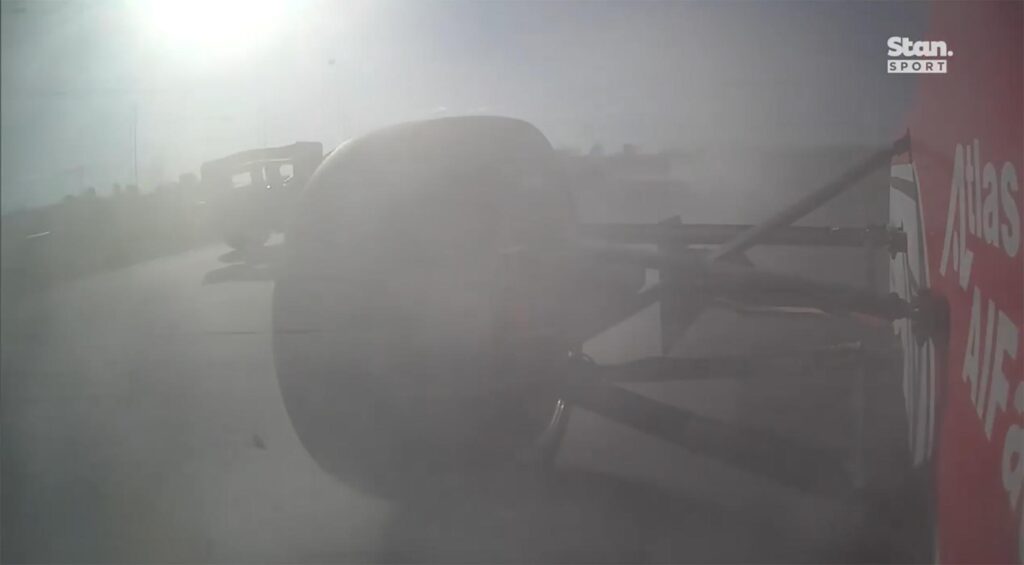 THERE were a lot of oil downs on the circuit on Sunday, but it was the 'clean up' on circuit prior to the S5000 race that takes the cake. Few who saw it live have seen as much oil dry left on the circuit prior to a race – let alone one with angry wings and slicks open wheelers famous for being difficult to drive on cold tyres. It was incredible driving and incredible driving alone that ensured everyone who went into turn two (and three, and four) came out the other side.
It was a bad look. See for yourself by clicking this link and watching the video over on the Speed Series Facebook page.
---
2. Crowd figure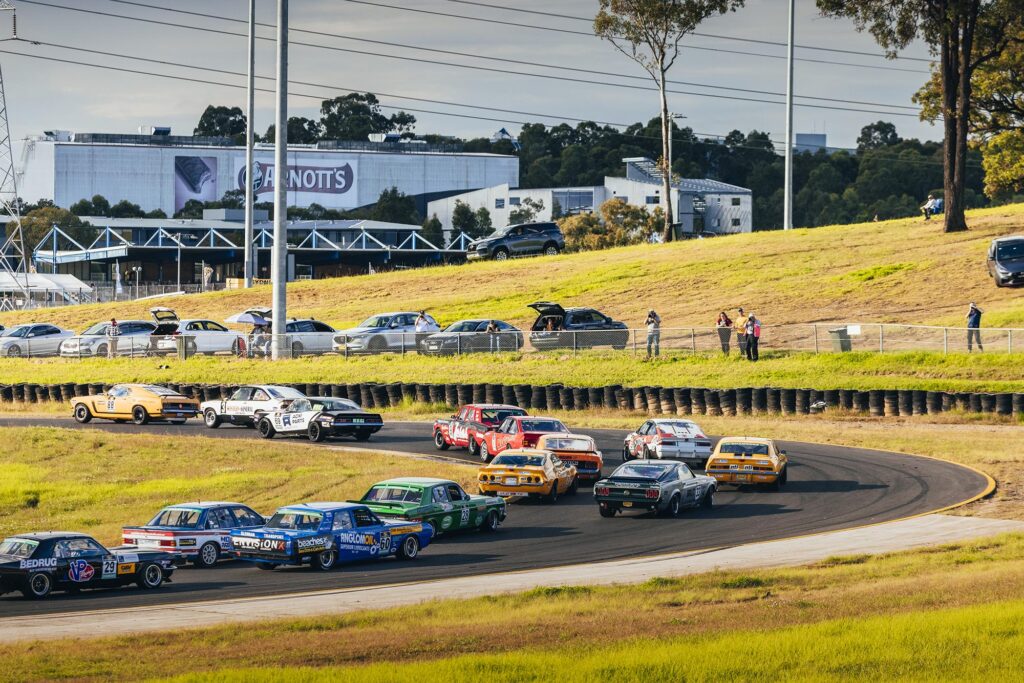 The event announced over 16,000 people attended over the weekend.
Now sure, that figure takes into account the many accredited people, workers, officials, media and more.
But 16,000? Not over three days. There weren't 16,000 there for the Supercars earlier this year and there definitely weren't that many there at the weekend.
That is almost as crazy a number as when poor Barry Oliver, the-then series commentator, was made to announce record attendances at each and every round back in the peak Supercars days, to the point where they just weren't believable in the slightest. 60,000 at Winton? Yeah, right..
Shannons crowds have been very good this year, it's true. Phillip Island was genuinely excellent. And there were some people at Sydney Motorsport Park this year – a good crowd by the standards of the track for this type of event, for sure.
But 16,000 over the weekend? Flat out nope and a definite not.
---
3. Sydney Motorsport Park
IT'S EASY to be hard on Sydney Motorsport Park – bigger they are, harder they fall etc – but at the weekend it just felt like they didn't really care about the kind of service the people hiring the circuit were getting.
We understand they blamed the lack of lawn mowing on the huge amounts of rain Sydney has had, but Fabian Coulthard driving in and out of door-high grass proved that it probably could have been done.
If a Honda TCR car can drive in and out of the lawn, we're sure piece of John Deere's finest could probably do the same. Instead the place just looked messy and run down.
Use a whipper snipper or a hand mower, at least to get it manageable in the areas where the punters couldn't see through it..
TRT readers noted other issues, a vast majority of them related to the circuit rather than the promoter or the event itself.
The internal road surfaces have indeed copped a hammering with the terrible weather lately.
The PA system issues noted by our readers are definitely not good enough, especially when fans are encouraged to use the entire precinct to go and view from.
As for the event: to be fair, it's not economically feasible to put food stands in the spectator areas at an event where you know you're only going to sell a handful of tickets. Better to congregate them all in the paddock as seen on the weekend to at least get a vibe going in there – which did work, in our opinion.
And Big Screens are nice, but unlike Bathurst you can see plenty of the action from the stands or pit roof in Sydney so they're not totally critical. They're the kind of luxury that comes with growth.
Still, Sydney Motorsport Park is the only game in town when it comes to race tracks in Sydney, and it's felt for a while like they know it. There's a distinct impression, at least from a host of competitors and within the media, that the circuit is in a way phoning it in, with no competition to spur them on to be better.
They need to be.
(A note from the Editor: At first our Rankings judiciary were going to NOT the $9.50 price for a bacon & egg roll from the ARDC Garage, but on the prompting of photographer Nathan Wong, we sampled it on Sunday morning and it was outstanding, so I overruled that decision. – Craill)
I've vowed never to go back to SMSP. I went at the end of last year and the start of this year for Supercars and the facilities and experience was hugely lacking. Not to mention the choice of one beer or one spirit (both of which were shit).

— Aaron (@smitty92) May 29, 2022
---
4. S5000
EIGHT cars isn't enough, but they know it and it's an age-old open wheel problem in this part of the world.
If we had a solution, we'd offer it up.. but it's lucky they're spectacular and those who are there, are all bloody good so they still put on a show.
Also NOT was the start-line shunt between Joey Mawson and Aaron Cameron in Race 2, and Nathan Herne's bold move for the lead on Tim Macrow a race later, the young bloke clearly forgetting he didn't have fenders with which to rub..
Taking out a title contender when you're not in the mix isn't a good thing.
---
5. Too many categories?
IF a Production Car race that starts at 7:30am on a Sunday, has no TV, no spectators and no commentary, does it actually occur? Yes, it does, but there seems little point.
The schedule was awkward on the weekend, with the categories not getting TV crammed into the morning hours which then ensured that the categories that did get TV were faced with incredibly tight turn-around times between races – some lucky to get cars back on track.
It's always a compromise, especially when there's a big TV production involved, but if you drop two classes off the program it just all becomes easier, a shorter day for officials and without the compromises running seven or eight classes generates.
---
6. TCR Big Guns strike drama
MUCH was made of the 'Commentators Cup' battle between Stan Sport presenters Michael Caruso and Fabian Coulthard, but they both had shockers and who would have predicted that? Moff rebounded well but had another challenge and Jay Hanson was in the same boat after an off in qualifying.
TCR is so close this year it's a scenario where you have one bad race and it could be title hopes: Over.
---
7. Lap Distances
FELT like most races on the weekend ultimately got cut short. Was there an over-estimation in lap distances on the event schedule? Here's a tip – to avoid people moaning incessantly about 'Time Certain' finishes, make the races fit the window in which they have to get it in.
Alternatively, do away with lap counts all together and give them a 25:00 clock (or whatever) to have at it.
That way no one will feel short changed when a 15-lap race gets cut to 12 or 13 because someone else put oil down in a previous, unrelated, race.
It's all about expectation management.
TRT'S Doric Power Rankings: Solving Motorsport's key issues.
---
8. Momentum killer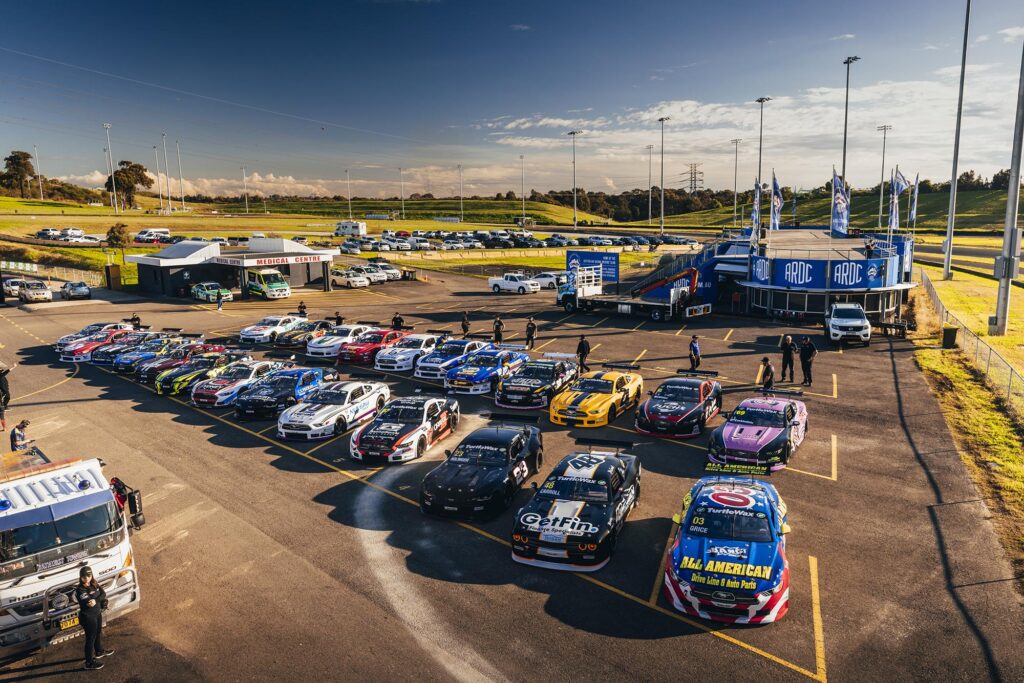 THE SPEED SERIES program really feels like it has some momentum at the moment after a busy start to the year.
Phillip Island, Bathurst 6 Hour and now Sydney were all big events in a (relatively) short timeframe that has created some real energy around the product.
It's a shame, then, that the next Speed Series event isn't until August when the circus heads to QR.
Good for the teams in TCR and Trans Am who get a break (S5000 is in Darwin and TCM in Townsville between Speed Series stand-alone rounds) but a bit of a momentum killer for the product overall.
Calendars are hard and they're never perfect – but keeping interest up for the next nine weeks will be a challenge.
---
9. The Missing XDs
TOURING Car Masters was still bloody good – 19 cars and some great racing – but it definitely felt the absence of the pair of XD Falcons that are always competitive in the hands of Marcus Zukanovic and Steven Johnson.
Hopefully they can come back for more later this year as the ultra-popular Muscle Car category continues a resurgence in 2022.
---
TWEET
Damn Sydney rain & subsequent long grass
Yes please
The big SMP issue
---
MEME
Sunday / Monday motorsport viewing on TV..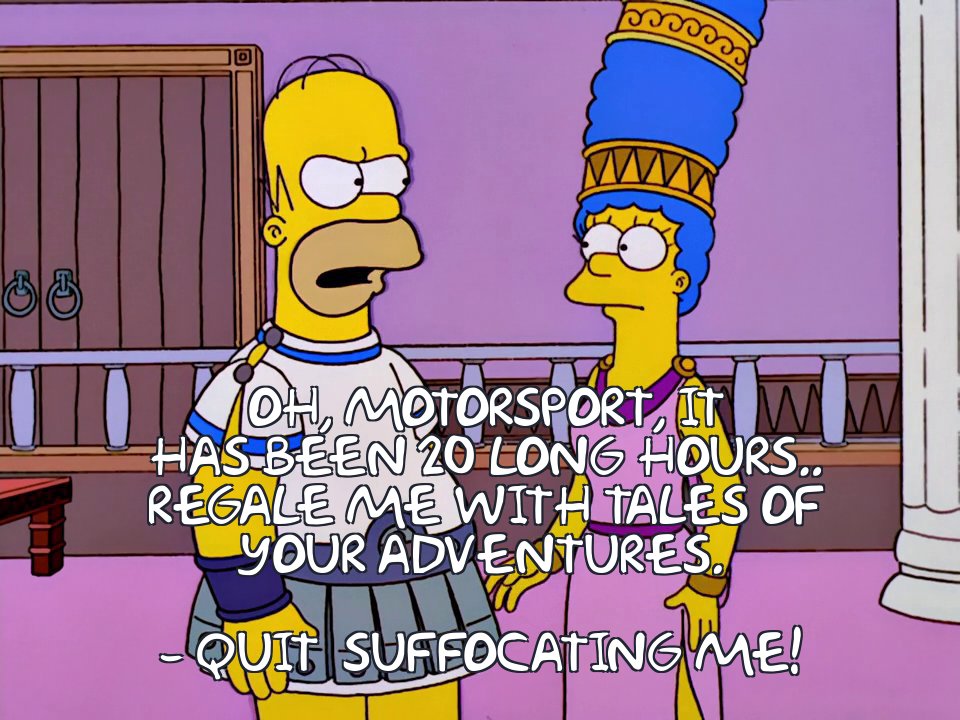 ---