DORIC POWER RANKINGS: Quinnsland Raceway SpeedSeries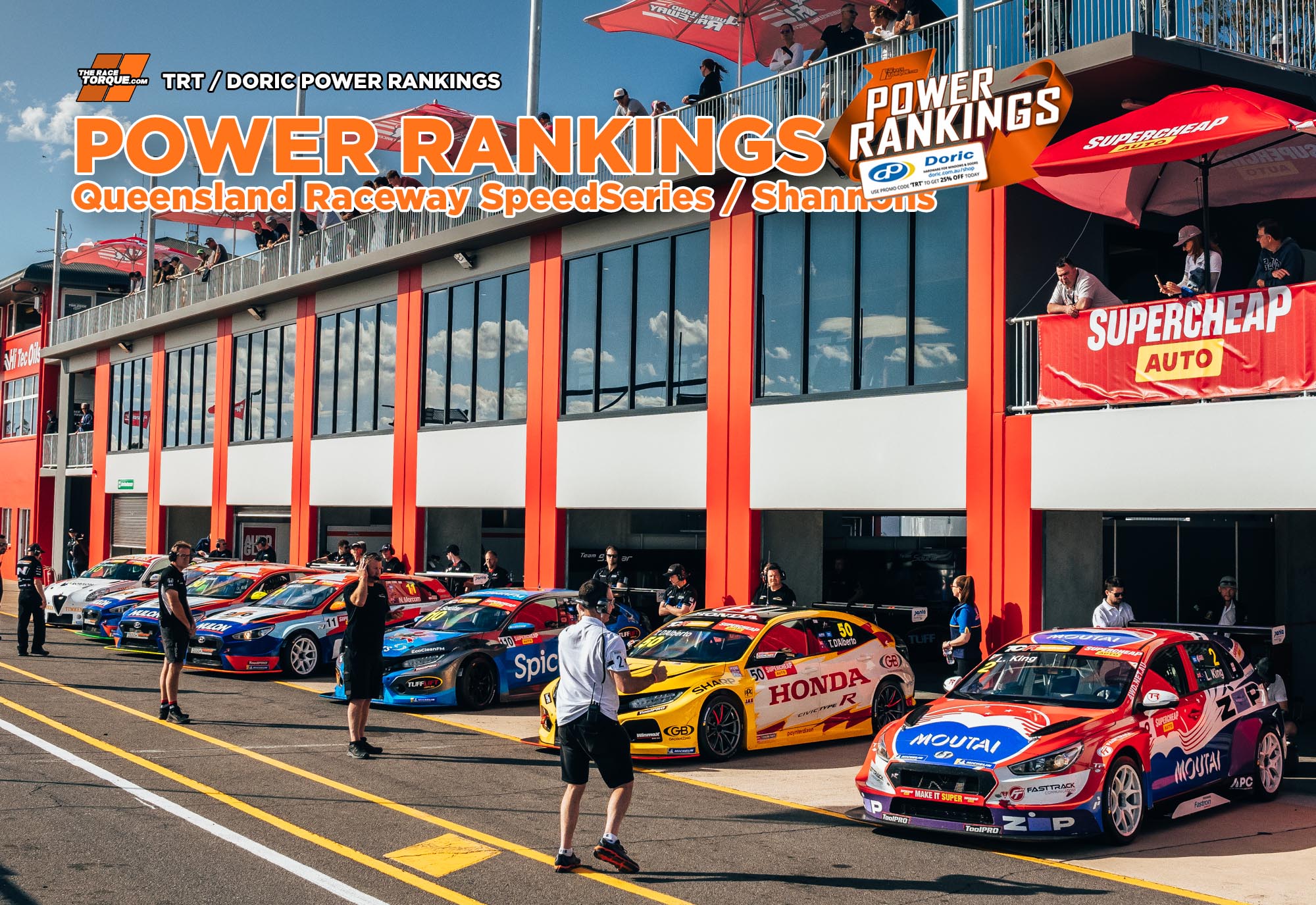 A HUGE weekend of racing in Queensland at the weekend as national motorsport returned to QR for the first time in three years with a blockbuster event and some great racing.
There was lots to take in, so without any further hesitation we dive straight in to the Hot, the Not and the What of a massive Shannons Motorsport Australia Championships / SpeedSeries event in the Doric Power Rankings.
Lead Image: ARG / Daniel Kalisz
---
---
HOT
1. Queensland Raceway
We'll have more on the new and improved Queensland Raceway in coming days, but suffice to say the early impressions are positive. The venue looks fresher, the new additions are great and there's clearly lots more things happening to improve it even further.
A great reaction from the SEQ Motorsport public, too, with lots of people on Saturday and Sunday; many of them lining the circuit in their cars and soaking up the excellent weather and excellent on-track product.
2. Tony D'Alberto
This year's Supercheap Auto TCR Australia Series has been looking for someone to stamp their name on it up to this point, and on the weekend the Honda driver did just that. A critical weekend for his championship challenge and also for his own career, given he had yet to win a race in the series. Impressive and should he clinch the title this year, it will be the Queensland Raceway weekend that did the business.
3. Porsche Sprint Challenge
How good is this series! Massive grid, battles all the way through the field and two sensational teenagers carving each other up front. It's competitive, but it doesn't feel like there's going to be a Safety Car every two laps like their big brothers in Carrera Cup.
4. Jett Johnson
He's won races before but against the best Trans-Am field yet and in the depths of a proper national series, Jett showed be belonged at the weekend. Home track familiarity helped, but the third-gen Johnson – with Dad on the tools and the grandparents in the stands watching on – showed all the ingredients of having what it takes to add more big-time wins to the family record books in the future.
5. Trans Am
TRANS AM looked and sounded great at the weekend with a bumper grid and some big boy racing with real sizzle – especially from a championship point of view – at the weekend. To be fair, the racing at the front was quite processional – but behind it there was all sorts of stuff going on throughout the field. Special mention to Ben Grice's onboard lap which was 60% oversteer and 40% him channelling his old man's Racecam exploits ("Welcome aboard the Flight Deck of my Trans Am..").
Despite what some people would have you believe, Trans Am isn't going to become Australia's premier V8-powered formula any time soon, but what it is right now is entertaining and competitive. And sideways. And we like that a lot.
6. Prototypes
If you were sceptical you'd think their races were staged, but team TRT knows many of the protaganists within the Australian Prototype Series and there's no way those involved would ever make things easy for their rivals! Races one and three were among the better races of the season with a diverse group of cars all evenly matched. Sure, there was some questionable driving at times, but that only added to the show. Just a shame the grid was slim, but the five or six cars that diced for position as if it were the World Championship? Brilliant.
7. TCR
TCR is in good shape at the moment and the racing on the weekend was extremely high quality, with highlights including the dramatic turn of events in the closing stages of Race 2, and the incredible mid-pack stoush in the final race.
This has been a breakout year for TCR in Australia thanks mainly to the depth of the talent involved in the top 10 or so of the championship. Special mentions to Zak Soutar for continuing to punch above as a privateer team and to Ash Seward Motorsport for almost getting Caruso back out for Race 3. The car fired up for the first time as the field left on the warm-up lap, but it was just too late.
8. Supercheap Auto & Sponsor activations
Supercheap are doing an outstanding job activating on their investment via their Clubhouse concept, which was very popular over the weekend.
In fact, between them, Shannons' regular activations, the Hyundai owners club bringing 130+ cars to the venue on Saturday, the autograph stage and podium setup from Motorsport Australia and a full corporate venue, the commercial side of what were once humble little Shannons events now have a very Supercars feel about them – and that's a good thing.
9. TV of things
The Speed Series TV product goes from strength to strength with two really good days of TV produced across the weekend. Highlights included:

– Live driver chats in TCR: King, Buchan and Caruso were outstanding, especially when they did it live, in-race.
– Josh Buchan's stint in commentary on Saturday. Another annoying race car driver good at everything
– Michael Caruso is excellent in the colour role in the commentary box, and as you would expect, very funny.
– Fabian Coulthard has taken big steps forward as a caller and reporter as he becomes more comfortable in the media role.
10. B2 Stealth Bombers
Flew over whilst inbound to Amberley on Friday, probably one of the coolest things anyone has ever seen, anywhere. Sorry if you missed it.
BONUS HOTS:
GT Racing was great despite the small grid. Always great seeing the likes of Tander, van Gisbergen and Reynolds ragging GT3 cars as hard as they can be driven.
Beric Lynton & Tim Leahey's Lazarus-like comeback from their Friday bonfire to win the 'Fight in the Night'
The Fight in the Night: If that had a field like the Bathurst 6 Hour, it would be one of the all-time great races.
The Radical Cup Australia Races were highly competitive and as wide-open as they have ever been, with that championship now set to go down to the wire in South Australia in October.
Pumphouse Brewery in Ipswich. Excellent beer, excellent food, great vibe. In Ipswich!
---
WHAT
"Hello Gents, hello Naults."
Josh Buccan on his commentary debut, which we were entirely here for. Goes in HOT and WHAT because it was great.
But how?
Podium order?
You tell us: Is the 3 on the wrong side, or not? Several drivers were confused about what should be a simple process across the weekend..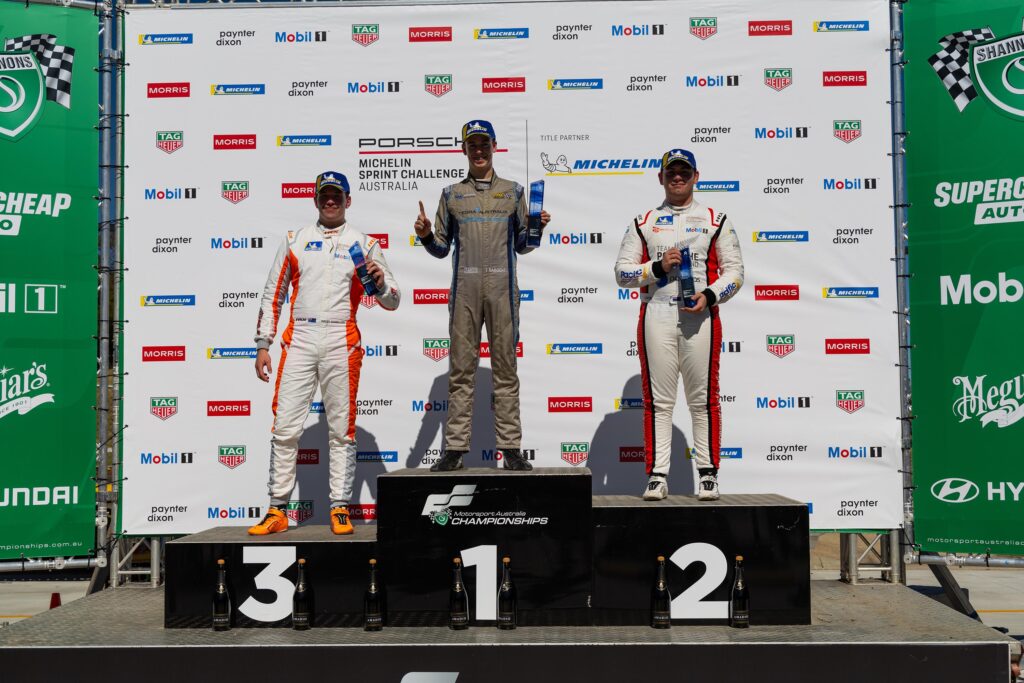 ---
NOT
0. Tony Wasn't there
STILL Recovering from his massive Porsche shunt in Townsville, it was a massive shame that TQ wasn't able to make it out at the weekend to see the fruits of his labours and his cash at work. The success of the weekend was a testament to his first few months at the helm of QR and of what is to come when the series returns next year.
1. Phone reception
It's out of Tony Quinn's control, but for a lot of the weekend several people not on Telstra phones were on 'Emergency Call only', and it appears phone signal out there has actually become worse since we last visited. We blame Covid.
2. Trans Am politics
Perhaps it's a sign of how rapidly it's growing, but politics are creeping into Trans-Am. It kicked off, of course, with the SVG announcement non announcement, then Peter Adderton got involved and the Brodie Kostecki deal was done which only fuelled the fire further.
And then on Monday, post-event, Trans Am competitor Jon McCorkindale posted about some 'innovative' ideas in place on some cars that we're sure will gain the ire of many. This will be a story to follow!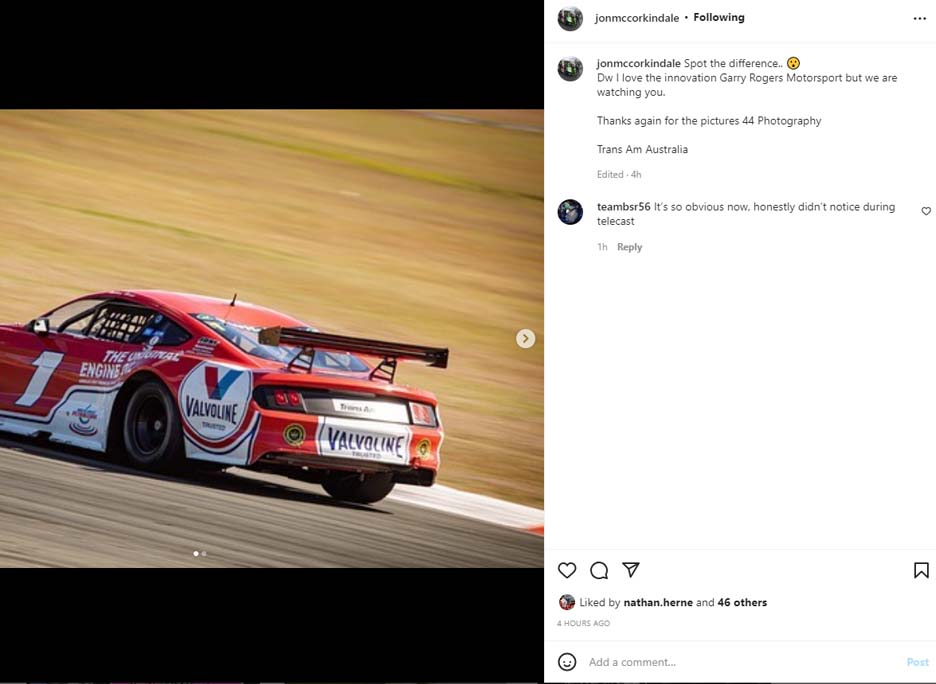 3. Tim Leahey fire
Fire is the worst nightmare of people within the sport, so when we saw Beric Lynton's BMW go up in smoke on Friday everyone held their collective breaths. Fortunately Tim Leahey climbed out unscathed – and went on to win the weekend anyway in a back up vehicle.
4. Two months off between rounds
THE thing Supercars have going for them at the moment is a relentless schedule, smashing out rounds every three weeks or so between June and the end of October. Meanwhile, the last SpeedSeries / Shannons event was Sydney Motorsport Park, a full two months ago, which didn't help momentum at all. Fortunately, it didn't seem to effect the weekend but hopefully the complex matrix of calendar calculations can deliver more regular scheduling in the future.
5. GT Grid size
FORTUNATELY the racing was good, because the lean 12-car GTWC field wasn't. There are a multitude of factors that contributed to it – The Grove's being at Spa, the Sheargold AMG still being repaired from Bathurst, the Harrold's GT4 not racing until the next round, Ash Samadi just deciding not to run – and they are the difference between a bad field and something approaching half-decent. But as good as the racing was, perhaps QR isn't the venue for a major GT3 round?
6. QR'S PA System
Some social media commentary indicated there's more to the story than meets the eye, but it's a fact – and tipped off by several Rankings commenters on our socials – that the QR PA system let the side down on the weekend. We're unsure at this point if it was related to the broadcast, the circuit or something else, but when 13,000 people turn up to an event it's generally a good idea to have working public address so they can hear what's going on.
7. Trans Am Biffo
THE REAL shame about the Race 1, Turn 1 biffo in Trans Am was not just that it ruled out two potential race-winning contenders, it played a massive role in the title race as well because Nathan Herne needs no more motivation in his pursuit of back-to-back crowns. Tim Brook was penalised for his role in punting Owen Kelly, but it was still hard to watch. And then there was just some pretty mediocre driving standards throughout the field – lower down the order – that show the big gulf between the Pro's at the front and those a big further back.
7. Robbo's run
OKAY, so he was fortunate in being elevated to pole for the reverse Top-10 race two, but Michael Caruso had that thing shot to pieces before his Alfa went all Italian and had a proper meltdown just a few laps from home, denying him a race win.
The Bargwanna shunt at Turn 6 in race one was also badly unfortunate as was Bailey Sweeney's off at Turn two.
8. GT Biff
We just don't like seeing GT3 cars beaten up. It makes us sad pandas.
9. Clash with ASBK
TO be fair, the two and four-wheel stuff have never worried too much about clashing events because they do attract a different audience – but when they're in the same state, 100km apart, it is a bit frustrating. We're sure there were people keen to go and see ASBK at Morgan Park that were at QR, and vice-versa.
10. The Schedule
FRIDAY's schedule was bloody strange, with a block for meeting rides and TV airtime in the middle of the afternoon, and GT and TCR practice sessions at night, which made them borderline redundant for all involved – especially GT World Challenge, where it rained.
Queensland is a long way to go for what was essentially one practice session – the teams could've saved their pennies and rocked up on Saturday. It's hard with such a packed program, but this just felt weird.
TWEET
For a big crowd, just invite Hyundai owners.
This is living, Barry
MEME
Low rent effort this week, but it was there for the taking.