DORIC POWER RANKINGS: Sandown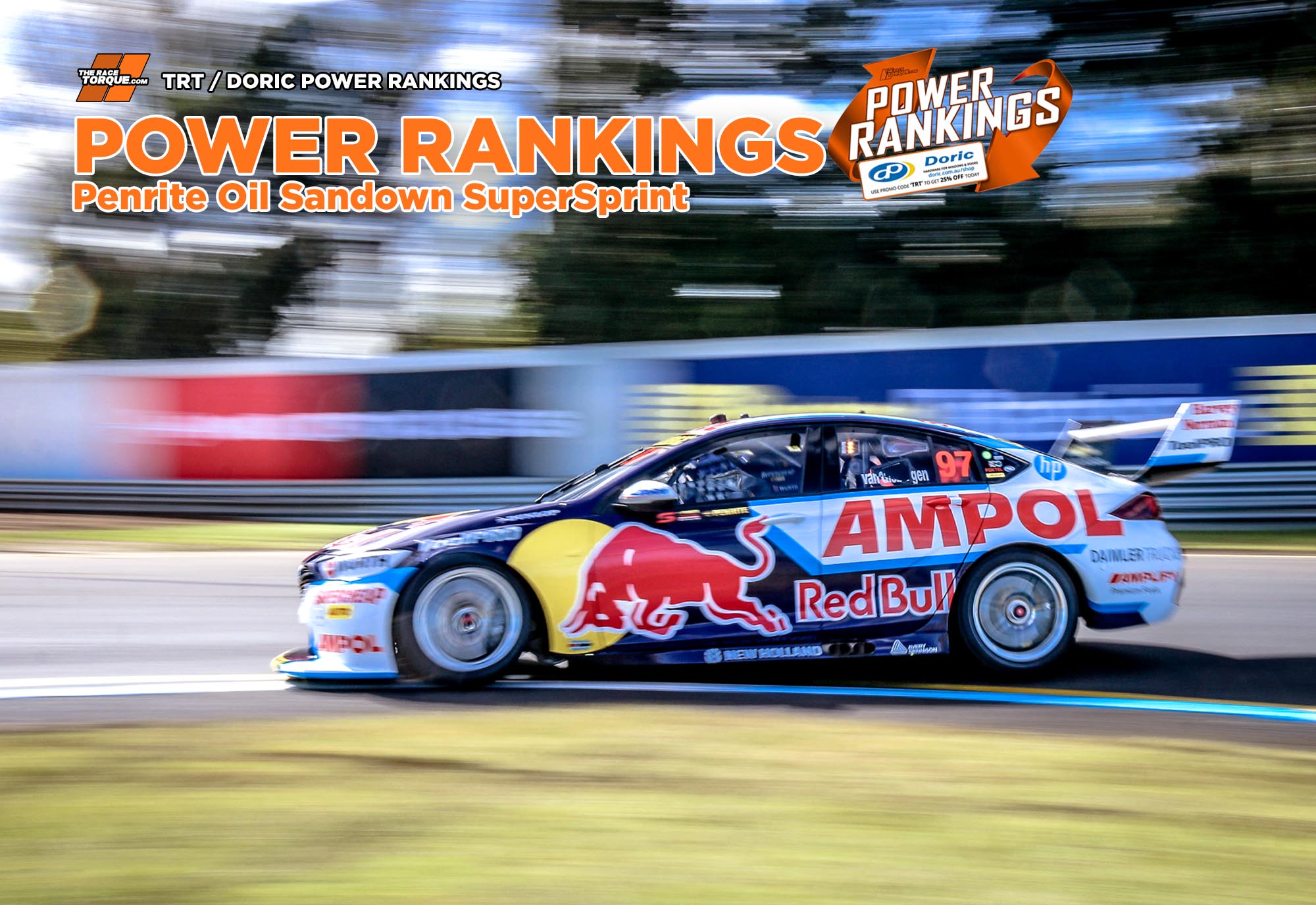 BIG BAD Sandown lived up to its reputation with an interesting weekend, some good storylines and lots to take out from it.
As always there was some good, some bad and some stuff that just made us go; 'Eh?'. As is our custom and following your feedback via our social media accounts, you can find that all conveniently documented here in the next thrilling chapter of TRT's Doric Power Rankings; the open, honest and informed place for the good, bad and ugly feedback from each round.
Do you agree? Disagree? Have a good bottle of Shiraz to recommend? Hit us up on our socials, via @theracetorque on Facebook, Twitter and Instagram.
---
---
HOT
1. SVG
RECORDED his 69th and 70th race wins to join an elite group in ATCC / Supercars history and has no signs of stopping any time soon. In such form that even when on the back foot it feels inevitable that he'll be on the front soon enough, as was the case on Sunday afternoon.
His remarkable performances, coupled with the inability of almost every single other driver on the grid to piece together a consistent weekend, means he's got a five hundred point championship lead going to New Zealand. Only a truly terrible weekend at Pukkie would see Shane going to Bathurst with less than a full round up his sleeve. They way he's going, after New Zealand's three racers, it could be two..
---
2. Will Davison
IN a year where SVG is smoking everyone it's nice to know that Will Davison is actually the season's best qualifier, with that form continuing across the weekend with another pair of cheques banked across the Sandown weekend. Even better was his win in Race 24, which ranks up there with one of his better drives in recent years. His recovery in qualy on Sunday, from being on-fire to being on fire, was outstanding and we loved the fight with SVG at the start of Race 26, even if he didn't quite have enough to beat the rampaging Kiwi. Could Willy D be in career best form? It's hard to argue otherwise. Waters is in front on points at the moment, but at Sandown car 17 was the top Mustang in Supercars.
---
3. Save of the Century
THIS is the save of the season, by far: Bailey Sweeney's epic save having been turned around by Fabian Coulthard (that's a NOT right there), coupled with the avoiding action of everyone else, was a massive thing. Furthermore, he went on and recovered two spots at the next corner! Massive.
---
4. Race 3 opening
THE first six or seven laps of Race 26 were outstanding – high quality, incredibly competitive Touring Car racing between a group of the very best in the sport. Without getting bogged down into wishing it could be like this all the time – and the inevitability of the 97 ultimately winning – it was superb to watch. Old school track, high quality drivers, good teams and exciting cars. Big tick.
---
5. Sandown
AHH, SANDOWN. How can you not love old school race tracks? Sandown is gnarly and unforgiving. If you run off, you get punished. There aren't huge areas of run off past track limits, other than turn 6 at the top of the back straight, and even then a plane crash is on offer should you fence it.
Throw in Melbourne's wet weather and Sandown delivered great motor racing.
Sandown boasts the best grandstand of any circuit Supercars visit and the area behind the heritage-listed stand and in around the merchandise areas are the best the tour has to offer – under cover, out of the elements and well appointed. The Merchandise, car show, music and family area were all contained in doors and under the grandstand in one central area and it offers a great centralised experience and as a result, a great vibe.
Couple that with the ability to park your car (Mud aside.. see 'NOT') on the side of the track in several key locations excellent for spectating, and you end up with a great place to race.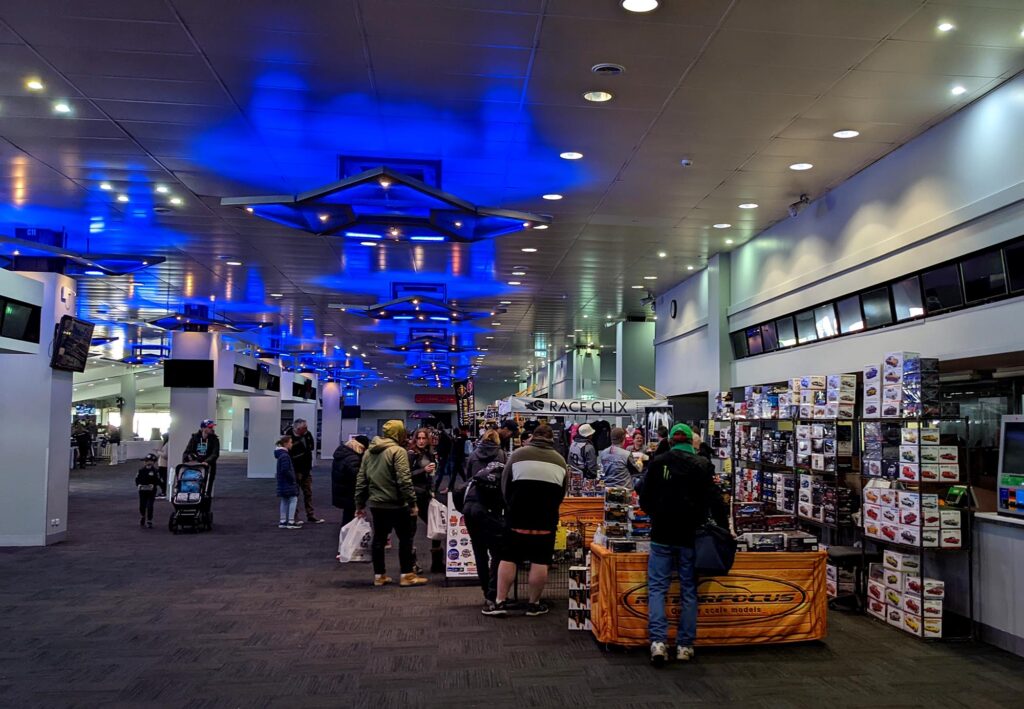 ---
6. Kai Allen
KAI ALLEN is a mega young talent and at a circuit where the gap between the older Blueprint cars in Super3 and the COTF machines in Super2 was smaller than usual, he really showed his stuff. Sixth outright in race one, strong outright qualifying pace and some really impressive racecraft highlight this young driver as one to watch moving forward.
---
7. Supports
IT was certainly busy on track, with big fields of Carrera Cup cars, Aussie Cars and Toyota 86s putting on a show as always. Things seem pretty healthy in support land at the moment, which is great to see – big grids, lots of competitive drivers and some quality racing.
And no, we've not forgotten about Super2. Keep reading.
---
8. TV things
OKAY, so TCR do it in-race which is very cool indeed so there's a bit of catching up to do from the Supercars side in that regard, but Craig Lowndes in-car commentary while driving Jack Smith's SCT entry in the co-driver cup on Friday was excellent. Genuine insight into how that car was different to the others, plus good banter with NC and MS at the same time.
---
9. WAU quick engine change
PROFESSIONAL racing teams never fail to impress in the way that they can get the job done when they need to, and WAU was no exception in the quickfire way they turned Chaz Mostert's car around on Sunday to ensure he remained well in the mix – which of course, he did.
Same can be said for DJR with their quick turnaround of Will Davison's machine following it's little smoking ceremony in qualifying, and broadly to the whole paddock who had some pretty second-hand looking rigs on Sunday night that needed to be bright and shiny for Monday's corporate ride day..
---
10. Bert
They say never meet your heroes, but BP's Bert was on hand at the weekend and probably posed for more selfies than Craig Lowndes – with the charge led by our own Mark Walker. BP's marketing team had a stroke of genius when they created the Bert character (WHAT DO YOU MEAN HE'S NOT REAL? – Ed) and the ripping bloke that plays him leans right into the role. Absolutely was one of the most popular people at Sandown all weekend, period.
---
BONUS HOTS
Perkins Throwback – outstanding stuff from a man who appreciates the history of the sport more than most on the grid. Brilliantly executed and very, very popular throughout.
Will Brown – back on the podium for the first time since Sydney last year in a very welcome return to form for the Toowoomba tearaway. Erebus slowly creeping back into contention in the back half of the year after a challenging run across the middle.
Team 18 solid – the same can be said for Team Charlie, with Scott Pye very consistent all weekend (going 7th, 5th and 7th) while Frosty's 5th in Race 26 was very strong and equalled his best of the year.

Thomas Randle – Coaching from Rob Wilson in the UK paid off in a massive comeback from his drama at The Bend, punching out results of 9th, 17th and 8th across the three races.
James Golding – looked sharp and banked a 9th in Race 25 in the process.
Broc Feeney – we said on last week's On the Grid that we'd like to see something from Feeney at Sandown and he sure delivered, thanks to a mature and racy drive to third in Race 26, his second podium of the year.
BJR & Heimgartner – Much like Randle's rebound, P6 in Race 25 was a huge effort for Andre and BJR after their rebuild following The Bend, keeping the Kiwi in the hunt for the T10.
The battle to be best of the rest – 22 points cover Waters, Davison and de Pasquale in the battle for second in the championship and the fight to be first Mustang home between Tickford and DJR. Expect fireworks here in the closing few rounds.
---
WHAT
The TRT family banding together to add meat to the bones of this incredibly innovative WHAT!
Aussie Racing Car Race 1 Start
Who didn't listen to the driver's briefing? For whatever reason, the Aussie Racing Car field lined up on the entirely wrong starting grid, some 300m before the actual start line, with no officials or starting line in sight… officially WHAT.
What did the internet do to you, Zak?
Strong Josephf Newgarden vibes here.
Porsche warm-up laps
Three races, four spins, despite the fact that the field had been given extra warm-up laps to generate tyre temp in the first place. Odd..
---
NOT
1. It's not the Sandown 500 / It's not retro round
If you're reading this website you're probably across the 'Bring back the Sandown 500' vibe around the sport at the moment, so we won't go into much detail here. But it's clear there is a demand, especially with the circuit's days numbered (for however long that might be) to bring back the pre-Bathurst enduro. If we do only have a few races left there, then they should be celebrated and the '500 would seem the ideal way to do just that.
And then there's the lack of retro round: Every event needs a USP these days, a hook on which to engage an increasingly selective public who are thinking more and more about where they spend their money. Winton and The Bend have the country / regional vibe. Darwin is the Triple Crown. Tassie is their largest sporting event. Perth has the lights. Sandown is great and unique on it's own, but a three sprint race weekend there just felt like the 4:00pm Sunday afternoon footy game between the Gold Coast and the Bulldogs that in the grand scheme of things, is just another game in a busy weekend of sport.
Lets elevate each round to be something truly unique – and Sandown is the easiest to do just that.
Covid was a good reason to park the extra expense of staging either the '500 or reto round – but if anything, now is the time to capitalise on the post-pandemic rebound business is experiencing everywhere. The 88,000 that went to the 'G on Sunday afternoon – at the same time we were at Sandown – are proof that crowds will still go to something that has meaning and impact.
2. Going full Super 2/3
SOMETIMES we joke about the Development series going 'Full Super2' to describe a moment of madness, insanity or just plain ridiculousness, but this took the cake and as we look deeper and deeper into it, actually has pretty average outcomes for all involved.
There's so much to take in, the first of which being: Why weren't they under Safety Car for the stranded Gomersall car? He'd clearly had a big off and hit the fence and was moving nowhere – so why wasn't the race controlled?
Sometimes things are unavoidable but when a parked car gets clobbered like that – especially when it's been there for a little time – it's a very bad look.
Then there's the lack of any real indication that the field took notice of the double waved yellows on approach to turn two, ensuring that when they got to the Sandown equivalent of the Somme battlefield down there they were all going to have a massive drama coming out the other side.
The net result ended up being half a dozen badly damaged cars, a driver in the medical centre and a really unsavoury end to a wild weekend.
Usually we celebrate Super 2 going "Full Super2" but this wasn't what we were after.
---
3. The mudbath
It's not Sandown's fault that the circuit is located in Melbourne – instead, we're 'notting' the simple fact that the conditions leading up to the event made it an incredibly uncomfortable one for anyone traversing the car parks or spectator areas.
Our count of stranded or bogged cars ended when we got to double figures, it was just too hard to keep up, especially early in the weekend. And the mud everywhere had forced several carparks to be closed entirely – forcing cars into other areas which subsequently became completely clogged and torn up again..
Taking the family on a day out to a footy stadium wouldn't result in multiple pairs of destroyed shoes and it's things like this that are the reason why the stick and ball sports will always, always have an easier time of attracting paying spectators compared to our game.
Old mate thought he would be OK having 'Bought a Jeep'. In reality, he needed a Hummer.
---
4. Sandown Event things
Firstly, the organisers should have a look at the pricing for grandstand tickets – it was about half empty for most of the weekend, while the GA area in front of the grandstand was packed and that's not a great look.
When it's already close to $100 to get into the circuit, charging a considerable amount extra to get up into the grandstand – while fine for a street circuit event – just feels like taking the you-know-what. There needs to be a question of optics taken into account too – a half-empty grandstand isn't a good look while a full one looks fantastic. Make it $10 on top of an existing ticket and you'd find the stand would be full, GA areas less reamed and everyone much more willing to come out – especially when the notoriously fickle weather. And you'd probably make the same money in the additional tickets sold.
Furthermore, it was noted by the TRT audience that the Big Screen solution was far from ideal, which – when coupled with the fact that the PA system now only uses the Fox Sports commentary – meant some fans had a hard time following along with the action if they couldn't see or couldn't hear what was going on. If you're in the grandstand you can see most of the circuit, but Supercars races are complex animals, even in sprint race form, with Pit stop strategy and tactics unfolding so fans shouldn't have to battle to hear or see what is playing out.
The security company hired were a cliche' – unhelpful as ever – while traffic management was non-existent, leading to long delays on Saturday night trying to exit the venue which resulted in lots of stupidity from those trying to move.
And a few 'strategically positioned' RBT and Drug testing stations set up by the local constabulary didn't help the traffic cause either..
---
5. Will Davison's qualifying
Firstly, he was $500 out of pocket for blend line violation in Saturday's shootout, and then he was on fire on Sunday – literally. He's good he's quick this year, because otherwise qualifying could give Will Davison a complex this year..
---
6. Race 2 costly stops
PIT STOP errors are easy NOT fodder, and there were several indications of that across the weekend.
---
7. Waters dropping it
ANOTHER frustrating weekend for Cameron Waters, who finished 5th, 7th and 10th in the three races but dropped it while it was hot in Race 26 while looking for a podium finish. Not terrible, but after slamming home eight podiums from the previous 11 races we all thought Tickford had found some consistency in their campaign. They were quickish at Sandown, but when DJR had a first, second and a third in reality the Campbelfield team were pretty anonymous and at the back end of the Top 10 for much of it. Fortunately for them, DJR's similar level of unpredictability helped keep the 6 second in the championship.
---
8. MSR's weekend
MATT STONE's team are having a shocker of late and look a long way away from being the top-10 contenders many thought they could and should be this season. Le Brocq's 19th, 25th and DNF weren't great, compounded by Hazelwood not even cracking the Top 20 in any of the races. Todd hasn't been better than 15th since Perth, while JLB's last Top-10 came in the first race in Townsville.
Got even worse with the Super2/3 race, that saw Jason Gomersall's car badly damaged in the race ending shunt on Sunday.
---
9. Sandown things
WHILE the grandstand and spectating areas are great (when not mud inundated), Sandown's actual race track facilities are really showing their age and the circuit itself – and the associated safety systems – looks and feels really, really tired. We know it's unlikely to change, but there's only so much space to stack rows and rows of old tyres in front of Armco that can barely remain in the ground, let alone hold its original shape..
---
10. Broc Feeney spun out in race 1
Broc Feeney being turfed at the start of the opening race had implications, most notably from the team's championship which remains the only area where Triple Eight are under serious pressure this year.
Had the race's fastest lap on his comeback drive and was looking sharp had it not been for this unfortunate incident.
---
EXTRA NOTS
Race 3 opening
Nick Percat – This guy has won Bathurst! The Adelaide 500! He's a good racing driver! Yet the struggles continue at WAU and finishes of 15th, 19th and 22nd at the weekend won't help.
Weather forecasts – Outside of Friday night, none of the forecast rain happened, and at one stage on Sunday morning, it was almost warm enough to take jumpers off. Almost. Madness.
Cameron Crick – In the fence practice 1 hard, big hit.
Carrera Cup madness – Race 2 on Sunday morning was wild, leading to Max Vidau being deposited firmly into the wall by a title contender, after the leaders went three wide over the top of the hill.. Race 3 saw Rodney Jane and Scott Taylor get together hard at the start and there was other associated drama all weekend, chief among which was teammates Jackson Walls and title leader Harri Jones getting together in Race 3, ending the latter's race.
---
TWEET
Bring back the 500
Comeback on the cards?
C'mon, lift y'all
Cunning strategy
Yikes
Omen
Relationship goals
---
WHITEBOARD, WHAT?
---
MEME
---