DORIC POWER RANKINGS: The Bend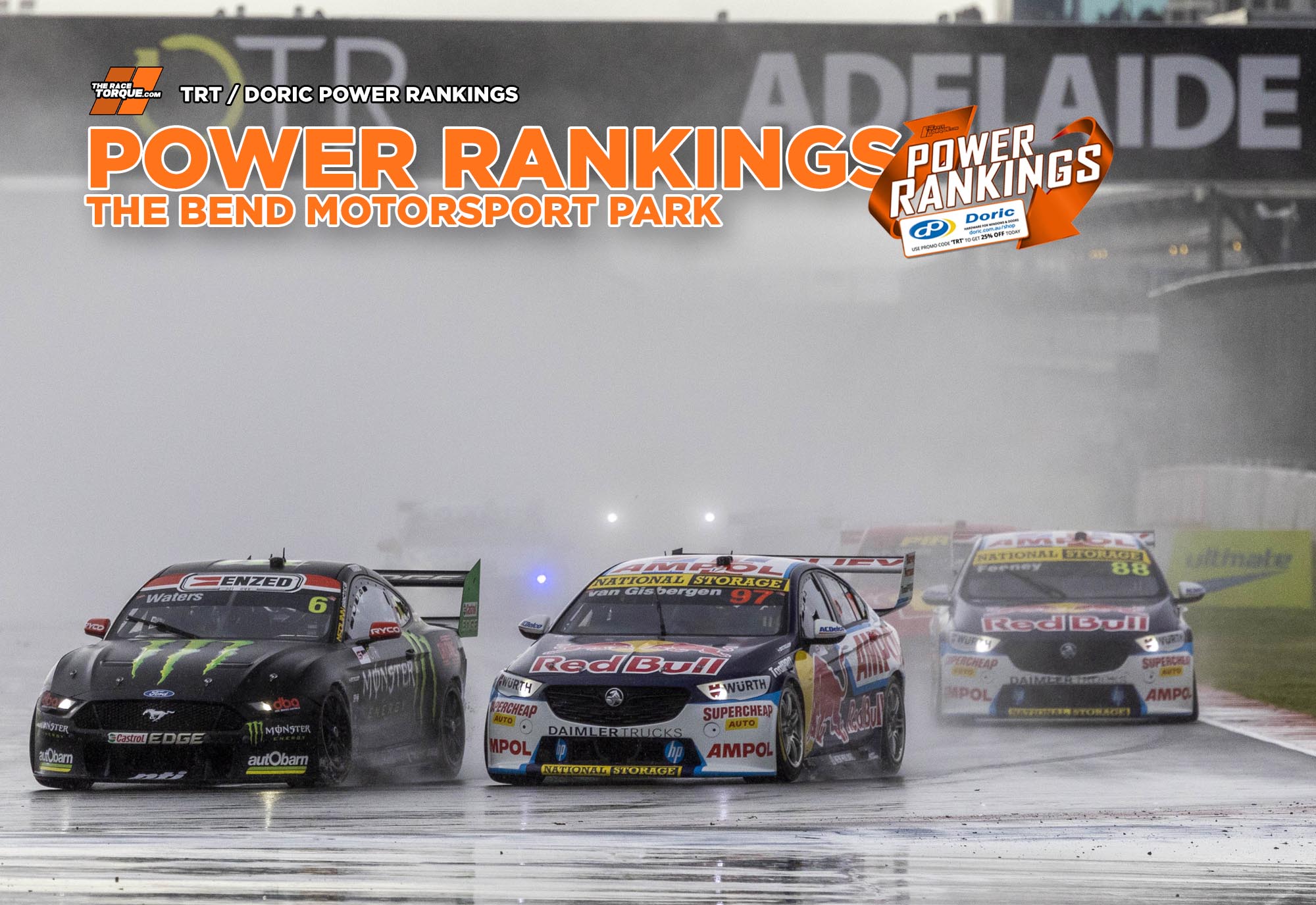 SOME OF the best racing of the season so far, wild weather, a good support program and lots of news headlined The Bend's return to Supercars this year.
THERE was lots of good to come from the weekend in Adelaide, while the NOT list was predictable if still very interesting and at times controversial.
That's probably why this is an absolutely LOADED version of the TRT Power Rankings, with thanks to our friends from Doric, as always.
Don't like our list? Even the score via our socials, @theracetorque. Just be nice doing it.
---
---
HOT
1. Wet racing
THE FIRST 10 or so laps of Race 23 were probably the best series of laps produced in a Supercars race this year, with hard, aggressive racing in sopping wet conditions that really showed off the skill of the pilots. Hugely entertaining and the only downside was that – shock horror – when Shane van Gisbergen got in front he drove away from the field which gives the indication that for the first half of the race he was really just playing with his food… Still, it was a great display of car control and racecraft from the entire grid and a memorable show for all who saw it unfold.
---
2. Shane van Gisbergen
PEOPLE complain about parity, or Triple Eight having some form of unfair advantage, or God secretly being a Holden fan or even worse, a New Zealander, but in reality, the only thing wrong with Supercars is the different level on which SVG is operating. Perhaps the only downer in his ruthless domination at the moment is the fact that there's no one able to stand up and challenge him consistently. Even when he doesn't qualify well he finds a way to win. You might not like it, but we're witnessing something very special unfold.
---
3. Zak Best
OKAY so the tyre story that broke on Sunday night took some of the shine off Zak Best's performance on Saturday, where he so surprisingly qualified on pole and featured throughout the first race. But, as Tim Edwards told the media, he was still quick in practice when he wasn't on new rubber. Qualifying seventh for the final race, when everyone had the same round black things, was perhaps an even better indication of just how well the young man from Benalla was going. There'll probably and unfortunately always be an asterisk over the Saturday performance, but Sunday had parts that showed he could well belong in that elite company.
---
4. Chaz Mostert
THESE rankings have been calling for more consistency from the likes of Walkinshaw Andretti United (among others) and we know they want the same, so it was pleasing for all concerned to see Chaz Mostert in the mix again at the weekend. Third in race one was backed up by second in race two – and his blazing start to the lead when Race 22 restarted was typical Mozzie. The penalty received for bumping Will Davison off the road in Race 23 was a blot on the copybook for an otherwise promising weekend on a fast, flowing circuit (Remember Bathurst?) for the driver and team.
---
5. Cam Waters
HE SAID in the post-race press conference on Sunday that he's never going to be a contender for the title if he keeps finishing second or fourth – and he's right – but the pace from the Tickford driver across the weekend was impressive. Superb over one lap, especially, and consistent in the races to be best of the rest behind the flying van Gisbergen.
---
6. Supports
WHAT a strong weekend for the supports that was. The Aussie Racing Cars were spectacular, the SuperUtes actually turned on some great racing (and a surprise and very popular comeback round winner in the form of Adam Marjoram) and Porsche Carrera Cup Australia was its usual hectic self. Special mention to the Group N field for putting on a great show – oddly, that track suits old-school racing cars – and Sports Sedans just for being Sports Sedans in the first place.
---
7. The Bend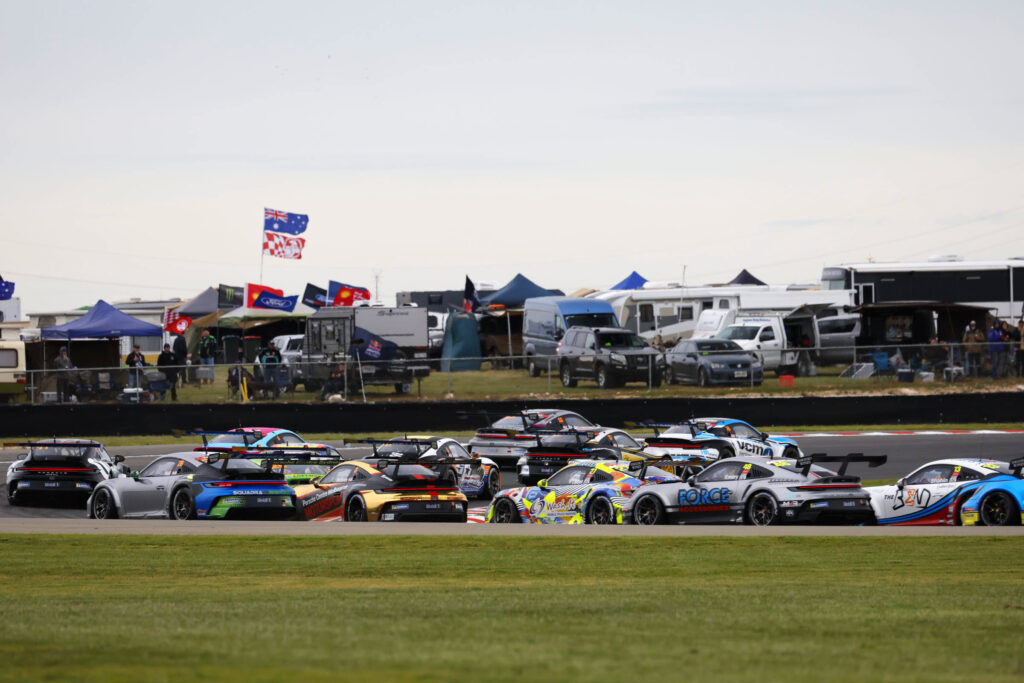 THE BEND cops a bad wrap sometimes, mainly from people that aren't there or haven't been before, but they did a good job on the weekend with what was comfortably their best run of the six Supercars events they have held to date.
The facility was better laid out than in the past, with the infield section (the new bridge is fantastic), merchandise, catering and whatnot all better done than before. Traffic Management was an issue Saturday night but not on Sunday, and the three-day crowd of just over 37,000 was the second best the venue has attracted, despite being let down badly by the (otherwise usually perfect – Craill) South Australian weather and being lumped with a date in the middle of Winter. Record campground attendance is proof that they are building in the right direction.
On-track, the racing was no better and no worse than any other SuperSprint round this year with Race 23 being one of the better ones. Counts as a regional event because it's more than 20 minutes from the Adelaide CBD, and with questions over Winton's future, the calendar needs more of them. The Bend did a good job at the weekend to prove its case moving forward.
---
8. WAU rebuild
COULD have been parked, but good race teams tend not to settle for such things and as a result, WAU thrashed to ensure Nick could get back out for the final race of the weekend, where he rewarded the team with ninth position.
---
9. Richard Harris
WHAT a cool story to have the 2019 Australian of the year, Richard Harris, at The Bend racing in the Historic Touring Car ranks.
---
10. TV things
TV continues to evolve gradually with its drive to improve on the 'one percenters' this year. The latest tweak we noticed? The margin on the qualifying graphic now relates to the knock-out time, rather than the overall fastest much in the same way it does in F1.
Larko, obviously, is so good at explaining things and the ongoing series of classic race track stories anchored by Garth Tander are documentary-worthy, with the story on the epic Lobethal Grand Prix circuit a fine addition to previous yarns at Longford and Caversham.
---
EXTRA HOTS
Supercars safety. The fact they walked away, again, is remarkable.
Between the Supercars ownership stuff, tyre talk and everything else going on, it was a juicy news weekend for the journos on site.
Thomas Randle qualified second for Race 22. Huge!
Erebus finding some form (at least in terms of car speed) with a solid weekend for Brodie and Will.
Jordan Boys with a solid wildcard performance with Image Racing.
Here for his race performances and not for his very average Sunday qualifying sessions, Will Davison had another solid weekend with second in race 21, fourth in Race 23 after being served and a drive through the field from last to 13th in Race 22. Not a banner weekend by far, but solid.
The John Gourlay-owned Audi Sports Sedan, as now driven by Jordan Caruso. Fastest car at the venue all weekend.. and the best sounding.
The Welcome Centre was free for anyone to access all weekend (in the past it has been ticketed) and as a result, The Bend did a roaring trade in coffee and merch as people came inside to shelter from the storm. We'd bet they made more money from that than they would've selling tickets to get in there in previous years.
The new South Australian Premier Peter Malinauskas (or as one Adelaide-based Supercars fan we overheard said; 'Our new lord and saviour, Peter the Great') making an appearance on Sunday was good to see, acknowledging that motorsport is more than just the street race.
Beanies are fantastic. Especially when the wind chill is -5 degrees and you're old and balding.
Pepper Sauce
---
WHAT
Sorry, huh?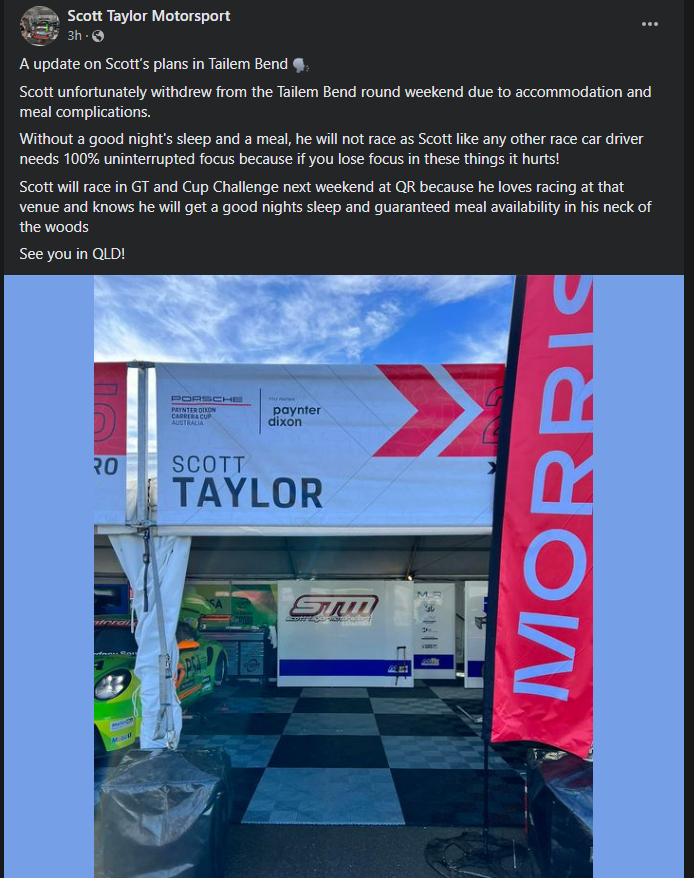 Needs a proofread…
It's gone now
---
NOT
1. Race 2 start crash
DOESN'T need much of a caption for us. This is about as NOT as it gets. If anything it proves that continued effort needs to be placed on the early-warning systems for incidents like this, with several drivers saying there wasn't enough.
---
2. Telco dramas
GOOD for the news cycle, but probably not a great look for the sport. The ongoing squabble with Boost Mobile took a new turn when one of the Supercars owners was photographed at an Optus event, despite the former being the official telco of the series. Miscue, or strategic? We'll probably never know but it did have the predictable result of getting Peter Adderton fired up.
The fact this goes way beyond mere mobile phone plans and into the actual ownership and philosophy of how the sport is run is what makes it a juicy story, but our thought is this: Is a bunch of rich – admittedly passionate, but rich none the less – blokes squabbling online over Supercars future really what the sport needs to move forward? Hint: it is not.
---
3. Mark Griffith crash
AUSSIE Racing car shunts tend to look more spectacular than they really are, because it's like having a real-life rollover at half the scale but at the same speed. Still, we're very pleased for Griffo, who was able to walk away from this particularly massive barrel roll at Turn 16 on Sunday.
---
4. Weather
YOU KNOW when the Victorians in the paddock are complaining about how cold it is, that it is bloody cold. Friday was okay, but Saturday was positively frigid. The problem wasn't the ambient temperature; it was the wind chill factor, which would have made an Eskimo shiver. Sunday wasn't a heap better, the misery added to by the light showers (and heavy one later on).
It's worth noting that The Bend didn't ask for a date in the middle of what is turning out to be one of the more chilly South Australian winters in recent memory. It's the same reason we don't go to Winton, or Phillip Island (or Symmons Plains, for that matter) at this time of year because getting cold at Tailem Bend this time of year is like going to Darwin and being surprised that the sun is out.
Add more northern rounds, put The Bend in April or October/November. Simples.
---
5. Erebus pit stops
EREBUS being bad in pit lane is the thing they are most consistent at as a racing team at the moment, it seems. Another series of unfortunate events on the weekend saw them cop a penalty for an unsafe release in Race 21, then another penalty for Brodie leaving with the left-rear gun still attacked on Sunday.
It's a messy situation and clearly costing the team better results which, of course, they are more than aware of. It's an odd thing that it continues to occur to this team, more than any other, over and over again and they can practice all they like, but until it goes they're never going to be regular contenders.
---
6. Wildcard tyre dramas
TOOK the shine off Zak Best's impressive Saturday performance and was another one of those little one-percenter moments the sport seems to get wrong with some regularity.
Different tyre batches aren't a new thing and getting ahead of the curve to ensure this wouldn't be an issue on the weekend would have ensured there was no story that opens the floodgates for people to have a crack at the series about.
Clearly it was something that snuck through to the keeper – and the overnight change to spread the newer tyres out through the field on Sunday was a sensible and simple fix – but it just looks average and unfortunately for Zak Best, will probably ensure there's a small asterisk next to his superb pole position lap moving forward, especially at a circuit where tyre life and performance is paramount.
---
7. Will Davison Sunday qualifying
WILL DAVISON is proof positive that the further back you qualify the more chance there is of things unravelling. His Sunday sessions were a massive struggle, which was a surprise for the driver and car combination who were leading the pole award steaks heading into the weekend.
23rd for Race 22 was a shocker and even 10th for Race 23 wasn't good. Of course, being that far back for the first race on Sunday ensured he was in the middle of the pack and turned around when the race resumed, ultimately finishing 13th. A strange blip on an otherwise clear qualifying radar for car #17 at The Bend.
---
8. Rain biffo
THE UNTIMELY incident between two key contenders in the rain on Sunday saw Will spun and Chaz penalised. How is SVG going to be beaten when the key rivals keep fencing themselves?
Meanwhile, the shot of the two Truck Assist cars parked up in the runoff was just awkward.
---
9. Tim Slade qualifying
EXECUTED his regular recovery drives, especially on Sunday, to end up 11th in Race 23 but there's something amiss with the CoolDrive Racing Mustang when it comes to one-lap pace, with Slade qualifying 25th, 27th and 26th for the three races, respectively. Somehow, thanks mainly to everyone else's inconsistency, has maintained 10th in the championship but retaining his spot there is going to be hard if they can't work out how to get the CoolDrive machine somewhere near the first five or six rows in qualifying any time soon.
---
10. Kerb breaking
FIRST time for everything, they say, and that was the case when the SuperUtes tore up a section of the inner kerbing at Turn 10 on Sunday morning – the first time there's been any visible circuit damage at a major event at The Bend. It killed the race (which was a shame, because they were actually quite entertaining) and shoved a little bit of a delay into the program as well.
---
OTHER MISSES
IT was bad enough that Carrera Cup championship leader Harri Jones was turned around at turn two, but what happened a corner later was even more dramatic in the final Porsche race of the weekend, the freak contact between Sam Shahin and Liam Talbot causing the latter to be turfed over onto his head. Dramatic.
The wind makes a mess of the virtual adverts on TV
Did we mention the wind and the cold?
Holdsworth's unsafe release into Scott Pye in Race 22 wasn't cool
Traffic Management on Saturday night had a lot to be desired. South Australia Police didn't seem particularly interested in helping the flow, either, if we're honest. They were probably just happy to be out of having to police quarantine enforcement or something.
The Bend's Media Centre being located in a garage on the coldest weekend in living memory (okay, not quite) wasn't a great thing for those that toughed it out. Those that moved inside to an improvised setup gave a whole new meaning to the term 'hot desking'.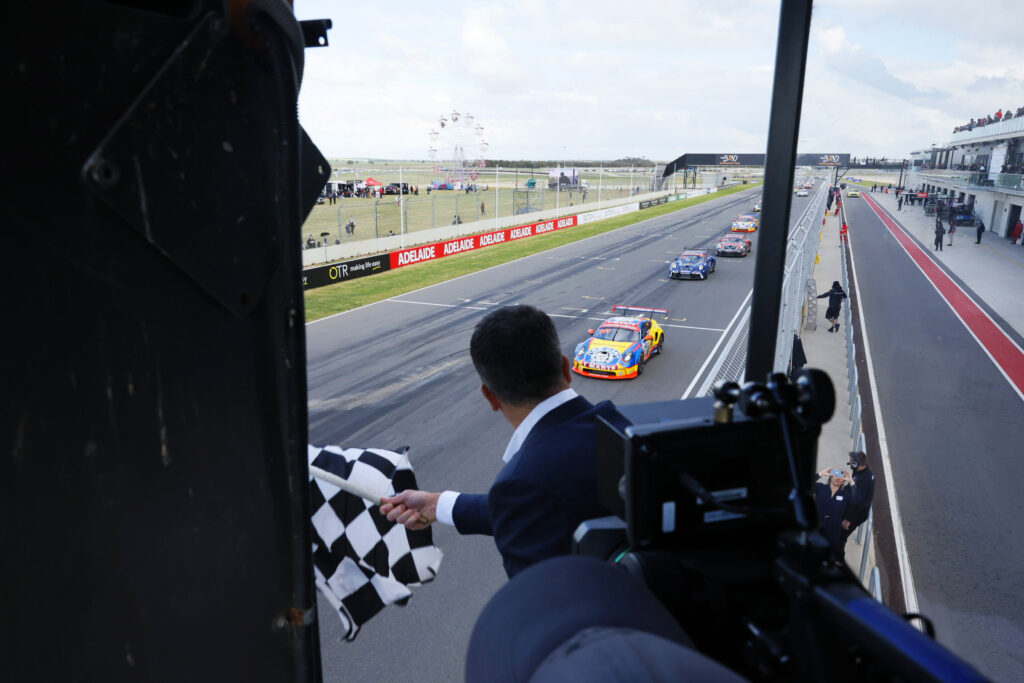 While it was nice of the Premier to turn up, his flag-waving skills need some practice before the Adelaide 500 comes back. Unfortunately, a stiff wrist action ensured that he got the full tangle occurring.. definitely needs more wrist movement and 'flourish', but like his efforts to fix ramping at the RAH, we're sure he'll get there. As Larry Perkins would've said: Young Premier, Cold Flag…
Macca Jones' squeegee black flag. C'mon, let the old-school stuff remain, Supercars!
---
TWEET
Rally bants
Mark Skaife Vs Excessive caps lock usage
Huge pole celebrations
Get around him
Double stacking is usually a 'NOT'
Got him
Don't like
---
WHITEBOARD'S PICK OF THE LITTER
---
MEME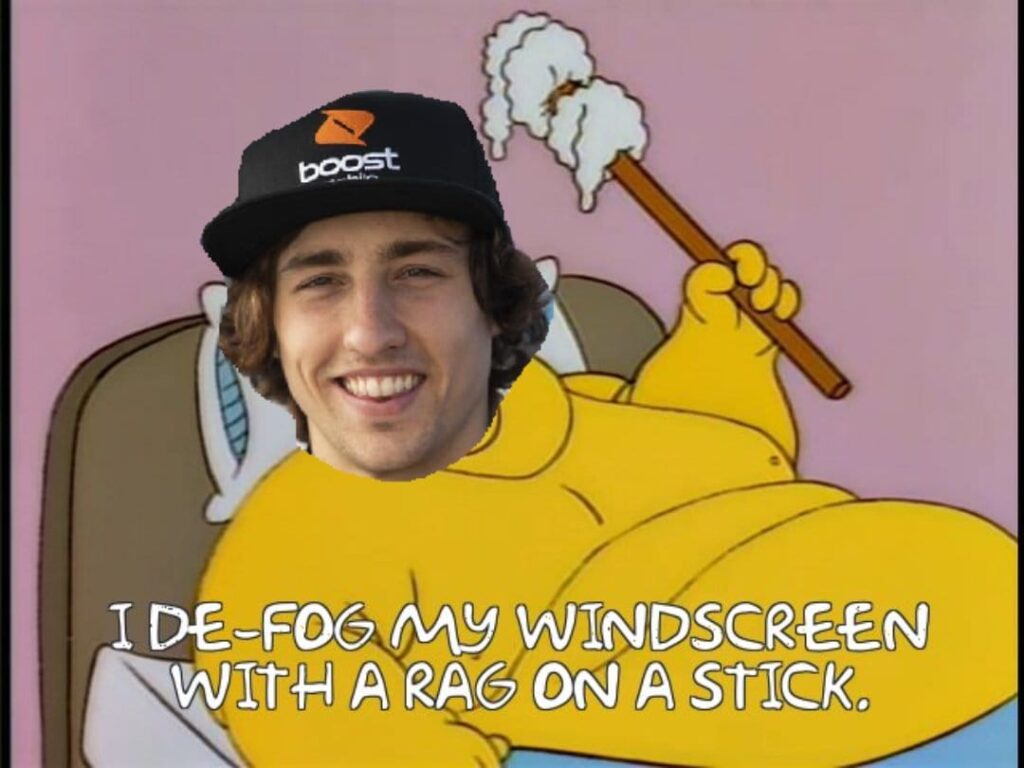 Friday sucked
Zak Who?
---