Doric Power Rankings: Pukekohe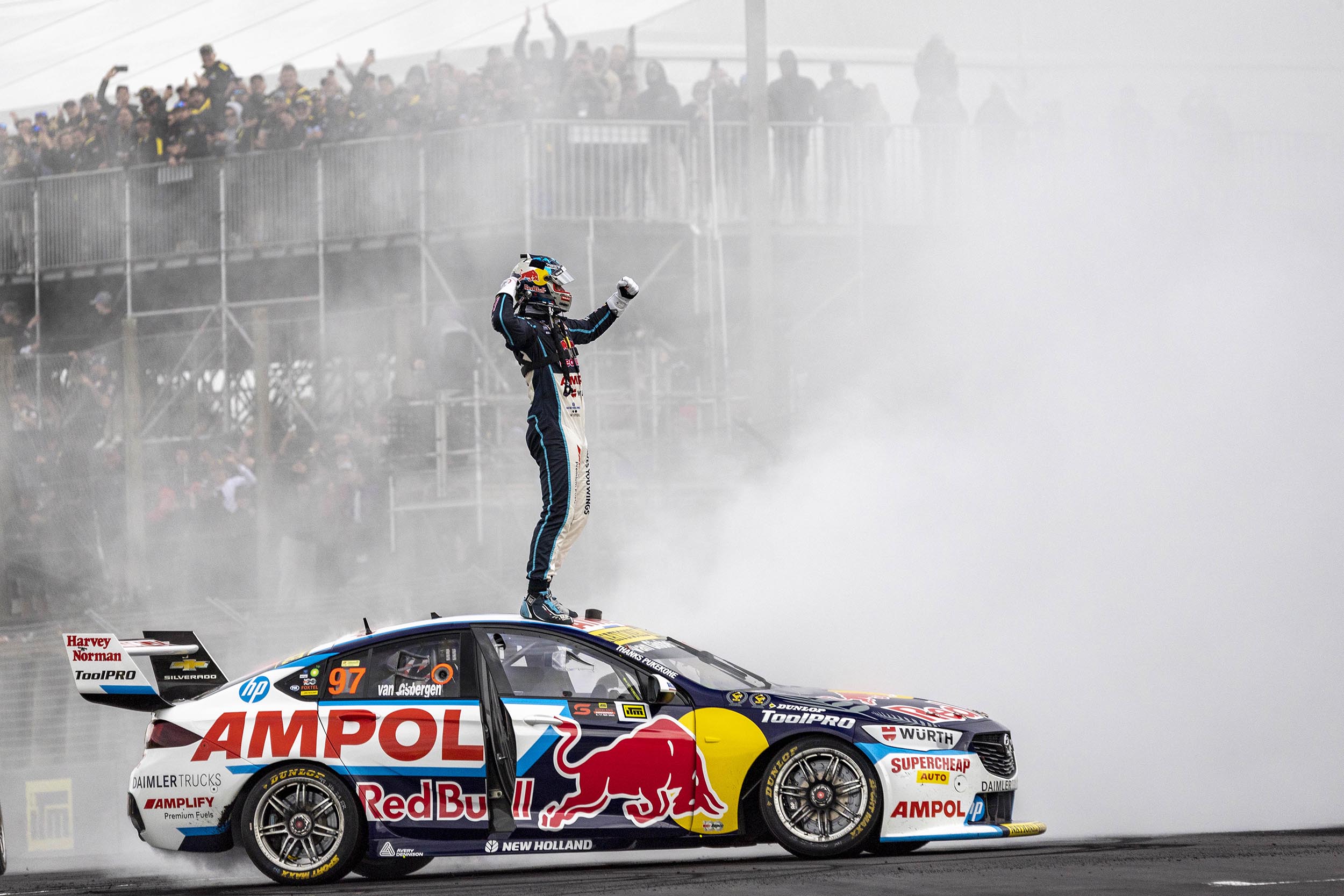 Well.. wasn't that a weekend and a half. A remarkable way to farewell the grand old lady of New Zealand Motorsport, Pukekohe Park Raceway.
There was a lot of good stuff from the weekend, of course, so our cup runneth over when it came to the Hot section of this particular rankings column. However, just because it was an amazing weekend doesn't mean there weren't some things worth picking apart that fell somewhat lower on the 'Gee, that was good' scale.
So, read onwards for another chapter of the Doric Power Rankings from Pukekohe.
---
---
HOT
1. Waters Vs SVG at the end of Race 29.
THE EPIC conclusion to Pukekohe's final Supercars race was everything we wanted but more importantly, was everything this storied old venue deserved as a send-off.
The best driver in the sport right now – who coincidentally is a Kiwi – punching on with one of Australia's best young talents. Ford versus Holden. Triple Eight versus Tickford (there's history there, too) and all for the big box of chocolates in the form of the Jason Richards Trophy presented at the end of the weekend.
There have been times this year where Supercars have felt just a bit flat – in some regards, it's a bit of a lame duck year with a dominant driver way out front doing all the winning – but this was not one of those moments.
This was an example of the kind of motor racing that the Supercars can deliver when the circumstances permit and, when it does, there are few professional racing series on the planet that can deliver a better show of high-intensity, high-quality motorsport than that.
With the crowd on their feet like a footy game and two of the best drivers absolutely boxing on, this was absolutely peak Supercars and, frankly, a desperately needed shot of adrenaline the series needed heading to the Mountain.
It's going to take a pretty mighty conclusion to this year's Great Race to drop the theatre that surrounded the closing laps of Race 29 on Sunday afternoon, at that sensational circuit just south of Auckland.
---
2. Pukekohe
DID IT not just tick every box? Massive crowd. Huge atmosphere. Big consequence circuit and a show that will be remembered for a long time as perhaps the pinnacle achievement in the long time Australia's top Touring Car stars have been crossing the Tasman.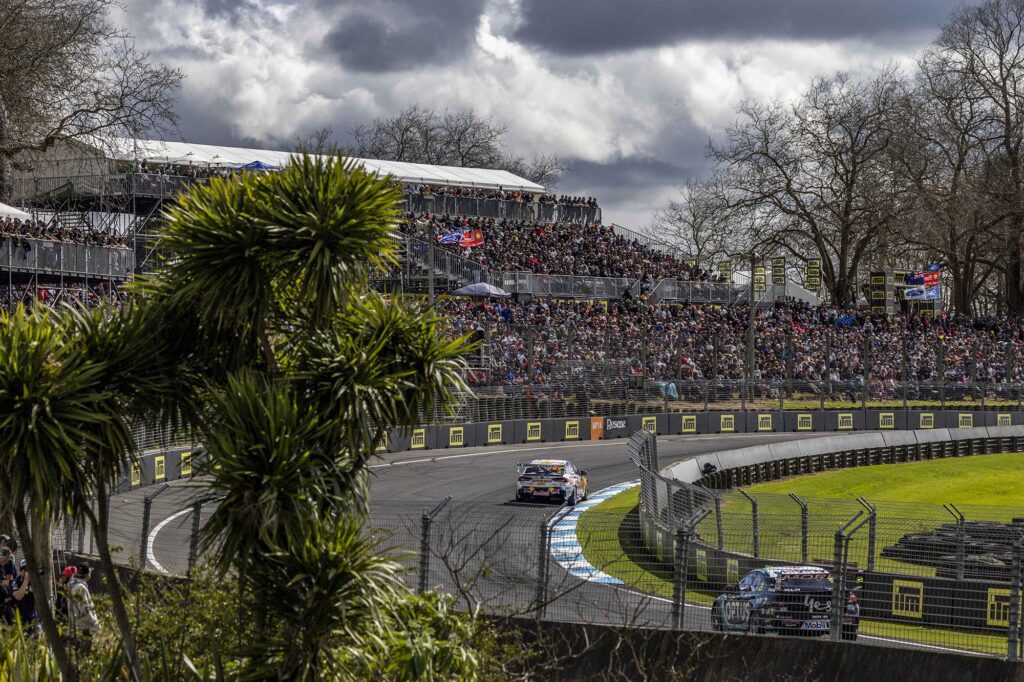 The brilliant conclusion, a kiwi winner and the incredibly well-thought-out concept of a) parking the entire field on the main straight and b) doing the podium in front of the many thousands of loyal Kiwi fans was a perfect epitaph. Whether you were there or watching it on TV, it was iconic and memorable. The perfect send-off.
---
3. SVG
CONSIDERING the fact that on Saturday they didn't really have the fastest car, this was another masterclass from the flying New Zealander and the 97 team, who have now won 18 times this year and will undoubtedly win more in the remaining races too.
Smoked them in Race 2, really, and then was in the position to pounce in the finale' with great speed and a late stop that gave him the tools to fight with first Heimgartner, and then Waters, for the win. Would have beaten Davison, had DJR not bungled his stop? It's hard to know but the evidence suggests he would have been close one way or another.
Even simple stuff, like when he slowed up on the entry to the hairpin to force Davison to go to the outside, showed that he is not only faster than everyone on the grid in racing conditions, but is out-racing them all again as well.
Will probably win the title at Bathurst and then with that done, be even harder to topple on the GC and in Adelaide. Imperious.
---
4. Cam Waters
WHEN CAMERON Waters and Tickford are hooked up, they are very hard to beat and it's to the immense frustration of everyone – let alone the #6 team – that they can't nail the kind of performance they turned in at Pukekohe every weekend.
His Race 1 pole was a surprise given the pace of the DJR cars, but well deserved, and converting a weekend into three podium finishes – and coming within four laps of winning the finale' – was stout. The tiny little mistakes that opened the door to SVG in Race 29 were the difference on Sunday and showed just how hard Cam was hustling to hold his ground – but it was a delight to watch regardless.
This team should be filled with confidence given he heads next to Mount Panorama, where he's finished second the last two years running.
A Bathurst win for Tickford? It'd be a surprise if it comes from any car other than the Monster machine, but if Cameron is in the mix with 10 to go, don't rule it out.
---
5. Andre Heimgartner/ BJR pit stops
GIVEN the wreckage of two rounds ago at The Bend this was a mighty performance from Heimgartner, who showed more delight at finishing second on Saturday than he did when he won his first race last year. Two podiums and a sweep of top six finishes were a great result from him, who clearly made an excellent call to jump ship to the Albury-based team.
Was that Andre's best overall weekend in Supercars? You'd have to say so.
And what of BJR! Absolutely critical stop in Race 29 jumped Feeney and De Pasquale and gave Andre a real chance to challenge Waters for the lead. Ultimately he succumbed to the van Gisbergen freight train, but then ran with the leaders as they diced in the hope they'd cause the Plane Crash that almost happened at the end. They're the kings of the pit lane, BJR, and prove it time and time again. It's one of the series' truly great stories.
---
6. Will Davison
WILL DAVISON might've lost second in the standings (by a tiny margin) heading to Bathurst, but this was his most complete DJR weekend yet since joining the #17 squad. His Race 1 win was perfectly managed and as controlled as pretty much anything SVG has put together in 2022. Race 2 was solid, after a blinding start, while he had the final race shot to pieces before the slow pit stop and subsequent pair of trips through the pit lane cost him dearly.
Still, Davison has won as many races as Waters this year – and two more than his teammate – so finds himself in very good shape heading to the big one.
---
7. Historic Touring Cars NZ
FORGET the actual 'racing' product, this gets on the list for the quality of the grid alone. It's a shame JB's Sierra blew up on Friday so we couldn't see him strut his stuff – though it is very era-appropriate! – but Murph, Richo and the others having a big crack in an incredibly eclectic grid was a sight. In Australia, that grid would've been 80% old Holdens and Falcons, but the mix of Super Tourers, Group A cars and everything in between was stunning.
---
8. Supports
IT'S a bit harsh to lump all the remaining supports in one category, but we try and keep these things readable in under an hour. Suffice to say, the undercard at Puke was outstanding with the Toyotas, Central Muscle Cars and Formula Ford putting on a show.
Special mention to Callum Hedge for his onboard sponsor plug in the opening 86 race – pointing out his sponsors after seeing himself on the big screen. Nice touch.
And then there was Formula Ford, which produced bonkers racing. You could almost hear Garth Tander in the commentary box wishing it was 1997 all over again, even if he didn't say it out loud.
From an external point of view, NZ Motorsport always seems on the precipice of tearing itself apart – but jeez, when they get their you-know-what together they put on a cracking show.
(Can we please have TRS at a future NZ Supercars round? Okay, thanks).
---
9. TV Things
Hard to know where to start here, so we'll rattle off a few standouts.
The Opener: Voiced by Sky Sports NZ motorsport host Stephen Mcivor, written by David Tunnicliffe and cut by editor, Emily Clulow, this nostalgic look back at Pukekohe drilled into the fabric of the venue and its six decades of history. Supercars could have had every reason to focus only on the post-1996 history there, but the decision to include the Tasman greats was an excellent touch that helped showcase the full story of the venue's history.


Legends look-back: Produced by Briony Ingerson, this piece featuring Greg Murphy, Steven Richards and Paul Radisich looking back on their personal memories of the circuit was both entertaining and quite touching at the same time. Went for nearly 10 minutes and we bet it could have gone for four times that.

Lowndsey's piece looking back at the big Supercars memories was also excellent.


Murph! It's been so long since we've had Greg Murphy as part of the broadcast it was easy to forget the insight, humour and razor-sharp analysis he delivered to the broadcast. That it was at a race track he called his own brought out the emotional side of the often-firey Kiwi, too, and that was lovely.

There's obviously more, but a quick rankings is a good rankings, after all.
---
10. James Golding
THE BATTLE to crack the Top 10 in this week's rankings was tough but in the end we've given it to James Golding on the basis of punching well above where his team have been this season. Qualified ninth for race one but dropped it to finish 17th. Made up two spots to finish 10th in Race 2 and then was up 7 in the finale' to just miss the top 10. Promising stuff and we're enjoying seeing him able to go to work again and show his talent in the main game.
---
BONUS HOTS
Chaz Mostert: As pointed out by reader Zak Dowdell (tweet below), has the third-best average finish of any driver in the championship since Darwin, with that consistent form all building nicely to Bathurst.
Scott Pye: Qualified sixth in every race and finally, scored a consistent weekend with finishes of 10th, 5th and 7th.
Fantastic news that iRacing will scan Pukekohe and immortalise the venue in history.
DJR resurrecting Anton's car to be good enough to fight for a podium in Race 29. How good are race teams? Very.
Supercars Safety. It's as good as anything: Brown and Courtney's shunts were enormous, yet once again they walked away.
Chaz Mostert going under the radar from Darwin:
4 (pre-DQ), 8, 1, 9, 5, 3, 2, 8, 10, 2, 4, 4, 2, 6.
Avg: 4.86
SVG Avg: 3.07
Waters: 4.07
Davison: 5.86
Feeney: 7.43
Anton: 7.57
Heimgartner: 7.83
Smoked everyone at the 1000 last year, in good form again now #RepcoSC @theracetorque

— Zac Dowdell (@zac_dowdell) September 11, 2022
---
WHAT
How this wasn't a mega shunt…
Lacking the beard..
---
NOT
1. DJR's Race 29 pit stop
TRT's editorial team almost came to blows selecting the Number 1 NOT for this week and there was a strong argument for the shunts that characterised Race 28's beginning, or even the subsequent fallout, for being the biggest oh-no moment of the weekend.
And certainly, they both came close.
But in the end, the sporting drama that was a botched pit stop from DJR that definitely cost Will Davison a race win and quite possibly cost him the Jason Richards Trophy, unfortunately, had to come out on top.
It's one of those one-per-cent moments in the sport that can so completely change the game and in the same way that BJR worked miracles in the lane to bump Andre Heimgartner into podium contention, this small error tore the heart out of what was to that point, Will Davison's best weekend with DJR yet.
This year has been about a series of moments – good or bad – being the difference between the 97 and everyone else – and this was another one of those.
With a bit of counselling, we're sure it will be OK in the end. (We're talking about Will and DJR, not our editorial team.)
---
2. Race 2 start
HARD to know where to start here, because the commencement of Race 28 had it all going on. Anton's big whack after contact with Kostecki was unfortunate and a big enough story.
Then we cut to a shot of Will Brown's Erebus car parked after a clearly monster shunt on the way into pit lane – and suddenly Anton's crash looked small.
The serious impact – enough to move the wall several metres into the pit entry – was clearly large and the uncomfortable moments of not-knowing (coupled with the lack of TV coverage of the shunt) were hard to deal with for a period, before news filtered out that the young bloke from Toowoomba was OK.
After that the race was a bit of a fizzer anyway which was not surprising: It had used all its drama up in the opening 2.6km. Wild stuff and busted race cars will always end up near the top of the NOTs.
---
3. Anger is good… to a point.
THIS could well turn out to be one of the moments of the season, certainly from an off-track perspective.
The animated discussion between Will Brown and Mark Winterbottom following the Race 28 shunt was enough to get people talking and that was before Barry Ryan got involved and started pushing the Team 18 driver out of the Erebus garage.
The passion we love. We even like the fact it was covered – the sport consistently says it's searching for storylines so when it happens organically, they should be embraced and this was – but questions will be asked as to whether the actions of the Erebus CEO were appropriate. Should he have pushed Frosty out the way? Probably not. Should he have just left it to the drivers to sort out?
That's probably more of a grey area given Barry Ryan's stake in the team and obvious passion.
Regardless, It wasn't a great look and inflamed the social media world, as would be expected, and god only knows we don't need more of that.
Clearly, Winterbottom isn't blameless here either – it takes multiple racing car drivers to tango and the fact he was penalised for 'Reckless Driving' is a clear enough definition as to understand how this incident played out. It's on him.
Furthermore, Winterbottom's in-race penalty doesn't make up for a destroyed car, obviously, so we get the rage.
Hopefully cooler heads can prevail when this incident is (inevitably) discussed further in the lead-up to Bathurst and we can get the full picture painted from both sides (guilty or otherwise) so the audience can completely grasp the whole scenario.
In the meantime, it's a huge story and based on the confrontation alone we'd put it in HOT…
However, the fact that Will Brown was deposited into a fence with a 57G impact, and a $650K Supercar was destroyed in the process, is why it understandably lands here.
---
4. One Friday practice?
OKAY, so Saturday and Sunday delivered, big time. Intense qualifying sessions and three races – there was plenty of Supercars action across the weekend at Pukekohe, even in sprint race mode. But what of Friday? In case people didn't notice, a massive crowd had shrugged off work for the first day of fun, only for them to get little more than half an hour of running from the main game in town.
So from a punter point-of-view, it doesn't seem like good value, but also for the series itself. They spend an enormous amount of money to cross the ditch, so turning up to run just the one time on Friday seemed a bit silly. Either do nothing at all, or throw another session – or a qualifying – into the mix to give the day meaning.
NZ should be a three-day event in the same way Townsville is, Newcastle is and the other bigger events are. The Kiwi fans deserve as much.
---
5. James Courtney's Race 29 crash.
NOT much for us to unpick, really, other than the fact that it was a) partially friendly fire and b) a bloody big crash at a place where they don't often happen.
---
6. Tickford, outside of Waters
Race 27 was a bit of a barry for the team with a bad stop, Kostecki dropping a wheel off and James Courtney crashing heading into the lane.
Otherwise from there, and outside of Waters, they were pretty anonymous.
---
7. Race 28 penalties
YOU get a penalty.. YOU get a penalty.. YOU get a penalty! The Motorsport Australia officials were B-U-S-Y on Sunday, and by the looks of some of the outcomes few had a decent alibi, either..
F1 Grid Penalties > R28 Time Penalties #RepcoSC

— Richard Craill (@Craillsy) September 11, 2022
This is like F1 all over again. Everyone gets penalties!!! #RepcoSC pic.twitter.com/LcnZrOOX4k

— Josh White (@whitie007) September 11, 2022
---
8. John Bowe out in qualifying
SUCH a shame! The thought of JB – who is still very, very sharp of course thanks to his TCM prowess – mixing it up with Murph in a Sierra battle was plenty enticing. Still, we suppose it was period correct..
---
9. Power steering
JUST as it seems Team 18 have their omnipresent Power Steering issues fixed, it appears contagious!
Issues for Jack Le Brocq and Bryce Fullwood in Race 27 were concerning and it seems an affliction that the field just can't shake.
---
10. No more Pukekohe
WHEREVER the next home for Supercars in New Zealand is, it's going to take a lot to match the kind of drama Pukekohe had to offer.
Chur.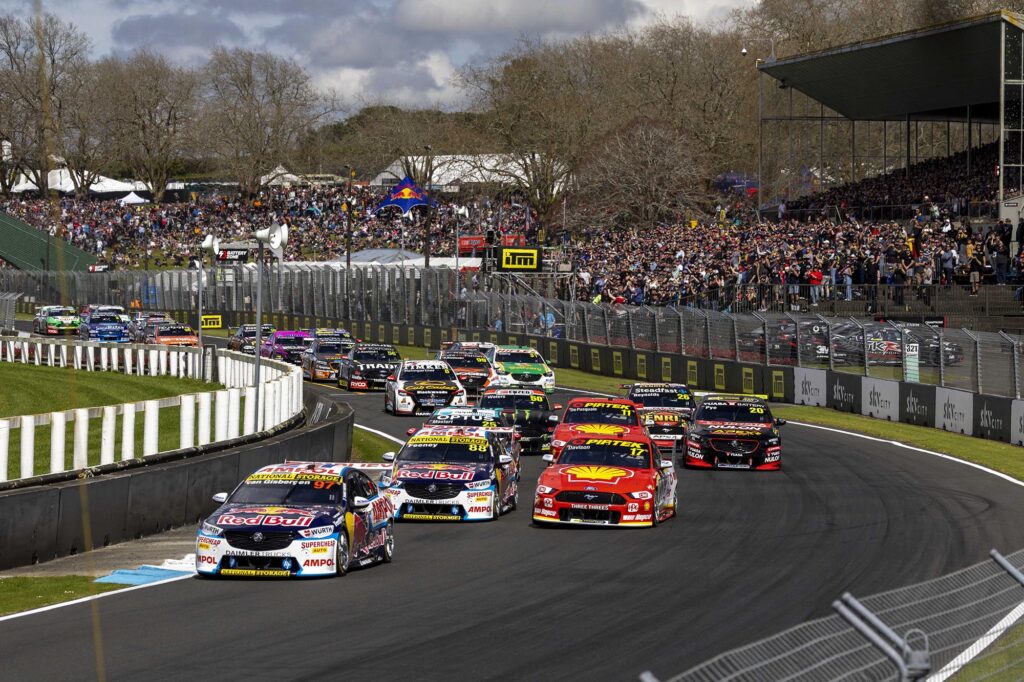 ---
TWEET
You love to see this when you log on to social media
Scott McLaughlin: just winning at life
Rad
Sylin'
Puntering it up
Interesting observation
Standard Doric Guy sighting
---
WHITEBOARD CORNER
---
MEME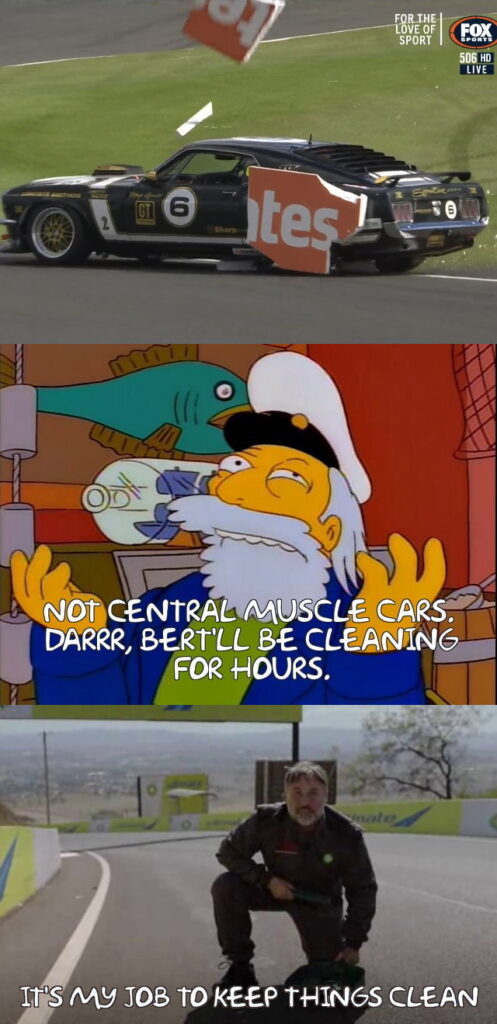 Earlier in the week, we posted an article on the new Mount Panorama Monorail, and the entire story was a meme…
---