15 S5000s set for Adelaide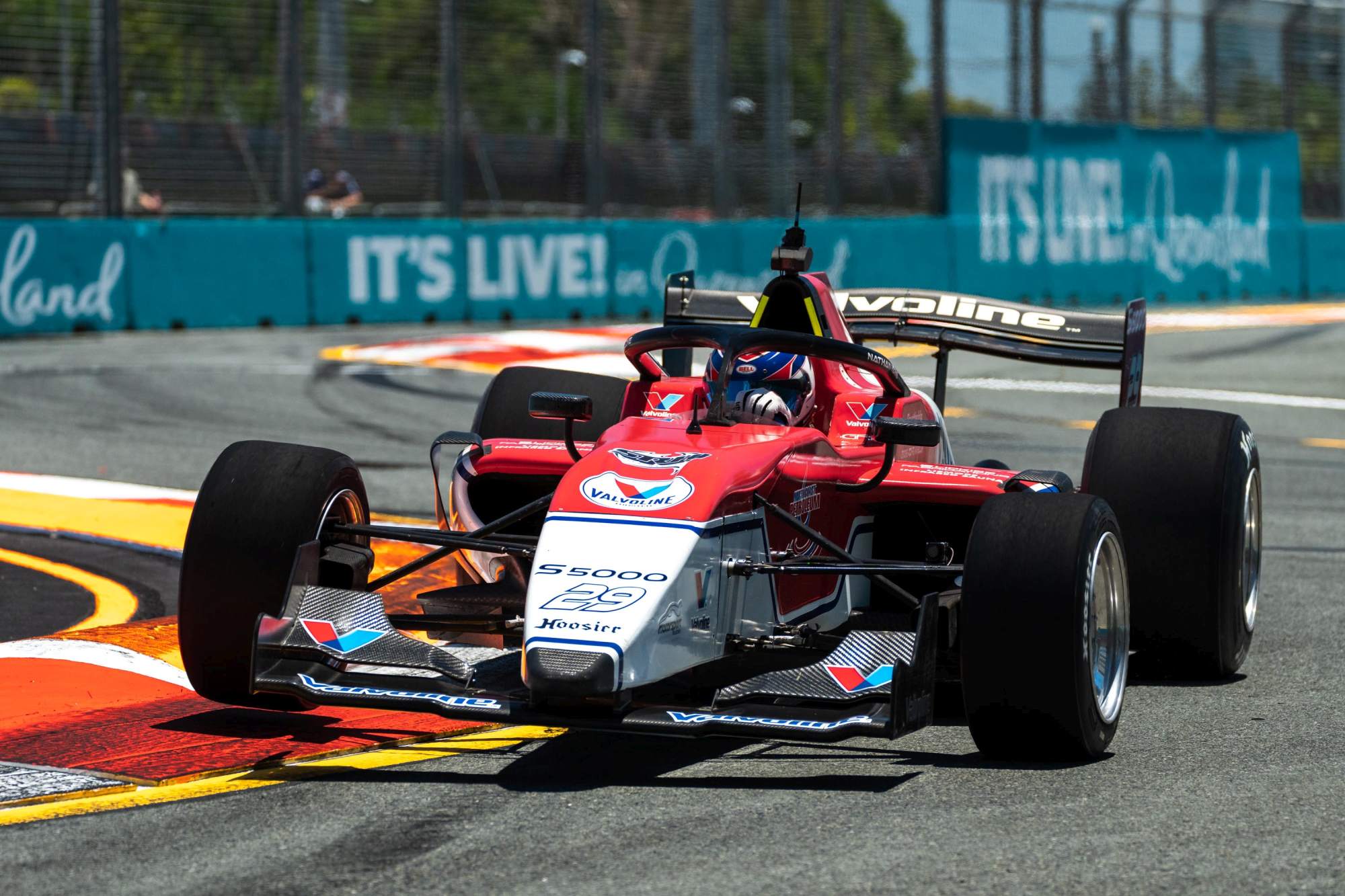 A FAST field of 15 will contest the final round of the S5000 Tasman Series as big open wheelers return to the famous streets of Adelaide at the VALO Adelaide 500 next week.
The Adelaide entry list includes the current Tasman Series leader (Nathan Herne), the defending Tasman Series champion (Aaron Cameron) and the current Gold Star Champion (Joey Mawson).
Cameron makes a return to the championship having missed the Gold Coast event, and will drive the No. 1 Team Valvoline GRM entry usually steered by James Golding.
Additional high-profile returnees include former Formula 1 star Giancarlo Fisichella and two-time Gold Star champion Tim Macrow.
Fisichella returns for his second taste of S5000 following the shortened 2020 Australian Grand Prix event, while Macrow will hope to end his full-time racing career on a high in Adelaide having announced his retirement from regular driving recently.
The experienced Victorian is the most successful driver in Australian 'Wings and Slicks' competition in the last two decades and will return his UCS Group Racing TMR entry to the field next week, having sat out the Gold Coast event.
A pair of South Australian young rising stars, Sebastien Amadio and Blake Purdie, both have existing S5000 pedigree and will join Mark Rosser and S5000 debutant Brad Gartner in flying the flag for South Australian drivers.
Gartner, a convert from dirt track Speedway racing, stepped from Hyundai Excel competition into Trans Am and TA2 racing this year – however, will make another step up into S5000 this weekend.
S5000 Tasman Series competitors will tackle three races across the VALO Adelaide 500 weekend, with each to be broadcast live on Fox Sports 506 and Kayo Sports.
Nathan Herne currently leads Joey Mawson in the Tasman Series standings following three races on the Gold Coast.
The S5000 fleet will once again showcase its adaptability to various circuit conditions next weekend, with FIA and Motorsport Australia Circuit Licencing requirements once again seeing the category operating at a slightly reduced horsepower level to suit the Adelaide street circuit. 
The Adelaide circuit holds an FIA Grade 3 license which requires all competing vehicles to adhere to a lower minimum power-to-weight ratio than the Surfers Paradise Street Circuit – an FIA Grade 2 licensed circuit – does.
The system, utilised in the categories debut at Mount Panorama last year, will see a minor reduction to its 560 Horsepower maximum.
The newly introduced Push to Pass system will not be affected by the change in conditions and will continue to be utilised in the Adelaide races.
STEFAN MILLARD – Garry Rogers Motorsport
"We're proud of how adaptable the cars are becoming in that we can tune and adapt them to suit different conditions should the need arise.
"We have worked closely with Roger Higgins at InnoV8 (category engine providers) to sort the right tuning for the vehicles and they perform extremely well.
"On a street circuit like Adelaide, the reduction in power will potentially make it easier to extract a lap time as putting power to the ground – which is critical on a street circuit – will be key.
"With the new surface we are very confident the cars will give the existing outright lap record a nudge."
BEN McMELLAN – S5000 Category Manager
"We're excited by the field assembled for Adelaide both in quality and quantity. It's our second largest grid of the year – behind only the Grand Prix – and the best for a Tasman Series round.
"It's stacked with talent and after the highly competitive and very clean show we enjoyed on the Gold Coast, we expect this to be an even better show for the Adelaide fans, many of whom were there for the Formula 1 era.
"We're very comfortable with the changes to the cars. They are proving to be very adaptable to different conditions and if this is what it takes to be able to put on a great show at as many circuits as possible, then we will embrace it.
"The team at GRM and InnoV8 have done a great job in making it seamless for all our teams.
"When our 15-strong field are Thundering into the Senna Chicane for our first race on Friday, no one will notice the difference."
VALO ADELAIDE 500 ENTRY LIST – S5000 Tasman Series
| | | | |
| --- | --- | --- | --- |
| 1 | Team Valvoline GRM | Aaron Cameron | VIC |
| 17 | The Fuzzies Game Team BRM | Mark Rosser | SA |
| 20 | Brad Gartner | Brad Gartner | SA |
| 22 | Amadio Motorsport GRM | Sebastien Amadio | SA |
| 23 | UCS Group Racing TMR | Tim Macrow | VIC |
| 27 | Team BRM | Joey Mawson | NSW |
| 29 | Team Valvoline GRM | Nathan Herne | NSW |
| 37 | Versa Motorsport | Cooper Webster | VIC |
| 48 | Nippy's Versa Motorsport | Blake Purdie | SA |
| 49 | Boost Mobile Racing | Jordan Boys | VIC |
| 56 | Team BRM | Giancarlo Fisichella | ITA |
| 65 | Team Valvoline GRM | Noah Sands | VIC |
| 71 | Burson Auto Parts Racing | Ben Bargwanna | VIC |
| 79 | Jude Bargwanna Motorsport | Jude Bargwanna | NSW |
| 88 | ACM Finance.com | Elly Morrow | VIC |