99 magic Shannons Nationals moments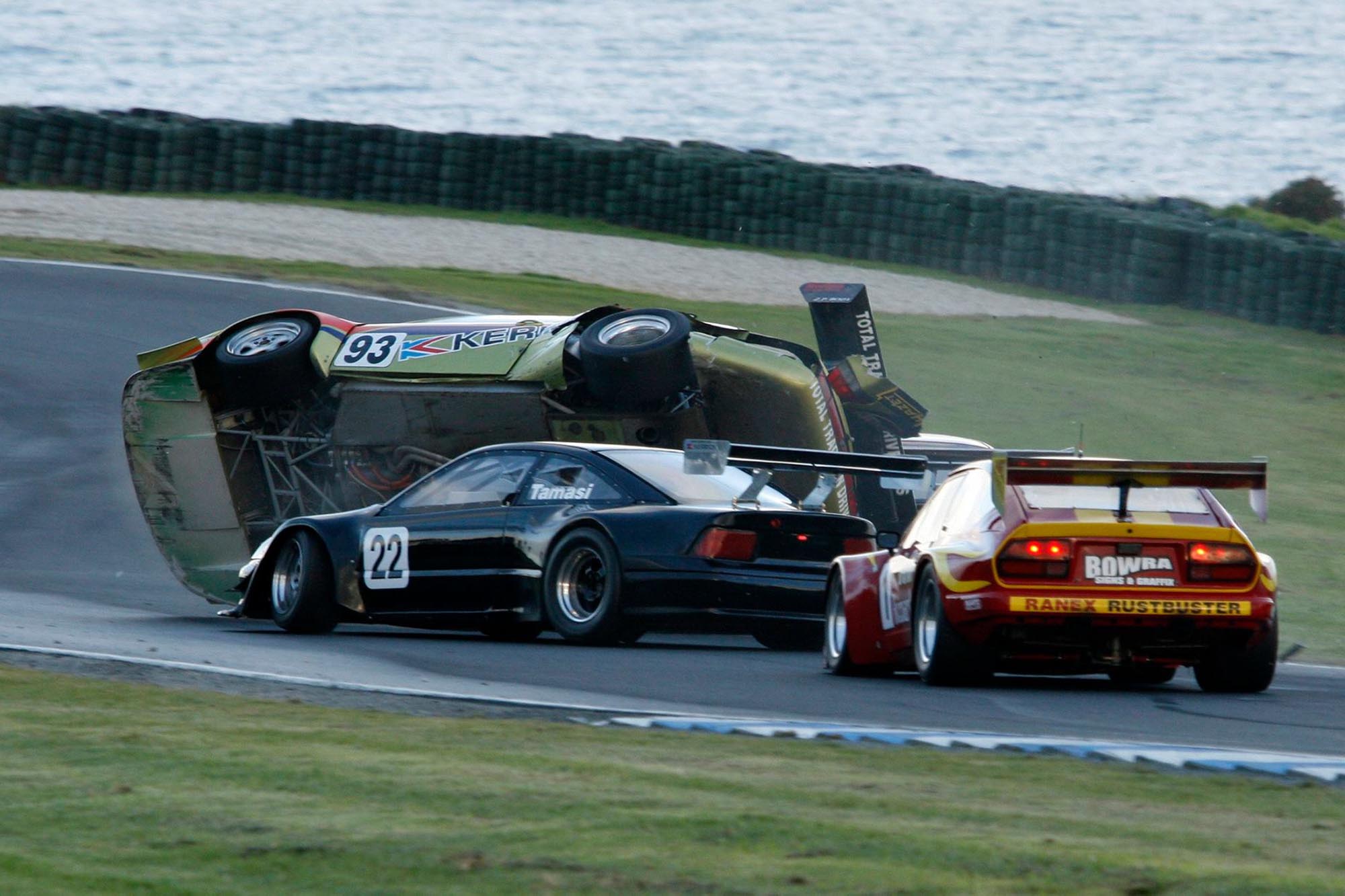 FROM its foundation in 2006, the second-tier of Australian Motorsport known as 'The Nationals' has produced plenty of remarkable memories and magic motorsport moments.
In 2023 the whole thing gets revamped as the 'SpeedSeries' in partnership between Motorsport Australia and ARG and the last links to the original 'Shannons Nationals' finally draw to a close.
We documented the foundation of the National tour in this story, so we suggest reading that first.
But that long period of stability for the second tier of the sport sure delivered some incredible things.
From Ricciardello-versus-Hossack, night racing, live streaming and more, here's a look back at 99 magic moments from the history of the series most just called 'The Shannons'.
---
Ben Clucas vs Michael Trimble – closest ever F3 finish, Phillip Island 2006.
WAY back in 2006, British driver Ben Clucas and Michael Trimble staged an incredible photo-finish in the pouring rain at Phillip Island, with Clucas coming from a drive-through penalty to win incredibly by less than a nose. To the very best of our knowledge, the final margin of 0.0032s remains the closest winning margin recorded at a Shannons Nationals event in its 100-round history.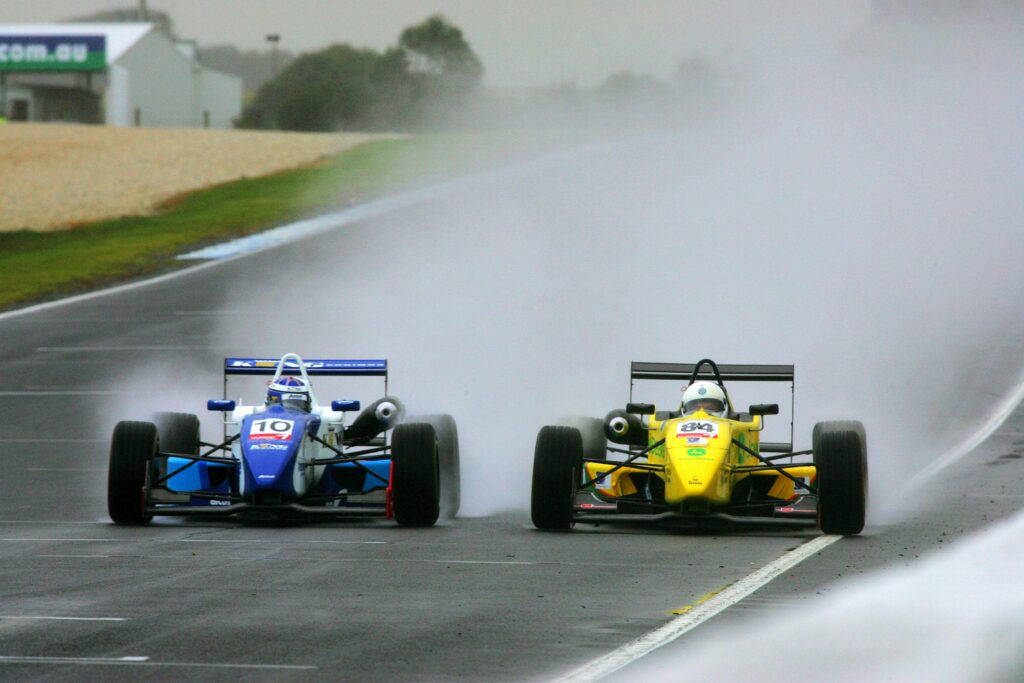 ---
Kumho V8 Touring Cars grows from 4 cars to 20+ under the Shannons Nationals patronage
Tony Ricciardello-versus-Darren Hossack-versus Kerry Baily epic battles
The Fight in the Night Safety Car controversy, Queensland Raceway 2015.
Seton-versus-McLeod, epic EVO battle for the lead, Queensland Raceway
Kangaroo on the track, Morgan Park 2010
Bernie Gillon's 'Flamecrusher' Mustang Sports Sedan, which sounded like something out of Star Wars.
King's last corner pass for the win: Production Cars, Morgan Park 2010
The great Phillip Island flood!
The Snow at Wakefield Park!
Heinrich versus Walton: an Oran Park Saloon Car Epic in 2008
The Mallala Bunker discovery
The rollover no one saw: Mertens HSV gets lost upside-down in the dark at Mallala
Car switch – Rivals Hossack & Ricciardello each borrow cars at Mallala after theirs break or burn
Tebb wins, Everyone else crashes, Kumho V8 Touring Cars thriller at Winton Raceway
---
Leanne Tander becomes first female to win a Gold Star race, Phillip Island 2007
WHEN Leanne Tander took the flag to win her first Formula 3 race in the early stages of the 2007 Australian Formula 3 Championship season it was history in the making. Not only was she the first female driver to win in the category, but she was the first female to win in the then 51-year history of the Gold Star and the first to do so in Formula 3. For Leanne it was merely another step towards challenging for the championship – but it was a special moment for everyone watching, and created headlines everywhere.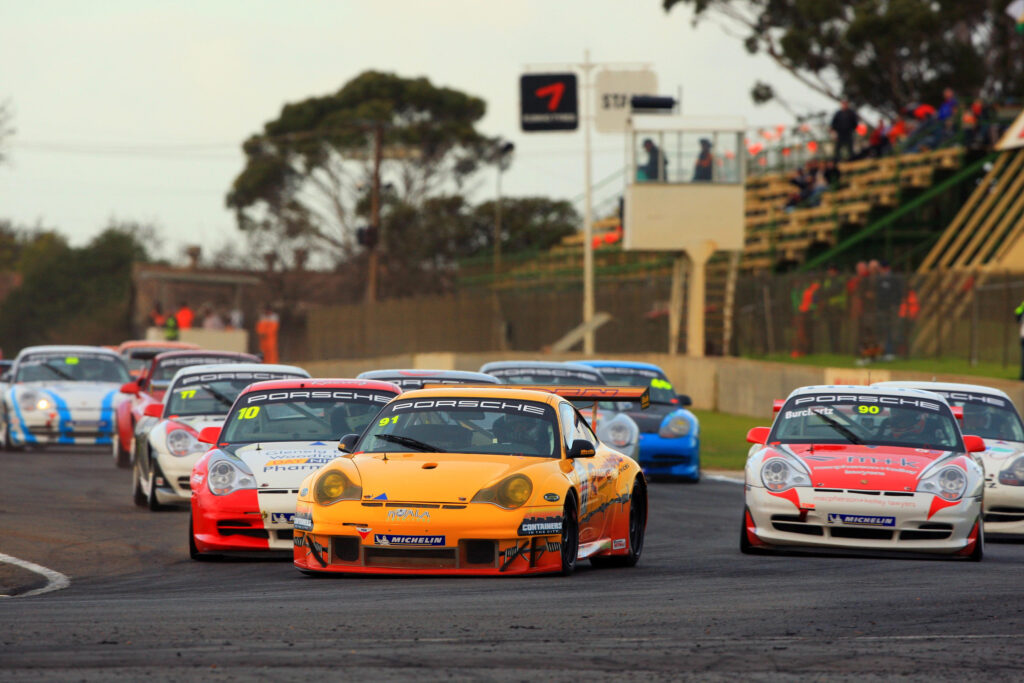 The first GT3 Cup Challenge race, Mallala 2008
A LOT of categories had their genesis at Shannons Nationals rounds and a lot of them have come and gone – but the GT3 Cup Challenge has become a staple and one of the great success stories of the Shannons Nationals last 99 rounds. When it formed it was an amateur category, but has since evolved to become something of a development formula for Carrera Cup, with many great memories of its own.
---
All of the Carrera Cup races at Phillip Island – close, dramatic, intense.
Marcus Zukanovic versus Geoff Emery in Commodore Cup – a great rivalry
Walton wins from the back of a 35-car grid in Saloon Cars, Phillip Island.
The moment Suzuki Swift Series bump drafting was invented by Benny Grice – Phillip Island
The 230kph Sports Sedan start line shunt at Phillip Island, 2015
The sound of the John Gourlay Audi A4 Sports Sedan anywhere.
Grant Phillips crashes at SMSP and vents on the onboard camera.
Aaron Seton's departing wheel on the last lap of the 2016 APC Season, Sydney Motorsport Park
Evans-v-Hardeman: A year-long duel. GT3 Cup Challenge 2016
Cranston goes Aerial, Sports Racers, Queensland Raceway 2016
The introduction of Live Streaming on the most dramatic weekend of them all, Sandown 2010
Sandown 2010 – the most remarkable weekend we've ever had (Ask someone who was there).
Pollicina goes from 8th to 1st before turn one, Kumho V8 Touring Cars at SMSP.
The flag Marshall trips on track in front of a Porsche Pack.. scary moment while recovering debris at Sandown, 2010. He was fine, by the way, though whether his nerves have recovered yet we're not too sure.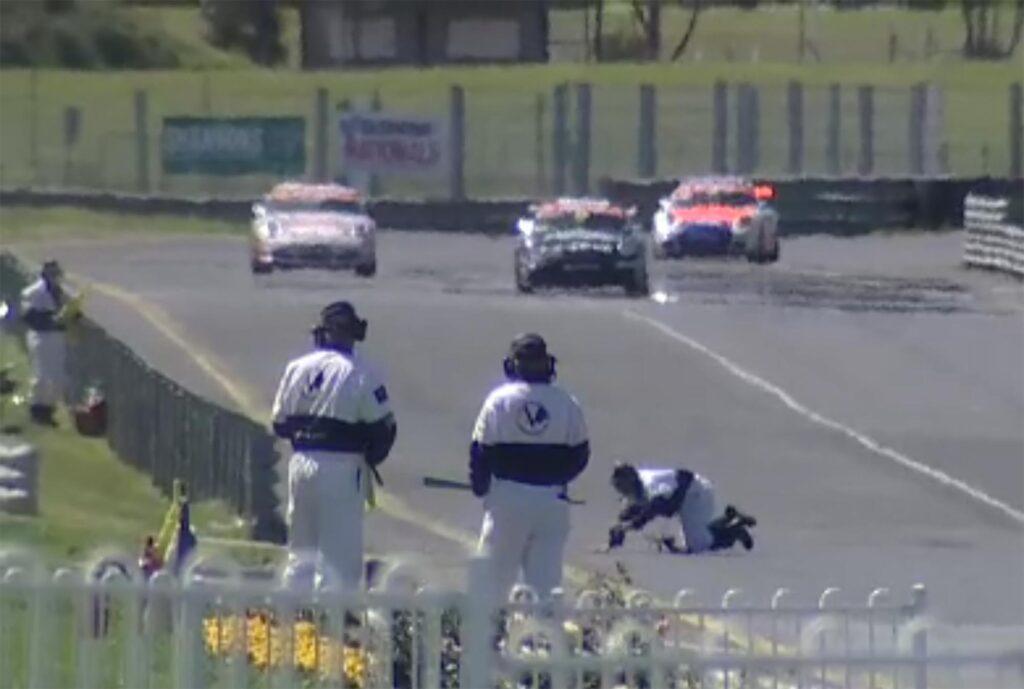 ---
Dean Randle's incredible rollover and helmet throw, Phillip Island 2006
PERHAPS the most iconic moment in Nationals history occurred in Round number three, in May 2006. Dean Randle's extraordinary rollover, after contact with Daniel Tamasi's Holden Calibra, exiting the Turn four Hairpin continues to be replayed to this day. Dean escaped unscathed from the incredible crash, though the same can not be said for his helmet – which was pitched at full noise towards an unsuspecting Tamasi soon after both had clambered from their wrecked cars.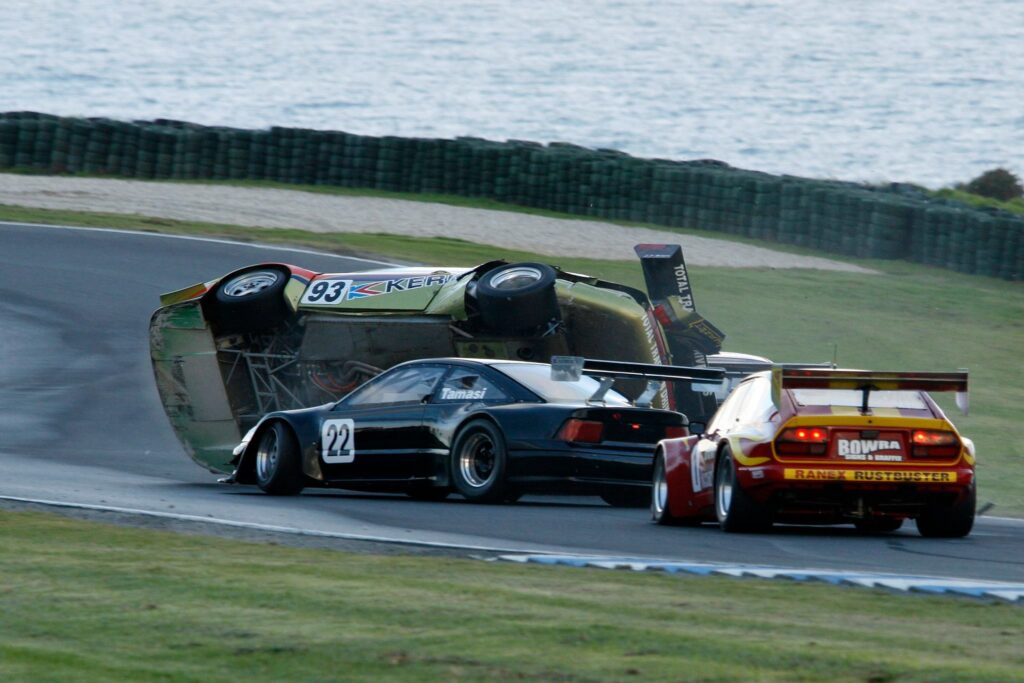 Tony Ricciardello-versus-Darren Hossack
ULTIMATELY it is this rivalry that has definied the Shannons Nationals over the last decade and 99 rounds. Two great drivers in two of the fastest, baddest, most developed and coolest racing cars in the country. From nearly coming to blows at Mallala in the wet in the latter half of the 2000s, to hard and clean racing throughout the first half of the 2010's, whenever the Red Alfa and Grey Audi got near each other on the race track people paid attention.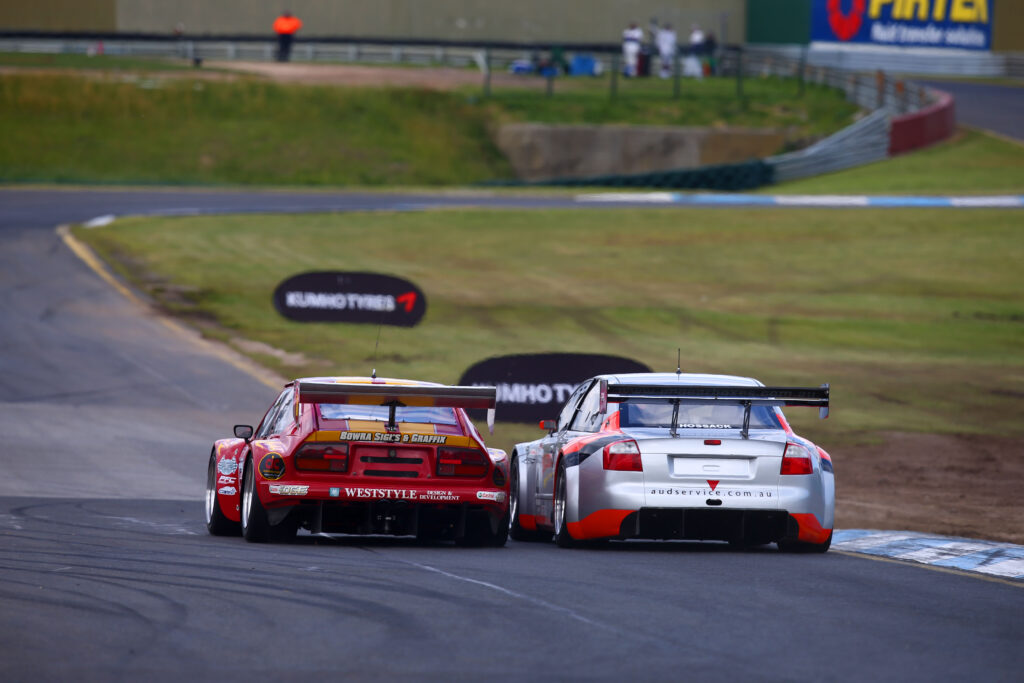 ---
Davies unloads at Winton, Kumho Series, Winton Raceway. Made some noise!
Kumho Series last lap at Sydney Motorsport Park 2013 – the best last lap ever!
Dylan Thomas / Stuart Kostera finish in pit lane debacle at SMSP AMChamp enduro
The birth of the Phillip Island 101 GT Race
Tander from behind to win the 2015 Phillip Island 101
The 2015 Phillip Island Carrera Cup crash fest!
Kinsley's GT3 Cup Challenge rout in the wet at Phillip Island in 2010 – utter domination.
Campbell's giant-killing drive in an older car at QR, 2014
Leanne Tander's drive from 9th to second in wet-dry Mallala F3 race, 2007
Marco Mapelli takes out James Winslow at 210kph, Symmons Plains Formula 3 2007
Jake Camilleri beats the 4WDs in the rain in a FWD Mazda, Symmons Plains
Every single Symmons Plains afterparty that ever happened.
Morgan Park's 'Special Events Unit' media centre. Very special indeed.
Tweedie and ZhangQi bang wheels at 210kph at Morgan Park, 2010.
The Sheep and the Saloon Car at Morgan Park. There were no winners.
Super Trucks at Oran Park. That is all.
The truck punches a hole in the Oran Park Wall, Oran Park 2007.
---
The last ever National round, of anything, at Oran Park in 2009
ORAN PARK was a special, special place. A favourite of drivers for its challenge and for pure driving enjoyment and a fan favourite thanks to great viewing areas and the undulations. The last ever major national event at the circuit was a Shannons Nationals round, staged not long before the circuit's permanent closure in 2009. It was a great place – sorely missed.
Live Streaming
WELL before Kayo was a thing, and before any other major series in Australia had played with internet streaming, the Shannons Nationals had it. And from those tentative first steps at Sandown in 2010 it has grown and flourished to open the Shannons Nationals up to eyes from not only Australia, but around the world.
---
V8 Utes at Phillip Island, put on a show and brought a big crowd.
Johnson versus Richards, TCM at Sandown 2016
Bruce Banks wins the Sports Sedan title using 3 cars in 5 rounds.
Collins-versus-Capo F3 decider at Wakefield in 2015. Dramatic!
Gamer-to-racer, Justin Ruggier wins Kumho Series title in 2014 after remarkable comeback.
Ryan Simpson versus Ruggier title battle in Kumho Series – an epic!
Matt Speakman – disabled racer makes GT3 Cup Challenge debut with McElrea Racing.
Brock Giblin's fire, the heroics to save him and the remarkable aftermath at SMSP.
Hossack wins Sports Sedan and National Superkart title in the same year
Eggleston Motorsport's back to back Kumho V8 Touring Cars Series titles
The Ashley Cooper Memorial Trophy
Adam Beechy's 3-straight Commodore Cup titles.
The Des Wall Memorial Trophy
The Clem Smith Cup
Tim Macrow's three stunning F3 titles
Cameron Hill's Formula Ford title – first privateer to win in 20 years
Graeme Holmes' incredible flip at Sandown, 2010.
The lucky Superkart racer, enormous, high-speed turn one crash in Sydney.
The Bathurst double header with the 12-hour.
Speedway grandson-of-a-gun emerges: Josh Hunter wins Kumho V8 Touring Cars
Sydney Motorsport Park's four-day, 11 category spectacular event!
Clem Smith driving his old Sports Sedan during the parade lap.. for his own race
---
The first ever 'Fight in the Night', Queensland Raceway
NIGHT Racing isn't used enough in Australia, but when the idea was floated by the organisers of the Production Car runners, and a sponsor to provide the lighting towers, the Nationals was all over it – making the inaugural 'Fight in the Night' at Queensland Raceway the first national-level major race to be run under lights since the Supercars raced at Calder in the dark in 1997. It's since become a staple.
The Alfa
THERE'S a running joke that the famous B&M Ricciardello Alfetta GTV is like Grandfathers axe – the head and the handle have all been replaced 10 times.. but it's still the same axe. But that does this remarkable car a remarkable disservice – over 20-plus years of racing it's become perhaps the most evolved and developed racing car in Australia and even through it comes across as 1980s technology racing 2010-spec supercars, it's also faster than ever, too.
---
Mallala night racing – only one of two tracks to do it in the dark
The Saloon Cars first ever endurance race at Winton
Roger Lago's double titles in GT3 Cup Challenge
Australian Formula Ford's visits at Sydney Motorsport Park, Queensland Raceway and Sandown
Stuart Kostera's triple titles in Production Car Racing
The Radical debut of the V8-powered SR8, and the electric powered ELMOFO
Jack Perkins raising the bar in Sports Sedans
The thrilling 2007 F3 title decider at Oran Park
Greg Crick vs Bryce Washington for the 2006 Australian GT Championship
Allan Jarvis as king of the Swifts – won every title
Pollicina's HSV BBQ at Sandown. Hot!
Alex Rullo makes history as youngest ever Touring Car winner in Australian history at Winton, 2015
Craig Lowndes Australian GT Championship Debut, Phillip Island, Audi R8
Shannons Nationals young-gun program – Callan Sayers, Swift Series 2013
Sandown's epic 2010 Formula 3 title decider, Sandown 2010
Matt Kingsley's 'Armco Sound Barrier Breaking' shunt, Sandown 2010
Chris Delfsma goes aerial, Symmons Plains 2008
Grice, Ross, Tabinor & Baxter-Smith Saloon Car 'Race for the ages', Wakefield 2014
Matt Campbell's GT3CC domination, Phillip Island 2014
Hayden Cooper smokes 'em in the F3 rain, Phillip Island
Josh Burdon's loop-the-loop, Morgan Park
Tony Ricciardello: Voted the Shannons Nationals 'Driver of the Decade' after 10 seasons.
---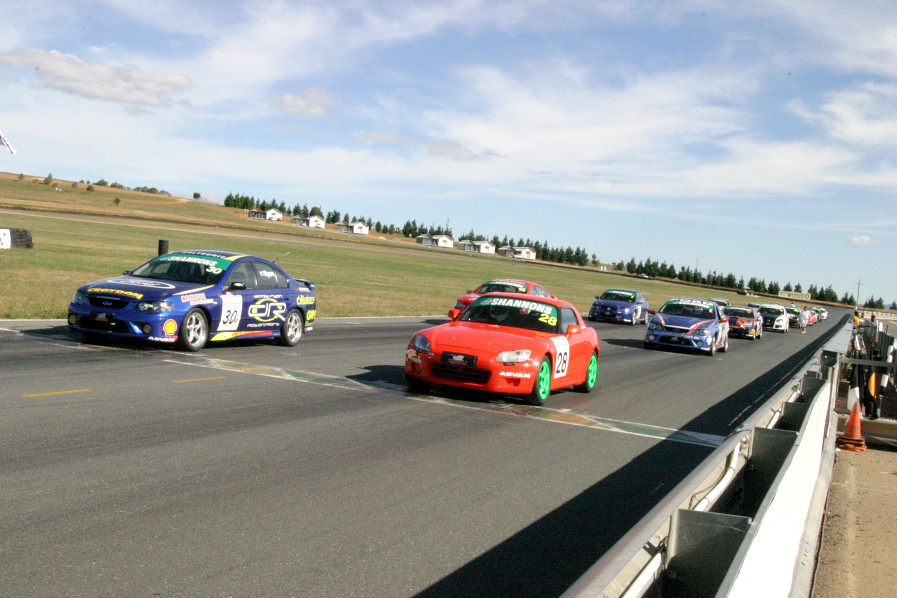 Genesis – Wakefield Park 2006.
WAKEFIELD PARK, on reflection, seems like the perfect place to launch the Nationals – low key enough to let people go about their business to establish something new, but with that great family vibe that really engages people. Turned out it worked, too, with Formula 3, Production Cars, Commodore Cup, Saloon Cars and Sports Sedans forming a core group of categories. With the series under Rob Curkpatrick's stewardship it marked the early years of a something that would grow much bigger than ever.