Our Top 10 Podcasts of 2022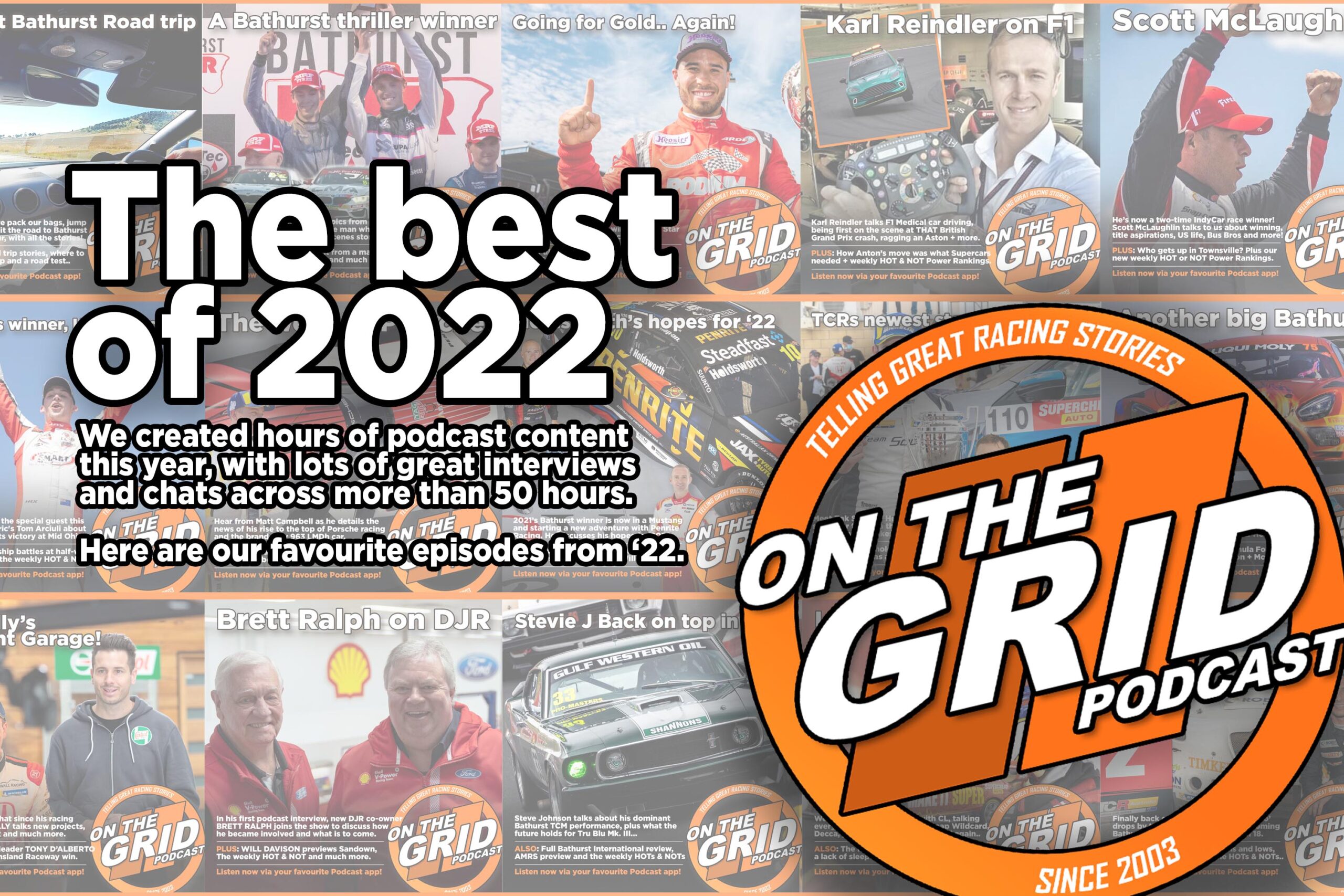 On the Grid is taking a week off as we prepare for our massive season finale', so in the downtime it's a good chance to dive into the archive and listen back to the shows that were the highlights of a truly massive 2022.
As picked by the OTG team, here's 10 (ish) of our favourite episodes of the 2022 year that was.
Hit play on any of the players below, or just search for an episode on your favourite podcast application and you'll find what you're looking for – and don't forget, there's more than 40 episodes from this year – this is only the start!
---
Aussies at LeMans Special
Produced for our friends at Radio LeMans, this 60-minute special documented the great history of Aussie's at the French endurance race classic, and aired live to the circuit and online immediately following Qualifying for the 24 hour this year. The show includes a special interview with Tim Schenken discussing his experiences racing for Ferrari and more in the race.
---
The Great Bathurst Road trip
Craillsy and Walker packed up a borrowed Ford Mustang GT and did the great Bathurst road trip this year, hiking up from Melbourne to the Mountain – and they documented the process along the way.
---
Karl Reindler: F1's medical car driver
Karl Reindler spent much of his 2022 driving the FIA's Medical Car at Grands Prix. Our chat came just after the incredible Silverstone Grand Prix, where he was first on the scene to Guanyo Zhou's massive crash at the start of the race. Compelling, in-depth and utterly fascinating, Karl was at his very best in this extended interview.
---
Brett Ralph – DJRs new owner
OTG was the first to spend serious time with DJR's new majority owner, Melbourne businessman Brett Ralph.
---
Bruce Stewart on WAU's big Ford switch
Always a fun chat, Bruce Stewart joined the show to discuss WAU's big shift from GM to Ford just days after it was announced.
---
Rick Kelly's first chat post retirement
This was a bit of a scoop, as OTG sat down with Rick Kelly – the first media outlet to do so in depth since his racing retirement at the end of 2021.
---
Unfiltered Reynolds on the Gold Coast fun
There's never a dull moment when Davey Reynolds is on your show, and this was no exception. We got him on the week after grabbing a podium on the Gold Coast, and he was his usual funny self.
---
Getting to know TCR young gun Zak Soutar
At OTG we try and deliver insights into some of the names you should know, not just those you already do. Chatting to Zak Soutar amidst a stunning TCR Australia campaign this year was great – we genuinely learned things about this quick, very likable young bloke.
---
Matt Campbell, Cameron McConville, Harri Hones
This was a bit of a Porsche special as we grabbed a chat with Matt Campbell – from his motorhome at a race track – soon after he was confirmed to be a factory driver for 2023 in the all-new 963 Prototype. Plus, Cam McConville is always a good chat, while we got to know would-be Porsche champion Harri Jones a lot better.
---
Meet Supercars rising star, Kai Allen
Like Zac Soutar, we needed to know more about this young bloke from Mount Gambier, and boy are we glad we did. Not only can he drive, young Kai Allen is a ripper chat and has a fascinating story to tell.. and he did just that!
---
Lee Holdsworth's final Farewell
A recent episode but a worthwhile one to revisit as friend of the show Lee Holdsworth drops by for a final chat as a full-time racer.
---
Listen to the full On the Grid back catalogue via the playlist below!